List of vicars
This list is taken from Arthur Clear, The King's Village in Demesne (1894), 54-5, with some additions and corrections in italics.
William Weltown, inst., 1326, on the presentation of the Abbot of St. Albans. William Vicar of Wynselowe last mentioned in the Manor Court Books 1347.
Gilbert Raulyn, mentioned in the Manor Court Books 1351.
Geoffrey Hardegrave, described in the Manor Court Books as "lately Vicar of Wynselowe" in 1362.
Geoffrey the Vicar, mentioned in the Manor Court Books 1366-1377.
Simon of Winslow, d.1396 or earlier. A Court of Common Pleas entry for 1396 (CP 40/541A, under "London") (http://aalt.law.uh.edu/AALT6/R2/CP40no541a/aCP40no541afronts/IMG_0037.htm) reads:
John de +horall+y clerk? through his attorney put himself on the 4th day against John Faw+++++ chaplain and Thomas? del Bakhous executors of the will of Simon de Wencellawe lately parson of the church of Wencellawe on a plea? that they should render to him 100s which they unjustly withheld from him etc. And they did not come. And [ - - - ]f+nt sheriffs that they should take them etc. And the sheriff(s?) now was/were ordered that they are not ++++++ etc. Therefore [ - - - ] they are to be taken that they should be here on the morrow of Ascension Day by the Justices etc. On which day [ - - - ] they are not +++++ etc. Therefore as many times let them be taken that they should be here at Trinity [ - - - ]
John Albyn, who exchanged about 1405, for Albury, Herts, with -
Peter Braunch or Braunden, who, 4 May, 1422, exchanged for Steeple Claydon with -
William Grecote (or Gorcote), inst., 25 March, 1425, who exchanged to Croughton, Northants, with–
Thomas Spencer, instituted 1425.
Henry Tomlyns, inst., 1451, buried in the Chancel of Church. In fact 1451 was the year of Henry's death; see his will.
John Browne is named as vicar in the will of John Warde, 1453, will of John Orchard, 1460, and the will of John Laurence, 1467. As "John Broune, chaplain", he acquired a messuage next to the churchyard in 1460 (WMCB, p.707). He is found as vicar in the court rolls from 1487. He was the same person as John Borne, d.1494, who was vicar at the time of his death.
William the chaplain received a bequest from Isabel Arches in 1467.
John Hamerton (curate) witnessed the will of John Machon, 1496.
A curate whose name may be William Milbeme witnessed the will of William Olyver, 1498/9.
John Schrop left very large bequests to the church in his will of 1504; it is possible that he was vicar. The will was witnessed by the curate, who is not named.
George Brown witnessed the will of Thomas Davy in 1505/6 and the will of Robert Elyat in 1506 as curate. He is first mentioned as vicar in the Court Rolls in 1501 (f.10). George the vicar witnessed the will of William Mynge in 1509. George Brown (vicar) witnessed the will of Henry Illyng in 1510, the will of Edmund Newman, and the will of Richard Davy in 1513. "Master George Brown my confessor" witnessed the will of William Tomlyn in 1518 and the will of William Milner in 1519. His death is recorded in the Court Rolls for 1519.
The will of Nicholas Wendylborow, 1507, was witnessed by Master Roger Angewyn who seems to be "[locum?] vicarii supportante". The will of William Mynge in 1509 was witnessed by "domino Rogero presbytero". Roger cannot have been a conventional clergyman as he had a legitimate son: either he was ordained after his wife died, or more probably he had the status of perpetual deacon, which was compatible with being married (although not remarrying). He would have been in effect assistant curate. He is mentioned in the Court Rolls from 1487-1499, without any indication of priestly status, but in 1522 he is labelled "clerk".
Richard Stratton, inst., 1533. In fact he was already vicar in 1520 when he witnessed the will of John Alyn and 1521 when he witnessed the will of Walter Palmer. Witnessed the will of William Elyatt, 1528, the will of John Hartwell, 1530, the will of Thomas Graunte, 1531, the will of Thomas Glenestre, 1532, and the will of Richard Wyllowes, 26 Sep. 1532. Involved in a dispute concerning the Hardyng family, no later than 1529. Listed as vicar in the Survey of 1555/6. He became Rector of Aspley Guise on 6 June 1533, until he died in 1557. It appears that he also retained the living of Winslow and kept a curate there. His parents John and Alice were apparently from Winslow; see his will.
[It will be noticed that 82 years elapsed between the institution of the last two persons, so that probably some names are missing.]
Thomas Hobbes, inst., 1535.
Sir Robert Wheteley witnessed the will of Joan Blott, 1535. Sir Peter Ireland is mentioned as curate in the will of John Hoggeson, 1535.
Sir William Shepherd is named as "ghostly father" in the will of Thomas Tomlyn, 1537, and the will of William Elyatt, 1538.
Sir William Hobbes, inst., 1544. [It was not unusual at this period for the Priest to have the honorary prefix of "Sir", as instanced by Sir John Schorne, of North Marston]. He is named as curate in the will of John Spurr, 1531, will of Richard Bonyon, 1540, will of Robert Dominycke, 1543, and will of Isabel Jenyns, 1543.
Sir Matthew Dawson witnessed the will of William Masson, 1541/2.
Thomas Grange (Grawnge), curate, is mentioned in the will of Edmund Godbery, 1546, and witnessed the will of Thomas Whenylborowe, 1546, the will of Seth Graunte, 1546/7, the will of Richard Knughte, 1547, the will of William Robynson, 1547, the will of John B/Leche, 1547, the will of John Whenylborow, 1547, and the will of Thomas Cowper, 1547.
National Archives C1/1375/3 is a case brought in Chancery by Ralph Palmer of Knowle, Warws, against John Gybbyns, Clerk, and Martin Darker. It seems that Palmer, as security for a property transfer at Knowle, "did graunt unto the said Gibbyns the Advowson of the Vicarage of Wynslowe ... when the same churche should next be void of an Incumbent." The case is dated 1553-5, and refers to an agreement made 4 years earlier. Presumably Ralph Palmer had purchased the advowson from the Crown. Was he related to the Palmers of Winslow?
Edmund Inco, presented in 1556, by Queen Mary.
Richard Edmunds, died, Vicar, 1558. He is probably the son of Richard Edmondes whose inventory was taken on his death in 1556. It is likely that Clear's list is mistaken: a Richard Edmunds witnessed many wills in Winslow between 1558 and 1571, and may be the same person as the Rector of Shenley 1574-1606 (see his will). If so, he probably became curate of Winslow in 1558.
William Lewis, inst., 5 July, 1558, on presentation of Queen Mary and King Philip. Another account states that in 1557 the Advowson of the Vicarage was granted to Edmund Bonner, Bishop of London and his successors, in pure and perpetual alms, so that probably this Vicar was nominated by him.
Robert Daunce (or Dauncey), inst., 17 May, 1565. On 5 Aug 1580, the Bishop of London granted a marriage licence for Robert Dawnce, clerk, Vicar of Winslow, and Anne Busse, widow, of St Clement Danes, to be married at St Clement Danes. Inventory presented at St Albans, 1590. He was also vicar of Little Horwood 1562-80.
Philip Favour, inst. 10 June, 1590. Married Moulde Jackson, widow, of The Bell. Died intestate in 1597. Graduated from Oxford BA New College 1584, MA Hart Hall 1587, and became Vicar of All Saints, Northampton, on 1 July 1589.
Robert Mainwaring, A.B., presented 10 June, 1597. He was of St. John's College, Oxford. He was buried here 20 March, 1648.
John Bishop, inst., 1648. He was buried here 3 March, 1652. (In 1650 he was returned to be a constant preacher, and the Vicarage worth thirty pounds per annum). His names is given as Thomas when he married Frances White of Steeple Claydon at Winslow on 31 May 1649.
John Pownall was inst., 1652. He was buried here, 1663.
Samuel Dix, A.M., presented 2 December 1663. He was buried here 8 January, 1680/1. He previously served the Church at Horsendon, Bucks, and was also Curate of Hillesden.
John Jones, A.M., presented 11 March, 1681. He was buried here 27 October, 1684.
John Croft, A.M., presented 23 November, 1684. He was buried here 29 April, 1716. He was also Vicar of Granborough 1693 to 1716.
Egerton Cutler - who was formerly a Sea Chaplain - was presented to the Living in 1716. Died in 1720.
James Edmunds, A.M., presented 26 May, 1726. Died April, 1765. Son of Edward Edmunds of Salisbury, gent.; matriculated 1713 aged 17; MA Oxon. 1722. He was already acting as curate (presumably) on 4 April 1720 when he signed parish register of burials. He was also rector of Newton Longville from 17 June 1727. He had a dispute about the parsonage at Newton Longville with Nicholas Merwin, which also concerned the payment of tithe milk in Winslow. Edmunds had another dispute about tithe milk with the inhabitants of Shipton in 1730.
John Rawbone, presented 20 May, 1765. He was also Vicar of Granborough, from 6 August, 1756 to 1775. He was buried at Winslow, 30 January, 1775. Already curate in 1751, described as Minister in 1760. He was MA of Magdalen Hall, Oxford, and chaplain to the Earl of Shaftesbury (Westminster Journal, 25 May 1765).
Thomas Prichard, inst., 6 February, 1775. He also held Little Missenden (London Evening Post, 2 Feb 1775).
Harry Walker, presented 31 March, 1789; exchanged livings 1st July, 1793, to Rectory of Hasleton, Gloucestershire, with -
James Preedy, A.M., inducted 8 July, 1793. Died October 12, 1836; he was buried in the Church. He was formerly master of the very ancient Grammar School at St. Albans; he also held the living of Hinton, Northamptonshire, with Winslow.
The directory of c.1795 lists Rev. Edward Ash and curate Rev. James Bannister.
Mark Kerr was appointed stipendiary curate in 1826, and left in 1834.
Thomas Henry Walpole, A.M., inst., 1836. Died October 1, 1840, aged 41 years, at 7 Park Road, Regent's Park, and was buried in the Church Porch.
William W. M'Creight, A.M., inst., February 1841; he resigned the living in 1863. Died October 16, 1871, aged 70. There is a marble tablet in the Church to his memory (see below).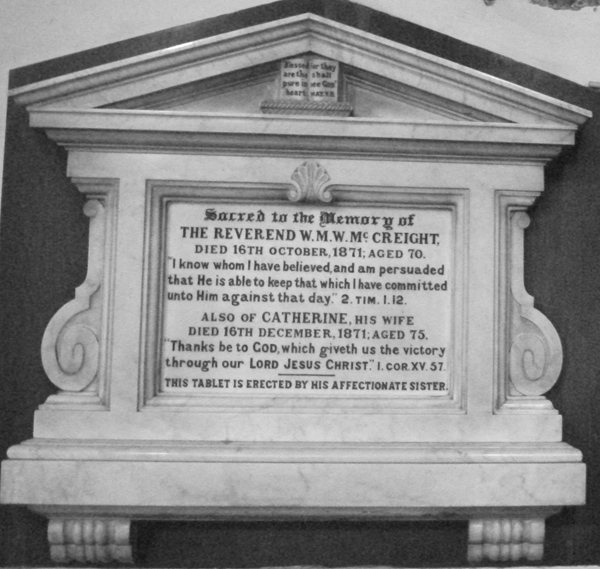 James Thomas was appointed curate in July 1849.
Alfred M. Preston, M.A., inst., 1863. Died October 26, 1882, aged 60, and is buried in the Churchyard.
Hamilton A. Douglas-Hamilton, M.A., inst., February 2, 1883; resigned 1889.
Douglas-Hamilton accepted the office of Rector and Archdeacon of Kimberley, South Africa in 1902. Before setting sail in September of that year, he preached two farewell sermons in Winslow parish church in July with the offerings being sent to the Bloemfontein Mission Funds. (source: Buckingham Advertiser, 5 July 1902)
Philip Herbert Eliot, M.A., inst., 1889.
W.F. Armstrong, inst. 1896
Thomas Hinkley, M.A., inst. 1906.
Henry Lyttelton Lyster Denny, M.A., inst. 1916.
C.J. Wigan, 1918-20
St.J. H. Beamish, 1920-57
Arthur Barnes, 1958-86
Frank Johnston, 1987-95
Anthony Whalley, 1995-2006
Belinda Searle-Barnes, 2007-2014
Andrew Lightbown, inst. 2016
---
Churchwardens
The names of the churchwardens are sometimes given in the Archdeaconry Court Books in the record of the archdeacon's visitation, and were usually recorded in the overseers' accounts.
1642. Henry Pym, William Hogson, Thomas Glenister.
1662. Richard Phips, Thomas Grant. William Whitehall sidesman.
1664. John Henly, Thomas Cerbey, John Hogson.
1670. John Godwyn, Thomas Smallbones, Charles Bowler.
1671. John Godwyn, Andrew Stutsbury, William Townsend sr.
1672. Francis Glenister, John Norman, Thomas Robson.
1676. John Armbrug, Benjamin Leach, Peter Lownds.
1677. John Seaton, Francis Dosett, Robert Steevens.
1678. Robert Scott, Christopher Coettes
1683. William Spooner, John Greene, Henry Townsend
1684. Edmund Paxton, John Seaton sr, John Seaton jr
1685. William Wyatt, Peter Lowndes, Benjamin Leach
1686-7. John Ambrow, Thomas Godwyn, John Dymocke (named on a silver plate dated 1686)
1689. Thomas Blake, George Elliot, Thomas Foster
1690. Simon Hogson, William Short, Joseph Glenister
1691. Richard Phippes, Thomas Bishop
1692. Richard Phips, Richard Wootton
1693. William Short, Henry Townsend, John Stutsbury
1694. John Stutsbury, Henry Townsend, William Short
1695. Richard Seaton, William Townsend, Thomas Henly
1696. William Elliott, Thomas Wright, George Blake
1706. John Henly, Benjamin Saunders, Simon Hogson
1707. Simon Hogson, John Seaton, William Shelton
1708. Richard Bigg, Thomas Henly, John Seaton
1711. Richard Bigg, Thomas Henly
1712. William Fyrth, Thomas Blake, William Townsend
1713. William Fyrth, Thomas Wright
1714. Thomas Wright, William Shelton
1716. Robert Wyatt, Matthew Hobbs
1719. Simon Hogson, William Franklin, Thomas Henly
1742. James Budd, John Cox
1760. Thomas Gibbs, Stephen Gibbs, Richard Shilton
1839. Thomas Burgess, Samuel Greaves[?] Dudley