List of vicars
This list is taken from Arthur Clear, The King's Village in Demesne (1894), 54-5, with some additions and corrections in italics. See also: annotated list of vicars by Richard Newcourt, 1708.
John, Vicar of Wyneslowe, mentioned in Gesta Abbatum I.457 concerning a dispute between Abbot Roger of St Albans (1260-90) and the Bishop of Lincoln; it also mentions Abbot Reginald of Waltham (1274-89) and John de Clere, Vicar of Wycombe (inst. 1276). Robert, Vicar of Horewode was also involved. A.J. Clear provides further information.
William Weltown, inst., 1326, on the presentation of the Abbot of St. Albans. Browne Willis calls him Wellonn. William Vicar of Wynselowe last mentioned in the Manor Court Books 1347.
Gilbert Raulyn, mentioned in the Manor Court Books 1351.
Geoffrey Hardegrave, described in the Manor Court Books as "lately Vicar of Wynselowe" in 1362.
Geoffrey the Vicar, mentioned in the Manor Court Books 1366-1377.
Simon of Winslow, d.1396 or earlier. A Court of Common Pleas entry for 1396 (CP 40/541A, under "London") (http://aalt.law.uh.edu/AALT6/R2/CP40no541a/aCP40no541afronts/IMG_0037.htm) reads:
John de +horall+y clerk? through his attorney put himself on the 4th day against John Faw+++++ chaplain and Thomas? del Bakhous executors of the will of Simon de Wencellawe lately parson of the church of Wencellawe on a plea? that they should render to him 100s which they unjustly withheld from him etc. And they did not come. And [ - - - ]f+nt sheriffs that they should take them etc. And the sheriff(s?) now was/were ordered that they are not ++++++ etc. Therefore [ - - - ] they are to be taken that they should be here on the morrow of Ascension Day by the Justices etc. On which day [ - - - ] they are not +++++ etc. Therefore as many times let them be taken that they should be here at Trinity [ - - - ]
John Albyn, who exchanged about 1405, for Albury, Herts, with -
Browne Willis gives the date of the exchange as 1422.

Peter Braunch or Braunden, who, 4 May, 1422, exchanged for Steeple Claydon with -
Browne Willis gives the date of the exchange as 1425, which is also the date given at Steeple Claydon.
William Grecote (or Gorcote), inst., 25 March, 1425, who exchanged to Croughton, Northants, with–
Thomas Spencer, instituted 1425. Browne Willis gives the date as 1428.
Henry Tomlyns, inst., 1451, buried in the Chancel of Church. In fact 1451 was the year of Henry's death; see his will.
John Browne is named as vicar in the will of John Warde, 1453, will of John Orchard, 1460, and the will of John Laurence, 1467. As "John Broune, chaplain", he acquired a messuage next to the churchyard in 1460 (WMCB, p.707). He is found as vicar in the court rolls from 1487. He was the same person as John Borne, d.1494, who was vicar at the time of his death.
William the chaplain received a bequest from Isabel Arches in 1467.
John Hamerton (curate) witnessed the will of John Machon, 1496.
A curate whose name may be William Milbeme witnessed the will of William Olyver, 1498/9.
John Schrop left very large bequests to the church in his will of 1504; it is possible that he was vicar. The will was witnessed by the curate, who is not named.
George Brown witnessed the will of Thomas Davy in 1505/6 and the will of Robert Elyat in 1506 as curate. He is first mentioned as vicar in the Court Rolls in 1501 (f.10). George the vicar witnessed the will of William Mynge in 1509. George Brown (vicar) witnessed the will of Henry Illyng in 1510, the will of Edmund Newman, and the will of Richard Davy in 1513. "Master George Brown my confessor" witnessed the will of William Tomlyn in 1518 and the will of William Milner in 1519. His death is recorded in the Court Rolls for 1519.
The will of Nicholas Wendylborow, 1507, was witnessed by Master Roger Angewyn who seems to be "[locum?] vicarii supportante". The will of William Mynge in 1509 was witnessed by "domino Rogero presbytero". Roger cannot have been a conventional clergyman as he had a legitimate son: either he was ordained after his wife died, or more probably he had the status of perpetual deacon, which was compatible with being married (although not remarrying). He would have been in effect assistant curate. He is mentioned in the Court Rolls from 1487-1499, without any indication of priestly status, but in 1522 he is labelled "clerk".
Richard Stratton, inst., 1533. In fact he was already vicar in 1520 when he witnessed the will of John Alyn and 1521 when he witnessed the will of Walter Palmer. Witnessed the will of William Elyatt, 1528, the will of John Hartwell, 1530, the will of Thomas Graunte, 1531, the will of Thomas Glenestre, 1532, and the will of Richard Wyllowes, 26 Sep. 1532. Involved in a dispute concerning the Hardyng family, no later than 1529. Listed as vicar in the Survey of 1555/6. He became Rector of Aspley Guise on 6 June 1533, until he died in 1557. It appears that he also retained the living of Winslow and kept a curate there. His parents John and Alice were apparently from Winslow; see his will.
[It will be noticed that 82 years elapsed between the institution of the last two persons, so that probably some names are missing.]
Thomas Hobbes, inst., 1535.
Sir Robert Wheteley witnessed the will of Joan Blott, 1535. Sir Peter Ireland is mentioned as curate in the will of John Hoggeson, 1535.
Sir William Shepherd is named as "ghostly father" in the will of Thomas Tomlyn, 1537, and the will of William Elyatt, 1538.
Sir William Hobbes, inst., 1544. [It was not unusual at this period for the Priest to have the honorary prefix of "Sir", as instanced by Sir John Schorne, of North Marston]. He is named as curate in the will of John Spurr, 1531, will of Richard Bonyon, 1540, will of Robert Dominycke, 1543, and will of Isabel Jenyns, 1543.
Sir Matthew Dawson witnessed the will of William Masson, 1541/2.
Thomas Grange (Grawnge), curate, is mentioned in the will of Edmund Godbery, 1546, and witnessed the will of Thomas Whenylborowe, 1546, the will of Seth Graunte, 1546/7, the will of Richard Knughte, 1547, the will of William Robynson, 1547, the will of John B/Leche, 1547, the will of John Whenylborow, 1547, and the will of Thomas Cowper, 1547.
Richard Dekyn was curate in 1552.
National Archives C1/1375/3 is a case brought in Chancery by Ralph Palmer of Knowle, Warws, against John Gybbyns, Clerk, and Martin Darker. It seems that Palmer, as security for a property transfer at Knowle, "did graunt unto the said Gibbyns the Advowson of the Vicarage of Wynslowe ... when the same churche should next be void of an Incumbent." The case is dated 1553-5, and refers to an agreement made 4 years earlier. Presumably Ralph Palmer had purchased the advowson from the Crown. Was he related to the Palmers of Winslow?
Edmund Inco, presented in 1556, by Queen Mary. Browne Willis calls him Inse. The name is printed as Juse in Ryman's Foedera (XV.443).
Richard Edmunds, died, Vicar, 1558. He is probably the son of Richard Edmondes whose inventory was taken on his death in 1556. It is likely that Clear's list is mistaken: a Richard Edmunds witnessed many wills in Winslow between 1558 and 1571, and was Rector of Shenley 1574-1606 (see his will). If so, he probably became curate of Winslow in 1558. A handwritten note in Newcourt's Repertorium Ecclesiasticum Parochiale Londinense in New York Public Library suggests that he was appointed after 1549 and resigned in 1558 to go to Shenley.
William Lewis, inst., 5 July, 1558, on presentation of Queen Mary and King Philip. Another account states that in 1557 the Advowson of the Vicarage was granted to Edmund Bonner, Bishop of London and his successors, in pure and perpetual alms, so that probably this Vicar was nominated by him.
Robert Daunce (or Dauncey), inst., 17 May, 1565. On 5 Aug 1580, the Bishop of London granted a marriage licence for Robert Dawnce, clerk, Vicar of Winslow, and Anne Busse, widow, of St Clement Danes, to be married at St Clement Danes. Inventory presented at St Albans, 1590. He was also vicar of Little Horwood 1562-80.
Philip Favour, inst. 10 June, 1590. Married Moulde Jackson, widow, of The Bell. Died intestate in 1597. Graduated from Oxford BA New College 1584, MA Hart Hall 1587, and became Vicar of All Saints, Northampton, on 1 July 1589.
Robert Mainwaring, A.B., presented 10 June, 1597. He was of St. John's College, Oxford. He was buried here 20 March, 1648.
Severely reprimanded in 1609 by the Archdeacon for frequenting alehouses and playing games.
John Bishop, inst., 1648. He was buried here 3 March, 1652. (In 1650 he was returned to be a constant preacher, and the Vicarage worth thirty pounds per annum). His name is given as Thomas when he married Frances White of Steeple Claydon at Winslow on 31 May 1649. He is also Thomas in the Exchequer record of his appointment (National Archives, E331/LONODN/17 f.62), which gives the date as 14 April 1648.
John Pownall was inst., 1652. He was buried here, 1663.
Samuel Dix, A.M., presented 2 December 1663. He was buried here 8 January, 1680/1. He previously served the Church at Horsendon, Bucks, and was also Curate of Hillesden.
John Jones, A.M., presented 11 March, 1681. He was buried here 27 October, 1684.
John Croft, A.M., presented 23 November, 1684. He was buried here 29 April, 1716. He was also Vicar of Granborough 1693 to 1716.
CBS, M11/56: 15 April 1716: Viscount Fermanagh to unidentified recipient
… Mr Crofts of Winsloe is not dead but it is thought he cannot recover so some are putting in for those livings, Winsloe with mariages funerall sermons &c is worth 80 pounds per an. and Granborow is worth 50 per an. the parishes hope to have each of em a minister for the future. Mr Price of Waddesdon indeavours to get Winsloe & others doe the same, I believe Mr Lownds interest will carry it. Now you knowe what game to play if it be worth your while …
16 Oct 1716: Rev. Dr William Vickers to Viscount Fermanagh [his cousin by marriage]
Charity begins at home when I beg an ?Estate I shall ask for my selfe if old Lowndes hath any thing to spare he ought to Reward his Doctor after ye example of ye generous Ld Fer
Egerton Cutler - who was formerly a Sea Chaplain - was presented to the Living in 1716. Died in 1720.
In 1737 James Edmunds tried (for unknown reasons) to prove that Winslow belonged to the Diocese of Lincoln not of London. Richard Lowndes wrote to Browne Willis of Whaddon Hall about it, and Willis replied on 10 Sep (British Library, Add.MS 37069 f.219). He said it was "never till now disputed by a person in many more Instances out of his senses; & now contended for nothing but Litigiousness sake." He added "if a stop is not put & remedy had Bad will it be for all Lovers of our church in your most neglected parish under such a Pastor". He also mentioned Bishop Robinson of London (1713-23) holding a visitation at Winslow and staying with Robert Lowndes.
James Edmunds, A.M., presented 26 May, 1726. Died April, 1765. Son of Edward Edmunds of Salisbury, gent.; matriculated 1713 aged 17; MA Oxon. 1722. He was really installed by 4 April 1720 when he signed the parish register of burials; 1720 is also the date given by Browne Willis. He was also rector of Newton Longville from 17 June 1727. He had a dispute about the parsonage at Newton Longville with Nicholas Merwin, which also concerned the payment of tithe milk in Winslow. Edmunds had another dispute about tithe milk with the inhabitants of Shipton in 1730.
John Rawbone, presented 20 May, 1765. He was also Vicar of Granborough, from 6 August, 1756 to 1775. He was buried at Winslow, 30 January, 1775. Already curate in 1751, described as Minister in 1760. He was MA of Magdalen Hall, Oxford, and chaplain to the Earl of Shaftesbury (Westminster Journal, 25 May 1765).
Thomas Prichard, inst., 6 February, 1775. He also held Little Missenden (London Evening Post, 2 Feb 1775).
Harry Walker, presented 31 March, 1789; exchanged livings 1st July, 1793, to Rectory of Hasleton, Gloucestershire, with -
James Preedy, A.M., inducted 8 July, 1793. Died October 12, 1836; he was buried in the Church. He was formerly master of the very ancient Grammar School at St. Albans; he also held the living of Hinton, Northamptonshire, with Winslow. See his will, with more information.
The directory of c.1795 lists Rev. Edward Ash and curate Rev. James Bannister. Robert Lowndes (son of William Selby-Lowndes) was curate in 1798 (Clear, p.80) before becoming Rector of North Crawley.
Mark Kerr was appointed stipendiary curate in 1826, and left in 1834.
John Miles was also curate under Mr Preedy around 1812 and married Elizabeth Burnham of Winslow.
Thomas Henry Walpole, A.M., inst., 1836. Died October 1, 1840, aged 41 years, at 7 Park Road, Regent's Park (also the home of James Preedy when he died), and was buried in the Church Porch. He was heavily criticised later; read more.
Bucks Herald, 3 April 1841
A CASE OF REAL DISTRESS
The Rev. THOMAS HENRY WALPOLE, Vicar of Winslow, Bucks, died in embarrassed circumstances on 1st October, 1810, at the early age of 41, leaving a widow and seven children in great distress; the family consisting of one son and six daughters, of whom the eldest is 17 years of age, and the youngest has not yet completed her ninth year. The parishioners of Winslow having witnessed the kind and charitable disposition of their late lamented Vicar, and actuated by a feeling of esteem for his memory, and deeply sympathising with the distress, and commiserating the wants, of his bereaved and truly exemplary widow and her fatherless children, who are left in a state of great privation, are induced most earnestly to entreat the benevolent co-operation of the British public, confidently relying on being enabled with their assistance to raise a fund to be invested in the names of responsible trustees, for the purpose of being appropriated towards supporting the widow, educating the children, and affording them the opportunity of gaining a respectable livelihood by honest industry.
Subscriptions will be received by the Treasurer, Mr. Samuel Dudley, Churchwarden of Winslow; at the Banks in Buckingham, Aylesbury, Stony Stratford, Newport Pagnell, Leighton Bassard, and Tring; and by Messrs. Smith, Payne and Smith, Messrs. Praeds and Co., and Messrs. Hoare. Bankers, London. A list of contributors follows, starting with Queen Victoria.
William W. M'Creight, A.M., inst., February 1841; he resigned the living in 1863. Died October 16, 1871, aged 70. There is a marble tablet in the Church to his memory (see below).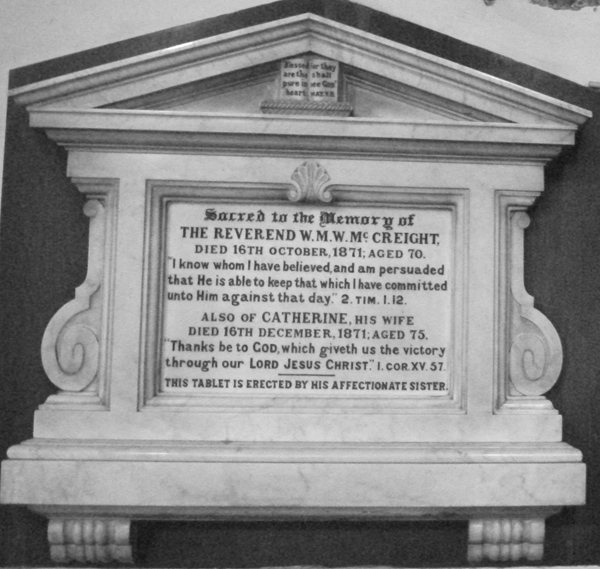 Curate in 1844: John Edward Bradford
James Thomas was serving as curate by late 1848. He left around Aug 1852. He was criticised for introducing a harmonium instead of traditional instruments, and was the object of considerable controversy:
Letter from W.S. Bowen of Winslow to Samuel Wilberforce, Bishop of Oxford, 16 Jan 1849
As our diocesan, I consider that you are the proper and only person who ought to be addressed when any grievance is sought to be amended. I therefore, without any further preface or apology, enclose you a letter which appeared in the Bucks Advertiser of the 30th of Dec., 1848, and which, I am sorry to say, contains a true and unembellished statement of affairs here, and which, if not checked in the bud, will lead to grave dissentions between the vicar and the parishioners, and which will ultimately be seriously felt by the church itself, a sufficient proof of which we have already exemplified at Aylesbury. I do not by any means wish to intimate aught against our vicar as a gentleman, whose courteous behaviour and deportment make him esteemed and respected by most people; but since we have had our present curate (a Mr. Thomas, late an officer in the army, and whose orthodoxy and divinity are very much questioned), we are not what we were. A great alteration is now made, which is particularly objectionable and offensive to the parishioners generally- namely, we have not had an afternoon service; it is now transferred to an evening service, and the consequence is, that not only my servants, but many other people, are obliged to go to a Dissenting chapel. This is truly driving people from the church…

The Bishop's reply, 20 Feb 1849
I immediately, upon receipt of your former letter, wrote to Mr. McCreight upon the subject of its charges. I have now written to desire Mr. Thomas to send me the sermon of which you complain. I have received Mr. McCreight's answer to your complaints. He says-
I.That additional room is generally needed in Winslow Church; that to obtain this room, he proposed the gallery, but had no idea of carrying it into effect with out all consented.
Now it is, of course, of great moment to provide room sufficient, and I must beg you, if you feel aggrieved by the notion of a gallery, to favour me with your remark on Mr. McCreight's answer.
II. As to the evening service, he avers-
1. That it is the time at which far the largest number of people attend.
2. That if the church is not open, the members of the church are led to attend Dissenting places of worship.
III. That with the heavy work, he, before his illness, and since his illness, his curate do, the rest of two hours between the services is invaluable. There is much in these answers, and I will beg you to give them your dispassionate consideration, and then express to me your opinion on them.

To the Editor of the Bucks Chronicle. March 7th, 1849.
Sir, an investigation extraordinary, not an enquiry into moral or other conduct of a domestic nature, by private individuals, but a proceeding in a vestry-room, involving ecclesiastical censure, has lately been instituted at Winslow, upon the conduct of a clergyman in his pulpit. Information, at present, is very scanty as to the details of the proceeding; but such as it is, if it has not already reached you, and you think it worth inserting, I will now communicate for publication in your popular paper, in as few words as I can. The inhabitants of Winslow, in this county, are become much reconciled to faithful preaching; and their ministers have been very diligent in following up the advantage. One of them (I cannot say how judiciously) has, in his bounden duty of carrying out the whole counsel of God for reproof and correction, as well as for instruction in righteousness, made frequent and strangely-expressed remarks, upon the indulgence of dissipating pleasures, which course of preaching has, in the minds of mistaken, though better intentioned lovers of those pleasures, excited feelings of disquietude; whilst, alas, in others of a less amiable disposition, a manifestation of hostility towards their minister; including a charge against him of making personal attacks upon the character of individuals from the pulpit; and, hence, the "investigation" referred to, touching the character of their licensed and every way accredited clergyman, who is comparatively a stranger at Winslow, and who, during the several months he has been there, seems to have fulfilled his sacred office conscientiously and usefully, not saying more than is written, but stating all, according to his ability, the counsel of God, for the edifying of his flock. From the character of the clergyman who presided at the investigation, I feel confident that the rights and feelings of a clergyman, so situated, were duly and fully appreciated. But, Mr. Editor, for what has this faithful minister of truth been subjected to so perplexing – I had almost said so degrading – a position? Who are his accusers, and what is it that they witness against him? A report of such things has gone forth: let us have the proof, the evidence, by which it can be justified, or let a pious and useful clergyman be rescued from the mercy of a misled public opinion. Such, Sir, is the object of the above letter from
Your obedient servant, AN OBSERVER.
John Clarke, curate, was commemorated with this gravestone, now removed:
In memory of The Rev. JOHN CLARKE, Curate of Winslow, who died Jan. 19 1861 Aged 36.
To him to live And to die was [---]
Mr McCreight was responsible for the following development in education, probably to preempt the Congregationalists:
Bucks Chronicle, 6 Dec 1862
A BOON TO THE WORKING MAN.- The Rev W. W. McCreight and his curates (Rev. Messrs Toller and Jones), have at their own expense, started an evening class for the young men and adults of the town, to intruct them in reading, writing, and the rudiments of arithmetic. On Tuesday evening, the 25th ult., a large number attended, showing that they appreciate the generous efforts of the respected Pastor of the parish.
Alfred M. Preston, M.A., inst., 1863. Died October 26, 1882, aged 60, and is buried in the Churchyard.
Curate 1865-68: Rev. J.W. Hanson
Curate in 1870: Rev. John Coleridge (he left for the Isle of Wight in 1872)
Curate licensed Dec 1872: Mr Coote
Curate in 1882: Rev. R.C. Allen
Hamilton A. Douglas-Hamilton, M.A., inst., February 2, 1883; resigned 1889.
Curate in 1884-85: Rev. Francis Reyner Brooksbank Pinhorn
Curate in 1886-87: Rev. S.T. Gwilliam
Curate in 1887-88: Rev. Frederick Wilberforce Saulez
Curate in 1888-89: Rev. John Edmeades Cox Colyer
Leighton Buzzard Observer, 12 Dec 1882
APPOINTMENT TO THE BENEFICE.- The new vicar is the Rev. Hamilton Anne Douglas-Hamilton, M. A. of Trinity College, Cambridge, vicar of East Witton, in the diocese of Ripon, county of York. The appointment was virtually left by the Lord Chancellor in the hands of Sir Harry Verney, M.P., and the new vicar is, we believe, a friend of the Dean of Ripon, and has after some hesitation at last accepted the incumbency. Many of the inhabitants had petitioned the patron in favour of the Rev. J. Allen, who has diligently and acceptably discharged his office as curate of the parish for the last year or so. Mr. Douglas-Hamilton, the new vicar, is of moderate evangelical views, and likely to be an active incumbent.
He soon upset Nonconformist parishioners: see controversy over burials. He was an active Conservative in the 1885 general election campaign and 1886 general election, and was denounced in a poem by W.H. French. See also: Controversy about the vicar, 1886. He was the moving force behind the restoration of the church. Before he left in 1889 he provoked another attempt to create a School Board for Winslow.
Buckingham Advertiser, 29 Dec 1883
THE CHRISTMAS FESTIVAL was ushered in by a special service on the Eve, when the newly-formed Guild of St. Laurence, a society of communicants, was inaugurated. There were two celebrations,one at 8-30a.m., at which 43 were present, the other after the morning service, when there were 30 communicants. The anthem was by Goss in D., "Behold I bring good tidings." This is the first anthem which has been sung in the Parish Church, and great praise is due to the choir for their rendering it, and to the organist for the way in which he has worked the choir up in it. The services were well attended, especially in the morning. The sermon in the morning was preached by the Vicar, in the evening by the Rev. B. D'Oyley Aplin, curate of Great Horwood. The Church was throughout very tastefully decorated, no portion of it being neglected. The pulpit, font, and east end were particularly tastefully arranged. The Christmas thanks offerings for the poor amounted to £6 2s 2d.
The Vicar has through the kind liberality of a few parishioners engaged a parish nurse, whose sole duty will be to nurse the sick free of charge, except in certain cases when a small charge will be made according to circumstances.
Buckingham Advertiser, 3 Aug 1889
Deep and wide-spread is the regret that the Vicar the Rev. H. A. Douglas-Hamilton, has decided to leave the parish in favour of a more lucrative - and shall we say more pleasant?- living at Latimer. The good work Mr. Hamilton has done at Winslow will live after him. We join in the hope that the Winslowites will not have cause to regret his removal. As an earnest Churchman and zealous supporter of his Church, he deserves not only admiration but approval. His has been an uphill fight, when we remember his predecessor. Verily there are sins of omission as well as commission. It is doubtful if Winslow will ever possess another Preston.
Presentation after his resignation in 1889.
Douglas-Hamilton accepted the office of Rector and Archdeacon of Kimberley, South Africa in 1902. Before setting sail in September of that year, he preached two farewell sermons in Winslow parish church in July with the offerings being sent to the Bloemfontein Mission Funds. (source: Buckingham Advertiser, 5 July 1902).
Philip Herbert Eliot, M.A., inst., 1889.
Curate 1890-95: Thomas Kensit Norman
Curate 1896: Arthur DuCane
Bucks Herald, 7 Nov 1896
A Buckinghamshire correspondent writes:- "Your many Bucks readers will be interested in the preferment, or rather "translation," of the Rev. P. H. Eliot, vicar of Winslow, to the vicarage of Upton-cum-Chalvey (that is, virtually, Slough), in the same county. Mr. Eliot, son of the Dean of Windsor, has been a most conscientious and yet most popular (the two so seldom go together) vicar, a most uncompromising High Churchman, and yet altogether respected and liked by his Nonconformist parishioners. The income of Slough, a benefice in the gift of the Bishop of Oxford, is appreciably better than that derived from Winslow, and the population three times as great. Mr. Eliot succeeds the Rev. H. Savill Young, a keen politician of the Tory party, as well as a capital platform speaker, whom Slough and South Bucks Conservatives will miss, Mr. Eliot, though just as staunch a Conservative, taking less public part in politics."
"Everybody," continues our correspondent, "is lamenting the impending departure of the energetic young Vicar of Winslow; not only all the Churchfolk and clergy round, but cricketers, footballers, tennis-players, and young England generally in North Bucks. Winslow has prospered ecclesiastically under Mr. Eliot's administration in a very marked manner and to a very marked degree. He was assisted by the Rev. T. K. Norman, his former colleague when both were curates of Bishop (then Canon) Jacob at Portsea, and when Mr. Norman was preferred to the vicariate of Padbury by the Rev. A. P. Du Cane, who is now Mr. Eliot's curate. Winslow is a Lord Chancellor's living of the net value of little over £200 a year.
W.F. Armstrong, inst. 1896
Curate 1897-1905: W.H. Shackel (he was also Master of the Winslow Beagles)
There was a complaint about Mr Armstrong's "Romish practices" at the 1898 Vestry. However, he was praised (by implication) for the extent of church activities:
Bucks Herald, 20 Oct 1898
The following list of institutions connected with the Parish Church at Winslow, all of which are in excellent working order, will give some idea of the work there is to be done, even in quite a small town:- Mens, lads', young women's and elder girls' Bible Classes, Coal and Clothing Club, Penny Bank, Mothers' Meeting, Communicant Mothers' Meeting, Guild of St. Lawrence, Juvenile Temperance Guild, Guild of Good Shepherds (boys), ditto (girls), Juvenile Missionary Guild, working party, Confraternity of the Blessed Sacrament, Lads' Club and Guild District Visitors' Association, Mothers' Union, Missionary Guild, and Girls' Friendly Society. It will be noticed this list is additional to the Sunday School Organisation.
Bucks Herald, 24 March 1906
It is definitely settled that the Vicar of Winslow, Rev. W. F. Armstrong, shall exchange livings with the Rev. T. Hinkley, Vicar of Torvil, near Maidstone, but I understand there is no truth in Mr. Lorkin's remark that "Torvil is a fat living." There is really scarcely any difference between it and Winslow.
Bucks Herald, 14 April 1906
The Rev. W. F. Armstrong is leaving Winslow for Torvil, a suburb of Maidstone, on May 6, after a residence of nine years. Although Mr. Armstrong has not been able to please everybody, nor indeed has attempted to do so, yet he can look back probably on a longer period of successful church work than any of his recent predecessors. To a keen sense of duty, with a tremendous earnestness of effort, he has added a thorough business-like method such as is not very often found, and the results have been noteworthy. Following so soon on the removal of the Rev. W. H. Shackel, there must be for some little time quite a blank in the parish until the new Vicar gets well into harness. Nor will Mrs. Armstrong leave without being greatly missed, and more particularly so by the Musical Society, in which she has always taken a most active part.
Buckingham Advertiser, 12 May 1906
PRESENTATION TO THE VICAR.
On Saturday evening, at the Church Room, the Rev. W. F. Armstrong was presented by the parishioners with a cheque for £101 and an illuminated and framed list of the subscribers. The chair was occupied by Mr. Norman McCorquodale, who was supported by Mrs. Lambton, Mrs. Greaves, and Mr. Bullock, whilst in the room were Mrs. McCorquodale, Miss Lambton, Mr. and Mrs. Lloyd, Messrs. C. Hawley, G. Pass, G. H. Thompson, etc., and a large number of ladies.
Bucks Herald, 12 May 1906
At the farewell gathering to the Vicar of Winslow, he was able to announce with laudable pride that the debt on the Winslow Schools had been wiped off, and the Chairman, in commenting on the fact, said there was no doubt it was very largely owing to Mr. Armstrong's exertions that they were built and paid for. In a small parish like Winslow, it certainly is a wonder how the amount of money has been raised for different objects during the last 20 years. It is an undisputed fact that although that town has grown slightly, yet there is not the volume of trade doing that there used to be. In all probability the parcel post and other facilities have largely contributed to this, while the dwindling of the market certainly has not improved matters, but it seems to have made little if any difference to the voluntary efforts for the religious, educational, and social welfare of the place. During the last 20 years the Church has been restored, the Congregational Chapel and Schools built, the new Schools built, and the Oddfellows' Hall, if not exactly built, yet at any rate made into a creditable building at a considerable cost.
Thomas Hinkley, M.A., inst. 1906.
Curate 1906-1916: St.J.H. Beamish
Buckingham Advertiser, 25 Nov 1916
Mr. Beamish, who for about 10 years has been Curate at Winslow, but just recently has gone to Slough, under Canon Eliot, was on Thursday last the recipient of gifts very expressive of the goodwill of the parish in general, the total amount collected being £135, in addition to gifts from the choir boys and parishioners of the adjoining village of Addington. The meeting was held in the Oddfellows' Hall, which was packed for the occasion. Mrs. H. R. Lambton occupied the chair of honour, and beside her were Mr. Beamish, the Vicar (Rev. H. L. L. Denny), Mr. N. McCorquodale and Mr. W. Wise (Churchwardens); while in the body of the hall were Capt. W. H. Lambton, Rev. S. F. Shairp, Rev. Mackwood Stevens (Rector of Addington), Mr. E. B. Hayman, Dr. Vaisey, Capt. Vaisey, Dr. Kennish, etc. – Mr. McCorquodale, in opening the meeting, referred to the long connection of Mr. Beamish with the parish, saying that when he saw him ordained in Oxford Cathedral 10 years last August he little thought he would be with them all this time. He spoke of how well Mr. Beamish had worked with and supported their late lamented Vicar, and how by a geniality and gracefulness of manner, possible perhaps only to an Irishman, he had won the affection of everyone. They were extremely sorry to lose him, and the only redeeming point was that he was not very far away and they did not mean to say "Goodbye." – Mr. Wise, who had kindly acted as treasurer of the testimonial, gave some interesting details respecting the eagerness of the parishioners (including many Nonconformists) to contribute, and read a letter from Mr. L. S. Cobham regretting he was unable to be present. The Rev. O. J Jones (Vicar of Grandborough) was also unable to be with them, but as a mark of his appreciation of Mr. Beamish had illuminated (in a most beautiful manner) the testimonial. This latter contained 220 names, and the speaker estimated that as in many instances each name represented several individuals, there were about 350 contributors in addition.- Mrs. Lambton then handed Mr. Beamish a cheque for £100, a gold demi-hunting watch (and chain), engraved inside "1906-1916," and the framed testimonial. – Mr. Geo. Pass (headmaster of the Schools) then gave testimony to the great services rendered to the schools by Mr. Beamish and the affection with which the children looked up to him. – The Rev. M. Stevens, as the nearest clerical neighbour to Winslow, spoke of the indebtedness of himself and his parishioners to Mr. Beamish and the late Mr. Hinkley for help so willingly rendered in times of sickness and in holidays. They did not want to be asked, but planned how they could help him when he was in need, and his parishioners admired and esteemed Mr. Beamish so that they had made their own presentation. Geo. Cook, the senior choir boy, then presented Mr. Beamish with a silver inkstand. – Mr. Beamish, who was much touched, thanked Mrs. Lambton and all the speakers, and expressed his appreciation of the great kindness with which he had been treated by one and all. He believed he knew everybody, and that was a thing he was afraid he should never do at Slough with its population of 15,000. Not only did he know everybody at Winslow, but, as Mr. Mackwood Stevens had said, he would carry the remembrance of them all away in his heart, and he could honestly say the happiest years of his life had been spent amongst them. If he had any favourites it was the children, for he was never so happy as when he was with them. But young and old, he did not believe he should ever forget them. – The meeting then concluded with "God save the King" and "Auld Lang Syne."
Henry Lyttelton Lyster Denny, M.A., inst. 1916.
C.J. Wigan, 1918-20
St.J.H. Beamish, 1920-57
Arthur Barnes, 1958-86
Frank Johnston, 1987-95
Anthony Whalley, 1995-2006
Belinda Searle-Barnes, 2007-2014
Andrew Lightbown, 2016-2022
---
Churchwardens
The names of the churchwardens are sometimes given in the Archdeaconry Court Books in the record of the archdeacon's visitation, and were usually recorded in the overseers' accounts.
1552. Anthony Wendelborow, John Scott
1571. Bernard Hogge, Uriah Varney.
1586. William Gyles, William ?
1595. William Leache.
1599. Ralph Michell, Nicholas Michell.
1599. Thomas Miller, Thomas Coxell, William Spooner.
1628. Peter Fyge, Daniel Sayre, William Norman (Clear, p.115)
1642. Henry Pym, William Hogson, Thomas Glenister.
1662. Richard Phips, Thomas Grant. William Whitehall sidesman.
1664. John Henly, Thomas Cerbey, John Hogson.
1670. John Godwyn, Thomas Smallbones, Charles Bowler.
1671. John Godwyn, Andrew Stutsbury, William Townsend sr.
1672. Francis Glenister, John Norman, Thomas Robson.
1676. John Armbrug, Benjamin Leach, Peter Lownds.
1677. John Seaton, Francis Dosett, Robert Steevens. According to Clear, p.49, the timbers of the oak roof of the porch have the initials G.S. R.S. F.D. 1677.
1678. Robert Scott, Christopher Coettes
1683. William Spooner, John Greene, Henry Townsend
1684. Edmund Paxton, John Seaton sr, John Seaton jr
1685. William Wyatt, Peter Lowndes, Benjamin Leach
1686-7. John Ambrow, Thomas Godwyn, John Dymocke (named on a silver plate dated 1686)
1689. Thomas Blake, George Elliot, Thomas Foster
1690. Simon Hogson, William Short, Joseph Glenister
1691. Richard Phippes, Thomas Bishop
1692. Richard Phips, Richard Wootton
1693. William Short, Henry Townsend, John Stutsbury
1694. John Stutsbury, Henry Townsend, William Short
1695. Richard Seaton, William Townsend, Thomas Henly
1696. William Elliott, Thomas Wright, George Blake
1699. John Henly, Joseph Glenister, John Seaton (Clear, p.113)
1706. John Henly, Benjamin Saunders, Simon Hogson
1707. Simon Hogson, John Seaton, William Shelton
1708. Richard Bigg, Thomas Henly, John Seaton
1711. Richard Bigg, Thomas Henly
1712. William Fyrth, Thomas Blake, William Townsend
1713. William Fyrth, Thomas Wright
1714. Thomas Wright, William Shelton
1716. Robert Wyatt, Matthew Hobbs
1719. Simon Hogson, William Franklin, Thomas Henly
1742. James Budd, John Cox
1760. Thomas Gibbs, Stephen Gibbs, Richard Shilton
1838. Thomas Burgess, Samuel Greaves Dudley
1839. John Bull, S.G. Dudley
1840. Richard Baldwin, S.G. Dudley
1841. Grant King, S.G. Dudley
1844. John Curtis, S.G. Dudley
1846-51. Alfred Barton, George Cross
1852. William Neal, George Cross
1853-54. George Maydon, George Cross
1855-58. John Curtis, George Cross
1859-63. John Grace, George Cross
1864. Henry Monk, George Mayne
1865. Charles Mayne, George Mayne
1866. Robert Williatt Jones, George Mayne
1870-72. John Hathaway, Robert Williatt Jones
1873-74. Samuel Burnham Dudley, Thomas Newham
1875. Samuel Burnham Dudley, Charles Clare
1883. George George, Edward Selby Lowndes
1884-85. George George, Cornelius Colgrove
1886: George George, Thomas Newham
1887-88: Herbert Bullock, Cornelius Colgrove
1889-1900: Herbert Bullock, J.C. Hawley
1901-03: Herbert Bullock, Dr Vaisey
1904-05: Herbert Bullock, George Ingram
1906: Herbert Bullock, W.H. Stevens
1916: N. McCorquodale, W. Wise
Copyright 28 November, 2023