High Street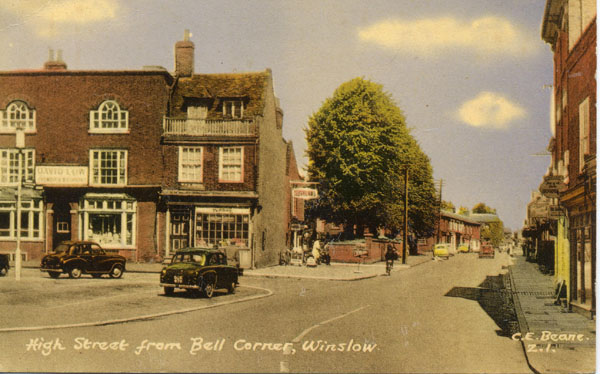 The name High Street is relatively recent. Until the 19th-century northward expansion of Winslow, the street from the Market Square to Greyhound Lane was known as Cow Street. The road leading north from that was known at first as Union Street (after the Workhouse) or Buckingham Road. In the early 20th century the whole road from the Market Square to Station Road began to be called High Street. Before the mid-19th century the last house on the west was Sear's coachbuilders (site of the fire station and telephone exchange) and the last house on the east was the original Workhouse, later Benbow's.
Click on the map below for links:


The postcard below was posted in 1915 but may be rather older. Benbow's shop is front right (replaced in 1926 by nos.56-58), and the white building next to it was the original workhouse. Beyond that is the shop which is now the Co-Op (Manchester House). The scene beyond it has changed a lot due to the plane crash in 1943 and the fire at Gibbards' in 1933. On the left, where the Post Office was built in 1911 and the fire station in the 1950s, the premises included the house of the Sear family, formerly the north end of the town. See A.J. Clear's lecture in 1932 for more information.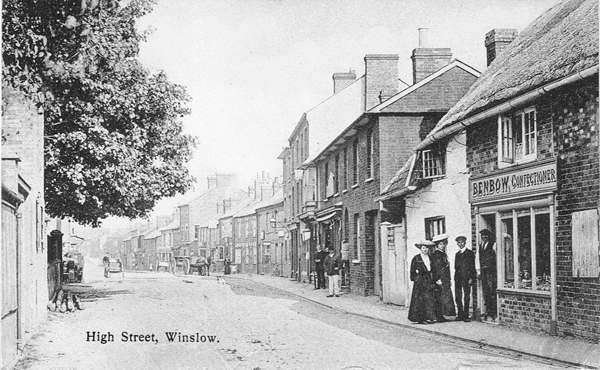 The postcard below was posted in 1905. It shows the High Street immediately to the south of the photo above; Benbow's shop in the foreground above is the thatched building whose gable end can be seen in the background below. On the right are 34-54 High Street. The first references to buildings on the site can be found in the court rolls of the 1680s, and no.42 (now Brian Clark Opticians) largely avoided 19th-century remodelling. The building on the far right, whose frontage has been completely altered, is now Oak Park Alarms. In 1905 it was Miss George's stationery shop. Other shops included a butcher's, fishmonger's and barber's. On the left is the Victorian building called Arundel House, formerly the Winslow Commercial School, but used by Matthews Brothers builders at the time of the photo.