Avenue Road, Norden and Park Road
The history of the site which is now Avenue Road can be traced from the 15th century. Jump to:
Norden was the original name of the land on which Avenue Road was built, and its name survives in Norden House, now the doctors' surgery. There are several references in the 15th-century Manor Court Books to land called Norden and a road called Norden Way, probably the future High Street, e.g.:
6 May 1448
John Maundevyle lying on his deathbed surrendered into the lord's hands … a piece of land called Norden with 2 headlands at the lower end and a headland at the upper end and lying between the land lately the said John Maundevyle's and the king's highway called Nordenwey … And the lord granted [it] to John Cok and Alice his wife …
This deed (Centre for Bucks Studies, BAS 376/22 no.14) mentions Norden as a furlong name in 1666:
22 Oct 1666
Daniel Beadles and Ann his wife surrendered 2 selions of arable land containing 1 are in New Mill Feild in Norden Furlong next to the land of Thomas Halfpenny on the west. To the use of William Firth jr and the heirs of his body, reversion to William Firth sr and Mary his wife. William jr sought admission through William sr his guardian. Rent 3d, fine 2s.
Some land called Nordens or Nordon Piece was mortgaged by Peter and Martha Fige in 1647 and again in 1652, then sold in 1652/3, when it amounted to 18 acres:
Centre for Bucks Studies, BAS 376/22 no.3
The Court Baron of the Right Hono(ra)ble Maiur Generall Phillippe Skippon there held the twentieth day of January one thousand sixe hundred fifty and two amongst other things it is soe inrolled
To this Court came Peter Figge the younger gent & Martha his wife Thomas Stevens gent Wiliam Lawley and Elizabeth his wife the said Martha and Elizabeth beinge a lone & secretly examined by Steward of the Mannor aforesaid and in full Court they did surrender into the handes of the Lord by ye. handes of his steward All that peece of arrable pasture & meadowe ground comonly called Nordens & Nordens Slade conteyning eighteene acres in the Millfeild in Winslowe and all that Close called Pond Close in Millfeild in Winslowe conteyning two acres To the use and behoofe of Richard Hodgkins and his heires forever And nowe att this Court came the aforesaid Richard Hodgkins and requested to bee admitted to the P(re)misses To whome the Lord by his steward granted seisin thereof To hold to the same Richard Hodgkins and his heirs by the Rodd att the will of the Lord accordinge to ye Custome of the Mannor by Rent harriott and other services therefore due & of right accustomed and giveth to the Lord for a Fine xl s har(riott) nothinge is admitted Tennant & hath done his fealty
Ex by Oliver Lawrence Steward
26 March 1659: Richard Hodgkins mortgaged a piece of arable land, pasture and meadow called Nordens and Nordens Slade containing 18 acres in Mill feild to Thomas Halfpenny gent. Richard defaulted on the mortgage and Thomas was admitted tenant 8 Oct 1660 (CBS, BAS 376/22/63). Thomas Halfepenny jr was admitted tenant on his father's death, 1 May 1685.
William Lowndes recorded that before 1703 he bought 33½ acres copyhold from Thomas Halfpenny including "Pond Close, one of the Rose Closes and all Norden except one acre", and 1 acre copyhold "in Norden next Horwood way" from William Firth junior (see Lowndes Roll 1). Bricks for the building of Winslow Hall were provided by John Stutsbery from "ye middle kilne in Norden". In 1709 Daniel Gyles bought "one of the Norden Closes" from Thomas Short. None of these documents show exactly where Norden was, but its location can be identified from later information. The maps below show the changing road layout around it.

In the first map (1599), there is an enclosed area between the road leading to the windmill and the road which became the High Street.
In the second map (1770 but showing the layout before Enclosure), the road to the west is shown as a through road (Horwood way in William Lowndes' records) along the line between the modern Burleys Road and the Great Horwood Road junction. The road to the east was now the Turnpike, shown in darker colouring.
In the third map (1813), the road to the west has disappeared with Enclosure. The map does not show all the individual fields.
At Enclosure in 1767, John Budd was allocated 24 acres 2 roods 6 perches in one block: it had the Turnpike to the east, various old enclosures to the south, the Mill Garden to the west, and the land of Benjamin Ingram which later became Gubblesgore to the north. In his will proved in 1778 (National Archives, PROB 11/1043/266 - read the full text), John Budd, butcher, left:
to his eldest son John: his new enclosures of 2a 2r 36p of arable, 1a 3r pasture
to his third son William: his new enclosure of pasture called the Pickles containing 1a 1r 10p
to his fourth son Francis: his new enclosure of pasture called the Further Norden containing 10a 0r 13p
to his daughter Elizabeth and her husband Matthew Morris: his new enclosures of pasture called the Cross Lane Closes, containing 2a 0r 36p.
to his daughter Mary and her husband John Sayer: his new enclosure of arable and pasture called the Brickkiln Norden with the brick-kiln standing there, containing 6a 0r 9p
The total is short of the Enclosure allocation by just over half an acre, perhaps accounted for by two cottages with "garden and pightle of pasture ground" which he left to Elizabeth and Matthew. Some of the land came on the market. In 1803, Francis Budd, later described as yeoman, seems to have bought the land of William and Mary. He may have bought out his other siblings as well, and by 1820 he had more land than his father, but his will proved in 1823 does not state how much he still held when he died. His death was announced in the Oxford Journal, 12 July 1823:
On the 30th of last month died, after a long and severe illness, which he bore with christian fortitude and pious resignation, Mr. Francis Budd, of Winslow, Bucks, aged 73 years: his memory will long be cherished by his relatives and friends with the tears of affectionate regard.
Norden in the 19th century
Northampton Mercury, 3 Dec 1803
To be SOLD by AUCTION By JOSEPH DUDLEY
At the Bell Inn, Winslow, Bucks, on Thursday the 14th Day of December inst. at Four o'Clock in the Afternoon,
AN inclosed CLOSE, situated in the Parish of Winslow, called or known by the name of the Brick-Kiln Norden, with the BRICK-KILN standing therein, containing by admeasurement six Acres and nine Perches.
Also one other inclosed CLOSE, in the Parish of Winslow aforesaid, called or known by the name of the Pickles, containing by admeasurement one Acre one Rood and ten Perches.


The above are both Copyhold of Inheritance; and further Particulars may be known by applying to the Auctioneer at Winslow – Possession to be had at Midsummer next.
Manor court, 29-31 Oct 1804
Francis Budd of Winslow, butcher, and Mary his wife mortgaged to William Hogg of Whitchurch, gentleman, for £450 & 5% interest a close of pasture called Further Norden containing by admeasurement ten acres, to which Francis was admitted under the will of his late father John Budd in 1778.
Manor court, 28 Oct 1805
Mary Sayer of Buckingham, widow of John Sayer Grocer, on 1 Jan last mortgaged to John Stallworthy of Cowley, Preston Bissett, Dairyman for £250 payable on 1 July next a Close of Arable Land and Pasture called the Brick Kiln Norden with the Brick Kiln standing thereon containing 6a 0r 9p. John & Mary were admitted as joint tenants 2-3 Oct 1778.
Will of Mary Sayer, dated 26 Oct 1804, proved 1806:
She left all her Copyhold estate in Winslow to be sold by her executors Francis Budd of Winslow farmer and Robert Gray of Buckingham surgeon.
Manor court 1808, referring to mortgage on 9 Jan 1808
Francis Budd of W Butcher & Mary his wife surrendered to Richard Seaton of Winslow brandy merchant for £450 and 5% interest due on 9 July next a Close of pasture called the Further Norden containing by admeasurement 10 acres 0 roods 13 perches now in his own occupation, to which he was admitted tenant under the will of his late Father John Budd at a general court on 2-3 Oct 1778.
Manor court, 25 Oct 1813, referring to surrender on 20 May
Framcos Budd and Robert Gray, executors of Mary Sayer, sold for £500 to Richard Ridgway of Buckingham grocer & Edward Cleaver of Newport Pagnell draper: the Close of arable and pasture called the Brick Kiln Norden, with the Brick Kiln standing thereon, containing 6a 0r 9p, now and for some years past in the occupation of Richard Staniford sr & Francis Budd.
Northampton Mercury, 25 June 1820
WINSLOW, Bucks,
COPYHOLD ESTATES.
To be S O L D by A U C T I O N,
By JOHN DAY & Son,
On Tuesday the 20th Day of June, 1820, at the Bell Inn, Winslow, at Three o'Clock in the Afternoon, in two Lots (subject to such Conditions of Sale as will be then produced),
TWO CLOSES of capital OLD SWARD LAND, situate at WINSLOW aforesaid, containing together, about 13 Acres and a Half.
Lot 1. comprises all that CLOSE of rich OLD SWARD LAND, called Nording [= Further Norden], containing, by Estimation, 10 Acres and two Roods, be the same more or less.
Lot 2. All that CLOSE of rich OLD SWARD LAND, called the Long Close [= the former Angel / Cross Lane close, roughly where Angels Close is now; see Saving p.20], containing, by Estimation, three Acres, more or less.
The above Premises are held of the Manor of Winslow, and nearly equal to Freehold; are Copyhold of Inheritance, Fine certain, and now in the Occupation of the Proprietor, Mr. F. BUDD, of whom further Particulars may be had.
Also, at the same Time, will be SOLD by AUCTION, the following CROPS of MOWING GRASS, and the AFTERMATH till Michaelmas next.
Lot 1. A CLOSE of MOWING GRASS, and the AFTERMATH, called the Long Close, containing, by Estimation, three Acres, more or less.
Lot 2. A CLOSE of DITTO, called the Pightle, containing, by Estimation, one Acre and three Roods, more or less.
Lot 3. A CLOSE of DITTO, called Clay Close, containing One Acre and One Rood, more or less.
Lot 4. A CLOSE of DITTO, called the Barley Close, containing two Acres and two Roods, more or less.
Lot 5. Also a CLOSE of DITTO, called the Brick-Kiln Nording, containing five Acres and one Rood, more or less.
N.B. The above Closes are all situate at Winslow aforesaid, and in the Occupation of Mr. F. BUDD, of whom further Particulars may be had.
Credit will be given for the Grass Crops, on approved Security, till Michaelmas next.
The Stanifords, brickmakers who lived in the High Street, acquired a field called Pickles in 1805 and probably bought Brick-Kiln Nording / Norden at this sale, as they owned it in 1857. In 1835, about 2 acres of Brick-kiln Norden (the part nearest the road) was sold to provide the land for the new Workhouse.
Richard Staniford jr retired as a brickmaker in 1833, when his business premises, mostly at Norden, were put up for sale.
Northampton Mercury, 14 September 1833
BUILDING MATERIALS, WINSLOW, BUCKS.
TO BE SOLD BY AUCTION,
BY DUDLEY & SON,
On Thursday Sept. 19, 1833, on the premises of Mr. RICHARD STANIFORD, Winslow, who is declining business,
Lot 1. A ONE BAY BUILDING, 11 feet long by 10 feet wide, thatched, and bricked round, standing in the BRICK-KILN CLOSE, adjoining the Turnpike Road, near the town.
Lot 2. A TWO BAY BUILDING, 18ft. 6in. long, 11ft. 6in. wide, thatched, part brick and part boards.
Lot 3. A TWO BAY BUILDING, 24ft. long, 12ft. 3in. wide, tiled , part brick and part boarded.
Lot 4. A TWO BAY BUILDING, 20ft. long, 12ft. wide, tiled, part brick and part boards.
Lot 5. A FIVE BAY BUILDING, 51ft. long, 12ft. wide, tiled, part brick and part boards.
Lot 6. A capital THREE BAY BARN, 42ft. long, 18ft. wide, part brick and part boarded, tiled and thatched, standing adjoining the garden in the occupation of Mr. Staniford.
The whole of the Buildings are in Oak Frames, and present an excellent opportunity to any person in want of building materials.
For a view of the same apply to the Proprietor.
The Company are requested to meet the Auctioneers at the BRICK-KILN at Two o'clock, and proceed to Sale.
This is the last use of the "Brick-kiln" part of the name, when it was sold after Richard Staniford's death:
Bucks Herald, 21 Feb 1857: a forthcoming sale by Dudley & Son included "A valuable CLOSE of PASTURE LAND, in Winslow, known as the "Brick-kiln Norden," adjoining the Union House, and GARDEN, containing 3A. 1R. 34P. This Land is particularly desirable as a lair for droves and cattle at the various fairs, and will command a proportionate rent; it is in the occupation of Mr. William Neal, of the Bell Inn."
This photo taken in 1885 from the Church tower shows Nordens (the fields beyond the one with sheep grazing) before any development; the only buildings are agricultural ones or the remains of the brickmaking premises: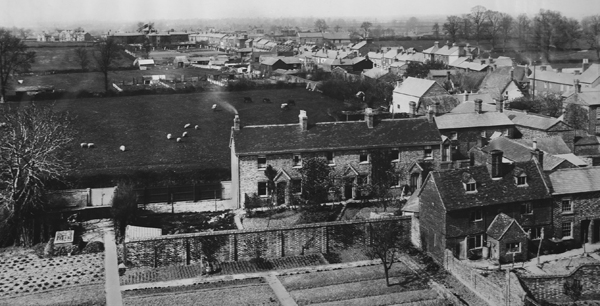 Bucks Herald, 15 Jan 1876:
TWO VALUABLE CLOSES OF PASTURE LAND,
Nearly adjoining the Market Town of Winslow.
TO BE SOLD BY AUCTION, BY
Messrs. DUDLEY & SON,
On THURSDAY, JANUARY the 27th, 1876,
At the BELL HOTEL, WINSLOW, at Four o'Clock in the Afternoon, in One Lot,
TWO CLOSES of RICH GRASS LAND, containing 10a. 1r. 33p., known as "The Nordens", close to the Town, with a Cowhouse standing thereon, in the occupation of Mr. William Neal, a highly respectable Tenant, at the annual Rent of £45.
This Property adjoins the Town near the Buckingham-road, and will always command a high Rental as Accommodation Land, and at no distant period will become valuable for Building. The soil is dry, of first quality, and in excellent condition.
It is Tithe-free. The Outgoings are a Land-tax of 18s. 0½d., and Quit-rent of 4s. It is Copyhold of the Manor of Winslow, being nearly equal in value to Freehold.
To View, apply to Mr. Wm. Neal, at the Bell Hotel; and for further particulars to Messrs. Dudley and Son, Auctioneers and Land Agents, Winslow; or to Messrs. Walls, Abbott, and Martin, Solicitors, Mansion House Chambers, Queen Victoria Street, London, E.C.
After the land for Avenue Road and Park Road was sold off, the remaining farmland, called Nordens, belonged to T.P. Willis. It amounted to 10a. 0r. 30p. At the sale of his property in 1910 it was bought by J.C. Hawley for £600.
Fields 91 and 92 apparently belonged to Henry Wigley and were offered for sale in 1888 after his death, but must have been bought in by his son George.
Building of Avenue Road (1890)
As Winslow expanded northwards, the building potential of the land was realised.

The first map, from 1880, shows the land before any building began.
The second, from 1898, shows Avenue Road and Park Road filling two former fields (over half of the land sold in 1876).
The third, from 1958, shows very little further development.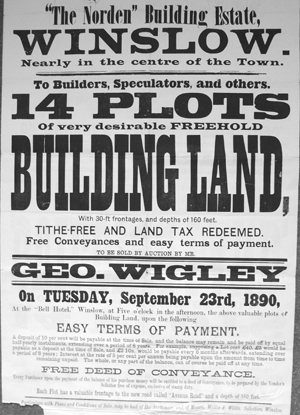 Avenue Road had already been constructed by 1890, when 14 plots of building land with frontages on it (some of which were sub-divided) were offered for sale. George Wigley seems to have been not only the auctioneer but also the owner of the land (the remainder of Nordens now belonged to the solicitor T.P. Willis). The name evidently came from its straight and tree-lined construction. The Bucks Herald of 27 Sep 1890 reported the successful purchasers, nearly all investors rather than would-be owner-occupiers, with the prices they paid per square yard:
Mr Gowin, 1s 7d
Mr R. Benton, 1s 7d
Mr H. Roads, 1s 7d
ditto, 1s 8d
Mr George Bailey, 1s 7d
Mr T. Walker, 1s 6d
ditto
Mr Wise, 1s 6d
Mr John Walker, 1s 8d
Mr G. Grainge, 1s 9d
Mr John Ingram, 1s 7d
ditto, 1s 8½d
Messrs Matthew, 1s 7½d
Mr C. Osborn, 1s 6d
Mr East, 1s 5d
ditto
Messrs Matthew, 1s 5d
Mr John Keys, 1s 5d
Mr F. Phipps, 1s 6d
Mr East, 1s 5d
Mr Goodman, 1s 6d
ditto
ditto
In the 1891 Census, the only resident of Avenue Road was Dr Thomas Vaisey of Norden House, aged 34, general practitioner. He built Norden House in the "Arts and Crafts" style on the land immediately west of the Workhouse garden which he must have bought before the 1890 sale. It can be seen on the right in the photo below. See separate Norden House page for more about the house.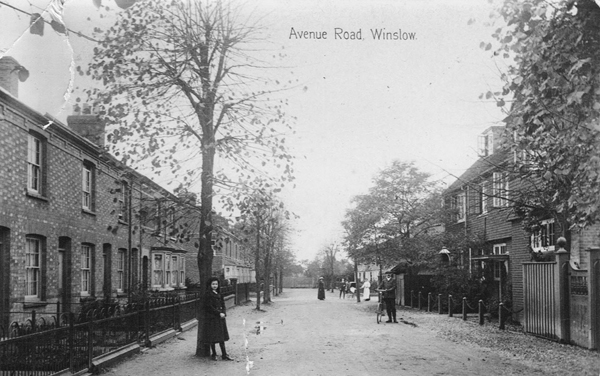 The Vestry (i.e. parish meeting) of March 1891 discussed what to do about the road, which was treated as two sections, one from the High Street to Norden House and one (the original Avenue Road) from Norden House to the end of the development (Bucks Herald, 28 March 1891):
A long discussion followed as to the advisability of the parish taking over the road leading to the new Avenue-road on the Nordens building estate, Mr. Wigley remarking that, although financially it made not a penny difference to him, as he was not bound in any way to maintain or repair the road, yet if the parish would take to the road he would put it in thorough good condition. - Mr. Parrett proposed that if Mr. Wigley did so, and also made a paved footpath 3ft. wide, the parish should take to the road. - Mr. Wigley totally objected to the clause about the footpath, and it was withdrawn, the remainder of the proposition being carried. - Mr. F. Roads proposed that the new piece of road from Mr. Vaisey's house to Mr. Willis's gate [to the field at the end of the road] be taken to by the parish, but Mr. Neal proposed an amendment that the matter be adjourned for twelve months, and upon a show of hands this amendment was carried by thirteen to nine.
In 1892, the Vestry agreed that the parish should take over the whole road, for which it had already provided street lighting (Bucks Herald, 26 March 1892). However, the new road added to Winslow's existing drainage problems. There was a drain under it, but sewage was reported as running down the road after a flood in May 1893, and overflowing into the gardens in July. Running the sewer down Avenue Road into T.P. Willis' field at the end was proposed during the debates about drainage in 1893. Discussions about this continued throughout the 1890s. In 1895, 25 owners and occupiers of Avenue and Park Roads told Winslow RDC they had paid rates for four years without any money being spent on the roads; they wanted surface water carried off and a gravel path with a kerb made (Buckingham Advertiser, 4 May). As late as July 1915 the road was knee deep in water and the houses flooded after a hailstorm.
A plan submitted by Mr B. Sanderson for building for Mr Gowin five cottages on a 60 foot frontage (i.e. two of the plots sold in 1890) was criticised by the RDC, who said it would be better to have only four. It was then reported that: "Mr. Gowin was quite willing to make the five cottages of equal frontage, and so increase the cubical contents without altering the construction already passed by the Council. Subject to this undertaking, the plan of the five cottages was, therefore, approved" (Buckingham Advertiser, 13 May). By December, Mr Gowin was advertising to let "3 six-room COTTAGES with barns, w.c., and garden".
Another proposal for "two cottages and stable and cart shed, & c." by Mr Sanderson for Mr John Walker depended on finding a satisfactory water supply (Bucks Herald, 22 Aug 1896). Two lots of freehold building land were advertised for sale on 6 Nov 1900.
1894: Buckingham Advertiser, 15 Sep
DESIRABLE INVESTMENT.
3 SUBSTANTIALLY BUILT newly-erected COTTAGES, pleasantly situate in Avenue Road, Freehold, Tithe-free, and Land Tax Redeemed,
TO BE SOLD BY AUCTION, BY MR. GEO. WIGLEY,
On WEDNESDAY, September 26th, 1894, at the Bell Hotel, Winslow, at 4 o'clock in the Afternoon, by direction of the owner.
The Property comprises 3 well-built COTTAGES, with bay windows, containing 3 Bedrooms, 2 Sitting-rooms, and a Kitchen, with Copper, Sink, &c.; each house has a front Garden, and good kitchen Garden, Wood-house, and w.c. They are in the occupation of Messrs. Harry T. Roads, Geo. Willmer, and Robert Willmer, and represent an annual rental of £26.13s.
The property is sold subject to a joint right of passage way and well and pump of water with the two adjoining Cottages.
To view apply to Mr. H. T. Roads, and for further particulars to Herbert Bullock, Esq., Solicitor, Winslow, or Mr. Geo. Wigley, Auctioneer & Land Agent, Winslow & Fenny Stratford.
The trees were not universally popular: one was reported to be dead and another dying because of a gas leak, and Cllr Neal "said he thought it was a good thing rather than otherwise, for there certainly was not room for carts to pass as it was. He should be against any steps being taken to prevent them dying" (Bucks Herald, 22 July 1899). His point is well illustrated in this photo, looking towards the High Street: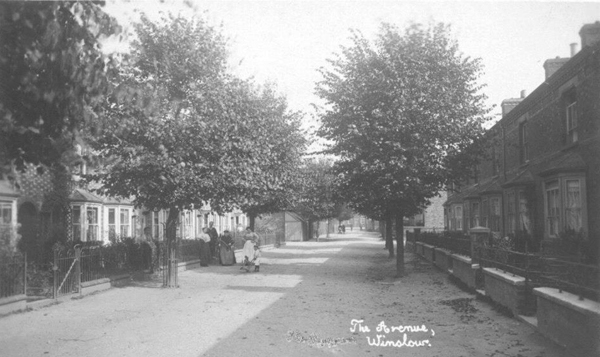 Avenue Road in the Censuses (1901-11)
The houses are numbered in the same way in both censuses, but it is not the modern numbering: it apparently began nearest the High Street, and went round in a loop to the junction with Park Road. The names of the heads of household are listed below.
1901 Census

1911 Census (houses with 5 rooms excluding kitchen, unless stated)

William Taylor, 47, bricklayer
George Colton, 37, bricklayer
Edward Viccars, 71, County Council roadman
Joseph Hamp, 49, agricultural labourer
empty house
Richard Thomas Wise, 40, stonemason
Henry Crofts, 39, grocer's assistant
no entry
no entry
Arthur Walker, 26, fruiterer
Harry Jones, 68, saddler
William Norris Midgley, 33, solicitor's clerk
Henry Hudson, 30, tin-plate worker
George Ash, 39, brewer's clerk
George Clements, 64, retired railway guard
John Viccars, 48, carter on farm
William Townsend, 34, platelayer on railway
William John Knight, 35, rural postman
Annie George, 23, dressmaker (daughter of the absent head of the household)
George Willmore, 68, bricklayer's labourer
Edward Hodgkinson, 26, builder's clerk
William Roads, 39, carpenter
Alfred Roads, 71, postman, retired
uninhabited
Lenora Smith, 83, widow
William Taylor, 25, bricklayer
John Gates, 38, relieving officer & registrar
Edward Mullis, 37, gardener (domestic)

William Taylor, 57, bricklayer
John Verney, 40, postman [4 rooms]
Charles Francis, 31, postman [4 rooms]
Joseph Hamp, 59, general labourer [4 rooms]
Annie Elizabeth Budd, 58, laundress [4 rooms]
Richard Wise, 50, stonemason
Henry Crofts, 49, grocer's assistant
no entry
no entry
no entry
Frederick Matthews, 30, plumber [6 rooms]
William Ernest Young, 38, farmer
Edward Hodgkinson, 36, builder's clerk
Richard Saunders, 50, saddler & harness maker [4 rooms]
Joseph Goss, 30, grocer's assistant
George Daniel Walker, 35, bricklayer [6 rooms]
William Townsend, 44, platelayer on railway
William Knight, 48, rural postman [6 rooms]
George William Putnam, 46, brewer's cellarman
Amos Beckett, 51, labourer on farm
John Jackman, 67, roadman
William J. Roads, 50, carpenter
Alfred Roads, 81, pensioned postman
Charles Askham, 48, railway carter
George Smith, 61, general labourer
William Taylor, 35, bricklayer
John Gates, 48, relieving officer & registrar
Edmund [sic] Mullis, 47, gardener (domestic) [6 rooms]
This image of Avenue Road looking west is dated 29 March 1916: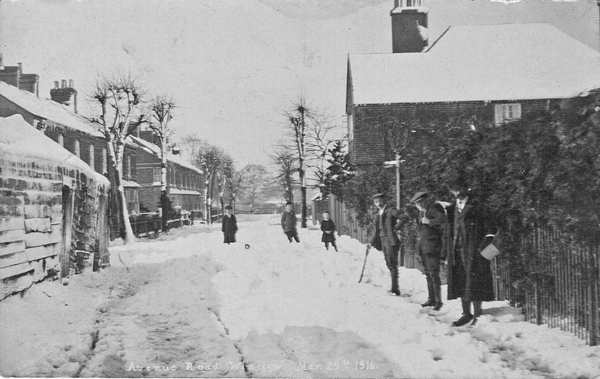 The photo below shows the west end of Avenue Road probably in the 1950s; the field was built on in the 1980s. Photo provided by Tony Walker.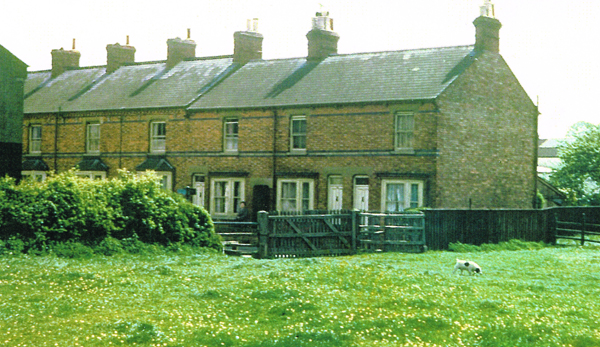 Building of Park Road (from 1891)
Some of the building plots sold in 1890 were in what became Park Road. The maps suggest that the original intention was to develop it to the south of Avenue Road as well as the north (i.e. Park Road South - building land was advertised for sale there in 1911), but this did not happen until 80 years later. The houses, which were bigger than in Avenue Road, were mainly built by the Keys and Viccars family. The name, presumably intended to match Avenue Road as there was no park there at the time, is mentioned in a report of a Winslow Rural District Council meeting of 1895; Cllr Neal said Park Road was a private road and "they had nothing to do with it until it was put into proper order by the person who sold it, unless he had made other arrangements" (Bucks Herald, 4 May 1895). There was an advert for "a PLOT of valuable FREEHOLD BUILDING GROUND, situate in Park Street, on the Nordens Estate" (Bucks Herald, 8 June 1895), and a plan for a new house in Park-road by Mr William Viccars was approved by the RDC (Bucks Herald, 14 Dec 1895). In 1897 the Parish Council turned down the residents' request to install a lamp because the RDC had not taken over the road. There were five occupied houses in 1898, when Mr Viccars complained that they "had no drainage or sanitary arrangements" and asked the RDC to take over the road, leading to the following discussion:
1898: Bucks Herald, 30 April
PARK ROAD, WINSLOW.- Mr. Wise [sanitary inspector] said that the cost of a 6-inch drain, with two inspection chambers, for Park-road, would be £38:10. If half the cost were paid by Mr. Vaisey, it would work out at about 23s. 4d. per plot of 40ft. frontage.- Mr. Neal asked Mr. Wise what, in his opinion, was the sanitary state of Park-road.- ... Mr. Neal moved that the Council considered it to be a private road, with which they had nothing to do, and that it was the duty of the owners to look after it.- ... Mr. Illing seconded Mr. Neal's resolution.- Mr. G. Clarke moved an amendment that the owners be called upon to put the sewers in, which Mr. Dickins seconded.- On being put to the vote- Messrs. Neal, Illing, Morris, Colgrove, and Monk (5) voted for the resolution; and Messrs. Clark, Lester, Hughes, O. King, Hedges, Ormond, Young, and Dickins (8) for the amendment, which was carried.- Mr. Neal said they would saddle the parish with any amount of drains, and a law-suit, before they had done.
In 1901, when "there were eight houses there, and two more building", the residents complained about not having street lighting (Bucks Herald, 30 Nov). In 1903, it was reported that "owing to the wet weather it had become almost impossible for ladies and children to get up the road", and the Council agreed to look into it (Bucks Herald, 7 Nov), but the residents were still held responsible in 1909. More building plots were put up for sale in 1906:
MESSRS. GEO.WIGLEY & SONS
Are instructed to Sell by Auction On MONDAY, July 2nd, 1906,
At the Bell Hotel, Winslow, at 5 o'clock exact time in 2 lots,
2 VALUABLE PLOTS OF FREEHOLD
BUILDING LAND
ABUTTING ON THE PARK ROAD NORTH.
LOT 1- (No. 15 on the Norden Estate Sale Plan) comprises a valuable PLOT OF FREEHOLD BUILDING LAND having a frontage about 40 feet in the Park Road North at a depth of about 115 feet. There is a brick and tiled Pig Stye at the back of the Plot.
It is now let as garden-ground to Mr. R. Saunders at a rental of £1 10s. 0d. per annum.
LOT 2- (No. 16 on the Norden Estate Sale Plan) comprises a very eligible PLOT OF FREEHOLD BUILDING LAND having a frontage of about 40 feet to Park Road North and an average depth of about 109 ft. 6 in.
It is let to Mr. Mullis as garden-ground at a rental of £1 10s. 0d. per annum
Both lots are free from land tax, and offer a capital opportunity of acquiring land for the erection of Cottage property for which there is an undoubted demand.
A Plan of the property may be seen and further particulars and conditions of sale obtained of
Messrs. Willis & Willis, Solicitors, Winslow; Or of the Auctioneers, Winslow.
The land was probably bought by John Keys, who later in the year submitted plans for two new houses to the RDC.
In 1910 the RDC ordered its Surveyor to procure 50 tons of slag for the road, and in 1912 the Gas Company agreed to install mains gas if the Parish Council provided a street light. The photo below shows Park Road with ten houses but before the lighting or adoption of the road.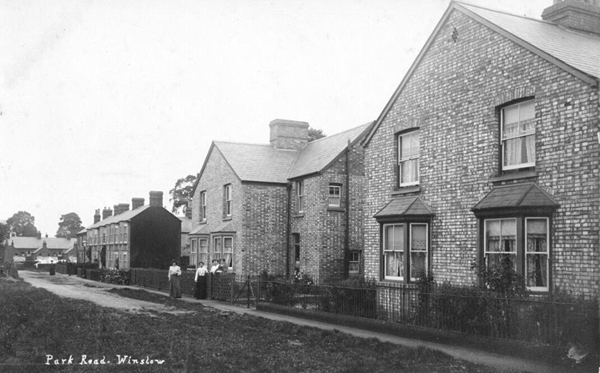 Park Road in the Censuses (1901-11)
In 1901 there were still only 5 occupied houses:
William Benjamin Viccars, 34, bricklayer
Park House: Ellen Nicholls, 78
John Keys, 64, carpenter & builder
Frederick Tompkins, 37, gardener (domestic)
James Thomas Lambourne, 35, platelayer on railway
In 1911 this had doubled (houses with 6 rooms unless stated):
William George Wise, 31, stonemason
Ann O'Dell, 65, retired housekeeper
William John Read, 28, carpenter
Edwin Egleton, 50, retired grocer
Emma Ward, 69, no occupation [5 rooms]
John Keys jr, 40, builder & house decorator
John Keys, 74, carpenter & builder
Sidney Richard Midgley, 32, ironmonger's assistant [5 rooms]
William Viccars, 44, bricklayer
Cottage House: Annie Bailey, 34, matron in waifs & strays home for boys, with 6 boys aged 9-12 [this was under the auspices of Miss Dorothy Lambton of Redfield]
William Attwooll, 35, elementary schoomaster
Later developments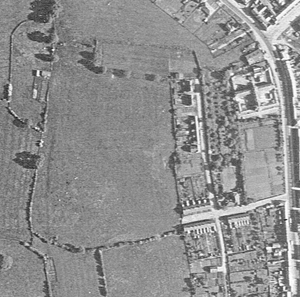 Winslow Sports Club began in 1924 on land at the end of Park Road. It was formed mainly by members of the Congregational Church, and played bowls and tennis. It closed after the Second World War, and the site, along with adjacent fields, was acquired by Bucks County Council for Winslow County Secondary School, which opened in 1959 (now the Winslow Centre). The aerial view on the right, from 1947, shows the Sports Club at the north end of Park Road. To the west of Park Road is what remained of the Nordens, and on the left edge of the photo is the enclosure identified as the Mill Garden in 1767 (site of the windmill).
The Nordens was offered for sale in 1919 (Bucks Herald, 13 Sep) but subsequently withdrawn:
The highly-valuable Enclosure of Rich FREEHOLD ACCOMMODATION LAND, known as "Nordens", comprising an area of over 10 Acres, most eligibly situated off the High Street, with direct approach by Avenue Road, forming an ideal building estate, underlying which is a bed of Sand of a good building character. With possession at Christmas next.
In 1945 it was owned by the Matthews family and farmed by H. Brazier of Granborough; see Farm Survey.
Dr Vaisey left Winslow in 1920, and Norden House was taken over by Dr Leapingwell, then by Dr Peter Rudd. Sale of the garden after Dr Rudd's retirement led to the development of the east side of Park Road. The Nordens was scheduled for housing in the Winslow Expansion Plan of 1967, but not built on until the 1990s. The map below (using OS OpenData) shows the changes for the whole area between the railway, High Street, Vicarage Road and Furze Lane between 1958 and 2014. Most of the blank area on the 2014 map has permission for housing.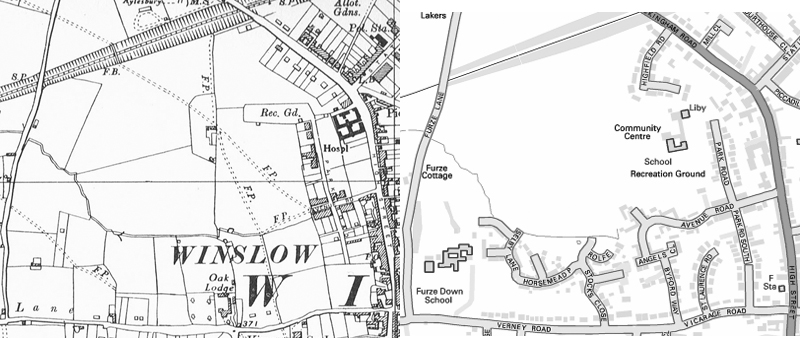 Copyright 1 December, 2023