News
Edward Winslow's English Origins
The Road to Kempsey: Volume one of two, by Liam Donnelly, a new publication in 2022
Liam Donnelly has traced the origins of Edward Winslow, one of the Pilgrim Fathers, back to Medieval Winslow.
Click here for the flyer with full details of the book.
Copies of Liam's book are available for £20 plus postage: contact him through Winslowgov@icloud.com.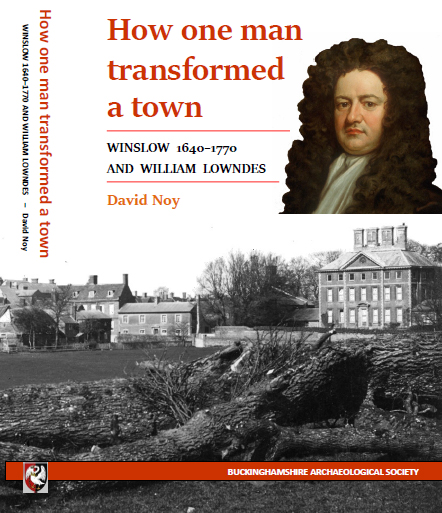 HOW ONE MAN TRANSFORMED A TOWN:
WINSLOW 1640–1770 AND WILLIAM LOWNDES

Why does Winslow Hall dwarf the rest of the town? Why is there a vast open space in front of it? Why has Winslow got so many houses with a mixture of architectural styles from different centuries? Why are all the farmhouses hidden away in the fields?

This book tries to answer those questions, starting with Winslow in the 1640s when it was a town of small-scale farmers and craftsmen and had two visits from Oliver Cromwell. William Lowndes went off to London in 1667 and soon made enough money to start buying up land in Winslow and knocking down houses. He turned the town into a place where one family owned most of the land, and built a mansion in a style Winslow people had never seen. Meanwhile the Baptists became very influential for a time and built their own meeting house. Lowndes family money helped to create a town full of doctors and lawyers who modernised their houses, and the market and turnpike road provided business for inns and shops. The open fields were enclosed and farmers moved out into newly built farmhouses.

The book's 386 pages also include ten detailed studies of Winslow families and 28 photos and maps. It is available from the Bucks Archaeological Society (https://bas1.org.uk/) for £11 + £3.50 p&p. If you're in Winslow you can get it for £11 direct from David Noy (16 McLernon Way, tel.711683, d.noy@btinternet.com).
The Bucks Family History Society has published a transcription of the Winslow parish registers 1560-1901 on CD-ROM: click here to order
A transcription of the Winslow Congregational registers, with lists of members and abstracts of some minutes, is now available from the Eureka Partnership.
Winslow books for sale:
David Noy, Winslow in 1556: The Survey of the Manor (Bucks Archaeological Society, 2013): £5
David Noy, Winslow Manor Court Books 1327-1377 and 1423-1460 (2 vols, Bucks Record Society, 2011): £10 (drastically reduced price)
Alan Wigley, A Window on Winslow (Winslow, 1981): £5 - this contains many historical photos of Winslow
Please contact d.noy@btinternet.com for more information.
Additions to website
1 Dec 2023
School sports 1906: held at the cricket ground in Buckingham Road
15 Market Square: clearance sale for H. Horwood, special offer on corsets
Flower Show: held in 1906 on "Winslow Hall Cricket Ground"
30 Nov
Obituary of G.D.E. Wigley (d.1906)
Workhouse: dismissal of master and matron (1906)
28 Nov
Congregational Church: presentation to Harry Turnham and Hetty Gibbs (1906)
Rev W.F. Armstrong: presentation and praise when he left Winslow (1906)
Tuckey Farm: paternity case involving a former servant
Erection of telegraph poles, 1906
News from 1906 about The George (sale of furniture), Lace (lacemaking equipment advertised by Fulks & Son), Evening School (supported by Bucks CC), Oddfellows (attempted formation of a female branch), Winslow United FC (trouble with Granborough)
27 Nov
Flower Show: moved to a new venue in 1905 (now the Arboretum)
Church: donation of bishop's chair and book display cupboard
Silvanus Jones: retirement sale of stock at North's Hill Farm
List of donors towards the New Schools, 1901
News from 1906 about The Bull (Fire Brigade dinner), Church (disappearance of the sexton), Tuckey Farm (death of Henry Holt), Midgley family (marriage of E.R. Midgley), Ingram's china shop (retirement sale), Winslow United FC (1906 AGM and results)
26 Nov
Draft agreement for Daniel Seaton to sub-let his land in Middle Claydon, ?1710
Letters from Robert Lowndes to Viscount Fermanagh, 1709-10
Letter from Nicholas Merwin to Viscount Fermanagh, 1710
22-23 Nov
New information about Robert Lowndes
New information about Nicholas Merwin
New information about the funeral of William Gyles (1713)
21 Nov
Letter of Viscount Fermanagh to William Lowndes about materials for building Winslow Hall
Letter from 1711 about whether the Winslow poor had to wear badges
17 Nov
Will of Thomas Hogg of Adstock, yeoman, 1702
12 Nov
Will of Daniel Stevens of Adstock, yeoman, 1705: connected to various Winslow families
5 Nov
Letter from Robert Lowndes to Viscount Fermanagh, 1719, asking for a loan of £100
List of Granborough landowners, 1717: compiled for Viscount Fermanagh
Nicholas Merwin: description of him in 1740 when he was about 72
Richard Lowndes: letter to Sir Thomas Lee about 1734 election
Will of Elizeus Clarke of Adstock, yeoman, 1715: drawn up by the Winslow lawyer Peter Goldsworth
30 Oct
Bill from the lawyer John Markham for Viscount Fermanagh, 1717/18
Letter from Viscount Fermanagh in 1716 about appointing the next vicar of Winslow: "I believe Mr Lownds interest will carry it"
Sale of Henry King's property in Horn Street, 1717, to cover his debts to the Verneys
Correspondence between the lawyer Nicholas Merwin and Viscount Fermanagh
Enclosure: letter about possible enclosure of Shipton in 1716
More about the sale of John Stutsbury's property, 1703
27 Oct
Letter from John Croft, vicar of Winslow, to Sir John Verney, 1703
Letter from William Lowndes to Sir John Verney, now Viscount Fermanagh, 1703, about John Stutsbury
Undated draft letter from Viscount Fermanagh to William Lowndes
23-24 Oct
Return of pauper lunatics, 1849
Will of Thomas Ridgway of Shipton, gentleman, 1905
Exhibition of Antiquities, 1905
More about the dispute over the estate of Anthony Godwin (d.1706)
20 Oct
Additional information from the Verney Papers about Crooked Billet, Philip Bayley, William Gyles, John Markham, John and Daniel Seaton, Lowndes family, Nicholas Merwin
The case of "Betts's daughter" and how long she lived at Shipton (1723)
Will of Richard Barton jr of The George, 1830
17 Oct
Will of Jane Grange of Great Brickhill, spinster, 1643/4 (proved 1645)
8 Oct
News from 1905 about: Congregational Church, The Swan, Oddfellows Hall, Gasworks, Winslow Hall (Church Army meeting), Sheep Fair, Winslow Town Band, Baptist Tabernacle, Workhouse
6 Oct
Will of John Ridgway of Shipton, gentleman, 1900 (proved 1905)
Charities: photos added of painted boards set up in the Church in 1847-8
4 Oct
Valuation of The Bell in 1918: includes the contents of the cellars and a list of rooms
29 Sep
Visits to Winslow by John Newton, 1765-67: the writer of "Amazing Grace" met "serious souls" in Winslow several times
20 Sep
News from 1905 about: Workhouse, Windmill Inn, Henry Ingram (sale of household furniture), Red Hall Farm, Centenary Hall, Winslow United F.C.
Geo. Wigley & Son held Winslow's first wool fair
Board of Guardians: Mr Lorkin the Labour member tries unsuccessfully to make the Guardians pay more for their luncheon
Presentation to Rev. W.H. Shackel by members of the Winslow Beagles
19 Sep
News from 1905 about: Winslow Lace Industry, Ingram family, Station Road, Redfield (curling was played during the severe weather in January), A.J. Clear, Liberal Party (meeting in the Centenary Hall), Football (500 people celebrated Winslow winning the Buckingham Schools Cup), Oddfellows Hall, Provident Society (wound up), Oddfellows, The Creamery
Edward VII travelled through Winslow by car in 1905
17 Sep
Photograph of tombstone of Dinah Delafield (d.1775) at Keach's Meeting House
Will of Thomas Everett of Adstock, yeoman, 1709: witnessed by the poet Sarah Fyge Egerton
12-13 Sep
Will of Henry Dover of Little Horwood, yeoman, 1642 (proved 1658)
Will of George Smith of Little Horwood, yeoman, 1719 (proved 1719/20)
New document in the dispute over the estate of Anthony Godwin (d.1706)
8 Sep
Keach's Meeting House: appointment of new trustees in 1828
Will of William Tillier, gentleman, 1903 (proved 1904): aged 96, lived in Park Rod
28-29 Aug
New page: Furze Down School site (Pond Leys): this land belonged to the Burnham family, T.P. Willis, Frederick Hurst and H.C. Stock before becoming the school site
The Plough: sale in 1829
J.W. Ingram: sale of some of his property in 1922 including 168-174 High Street
27 Aug
New page: Edward Boswell, "King of the Gypsies" (d.1689): probably confused with another Edward Boswell who was hanged at Aylesbury in 1741 and was later associated with the "Gypsy Stone" in Carter's Lane, Quainton
24-25 Aug
Winslow RDC agrees to take over Station Road, 1904
Complaints about the Creamery, 1904
Church: new information about the lessees of "Winslow parsonage", 1595-1616
23 Aug
Will of John Grainge of Little Horwood, yeoman, 1633 (proved 1634): a substantial landowner in Little Horwood and elsewhere
18 Aug
New page: Lawn Tennis: its origins in Winslow in the 1890s and early 1900s, with a poem
15 Aug
Directories: description of Winslow in 1810
Winslow RDC, 1904: there was a fight in the council chamber about the last stage of the sewerage scheme
Market Square: dispute about washing the Square after the Sheep Fair
News from 1904 about: Cycling Club, Oddfellows' Hall, the Black Horse, 6 High Street
14 Aug
1943 air disaster: new photo added
Will of Elizabeth King of Little Horwood, spinster, 1827 (proved 1828): includes a bequest of lacemaking equipment
Will of Tobias Littlepage of Little Horwood, innkeeper, 1623/4 (proved 1626)
Station Inn: inquest on William Burdon, found dead on the railway
Winslow United FC: 1904 AGM and results
News from 1904 about: Oddfellows' Hall, Schools, Edward Abbott (parish clerk), Provident Society (wound up), Workhouse (praise for the roses), Lacemaking, 27 Market Square
12-13 Aug
Bucks County Council election, 1904: a Liberal beats a Conservative
Winslow Rural District Council election, 1904: Labour's first election win in Winslow
News from 1904 about: Bathing Place, Workhouse (agreement to take paupers from Poplar), Congregational Church, Baptist Tabernacle, Telephone, Early Closing
11 Aug
Will of Mary Pollard of Little Horwood, widow, 1836 (proved 1838)
23 July
Railway petition: 300 people asked the Oxford and Bletchley Junction Railway to build a station in Winslow
22 July
Quainton children apprenticed in Winslow 1812-1842
13 July
Thomas Wendylborowe & Agnes his wife prosecute a case of grievous bodily harm, 1529
11 July
Parochial schools, 1890: response from the objectors to the new scheme
Assisted emigration to Australia, 1844 (the Yates family and 3 individuals)
Workhouse: inspection in 1843 limited the capacity to 250 and stated that there had been 230 inmates; appointment of new schoolmaster
Copyright 1 December, 2023