Sheep Street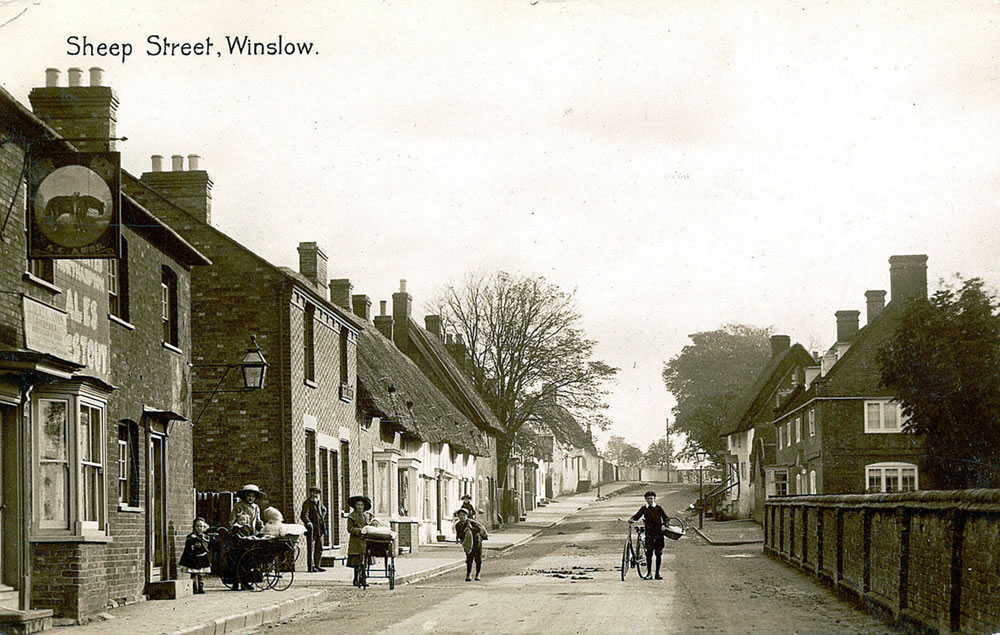 This photo shows the Black Horse pub on the left (closed 1927), run for a long time by the Yeulett family. Beyond the tree to the left of the road is the building which was briefly the Salvation Army citadel, and the Nag's Head, licensed since 1832. The last house on the left is Curtis Farm, which still had its farmyard when sold in 1897; it was a farmhouse before enclosure in 1767 and retained its function afterwards when most farmers moved out of the town. It was later the home of the artist and children's book illustrator Stuart Tresilian (1891-1974).
Click on the map for links: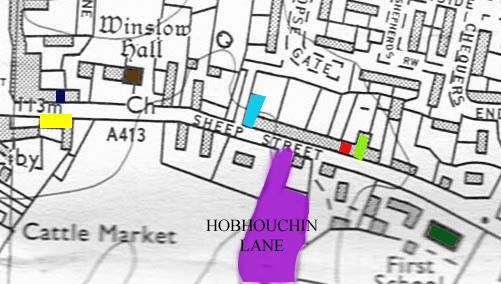 The first clear reference to the name Sheep Street so far identified is in a property transaction of 1638 (where it is also called the Sheep Market), followed by the will of Francis Glenister, 1681. There are numerous references in William Lowndes' notebook and roll about property he bought there before and after the building of Winslow Hall.
The sale below from 1875 concerned property belonging to the Selby-Lowndes estate. The land was in Buckingham Road and Station Road, and the houses were on the north side of Sheep Street, including the Black Horse and nos.19-35.
Bucks Herald, 27 February 1875
M O N D A Y N E X T.
W I N S L O W.
VALUABLE FREEHOLD BUILDING AND GARDEN
GROUND, SITUATE CLOSE TO THE STATION; AND SEVERAL HOUSES AND COTTAGES IN THE TOWN.
GADSDEN & SON
Have been honoured with instructions TO SELL BY AUCTION,
On MONDAY Next, 1st MARCH, 1875, at Three forFour o'Clock,
AT THE BELL INN, WINSLOW.
ABOUT SIX ACRES OF VALUABLE FREEHOLD LAND, which will be divided into convenient sized Lots, with considerable Frontages for Building, and into larger sized pieces for Gardens, situate close to the Railway Station. Also the following PROPERTIES, situate in SHEEP STREET :- A HOUSE occupied by Mrs. Yeulet; TWO COTTAGES, occupied by James Neal and Thos. Rose; a COTTAGE, occupied by Robert Edwin; a HOUSE, occupied by Mr. Lee Saddler, etc.; a DITTO, and large PREMISES, occupied by Mr. Varney, Veterinary Surgeon, etc.; a COTTAGE, occupied by George Verney; a COTTAGE, occupied by James Royce; and one occupied by Mrs. Chennells.

Particulars and Plans, with Conditions of Sale, may be had on application to Charles Appleyard, Esq., 1, New-square, Lincoln's Inn, London; at the Place of Sale; or of the Auctioneers, Aylesbury.