North Buckinghamshire Election, 1885
The 1885 general election was the first one fought under the much wider franchise created by the Third Reform Act (1884) which gave the vote to all men over 21 paying an annual rental of £10 or holding land valued at £10 - in practice this meant most householders. There was also a redistribution of seats, and Winslow was now part of the new constituency of North Buckinghamshire (also called Buckingham) which returned one member. Voting was by secret ballot under the 1872 Ballot Act. As a result of these changes there was intensive electioneering in Winslow for the first time. The activities of the Liberals (supported by the Bicester Herald) are rather better documented than those of the Conservatives (supported by the Bucks Herald). At the time the Buckingham Advertiser was generally pro-Liberal and the Buckingham Express pro-Conservative. The main issue nationally was Irish Home Rule, which seems to have been of no interest to Winslow. Local concerns were primarily about the disestablishment of the Church of England, which was not actually Liberal policy. Land reform ("three acres and a cow") and free trade were also important.
The Liberal candidate (adopted by February 1885) was Captain Edmund Verney, son of Sir Harry Verney of Claydon House; he actually lived in Anglesey at the time. Local Conservatives apparently wanted Egerton Hubbard of Addington (as reported in the Bicester Herald, 6 Feb, but subsequently denied), but the candidate officially adopted was Sir Samuel Wilson of Hughenden, an Irish-born Australian.
The leading campaigners in Winslow were W.H. French (Liberal) and Dr Newham (Conservative). The Conservative Association (president: Lt-Col. Cecil Hubbard) held meetings at The Bell, which was effectively their headquarters: there was one on 5 Sep. The Liberals held their first election-related meeting on 24 Sep in the Centenary Hall, where they held a model election to explain the process to new voters. A Liberal meeting was planned for the Market Square on 10 Oct but had to be held in Mr French's warehouse because of the weather; music was provided by part of the Granborough Brass Band. At another meeting on 15 Oct French spoke about the Poor Law. The Bucks Herald (17 Oct) complained that "at the Winslow Radical meeting ... anything not quite agreeing with the labourers' preconceived notions, was drowned out by indignant shouts ..." French told the Buckingham Advertiser (24 Oct) that he did not say (as they had reported) that the Tories proclaimed some parsons gave away all the income from their church livings, but that the parsons claimed it themselves, and added "They did not hail from Winslow".
The Addington Habitation of the Primrose League (a Conservative organisation named in honour of Benjamin Disraeli) held a meeting at The Bell on 26 Oct. It was addressed by the vicar, Rev. H.A. Douglas-Hamilton, who claimed the Church of England was being attacked. He complained that the glebe land had "been cut up into small holdings" [i.e. the allotments] before he came, and he had to pay rates and taxes, which was why he let it at at £4 10s an acre as he had been offered and not 15s as the Liberals said he should. He also said that his income from the people of Winslow was 2d per head, which later proved to mean 2s. The Primrose League told its members not to boycott Liberal shopkeepers, which was interpreted as meaning the opposite. French published in the Bicester Herald (13 Nov) a message from "Mr JM of A" withdrawing his custom because of what French said about the clergy.
The Liberals held a meeting on 31 Oct on the Market Square with Winslow Temperance Drum and Fife Band (provided by the nonconformist United Temperance Society, not the Church of England Temperance Society), but it was adjourned because of bad weather. It was reconvened on 9 Nov (reported in the Buckingham Advertiser, 14 Nov). The object was to show that the inhabitants had the right to hold meetings on the Square, and a temporary platform was erected around the lamp. According to French, Dr Newham wrongly told the Aylesbury News that the previous meeting was cancelled because of manorial regulations.
The pro-Conservative Church Defence League also had a meeting in the Girls' School, leading to a letter from the Vicar to the Buckingham Advertiser (14 Nov) declaring that there were no pew rents in Winslow church and (rather ambiguously) "half the seats throughout the Church are entirely free". A letter to the Bicester Herald (27 Nov) mocked "the bold Douglas" and "our George" [George George the churchwarden] who might have been proposing a vote of thanks or taking an order for corn.
On 24 Nov the Liberals held a torchlight procession to the Market Square with 150 torchbearers. It was "a meeting the like of which is not remembered in Winslow". Captain Verney and his wife (who were staying at Mr French's) were escorted to the Centenary Hall where G.D.E. Wigley chaired the meeting. The Bicester Herald's report (27 Nov) included French reading the following poem.
MEN OF WINSLOW, JOIN IN ACTION.
Air:- "Men of Harlech."
Men of Winslow, join in action,
Let your zeal know no contraction.
Put to rout the Tory faction,
Act and vote like men.
England's eye will watch you keenly,
As you urge your rights serenely:
Up lads, doing nothing meanly
Or unworthy then.
Sons of toil in every village,
Earners of your bread by tillage,
Sell not vote for beery swillage,
Act and vote like men.
Now a better day is waking,
Squire and parson's chains you're breaking,
Now fresh life is England taking
Through her coming men.
Fear not, fail not, flinch not, brothers,
Worthy sons of worthy mothers
Yours the victory then.
Men of Winslow, join in action
Let your zeal know no contraction,
Put to rout the Tory faction,
Act and vote like men.
Mr. WIGLEY, in dismissing the meeting, took the opportunity of disclaiming any arbitrary action relative to the Market place. He only wished to see the will of the majority carried out in all Winslow affairs.
The band struck up the March of the Men of Harlech and the great meeting dispersed. The night being now dark a party of ardent Liberals with torches escorted Captain and Mrs. Verney with the Rev. R. H. Hadden and friends back to Mr. French's residence.
The entire proceedings reflected the highest credit to the volunteer Liberal spirit of Winslow and the neighbourhood. The torch bearers, some of whom were gentlemen of position in the town, others of whom had walked miles from the surrounding villages, were admirably marshalled by volunteer non-voters experienced in such work. The temperance band, undaunted by the fact of having been noted a nuisance upon high authority, have once again contributed to the success of the Liberal cause very effectively. The Rev. J. S. Poulton and the authorities of the Baptist Tabernacle added heavily to the debt of gratitude due to them by the Liberal Association by lending the hall free of charge. But for their generous action this imposing demonstration would have been impossible, or indeed any gathering worthy of the name.
There were eve-of-poll meetings on 3 Dec, as reported by the Buckingham Advertiser (5 Dec):
MASS LIBERAL MEETING.- The Liberal exertions in this district culminated on Thursday night, just before the poll, with an immense gathering of Liberals. Meetings were arranged at every village within easy distance earlier in the evening, and as soon as these were over, the gatherings marched en masse to the town. Claydon, Padbury, and Grandborough bringing their bands. On the Market Square, they formed a huge procession, consisting of four bands of music, torch bearers, carriages, and people, and headed by men carrying on pitchforks a half-bushel loaf and a six ounce loaf. The Centenary Hall was filled to overflow in very brief time, and as there was a Conservative meeting (at which Sir Samuel Wilson was present) going on simultaneously, there is no doubt that all present were Liberals.
Voting in North Bucks took place on 4 Dec. The count was held at Buckingham Town Hall the following day, leading to the following result:
Edmund Verney 5,462
Samuel Wilson 4,006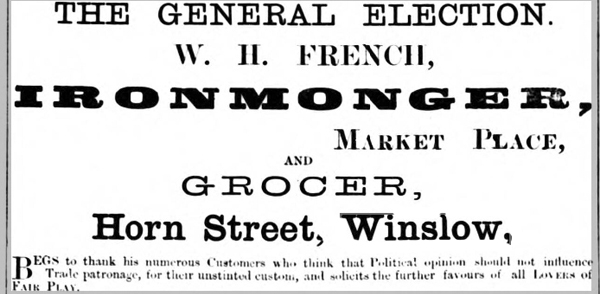 The Liberals formed a minority government with Irish Nationalist support but when the Irish Home Rule Bill was defeated in June 1886 another general election was called. The Buckingham Advertiser (12 Dec) published this report of election day:
WINSLOW.- The election passed off pretty quietly at the five polling stations in this district. Both sides worked hard, and the polling was extraordinarily keen, in fact it is said that in one or two of the parishes every voter polled. At Winslow, the Liberals had got the Hanslope four-in-hand coach, driven by Sir Richard Mansell, and its first appearance loaded with voters was the occasion of great enthusiasm. As far as can be learned, at Winslow only was there any disturbance and that very slight, though an incident occurred that might have caused something serious, but for the prompt action of the Liberal leaders. For some time past there has been a certain amount of ill-feeling between some of the lower classes of Winslow and Claydon, and on the Thursday evening this led to several fights between the two parties. On Friday, there seems to have been some hustling round the polling place. An East Claydon man thereupon telegraphed to Steeple Claydon that Winslow men would not let Claydon men vote. This telegram was read out in public, and a strong contingent of Claydon men came over by the next train. There was every appearance of a row, but most of them were persuaded by the Liberal leaders to return home. As it was, a slight disturbance took place at the Bell Hotel, where a Liberal, who was probably somewhat "elevated," declared he "didn't care a button for a room full of Tories," but after some bother was ejected. His friends made a rush at the door; the police tried to stop them, and staves and sticks were freely used for a minute or two, with the result of several broken heads. In the meantime one or two stones were thrown from the outside at the Bell windows, of which we understand, four panes were broken. The crowd presently quietened down, and after the police has escorted some of the turbulent spirits of both sides home, everything became calm. Several personal altercations took place during the day, one of which it is rumoured, will cause further proceedings. On Saturday, nearly all the bills and placards disappeared as if by magic while people were anxiously awaiting to hear the result. About one o'clock the Hanslope coach loaded with prominent Liberals passed through en route to Buckingham, and was loudly cheered. As soon as the result became known, a bon-fire on a large scale was projected by the Liberals, and while it was getting ready it was heard that Capt. Verney was coming through to meet the 5.25 train. His friends with the drum and fife band met him down the Claydon-road, where they would have drawn his carriage by ropes if there had been time, but they had to be content with escorting him to the station. The Captain (who was accompanied by Mrs. Verney, and Mr. and Mrs. F. Verney) made a short speech to the large company assembled in the station-yard…
The train then steamed away, and the assembly returned with the band playing. At night, the bon-fire, which consisted of several loads of fagots with other combustibles, was made in a field at the rear of the Centenary Hall lent by Mr. Colgrove. In spite of a very wet night, it drew forth a crowd of people, who were addressed by Mr. W. H. French who commented on the great victory they had obtained, and advised them to shake hands all round. With cheers for Captain Verney, and salutes from the anvils, the election of 1885 terminated at Winslow.
Some of the alleged offenders appeared at Winslow Petty Sessions on 21 Dec (reported in the Bicester Herald, 25 Dec). All the accused appear to have come from East or Steeple Claydon except Varney and perhaps White:
ELECTION DISTURBANCE AT WINSLOW.- James Daniells, Thomas Norman, Charles Daniells, William Stevens, William Beckett, John Elliott, John White, John Jennings, James Beckett, and George Varney were charged with making an affray in the High-street, on the night of the polling day.- Mr. Rawson appeared for the police, and Capt. Drake, chief constable was present.
Mr. Rawson said the circumstances of the case were pretty well known. There was a considerable degree of excitement prevailing amongst all parties and he did not propose going into the circumstances at any length; but it might be a question if one or two whose names would be mentioned presently, were not acting as ringleaders. It was always best, after these elections, to shake hands all round and the only object that the police had was to show that these breaches of the law and damages to property could not be committed at these times, any more than at any other season.-
Sergt. Elijah Bowden deposed that he was on duty on the polling day about 7.30 outside the Bell Hotel. The first thing he saw was Mr. Neal junior, ejecting a person from the house, and he said to witness don't let any more of them enter. A few minutes after witness saw a crowd coming down the street. They came up to the "Bell" door, and some of them shouted out, "They have been running some of our Claydon fellows out, we will have some of these Blues out." Witness told them not to make any disturbance. Several persons came to his assistance, and he kept them out for about ten minutes; but was ultimately overpowered. Several blows were struck before that, although witness was not struck. The mob then rushed into the passage, and those inside were struck with fists and sticks. Some of the constables came to his assistance through the backway, and witness got the house cleared in about twenty minutes or a quarter of an hour. When witness got inside, he heard the breaking of the "Bell" windows. The stones he now produced were afterwards given to him by Mr. Neal. Witness identified all the defendants, with the exception of George Varney. The mob went away for a time, but returned after a while, when Jas. Daniells shouted out "Fetch the Blues out," and continued to excite the mob to come to the Bell doors. William Webb, Charles Daniells, John Jennings, Jas. Beckett and others were amongst them. They went away, but came back a third time. James Daniells, Thomas Norman, Charles Daniells, and James Beckett- (one of the defendants: That's a lie)- and others were amongst them on that occasion. Witness had to protect the premises until nearly midnight.
On the 7th inst. Witness saw George Varney in his master's field at Winslow. Witness asked him for the stick he was using in the Bell passage on election night. Varney answered it was at home, and said he was pushed into the Bell by the mob. Witness said "You need not have struck people if you were pushed in." Varney denied striking anybody. Witness saw James Daniells, William Stevens, William Beckett, John Jennings, Jas. Beckett, and John Elliott on the same day, and spoke to them about the disturbance. They admitted having been there, Stevens, Jennings, Elliott, and James Beckett all said they were struck whilst there, and Elliott said he returned the blow. Stevens handed him the stick produced, and said he pulled it out of a man's hand in the passage. On the 12th witness saw White who said he was there and was struck on the head, and had a fight with a fellow on the Market-square. Witness served a summons on Webb on the 18th instant, who said he should not have been there if it had not been for the telegram. He had a stick in the passage, but it was pulled away from him and he did not strike anyone with it. Witness did not see him strike anyone.
In reply to questions, witness said he saw Daniels with a stick. Another defendant asked witness if he did not say to a man who was fighting a Steeple Claydon man "What are you leaving off for ?" Witness denied that he had said so. Elliott asked if witness did not strike him over the eye. This witness denied. Webb asked what time witness saw him in front of the Bell ? Witness replied about ten o'clock, as near as he could judge. Webb asked how could he be there and at Claydon at the same time ? to which witness made no reply. White asked if witness did not hear him say that they were come for peace and quietness, and that they would have it and go back. Witness said he did not hear it, and thought it must be some other police-officer they were referring to.
Mr. William Neal said he was the landlord of the "Bell." On the evening of polling day he had a man turned out for misbehaving himself. Shortly afterwards he found a mob partly in the passage. He could not say whether any of the defendants were present. There was a great disturbance afterwards. Mrs. Neal and his daughters were considerably frightened.- Corroborative evidence was given by Mr. W. S. Neal and Mr. J. W. Ingram.-
Mr. Thomas Read, postmaster at Steeple Claydon, said that on the 4th Dec. a telegram was received directed to William Stevens, but it was not the Wm. Stevens who was charged.-
Mr. Edmund Hatley, farmer, Steeple Claydon, said that on the polling day he saw a telegram that was being handed about. In consequence of what it said he and others went to Verney Junction, where he took tickets for some of them to Winslow. Several of the men present came over with him; but he thought they went back again. Witness went back by the 7 o'clock train. There was great excitement at Claydon, owing to a report that there was a riot in Winslow caused by a reverend gentleman and they thought they would go over and see.-
Evidence was also given by W. Daniels, maltster at the Bell, Henry Warner, groom at the Bell, Mr. John Varney, veterinary surgeon, Mr. G. A. Monk, and Mr. John Walker.- The Bench discharged William Beckett and White, ordered Jas. Daniells to find £20 surety to be of good behaviour, and discharged the remainder on their own recognisances and paying the costs.
---
The following exchange published in the Bicester Herald (18 Dec) isn't directly about the election but shows the depth of hostility between some of the Liberals (W.H. French) and Conservatives (the Neals and the vicar):
Mr. W. H. French, of Winslow, sends us the following correspondence for publication:-
Winslow, December 8, 1885.
To Mr. W. S. Neal.
DEAR SIR,- You have so often repeated the falsehood that I pushed your sister off the Walk that you have evidently begun to believe it. Your sister is, I doubt not, too much of a lady to swear to an untruth. I have no wish to bring her evidence into court, but must do so unless you at once stop your slander upon myself. I have sufficient evidence also to take legal action against you; so be wise in time, moderate your tongue, and let us keep friends.- yours truly,
W. H. FRENCH.
Winslow December 8 1885
To Mr W H French
SIR I am in receipt of your letter with regard to your threat you can take what action you like in the matter I suppose any evidence you can produce in court against me will not redound to your credit as to your friendship I am far better without it do not trouble me with any more rubbish, as I have neither time nor inclination to read it but "come and call us a liar like you did the vicar"
Yours etc
W S Neal.
Winslow, Dec 12, 1885.
DEAR MR. NEAL,- You have absolutely nothing to do with the unfortunate position in which "the vicar" has placed himself. I pointed out that you were making reckless and undesirable use of your sister's name: and my note called for no reply, but your hasty response shows your pen to be as uncontrolled as your tongue. Do not be impatient with a neighbour whose education is more old-fashioned than your own…
I will accede to your request that I should not trouble you with a personal tender of this letter. While publishing our correspondence, let me recommend to your notice some lines in which you will feel interested. I am, yours faithfully,
W. H. FRENCH.

Whose mouth was white with passion's froth,
And who turned pale with swelling wrath,
When told that he disgraced his cloth ?-
The Vicar.
Who stood and brandished stick in hand,
And made the Frenchman understand
He'd thrash him with his holy hand ?-
The Vicar.
Who punched the Frenchman with his stick,
Because the truth had made him kick,
And sharply made his conscience prick ?-
The Vicar.
Who boasts of apostolic line,
That Paul and Peter's graces shine
In his own spirit most divine ?-
The Vicar.
Who charges all with awful schism
Who won't repeat his catechism
And learn his sacerdtotalism ?-
The Vicar.
Whose narrow mind and bigot rule
Would crush all creeds with malice cruel
That differed from his faith and school ?-
The Vicar.
Who, had he lived in martyr days,
Would victims burn with fagot blaze,
And follow persecution's ways ?-
The Vicar.
The man who says let brethren dwell
In Christian union's hallowed spell,
Yet sends Dissenters down to – well,
To Hades.
Old Mother Church! In ages past
Your sons held truth and honour fast,
The memory of whose lives shall last
For ever.
For holy zeal and simple faith,
Obeying what the Master saith,
Your ministers were true to death
And glory !
And even now your pale can claim
Some splendid men of noble aim,
Whose lives shall gain undying fame
In story.
And yet within thy fold should steal
The graceless zealots' impious zeal,
Destroying thus the Church's weal
And mission.
For while the church such perverts hides,
The house against itself divides
The world looks on and well derides
Such folly.
These are the men whose blandishments
Increase the daily widening rent,
And hasten disestablishment
As certain.
---
The Liberals were still celebrating over two months later, and recriminating against the vicar (Buckingham Advertiser, 27 Feb 1886):
LIBERAL MEETING.- The Winslow Polling District Liberal Association gave a public tea in the Centenary Hall, Winslow, on Monday last. About 500 sat down to tea. After the tea, a public meeting was held. Mr. W. H. French presided and the meeting was addressed by Mr. William Smart and the Rev. C. Smith.
Bicester Herald, 5 March:
MEETING OF LIBERALS AT WINSLOW.
To the Editor of the Bicester Herald.
SIR,- On Monday, February 22, a largely attended and important meeting of Liberals took place at Winslow, Mr. French in the chair. He advised them to look closely into the administration of their parish charities, giving a detailed account of those belonging to Winslow, and drawing particular attention to the dilatory application of the Yeates Coal fund by the Vicar…Mr. Smith's splendid speech brought out the evils of the established church, and was warmly received… In his concluding observations the chairman referred to some black sheep of Boycotting tendencies among the clergy, one of whom he thought had done very little since the recent election except by the use of falsehood to incite his acquaintances to that odious and unenglish practice. Mr. Smith challenged any such clergymen to a public discussion of "disestablishment," as being more desirable than retailing lies from house to house. This challenge is not mentioned in the brief report of the meeting.
Yours etc.,
OBSERVER.
Winslow, March 1, 1886.
Mr French made a joke of it in his adverts (Bicester Herald, 10 April 1886):
REMARKABLE CONFESSION!
FOUL SEED FATAL TO GOOD FARMING.
One of the few successful Farmers of recent years, said, "I don't like French's politics, but I do like his Screened CLOVER SEED. He is the only Seedsman I know who carefully cleans all he sells before sending out."
Do not buy until you have sent for samples (AT PRESENT VERY LOW PRICES)
DOUBLE-SCREENED BY THE MACHINERY OF
W. H. FRENCH,
IRONMONGER AND SEEDSMAN, WINSLOW, BUCKS.
Having made some seasonal observation of Continental soils and farming, W. H. F. recommends ONLY ENGLISH GROWN SEED as suitable to the soil and climate of the English midlands.
But bad feeling continued (H.J. Russell of 3 High Street was a prominent Conservative). Buckingham Advertiser, 27 March 1886:
BUCKINGHAM COUNTY COURT, FRIDAY, MARCH 26TH. Before his Honour, Judge Cooke, Q.C.
W. H. French, Winslow v. J. Russell, of Winslow.- This was an adjourned case of the last Court. Mr. Whitehorn appeared for the plaintiff. The defendant paid £4 11s 6d. into the court, and had a set off of £4 4s. 0d. The defendant said the set off was for loss on lamps. He gave Mr. French an order for materials for lamp frames. The materials were supplied too late, and the frames were thrown upon his hands; but the complainant said he would take to them and present them to some chapels or meeting-houses he was connected with. He had not done so. A book was produced in which the item was struck out. Mr. French said it was the defendant struck the item out and wrote the balance; but defendant denied this and said the figures did not compare with the ones he wrote on the same page.- Mrs. Russell and the son corroborated the defendant's statement. In answer to His Honour, as to the cause of this action between two neighbours, Mrs. Russell said it arose out of the recent election (laughter).- The complainant denied promising to take to the lamps. He might have made jocular reference to the effect that they were good enough for chapels if not for churches.- The Judge said it was a pity the three-acres-and-cow business bore such results (laughter.) – Complainant denied seeing the lamps, but the defendant swore complainant came to his shop and fetched them out of the store for him to see them.- His Honour said it was a pity to have such unfriendly disputes over a few miserable candlesticks. He wanted to throw oil upon the troubled waters, and would like them to amicably settle it.- Complainant said he was willing to treat.- His Honour: What will you give?- Mr. French: 40/- as set-off, each party to pay his own costs, and when you meet each other in the street don't look the other way (laughter).
---
See also: