Public Hall / Oddfellows Hall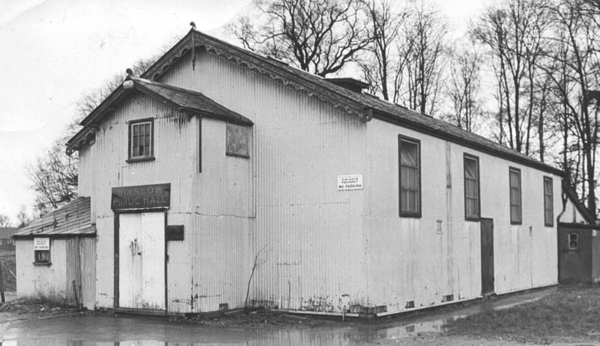 Public Hall, c.1975
In 1892, H.J. Chinnery of Winslow Hall provided a gymnasium for the youths of the town. It was of the same pre-fabricated, corrugated iron construction as the "Tin Tabernacle" which he build in Tinkers End. The map below (from the collection of the late Norman Saving) shows the land which Chinnery bought for the gymnasium from the Selby-Lowndes estate, and the first part of the indenture of sale (not completed until 1895) has been transcribed below.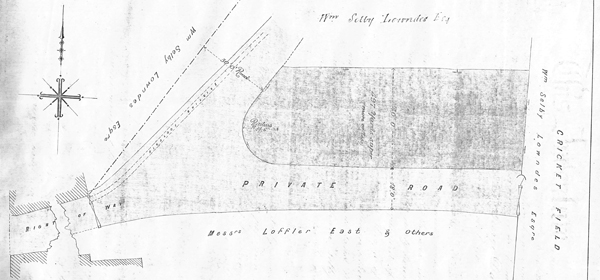 This Indenture made the 15th day of August 1895 Between William Selby Lowndes of Whaddon Hall in the County of Buckingham Esquire of the first part Richard William Selby Lowndes of the Elmers Bletchley in the County of Buckingham Esquire and George Davys Edward Wigley of Winslow in the said County of Buckingham Land Agent of the 2nd part and Henry Joseph Chinnery of Weir House Teddington in the County of Surrey Esquire of the 3rd part Whereas under or by virtue of an Indenture of Settlement dated 3rd day of September 1858 and made between William Selby Lowndes since deceased of the first part the said William Selby Lowndes party hereto of the 2nd part Robert Prescott Appleyard and Charles Appleyard of the 3rd part Joseph Bailey and Matthew Grenville Samwell Knapp of the 4th part and Samuel Burnham Dudley and William Akid Rogers of the 5th part and of an Indenture of Resettlement dated the 14th day of November 1892 and made between the said William Selby Lowndes party hereto of the 1st part William Selby Lowndes the eldest son and heir apparent of the said William Selby Lowndes party hereto of the 2nd part and the said Richard William Selby Lowndes and Henry Small of the 3rd part the said William Selby Lowndes party hereto is beneficially entitled as tenant for life in possession to the Whaddon and Winslow Estates in the said County of Buckingham the said Richard William Selby Lowndes and George Davys Edward Wigley being under the same Indenture of Settlement Trustees with power of sale with the consent of the said William Selby Lowndes party hereto during his life of the hereditaments hereby settled or any of them and including the plot of Freehold land and hereditaments hereinafter described and intended to be hereby conveyed And whereas the said William Selby Lowndes (party hereto) has agreed to sell to the said Henry Joseph Chinnery the fee simple of the said plot of land and hereditaments at the price if £50 subject to the covenants hereinafter mentioned on the part of the said Henry Joseph Chinnery his heirs and assigns to be observed and performed Now this Indenture witnesseth that in consideration of the sum of £50 to the said Richard William Selby Lowndes and George Davys Edward Wigley as such Trustees as aforesaid paid by the said Henry Joseph Chinnery ...
1892: Buckingham Advertiser, 19 Nov
GYMNASIUM.- On Thursday, Nov. 10th, the spacious iron gymnasium, in the recreation ground, was opened by H. J. Chinnery, Esq., at whose cost it has been erected for the benefit of the young men of this town. In opening, Mr. Chinnery spoke some very encouraging words to the younger lads, and on departing was loudly cheered. After which the Rev. P. H. Eliot gave a brief address. There were about 20 lads from 14 to 17 years of age, and about the same number over, seven joined. It is to be opened twice a week for instruction by Mr. Warnock, of the Oxford Military College. It is very comfortably fitted up with the various apparatus, including fencing and boxing materials, horizontal bars, paralell bars, climbing ropes, vaulting horse, &c., &c., and no doubt will be much appreciated by the younger portion of the community, the fees being only nominal.

1892: Buckingham Advertiser, 12 Oct
GYMNASIUM.- Boxing classes are now being held on Wednesday, conducted by Mr. H.J. Chinnery, of Winslow, and are well attended.

1894: Buckingham Express, 10 Feb
GYMNASIUM.- On Thursday, February 1st, a public display of athletics was held in the gymnasium, when the Vicar presided over a very large and appreciative audience. The display was interspersed with vocal and instrumental music, and was a great success. The arrangements were made by a committee, of whom Mr. Frank Watson was hon. sec. The following was the programme:- Song, "Oh, my tooth," Mr. F. Watson; dumb-bells by Messrs. Reavell, Watson, Harris, Young, and Midgley; parallel bars by Messrs. F. Watson, F. Reavell; J. Clare, Young, and Sear; rings by Messrs. F. Watson, F. Reavell, J. Clare, W. Turnham, and A. Atkins; piccolo solo by Mr. F. Reavell; boxing (three rounds of two minutes) by Watson v. Reavell; Harris v. Pass, Sear v. Atkins; song, "Midshipmite," Mr. Lomas; bridge ladder, Messrs. Watson, Clare, Midgley, Sear, and Turnham; Indian clubs, Mr. C. Phillips; song, "We are, we are, we are," Mr. C. Watson; rope climbing, Messrs. Harris, Reavell, Clare, and Watson; fencing, Watson v. Reavell, Harris v. Midgley; song, "I did it," Mr. C. Watson; "God save the Queen."

1894: Bucks Herald, 3 Nov
I see by your column that the Winslow Gymnasium has re-opened for the winter. While that is undoubtedly a useful institution, there appears to be a want of control over it. Complaints are made as to the behaviour of the lads attending, and I notice that there is scarcely a whole pane of glass to be seen in the windows.

1895: Buckingham Express, 2 Feb
A display was given in connection with the Gymnasium on Wednesday, January 23rd, before a very appreciative audience. The Vicar, Rev. P. H. Eliot, presided, and remarked that owing to Mr. F. Watson leaving the town, and the display having to be got up in a hurry he hoped the audience would look over any mistakes that the gymnasts might make. The following is the programme:- Piano solo, Miss Phillips; dumb-bells; vaulting horse, 1st half; hand rings; song, Mr. Webster; parallel bars; ladder plank; fencing; horizontal bar; bar bells; vaulting horse, 2nd half; song, Mr. Webster; ropes; Indian clubs; bridge ladder; boxing contests. At the close of the performances the Vicar expressed his thanks to the performers, and especially to Miss Phillips and Mr. Webster for their services at the piano.

1899: Bucks Herald, 18 Nov
WINSLOW AND DISTRICT FANCIERS' SOCIETY.
THE FIRST MEMBERS' SHOW WILL BE HELD IN THE GYMNASIUM, WINSLOW,
On Thursday, December 14, 1899.
Members' radius – Twelve Miles from Winslow. For Schedules and particulars apply to
CLEM WATSON, WINSLOW.
1900: Buckingham Advertiser, 6 Oct
Winslow Open Poultry Show.
The second annual show of the District Fanciers' Society was held in the Gymnasium (and tents adjoining) on Wednesday and Thursday, and proved a great success. Being an open show of poultry and pigeons it attracted exhibits from all over the country, including some of the best breeders- while there were in addition a local dog show and a Members' Show of poultry, pigeons, and cage birds; also open classes for table poultry and eggs. The entries numbered 760, and in all probability but for the Election this number would have been greatly increased. But as it was there were splendid competitions in the two main sections of poultry and pigeons. The open classes for rabbits, cats and cage birds the Committee reluctantly abandoned in consequence of the entries being few in number, but there was a nice show of cage birds in the members classes including some not for competition. The attendance the first day was remarkably good, including some of the leading fanciers of the country (who pronounced the show a remarkably good one) and in all probability it will be as successful from a financial point of view. The Committee - who worked extremely hard - was Messrs. F. Benbow, C. Osborn, J. Colgrove, H. Hudson, G. Ash, W. N. Midgley, E. Muller, and H. Burdon, with Mr. Clem Watson for an undefatigable secretary.
Mr Chinnery left Winslow in 1894 when his lease on Winslow Hall expired, but he still owned the gymnasium.
1903: Buckingham Advertiser, 4 July
A most gratifying feature of the proceedings [Oddfellows' meeting at Fringford] - if, indeed, it should be connected with the same - was that in which Mr. Chinnery acceded to the request of the Winslow lodge of Oddfellows that he should hand over to them the use of the gymnasium he built in that town some few years ago, and which, we understand, has been closed for some time past. Bro. F. Lomas was deputed by the Lodge to personally interview Mr. Chinnery on the question, and he certainly could not have selected a better opportunity than that of Tuesday last, and he undoubtedly returned to Winslow highly satisfied with the result of his visit. To say the least, it is a grand gift to the Winslow Lodge, and, as Bro. Lomas said, it will also be a boon and a benefit to that town, which sadly need a room for its various meetings.
As the Oddfellows Hall, it then became the main venue in Winslow for public meetings, dances and showing films, as well as being the Odd Fellows' headquarters with their own war memorial plaque. In 1906 the Parish Council began to hold meetings there.
1903: Buckingham Advertiser, 29 Aug
ODDFELLOWS FETE.- On Thursday afternoon the Juvenile branch of the Oddfellows, which numbers 100 members, held its annual festival. Meeting at the Oddfellows Hall at 1.30, they marched in procession, led by the Town Band, to the Cricket Field [end of Park Road], kindly lent by Mr. Geo. Robinson, where various games and sports were played, and among other things visited Taylor's Living Pictures. At 5 o'clock they went back to the Hall, where a substantial tea was done justice to. Among those present were: N.G. Kerrison, District Secretary Lomas, Hon. Bro. T. P. Willis, Mrs. Willis, Miss Williams, etc. An illuminated fete, confetti battle, etc., had been arranged for the evening in the grounds of Hon. Bro. G. D. E. Wigley, and would no doubt have proved a great success, but rain came on, and the Committee were reluctantly obliged to abandon it.
1903: Buckingham Advertiser, 14 Nov
WINSLOW. GRAND CONCERT WILL BE HELD IN THE ODDFELLOWS' HALL, On FRIDAY, NOVEMBER 27th,
On behalf of the Building Funds of the Hall.
ARTISTES:- MISS MURIEL LANGLEY (London). MISS WIGLEY, MISS MABEL DODGE.
MR. HARRY POULTON (London). MR. WILLIE ROUSE (London).
MR. CHAS. GARTH, DR. MOBERLY.
ADMISSION – 2/6 (reserved); 1/6 (limited number only, unreserved); and 1/-.
Tickets may be obtained of Mr. A. J. Clear, The Library, any day after TUESDAY, November 17.
Doors open at 7:30; Commence at 8p.m.; Carriages 10.30 p.m.
1903: Buckingham Advertiser, 5 Dec: Winslow RDC
Mr. Wise produced plans of some proposed alterations to the Oddfellows' Hall, Winslow. He said it was an iron room, matchboarded inside and built upon brick. It was proposed to add about 13 feet to the room, with an extra door. It was in accordance with the by-laws.- Mr. Lorkin proposed that the plans be passed and signed, and this was agreed to
1904: Buckingham Advertiser, 19 March
In celebration of the opening of the new Oddfellows' Hall at Winslow a dinner was held in the Hall on Saturday evening last. It will be recollected that some time back the members of the Loyal Western Lodge of Oddfellows (Winslow) requested Mr. H. J. Chinnery to transfer the building, which had been built by Mr. Chinnery for use as a gymnasium, over to the Oddfellows. At that time the hall was falling into rather a decayed state, and Mr. Chinnery having readily granted their request, the Oddfellows Lodge at once commenced to renovate the hall and furnish it according to their requirements. The work was entrusted to Mr. W. T. Walker of Winslow, and in all the expenditure will amount to about £450, which includes the adding of additional ante-rooms, and flooring and match boarding the whole building. The work was superintended by a Hall Committee, consisting of Messrs. T. P. Willis, E. A. Illing, W. Wise, E. J. French, F. Lomas, Joshua [=Josiah] White, B. Sanderson, W. H. Stevens, and W. N. Midgley, to whom the heartiest thanks and congratulations are due on the admirable and gratifying result of their efforts…
1904: Buckingham Advertiser, 17 Sep
PUPIL TEACHERS'SCHOOL.- The County Council have commenced a school for pupil teachers in the Oddfellows' Hall, which has been furnished for the purpose. Read more.
1905: Buckingham Advertiser, 25 Feb
PROFESSIONAL CONCERT.
On Friday and Saturday evenings, on behalf of the Oddfellows' Hall Building Fund, two fist-class concerts, arranged by Dr. Moberly and Mr. Chas Garth, of East Claydon, were held in the Oddfellows' Hall, when the following distinguished artistes most kindly gave their services (either gratis or at quite nominal fees):- Madame Edith Hands, Miss Vera Wallace, Miss Murielle Langley, Mr. Harry Paulton, Mr. Willie Rouse, Mr. A. Field-Fisher, and Mr. Robert Dennant. On the first night a large and fashionable audience assembled in the Hall, which had been carefully and tastefully got ready for the occasion, and when a most enjoyable evening was spent, nearly all the pieces being enthusiastically encored…
1905: Bucks Herald, 11 March
The members of the Winslow Musical Society (of which Mrs. Greaves is secretary this year) gave their annual concert last week in the Odd Fellows Hall, when a large company assembled to hear Cowen's "Rose Maiden," which was capitally rendered under the able conductorship of Mr. G. H. Thompson. Although this is not quite so strong in male voices this year, the Society undoubtedly improves from year to year- the "Rose Maiden" being a decided advance on "The Norman Baron."
1905: Buckingham Advertiser, 18 Nov
NORTH BUCKS CONSERVATIVE ASSOCIATION.
A PUBLIC MEETING WILL BE HELD AT THE ODDFELLOWS' HALL, WINSLOW On THURSDAY, Nov. 23, 1905.
ADDRESSES to be given by MR. CORNELIUS SWEENEY (for 30 years employed in Portsmouth Dockyard) And Others
Chair to be taken at 8 p.m. by HERBERT BULLOCK, Esq. ALL ARE INVITED.
1905: Buckingham Advertiser, 25 Nov
A LIBERAL AND RADICAL DEMONSTRATION WILL BE HELD AT THE ODDFELLOWS' HALL, WINSLOW, On THURSDAY NEXT, November 30,
FREDK. VERNEY, Esq., C.C., F. G. THOMAS, Esq., M.A. (of the Eighty Club), Rev. A. E. T. NEWMAN, C.C. (Vicar of Grandboro'), AND OTHERS WILL SPEAK.
Chair to be taken at 7.30 p.m. by the Rev. H. K. Byard.
Doors open at 7. Songs and Instrumental Music till 7.30.
1914: Assessment (TNA, IR58/2348 no.283)
Situation High Street
Description Odd Fellows Hall
Extent 10 perch
Gross Value: Buildings £15 Rateable Value: Buildings £12
Occupier The Trustees Western Lodge (6478) Oddfellows Winslow
Owner Frederick Lomas, Sec.
Interest of Owner Freehold
Subordinate Interests Let for meetings etc
Actual (or Estimated) Rent Average for last 3 years £9. est. at £10
Who pays (a) Rates and Taxes (b) Insurance }
Who is liable for repairs } Owner
Former Sales Dates Free gift to the Society in 1903
Subsequent Expenditure £525
Owner's Estimate Gross Value £400
[stamp] SEP 30 1914
Particulars, description and note made on inspection
Valuation –
Corrugate iron building Consisting of large meeting room & small room at rear
Can seat 280
10 poles
Valuation – Market Value of Fee Simple in possession of whole property in its present condition £300
Deduct Market Value of Site under similar circumstances, but if divested of structures, timber, fruit trees, and other things growing on the land £ 40
Difference Balance, being portion of market value attributable to structures, timber &c £260
GROSS VALUE £300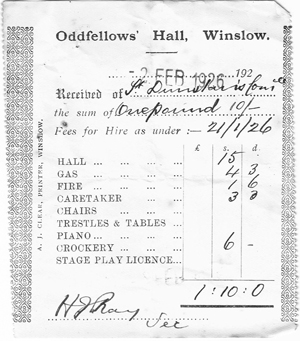 The receipt on the right, signed by Hugh Ray the secretary, is for the hire of the Hall by the St Dunstan's Cup Committee in 1926.
In 1945 it was bought by a committee representing the whole town, drawn from organisations such as the Women's Institute, Red Cross, Guides and Scouts, and the Welcome Home Committee (see below). They raised the £600 required through a series of fund-raising events. It served Winslow for another 30 years as the Public Hall before it was destroyed by fire and replaced by the present building, erected in 1977.
The photo below (from the collection of the late Ruth Hall MBE) shows a view of the gymnasium from the church tower, probably taken in the 1890s. The exterior of the building changed little until it burned down.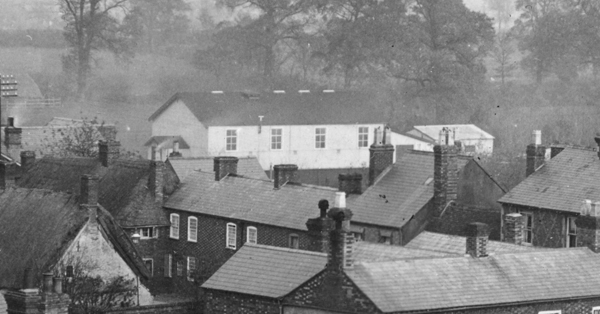 Thanks to Ed Grimsdale for some of the information on this page.
---
Buckingham Advertiser, 28 April 1945
Community Centre for Winslow?
Animated Discussion at Public Meeting
Odd Fellows' Hall Purchase
Last War's Ideal and Their Result
"ATMOSPHERE OF FRUSTRATION AND DEFEATISM"
A public meeting at the Odd Fellows' Hall, Winslow, which it was announced had been purchased at £600, to consider the question of a permanent public hall and social centre for Winslow, produced animated discussion on Monday evening and a thought provoking address by Mr. Harold King, Regional Officer of the National Council of Social Service.
As a War Memorial
The Chairman (Mr. E. W. Mitchell) in opening the meeting, referred to a leaflet that had been circulated with regard to its objects and said that it was hoped that the fact that they were meeting on the night of the lifting of the black-out for which they were indebted to the members of the Forces, provided a good augury for the success of their scheme. "The hall we are now meeting in, now belongs to us," he said, "and it has been paid for and it is our idea to improve it as much as possible to make it attractive and useful." They felt it was not ideal and they had an idea of a much better scheme for building an attractive place with a good dance floor, proper cloak rooms, a small hall for smaller meetings, car park and other facilities, a place of which Winslow could be proud. All this cost money; but he felt that with enthusiasm in the part of everybody, it would be possible to attain their object within three years or so. In one week, by a series of entertainments they had obtained enough money to pay for the hall they were meeting in that night and he had in mind a parish of 160 inhabitants which during the past few months had raised £200 and were launching a scheme for a parish hall and community centre as a War Memorial. He suggested that this was a marvellous idea and far better than that of the types of war memorials built after the last war. He suggested that there was no better way in which they could call to mind those who had given their lives for their country and hoped that a fund would be started for that object…
… (Mr. King) advised them to raise the financial cost themselves, pointing out that if people really did a thing themselves it seemed much more to belong to them and they took a much greater pride and interest in it. A community centre should be run for the people by the people who used it and to whom it belonged and if they did the work themselves they were free from the conditions that were generally associated with grants. He pointed out that the Council which he represented would consider giving assistance by grants and by interest-free loans. They were usually prepared to go to one-sixth of the total capital cost of a scheme of which they approved and they were prepared to give interest free loans up to one-third of the capital cost. There were conditions, one that the building must be durable, another that they should see the plans which were "vetted" by a Committee appointed by the Royal British Society of Architects, also that the hall should be under Trustees, preferably outside the parish, by being invested under the Charity Commissioners, with management by a committee, representative of all the interests of the parish. They did not want any management that was sectional …
… Animated discussion followed and the Chairman, replying to Mr. H. R. Langley, said that £600 was the price paid for the Hall. Negotiations had been carried through in a perfectly straightforward way with the Odd Fellows' Society. The Committee told them what they would give and they said this was not enough. In further negotiations a figure which the Committee thought was fair and reasonable was mentioned and they decided to accept it. They were not in competition, as far as he knew, with anyone else.
"Who Appointed Committee?"
Another speaker, Mr. Seeley, asked who elected the Committee and if it might be more representative of the community life of Winslow and the Chairman replied that a public meeting was called and given wide publicity; but was not well-attended. The Committee was then properly constituted and carried on and everything was done in a most regular way.
"If this Committee is not representative, it is entirely your own fault," said Mr. Foster who said that a public meeting was called. When the Savings Committee was appointed an invitation was sent to every public body in the town and the Public Hall Committee was really the old Savings Committee and was representative of the whole town…
…A request was made for the namers of the Committee and they were read as follows: Mr. E. W. Mitchell, Colonel Selby Lowndes, Mr. F. H. Foster (National Savings Committee), Mr. A. J. Illing (National Fire Service), Mr. Holton (A.T.C.), Mr. R. E. J. Butcher (Boy Scouts), Mr. A. G. Dobbs (Home Guard), Mr. Lanfear (British Legion), Mr. E. A. J. Jones (R.D.C.), Mrs. Selby Lowndes, Mrs. Holden (W.I.), Mrs. Gordon Dean (W.V.S.), Mrs. Foster (Red Cross), Mrs. Tremayne (Women's Land Army), Mrs. Court, Miss Wilson, Miss Walker (Girl Guides), Miss Hall, Miss Thompson (Post Office), Mr. Ray (Secretary).
"Unpleasant Bickering"
Mr. Knight thought there should be thanks rather than antagonism towards the Committee; but that they should be regarded in the nature of a provisional Government. Lady Cruise thought that they had better get together and see what they could do instead of indulging in "this unpleasant bickering." She was not a member of the Committee and would not be. In the past because they had had no hall they had been unable to provide members of the R.A.F. with entertainment.
Various names were proposed for co-option and Mr. H. R. Langley (Football Club) who was one of those mentioned, said that if the Committee received no more support than the old Winslow Sports Ground Committee received he was "sorry for them."
It was proposed that Mr. George Pass should be co-opted to represent the Winslow Boys' Comforts Fund and that representatives of the Welcome Home Committee should be among those to be co-opted and a resolution was passed approving of the Committee's continuation in the work of formulating a scheme, a report to be made to another public meeting and fund opened.
Colonel Selby Lowndes expressed thanks to the Chairman and speaker.
On the platform were Colonel Selby Lowndes, Mr. A. J. Illing, Mr. E. A. N. Jones (Clerk to Winslow R.D.C.), Mr. E. F. Foster, Lieut. A. G. Dobbs.
Copyright 8 October, 2023