Grace's High School / Commercial School (1812-1898)
By Ed Grimsdale
Daniel Grace took over Henry Stubbings' Winslow Academy / Winslow School in 1812:
Northampton Mercury, 4 July 1812
D.GRACE
BEGS Leave to offer his most grateful Thanks to his Friends for the liberal Support he has experienced since his Commencement in Partnership with Mr. STUBBINGS ; and respectfully informs them and the Public in general, that he separately carries on the above Profession, where all future Favours will be thankfully received, and every Attention paid, to the Health, Minds, and Morals of those Children who are entrusted to his Charge.
N.B. – SCHOOL will Re-open on MONDAY the 20th of JULY instant.
Daniel Grace must have maintained the goodwill that the partnership enjoyed for he advertised for an extra teacher in September 1813:
WANTED immediately, an ASSISTANT in a SCHOOL, A YOUNG MAN, qualified to teach Reading, Writing, Arithmetic, and the English Grammar; if he has a Knowledge of the Latin Language, it will render him more eligible. He must be well recommended for Sobriety, Affability of Disposition, as well as expected to assist in forming the Minds of the Pupils.
N.B. Apply personally or by Letter, Post-Paid, to D. Grace, Academy, Winslow, Bucks.
Grace went into partnership for a time with a Cambridge Graduate, William Henry Bond:
1827, 29 Dec: Bucks Chronicle
Education at Winslow
Mr D. Grace and Mr W.H. Bond of Queens College, Cambridge, impressed with the deepest sense of gratitude to their friends for the liberal support they have experienced since their removal to their present airy and commodious House, beg leave to inform them and the Public that they have vacancies for a few more pupils ...
The removal was to Brook Hall in Sheep Street. Numbers of pupils may have continued to disappoint Mr Grace who placed these words in the Bucks Herald on 11 July 1835:
Academy, WINSLOW,
_____
MR. D. GRACE,

BEGS leave to inform his Friends and the Public, that in consequence of the depression in the price of Provisions, he has lowered his terms to the moderate charge of EIGHTEEN GUINEAS per annum, including Board and Education in every branch necessary for Trade or Business.
The Rudiments of the Latin and Greek Languages, Mathematics, Practical Surveying, &c., will be charged extra.
Pupils under twelve years of age, Sixteen Guineas per annum. Expenses of Books and Stationary [sic] very moderate.
Mr. G. feels assured that the long experience he has had, and the numerous improvements he has introduced into his establishment, for the expediting and perfecting the Education of Youth, will give general satisfaction to any Parent or Guardian, who may think proper to make a trial of his School.
N.B. The next Quarter commences July 20, 1835.
The school hosted public lectures by Elkanah Slatterie, a touring speaker who later published A Brief Account of Mesmeric-Phrenology.
Bucks Herald, 1 Oct 1836
Mr. E. Slatterie delivered a series of Four Lectures on Elocution, at Mr. Grace's School-Room, Winslow, during the past week. They were attended by a very respectable audience, who appeared highly gratified by the very clear and comprehensive manner in which he elucidated the principles of this important science; the various parts were ably explained and illustrated, as well as enlivened, by the occasional introduction of 'well-selected anecdotes', thereby connecting the pleasing with the more essential parts of the science. Mr. Slatterie will deliver lectures on Elocution at the Town Hall, Aylesbury, on Tuesday, Wednesday, and Thursday next.
The Bucks Herald published the following lines on 10 April 1841. They attest to Daniel Grace's position in the community:
WINSLOW
There are few places in which parochial affairs are conducted with less acrimony and party feeling than in the above village. – "bear and forbear" appears to be the judicious and conciliating motto that influences most of its inhabitants. In conformity with this "noiseless tenor of their way", which almost invariably marks the proceedings of the parishioners in the regulation of their internal polity, they have elected , without contention, their Guardians of the Poor for the ensuing year, viz. : Mr Daniel Grace, schoolmaster, and Mr Samuel Cole, farmer, individuals well qualified to sustain the duties of this office.
Daniel Grace was an active Anglican, and a leader in the affairs of Winslow Parish Church. At a Deanery Conference held in Winslow in 1840 to promote the cause of the National Society that espoused the Church of England's educational principles, his school was mentioned in connection with a proposed resolution "That the Board of Education recently established in this County, in union with the Incorporated National Society, is deserving of the sympathy and support of all friends to education on sound religious principles."
The Rev. Geo. W. Sandy, Secretary to the Deanery Board supported the resolution. … In the town of Winslow, a schoolmaster, (Mr Grace) had put his school in connexion with the National Society.
The school moved to the High Street c.1842, originally on the site where the Post Office was later built. By 1848, Winslow Academy was under the partnership of "Messrs Grace and Son". Daniel Grace had retired by 1851, when he is listed as a farmer. John Grace aged 31 was "Master of a Private Commercial School". He had 2 resident teachers and 16 boarders aged between 8 and 16, including two French boys. The school became known as the "Classical and Commercial School founded 1812", the date when Daniel Grace acquired it from his former employer Henry Watkins Stubbings.
Oxford Chronicle, 31 Aug 1850:
A silver tea-pot of handsome make, and bearing the following inscription, has been presented to Mr. Grace, of Winslow, on retiring from his scholastic duties, after 36 years active labour:- "Presented to Mr. Daniel Grace, on retiring from his scholastic duties, by his former pupils, as a token of regard and esteem."
By 1861, John Grace had 7 children of his own. As well as his wife Sarah, there was an assistant teacher and 10 boarders. Most of the pupils were probably now day-boys, including the future dramatist Henry Arthur Jones who left at the age of 13 in 1864. Daniel Grace's farm was advertised in the Bucks Herald, 21 July 1866:
13 HEAD OF COW STOCK,
CART HORSES, Poultry, Farming Implements, FINE GROWING CROPS OF CORN, Grass Keeping (up to Michaelmas, 1866)
TO BE SOLD BY AUCTION, BY
DUDLEY & SON,
On MONDAY, July the 23rd, 1866
On the Land in the occupation of Mr. Daniel Grace, in the Parish of Winslow who is leaving. […]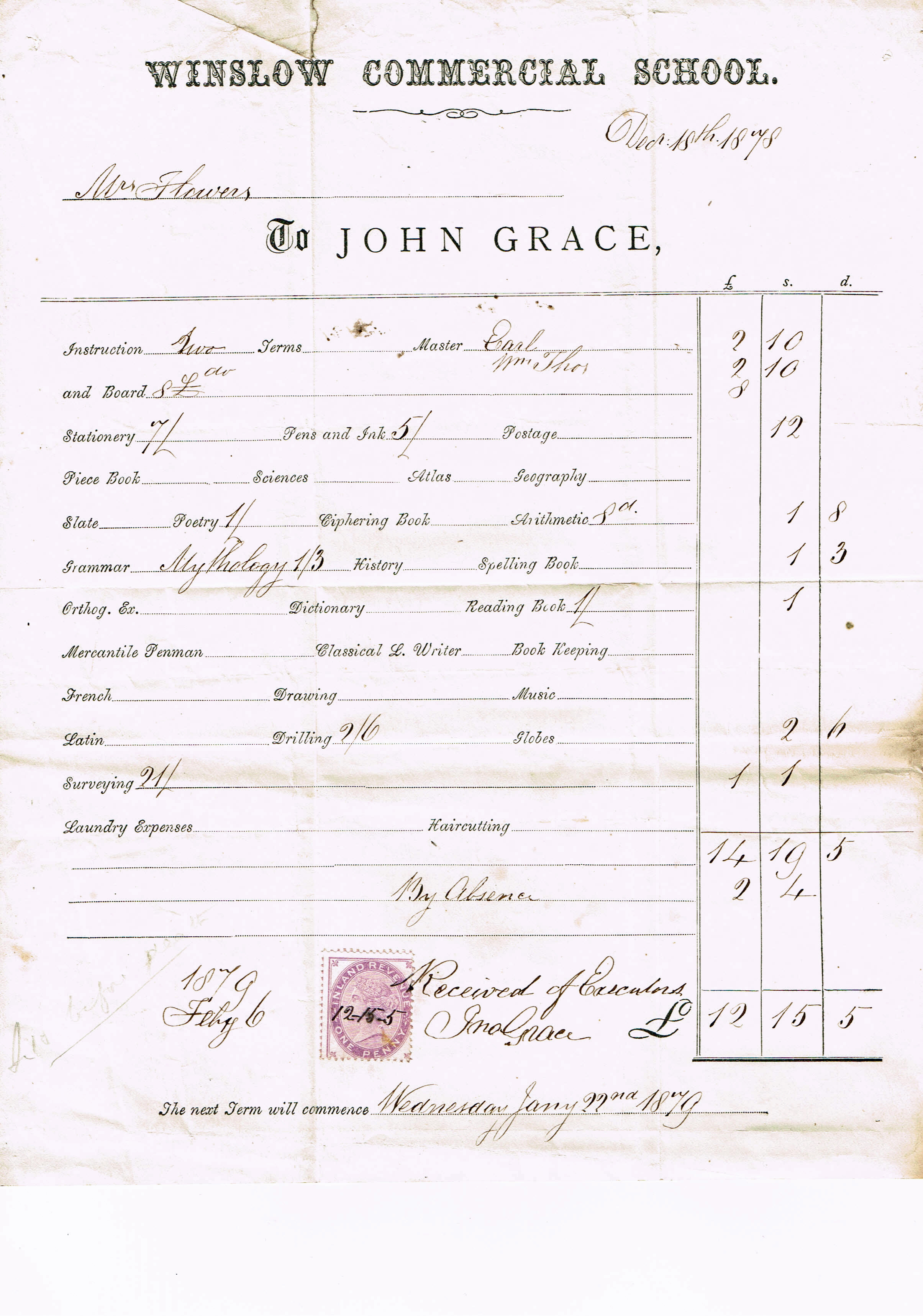 In 1871 the school had moved to Arundel House (at the corner of Vicarage Road and High Street, now demolished). Mr & Mrs Grace had 8 children living at home, an assistant master and 7 boarders. Subjects offered ranged from Book Keeping and Mercantile Penmanship to Latin and Mythology. Click on the image on the right to see the account which Mr Grace sent to Mrs Flowers of Padbury in December 1878. In 1881 there was an English teacher and 5 boarders. From the Bucks Herald, 4 March 1882:
Presentation – On Tuesday, the 28th ult, being the anniversary of Mr [John] Grace's birthday, it was decided by the present and past pupils of the Commercial School to make him a suitable present in recognition of the kindness and attention which they have invariably met with under his care. The presentation took place in the School-room and consisted of an illuminated address and a very handsome piece of plate. The address was received by the boys with enthusiastic applause. Mr Grace, on rising to reply, was greatly cheered, and said that it was a most agreeable surprise to him. He thanked them all very sincerely for their kindness and good wishes expressed in the address. It was always his desire to make them happy and comfortable, and he hoped that he should long continue to merit their esteem and good wishes.
John Grace died on 23 July 1885 and his school was taken over by William Warne. Grace was 65 years old and had been the Principal of the Commercial School for over 30 years. According to the obituary in the Bucks Herald he was "widely known and esteemed throughout the district, most of the younger middle-class men having passed through his school in their time." Apart from his school work, John Grace had been Secretary to the Gas Company, Hon.Sec. of both the Cattle Assurance Association and Winslow Fire Brigade, Collector of Income-Tax and several times Guardian of the Parish. John Grace's children included a son, also John, and a daughter, Thalia who married Henry Clift of London. He was given a choral funeral in Winslow Parish Church and his passing was marked with a muffled peal of bells.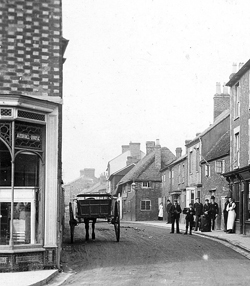 The school's new management was advertised as:
WINSLOW BOYS' HIGH SCHOOL
ESTABLISHED 1812
HEAD MASTER – Mr. WILLIAM WARNE, F.R.G.S.
CLASSICAL & COMMERCIAL SCHOOL for BOARDERS and DAY SCHOLARS. Fees charged from Admission.
Thorough Education. Careful Training. Home Comforts. Moderate Terms.
For Prospectuses apply to the Principal, Arundel House, Winslow, Bucks.
The 1891 Census shows an assistant teacher, Alfred Beer aged 16, with 14 boys boarding aged 11-15. Kelly's Directory for 1895 lists "Warne, William, F.R.G.S., C.M." The Sanitary Inspector found Arundel House (photo on right) to be unsatisfactory in 1897: "… the walls of the dormitory were green and black with the damp coming through the north wall. The end of the back entrance hall was partly fallen down, and the roof of the w.c. was also in a dilapidated condition." From there, it seems it was downhill for Winslow Boys' High School. By 1899 William Warne was in charge of Chipping Norton Grammar School: "Modern Subjects taught, Very healthy good home." Perhaps Warne had mended his ways, perhaps not for he was bankrupt before the century had ended. In Winslow, Mr Ray's Collegiate School in Sheep Street briefly filled the gap in the market.
The photo below shows the school c.1890. The white arrow points to George Midgley (some of the younger boys may be Midgleys too).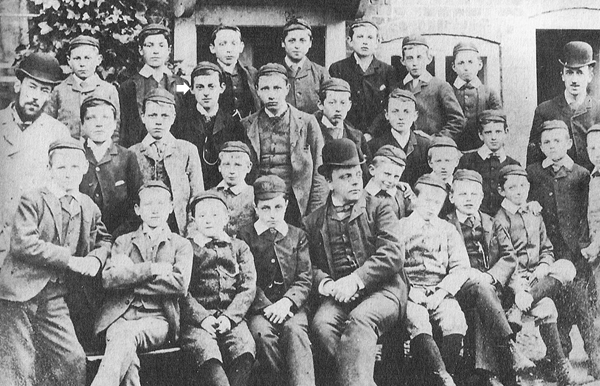 ---