George Verney, postman, retired 1910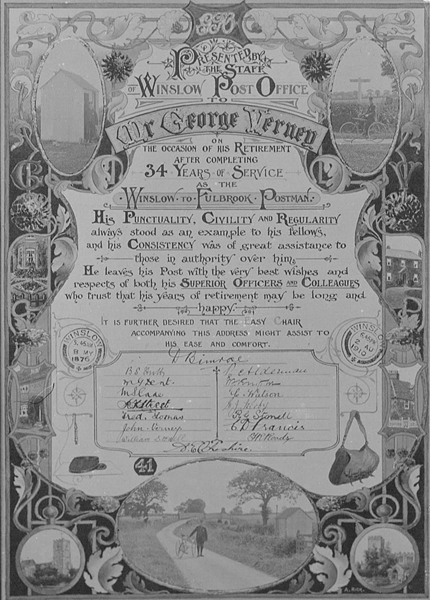 The retirement of George Verney as postman after 34 years service was honoured with the gift of an easy chair and an elaborate testimonial (does anyone still have the original? - we've scanned a black and white photo for the image on the right). The hut shown twice seems to have been near Shipton Bridge. There are also photos of some of the buildings on his round, presumably provided by the Winslow photographer Harry Turnham. The round was Winslow to Fulbrook, near Hogshaw, for which he was equipped with a tricycle.
George Verney was born at Great Horwood in 1850. His father Richard, an agricultural labourer, was born in Winslow in 1797 (son of William and Elizabeth). The family was living in Sheep Street in 1861. In 1871 George, now an agricultural labourer, and his father (d.1880) were living in Back Lane.
George became a postman in 1876. He got married in 1873 to Sarah Ann Verney, previously a cook at Selby Lodge. In 1881 they had two children (Florence and Henry) and were living in Station Road. In 1891 they also had a daughter Gertrude. In 1901 and 1911 they were at 148 High Street.
George Verney died in 1929 aged 78 (or 83 according to the Buckingham Advertiser). Sarah was 94 when she died at her daughter's home in London in 1940.

There is a close-up of George Verney on the left from a photo taken in 1908. The photo below seems to have been taken on the occasion of his retirement. The Post Office was then at 66 High Street (it moved across the road soon afterwards). The people who signed his testimonial were: D. Bimrose, B.S. Hutt, M.G. Dent, M.S. Cade, ? Street, Fred Lomas, John Verney, William Stonell, H. Alderman, W.J. Knight, C. Watson, E.J. Kirby, R.G. Stonell C.D. Francis, F.R. Roads, A.E. Cheshire. Most of them seem to be in the photo. George Whichello (in the photo) had already retired. B.S. Hutt was Bessie, who was a "postal & telegraph clerk". Daniel Bimrose was the sub-postmaster of Winslow and Alfred Cheshire was sub-postmaster of North Marston. Harry Alderman was a telegraph boy.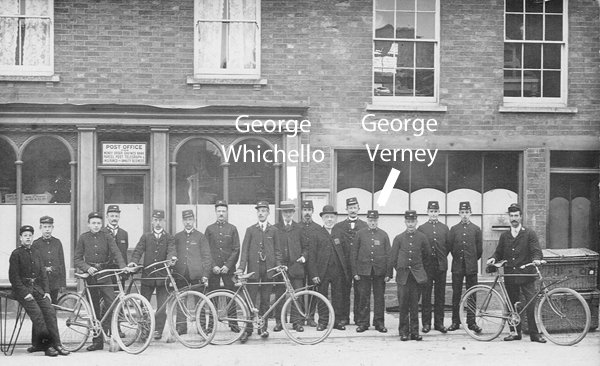 Back to Families / People
Copyright 3 December, 2018