Obituary of Edward Lane Sear (d.1895)
This obituary was printed in the Bucks Herald on 26 July 1895.
The death of Mr Edward Lane Sear, coachmaker, of this town took place on Tuesday morning. Mr. Sear was by far the oldest tradesman and almost the oldest inhabitant of the town. He was a Nonconformist and a Liberal, and seemed in good health and spirits on polling day, but on Monday he was taken unwell and died after a few hours' illness.
1891: Census
High Street (site of fire station / telephone exchange)
| | | | | | | |
| --- | --- | --- | --- | --- | --- | --- |
| Edward Lane | Sear | head | widower | 80 | Coachbuilder | b. Bletchley |
| Elizabeth Ann | Sear | daughter | single | 46 | Housekeeper | b. Winslow |
| George James | Sear | grandson | single | 21 | Watchmaker | b. Winslow |
| Elizabeth | Sear | granddaughter | single | 19 | Draper's assistant | b. Ramsgate |
The map below shows the Sears' house (coloured red) on the 1880 25 inch OS map (left) and the same site in 1978 (right)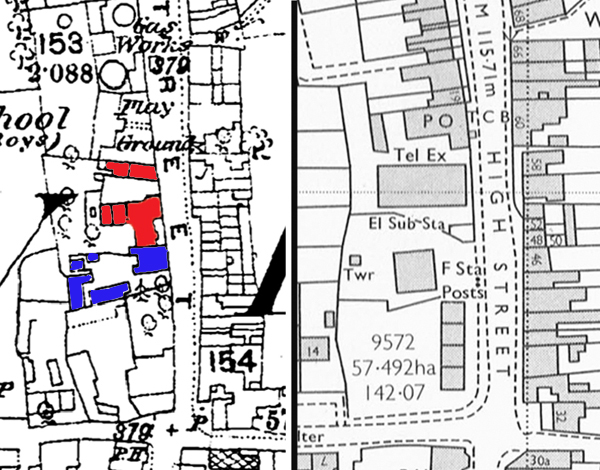 Buckingham Advertiser, 11 April 1896
W I N S L O W.

THE STOCK-IN-TRADE of a Coachbuilder and Wheelwright, including 8 New and Second-hand Dog Carts, a Pony Phaeton, Spring Cart, quantity of Ash and Oak Planks, and Birch Boards, 81 assorted Ash Felloes, 19 pairs of Hubs, 16 Cart Springs and Axle Trees, quantity of Wheelright's [sic] Iron, and an Assortment of Trade Materials, &c., &c.
TO BE SOLD BY AUCTION, BY MR. GEO. WIGLEY
On TUESDAY, APRIL 14th, 1896, on the premises at High Street, Winslow, by direction of the Executors of the late Mr. Edward Lane Sear.
__
The Sale will commence at Twelve o'clock.
__
Catalogues may be obtained at the Offices of the Auctioneer, Winslow.
---
Obituary of his daughter Elizabeth Ann Sear (d. 1931)
The following is taken from an obituary printed in the Buckingham Advertiser on 28 March 1931.
EIGHTY-SEVEN YEARS IN ONE COTTAGE
Miss Elizabeth Ann Sear, who has passed away at Winslow at the age of 87, had passed all her life in the picturesque old thatched cottage which stands near to Winslow Post Office. Her father, Mr. E.L. Sear, a coach-builder, who took a great deal of pride in his work, until, alas, modern conditions deprived him of it, had also occupied the same cottage at Winslow. His coach-building business was nearly a century old and he also passed away at a great age, being 86 at the time of his death.
Miss Sear, who was highly-respected in Winslow, was the aunt of Mr. C.J. Sear, a Winslow watch and clock-maker, whom she cared for and brought up in his childhood. Much sympathy is felt in Winslow for Mr Sear, in the loss which he has suffered, of a relative to whom he was greatly devoted. Miss Sear had been ill for two months before her death.
In the photo below, the Sears' house is the thatched building on the left, next to Coxill's (sign not quite legible) which was pulled down before 1911 (Richard Coxill was a cooper).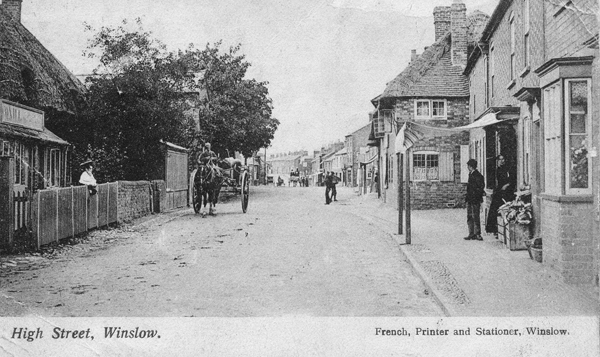 Back to Families / People
See also: Chapels