Hearth Tax 1662/3
National Archives, E179/80/352
This very fragmentary document is part of an undated roll of Hearth Tax returns for Cottesloe Hundred. The Winslow section is slightly less damaged than the rest. Square brackets show where we've restored the text, and ? shows where the reading is doubtful.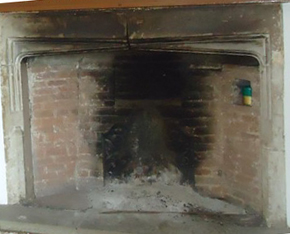 Hearth at the Old Crown
The Hearth Tax was first collected at Michaelmas 1662, and John Pownall the vicar was buried on 7 Sep 1663, so this list must be for Michaelmas 1662 or Lady Day 1663. 94 people paid the tax (1s per hearth, payable twice a year). The first list of exemptions, from 1670 has 64 names, so there were about 160 houses in Winslow at the time. Lists of exemptions were only kept from 1664, but individuals could always be exempted for "poverty or smallness of estate". Only 5 women paid the tax but there are many in the lists of exemptions.
Liability to pay the tax fell on the occupier (or the owner if the house was unoccupied). The assessment was originally done by the tithingmen: Richard Worsley and Benjamin Leach (or Keach) for Winslow from 8 Oct 1661; John Norman and Abraham Day for Winslow and John Judge for Shipton from 21 Oct 1662. Robert Elliot refused to take the oath as tithingman for Shipton in 1661. Perhaps he knew what was coming. Some of the houses don't have as many hearths as you would expect from the number of rooms listed in associated inventories, so the assessors may sometimes have counted chimneys rather than hearths. More on the Hearth Tax.
The Hearth Tax was paid by occupiers but the court rolls record owners, so there's some difficulty in matching the two. The original return gives no information about the location of the property, but the column on the right shows where it can be deduced from the manor court records. One name which is very clear is that of Benjamin Keach (written Keech) - this is the first clear reference to him unconnected to his role as a Baptist. A notable absentee is Peter Fyge the younger (d.1665), who had probably moved away. The biggest houses were The Bell, The Angel, The Brick House (on the site of Winslow Hall) and Wendover Lowndes' house.
[f.9] Wy[neslowe]
No. of hearths
Location / occupation
John Kerby
[total ≈5]
?
Thomas Goodwyn
draper (later ran The Angel)
Thomas Dandridge
Shipton
William Danye[ll]
Sheep Street
Edward Hobcroft
3
west of Thomas Knight; miller if he's the same person as Robert Hobcroft
Richard Shelton
3
?20 Horn Street
Danyel Beadles
2
The George (west end); barber
John Watts
3
6 High Street
Christopher Bygg
2
21-23 Market Square; blacksmith
Alice Kenniston widd.
1?
?16 High Street
Richard Rogers
2
?14 High Street
Richard Seaton
3
Horn Street, near Tithe Barn
Thomas Kirby
1?
Sheep Street, "Bridge Foot"; shoemaker
George Elliott
1?
Shipton; on 2 April 1662 he handed over all his property to his son Thomas (who isn't on the list)
Michael Norman
4
8-10 High Street; shoemaker
John Norman
1
8-10[?] High Street; shoemaker
Hughe Seaton sen'
1
?Horn Street
Francis Glenister
1
14 Market Square; mercer
Alice Smyth widd.
3
widow of Thomas Smyth d.1662
Bennett Glenister
3
Sheep Street (Winslow Hall site)
Beniamyn Leach
3
3-5 Market Square / Bell Walk; grocer
[Wi]llm Whitehall
2
?
[Thom]as Rogers
1
?
[Dani]ell Seare
2
?
[John] Underwood
5?
Sheep Street, Brick House (part)
[Willm] Fyrth
3
Sheep Street south
[John Po]wnall Viccar
4?
Vicarage
[?Thomas] Udding
3?
?
[Mr]s Susan Harris
4
?
Hughe Seaton Jun'
2
?Horn Street
Thomas Graunt
2
Grants Baulk (near Horn Street)
John Shelton Jun'
2
?
John Beadles
3
Sheep Street south; barber
Henry Wyet
5
The Rose & Crown; butcher
John Forrest
3
High Street; baker
Willm Gresham
3
?
Thomas Gresham
2
?
Edmond Paxon
4
Horn Street, Blake House
Mathew Byshop
2
?3 Market Square; draper
Thomas Gubb[in]
1
wheelwright
John Hogson
2
?Sheep Street south; yeoman
Thomas Smallbones
2
hatter
John Shelton sen'
3
site of 12 Horn Street; Robert Shelton, cooper, d.1671, was his son
Henry Norman
2
Sheep Street, Brick House (part)
John Robinson
1
?2 Horn Street
Tho[mas] Rob[in]son
1
yeoman
J[ohn? ....]y
1
[?Silvester Clav]er
4
?Sheepcote House (Western Lane)
[?Willm Gyles?]
2
Market Square (site of the Bank)
[c.10 letters]
1
Could be Edward Ping (d.1665)
[?Wendover Lo]wnes
7
South of The Bell
R[obt Lownes iun'?]
6
The Angel
Willm Udding[?]
1
?
Willm Bassett
1
?
Willm Steward
3
doctor
John Cooper
2
?
Richard Udding
1
Sheepcote Cottage (Western Lane); husbandman
Thomas Knight
1
east of Edward Hobcroft; shoemaker
John Tanner
5
This is the largest unidentified house so it might be the Old Crown, whose occupant at this date is unknown
Abraham Deay
1
East of The Bell
Beniamyn Keech
2
tailor
John Seaton
3
?Horn Street
William King
1
?
Roger Attwood
1
Part of The Bell; baker
Nicholas Spooner
2
?
Willm Spooner
3
9 Horn Street
Thomas Spooner
1
12 Horn Street (part)
Robert Spooner
1
?
[f.10] Nicholas Mitchell
3
The Bull
Peter Stotusburie
1
shoemaker
Robt Lownes sen'
3
?Church Street
Robt Wyatt
3
?Staniford House (he made his wife co-tenant in 1661)
Andrew Stotusburie
3
shoemaker
John Glenister
2
High Street west (Arundel House site)
John Henly
6
The Bell; Henry Pym who owned The Bell isn't in the list and had probably moved away
Edmond Tomlyns
1
8-10 Horn Street; carrier
Henry Graunt
2
?
Richard Phipps
3
Shipton
Widdow [=Ann] Stevens
2
Shipton
John Glenister
1
?
John Scott
3
Shipton
Willm Townsend
2
Shipton; husbandman
John Myller
2
Shipton; probably the house which John Grant alias Miller sold to William Bignell in Oct 1662, so John Miller was living somewhere different when he died in 1673
John Cra[..]
3
John Cross (d.1669) lived at Huthintree or Houtchen Tree "on the south side of Winslow"
Thomas [Deely / Elliot / Pease / Chandler / Branford]
1
Thomas Pease lived at Tinkers End Cottage.
Willia[m Hogson] or [Glenister]
2
?
Willia[m Glenis]ter
1
Shipton; yeoman
Thom[as ?Sheffi]eld
1
Shipton
Willia[m W]yatt
4
Shipton; butcher
John [?Bri]nckler
1
?
Widdow [=Dorothy] Myller
3
Shipton
Robert Elliott
2
Shipton
Thomas Danyell
1
?
John Judge
2
Shipton
-------
Total
214