The Winslow Trail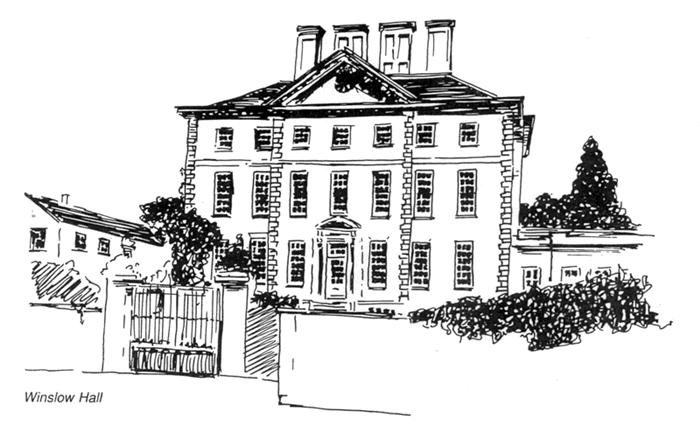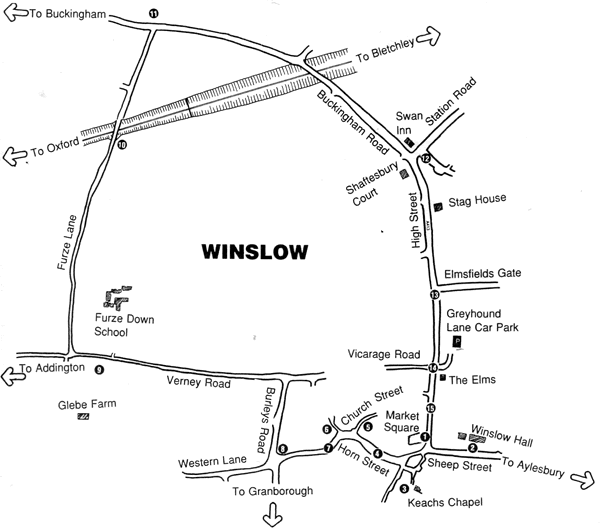 An historical walk around the old market town
Compiled by Julian Hunt

Drawings by Mike Yassin


The Winslow Town Trail attempts to explain the origin and growth of the town using buildings and the landscape as evidence. The route is on footpaths or roads throughout and no special footwear is needed. The walk starts in the Market Square where there is only limited parking. Cars are best parked in the Greyhound Lane Car Park, approached by a lane on the east side of the High Street.

1. The Market Square
The Market Square has changed remarkably little since medieval times. Winslow probably had a market in the churchyard from very early times. It was a royal manor until 792, when Winslow was given by King Offa to the newly founded abbey at St. Albans. The Market Square appears to have been carved out of the churchyard about 1235 when the Abbot secured a market charter from the king. The 14th-century records of the Abbot's court mention separate meat, cheese and butter markets, houses, shops and a forge in the market place, and even give the dimensions of some of the stalls, typically 12ft. by 8ft. The stallholders' names often reflect their occupation, such as chapman, chandler, smith, ironmonger, cooper, draper, tailor and shoemaker.

In the centre of the Market Square was a market house constructed of timber, with stalls underneath and a room above for the Lord of the Manor's steward to hold the manor court. It remained in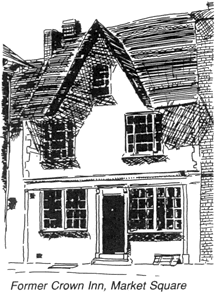 the Market Square until the beginning of the last century. The Market Square would once have appeared much larger. The block including the George Inn and Wilkinsons the estate agents is an early encroachment on the Square where stallholders must have been given permission to build permanent structures. The block including the hairdesser's shop is described in property deeds as the Butter Market and may also be an encroachment. Market towns always have a lot of inns and Winslow is no exception. In the Market Square only the Bell and the George (formerly the George and Horseshoe) survive, but many more buildings were inns at one time. The rear part of the Bell was the George. Across the roadway from Wilkinsons, the shop with a door framed by stout wooden pillars (possibly taken from the old market house) was the Rose and Crown. Next to it is the Old Crown and next to that was the Punch Bowl. On the opposite side of the Square the delicatessen was the Royal Oak and the launderette was the Angel (birthplace of William Lowndes, builder of Winslow Hall).

2. Winslow Hall
Leave the Square via the Bell corner and proceed along Sheep Street as far as Winslow Hall. Sheep Street must derive its name from its function as part of the market. It was once lined with farmhouses and cottages on either side but several were demolished around 1700 when Winslow Hall was constructed and more were destroyed in later years to improve the view from the Hall. The name of the builder of the hall, William Lowndes, is carved in the stonework above the door. His family had lived at the Angel Inn where his grandfather was a plough maker and farmer of nearly a hundred acres. His father had wasted the inheritance and the young William Lowndes became a clerk in London. His career culminated in his appointment as Secretary to the Treasury where he would have given government contracts to Sir Christopher Wren who is thought to be the architect of the Hall. Winslow Hall remains little altered because the Lowndes family inherited the nearby Whaddon estate in the late 18th-century and spent their considerable wealth in rebuilding the house there. Winslow Hall was tenanted for much of the 19th-century and was finally sold to the McCorquodale printing family in 1897. From 1959-2007, it was the home of Sir Edward Tomkins, formerly British Ambassador in Paris.

3. Keach's Chapel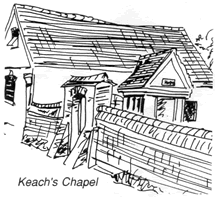 Return to the Market Square and turn left into Bell Alley, between the Bell Inn and the hairdresser's shop. Along to the left is a remnant of Wigley's sale yard, where cattle were sold following the removal of the sales from the Market Square in 1898. Also on the left is the gate to Keach's Chapel, a Baptist meeting house built in 1695 in the garden of a local draper named William Gyles. Non-conformist meeting houses of this period tend to be discreetly sited to avoid the sort of persecution which marked the career of Benjamin Keach, the popular 17th century preacher after whom the chapel is named. The Chapel is well worth a closer look and the key can be obtained from Wilkinsons the estate agents in the Market Square.

4. Horn Street
Continue along Bell Alley towards Horn Street. The buildings on the right were once a smithy run by the Grace family. Their house is one of the finest timber framed buildings in Winslow with its jetty on the north side and herringbone brickwork on the gable end. Opposite is the Bull Inn, closed as recently as 1993. There are two more former inns in view; on the left the house with a new garden wall and railings was the Crooked Billet (closed in 1991) and on the opposite side where Horn Street turns, the thatched house was the Plough Inn (closed in 1910). Most of the houses in Horn Street were farmhouses with barns and out houses to the rear. Their land would have been scattered in strips around the open fields of Winslow before the enclosure of 1767 (see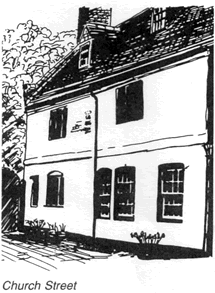 10). The handsome brick-fronted house on the corner of Church Lane was rebuilt after the enclosure and extended in 1829 by Charles Willis, a wealthy solicitor and agent to the lord of the manor. The Willis family also built Western House (see 7) and the present Town Council offices on the High Street (see 14).

5. Church Street
Turn right up Church Street and note the large timber framed house, part of which has been refronted in brick. The datestone GB 1726 gives the date of this alteration; the initials are those of a glover named George Barrett. The deeds to this house suggest that it once joined on to the Vicarage which was rebuilt on its present site in 1863.

6. Tithe Barn
Retrace your steps to Horn Street, pass in front of the former Plough Inn, and take the footpath on the right. The large building on the left was the Tithe Barn, dating back at least to medieval times. Tithes were a tenth of farmers' crops which they were obliged to give to the church and which were stored in tithe barns until used up or sold. The church had from very early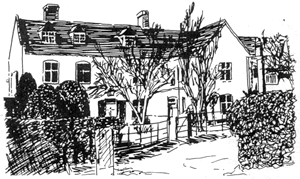 times mortgaged their income from tithes and William Lowndes was able to buy the tithes along with the manor of Winslow in 1697. The Tithe Barn would have been rebuilt about this time. Note the vertical ventilation slits now filled in with bricks and the blocked cart entrance. At the enclosure of Winslow in 1767, William Lowndes was allotted a block of land to the south west of the town in lieu of his right to collect tithes. The Tithe Barn became redundant and was converted into a farmhouse.

7. Horn Street
Go back to Horn Street and continue to walk away from the town. Ahead on the left hand side of the road is the Old Tan Yard, one of two such enterprises in Winslow where animal skins were treated with the tannin derived from tree bark. Next to the Tan Yard is Tinkers Corner, formerly called Blake House, after the Blake family which ran the tannery. Opposite Tinkers Corner is the site of Western House, built by David Thomas Willis in 1859 but occupied for many years by the Greaves family. It had 13 bedrooms and stabling for 20 horses. It was demolished in 1939.

8. Burleys Road
The wall to Western House continues to the crossroads. Before the inclosure in 1767, the road to Addington continued along Western Lane, but this route is now reduced to a footpath. On reaching the crossroads, turn right into Burley's Road. The council houses were built by Winslow Rural District Council on a close of land called Burley's Piece, once owned by Henry Burley, a proprietor of the Bull Inn during the 18th century. At the top of the road, turn left into Verney Road. This road to the Claydons was laid out at the time of the inclosure and replaced Western Lane as the road to Addington.

9. Glebe Farm
About 200 yards along Verney Road, Glebe Farm can be seen set back on the left. This was built by Buckinghamshire County Council on former church land in 1930 as part of a national policy to provide smallholdings for those who couldn't afford to rent or buy existing farms.

10. Furze Lane
Opposite Glebe Farm is Furzedown School, a special school built in 1975. Immediately after the school, turn right into Furze Lane. In the small fields either side of the road, especially near the railway bridge, medieval ridge and furrow can be seen. Prior to the enclosure, each farmer had a number of strips or ridges of land scattered around the three great fields of the parish. Each year one of the fields would grow wheat, another beans or peas and the third would remain fallow and provide pasture for the animals. The open field system was abandoned in the 18th century and in Winslow the land was re-allocated by enclosure commissioners appointed under a private Act of Parliament of 1765. Furze Lane itself was laid out by the commissioners to enable farmers to get to their new enclosures. All the hedges date from this time and some of them cross the older ridge and furrow at right angles.

11. Redfield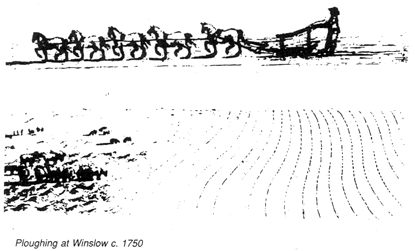 Continue over the railway bridge (crossing the 1850 L.N.W.R. Bletchley to Oxford line) as far as the main Winslow to Buckingham road. Cross the road carefully and turn right towards Winslow. Soon the gate to Redfield is reached. This was a farm built immediately after the enclosure and named Dudslow Farm after the furlong in the open field on which it was built. About 1840 the farm was replaced by a large house named Selby Lodge, built for Edward William Selby Lowndes. After Lowndes death in 1885, the house was enlarged by Henry Lambton who renamed it Redfield. The house is now occupied as a community.

12. Winslow Union Workhouse
Returning to Winslow on the Buckingham Road, some Victorian houses can be seen. These date from the opening of the railway station to the north of the town in 1850. The Swan Inn on the corner of Station Road was opened at this time as was the Stag Inn, now called Stag House, 100 yards further along the street. Opposite the Stag is Shaftsbury Court, an old peoples home occupying the site of Winslow Workhouse. After 1834, Winslow became the centre of a poor law union, its workhouse serving the poor of all the surrounding villages. The master's house has been preserved. The street here was once called Union Street but is now part of the High Street.

13. Elmfields Gate
Carry on along the High Street, passing the 1863 Baptist Church on the left and eventually reaching Elmfield Gate, the access to the modern housing estate to the east of the town. The new shops were built on the site of the Chandos Arms and nearby cottages which were destroyed in 1943 when a Wellington Bomber crashed approaching Little Horwood Airfield.

14. High Street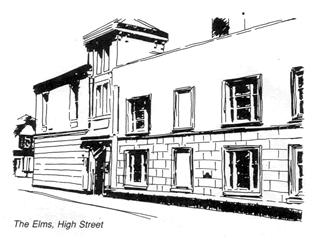 Continue along the High Street until the crossroads is reached. On the right is Vicarage Road and on the corner, the former Windmill Inn which closed in 1993 and is now a vet's surgery. On the left is Greyhound Lane, named after an inn of that name which closed about 1800 and was rebuilt after 1867 by the solicitor Thomas Price Willis as a residence called The Elms. This house has now been demolished and modern flats built on the site. Behind the inn was a tannery, a vital part of trade in a town with an ancient cattle market, but the site of the tannery is also occupied by flats. To the south of the Greyhound was the home of the Maiden family, old established butchers, whose house was demolished to make way for the offices of Thomas Willis. The offices have a date stone 1889. They were later taken over by Winslow Rural District Council and now house the Town Council.

15. The Fire of Winslow
The next building to the south was the Sow and Pigs, later renamed the Kings Head. Its facade was rebuilt in the 18th century, possibly after a disastrous fire which ravaged the High Street in 1775. The fire broke out at the back of the Three Pigeons, now the newsagents. The five-bay building with a porch was the home of a succession of wealthy surgeons. The pitch of its roof was once as steep as that of the timber framed house on the left, but in the early 19th century a new slate roof and cement rendered facade was put on giving much greater height to the bedrooms. Look out for other timber framed houses, like the Bell Inn, which have similar facades where cement render is made to look like stone, and where the material is moulded into pillasters and ornate window surrounds. Despite the fine houses, this section of the street facing the churchyard was known as Cow Street, suggesting a specific part of the market. The Market Square now opens out on the right. On the corner stood an elegant draper's shop (illustrated here) which was demolished about 1950 to make the High Street wider.

You have now reached the Market Square and the end of the trail. Refreshment may be taken at the Bell, Cappo's Café or at the Jenny Wren Tea Rooms, all in the Square. The Greyhound Lane car park is reached by retracing your steps north along the High Street.