Buttermarket: 3, 5 & 5A Market Square, 2 Bell Walk
The block of properties surrounded by Bell Alley, Bell Walk and Horn Street (known in the 18th century as the Buttermarket) is shown below (highlighted) as it was divided up in 1978.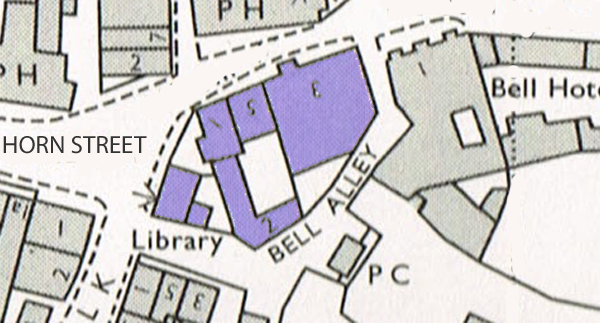 3 Market Square is now part of The Bell, the former Library is an office, and the rest forms three private houses. The one numbered "1" on the map is now 5A Market Square (Horn House), and the one numbered 2 is called the Old Forge. 5, with part of 3, is 5 Market Square (Grace House). They were divided up in many different ways in the past. Originally this area was the south side of the Market Square.
The map below is from 1880, the first one to show the area in detail. There were no house numbers then. The numbers added in red link to the 1881 census return which is shown underneath the map.
1 = 5A Market Square & 2 Bell Walk: run as a blacksmith's by the Grace family including Arthur (aged 11 in 1881) and his son Stanley.
2 = part of 5 Market Square: used as an infant school until about 1910
3 = part of 5 Market Square: formerly a brazier's, with workshop behind; later attached to 3 Market Square
2 & 3 are mentioned in the will of George King senior (made in 1879) and will of George King junior (1893), whose son Charles King sold them to W.H. French; they were sold in 1899 by W.H. French's son to W.N. Midgley, who later sold them to his brother D.F. Midgley.
4 = 3 Market Square: largely rebuilt by W.H. French in 1870 as an ironmonger's, later belonging for 100 years to the Midgley family (see G.A. Midgley's workshop ledger, 1910)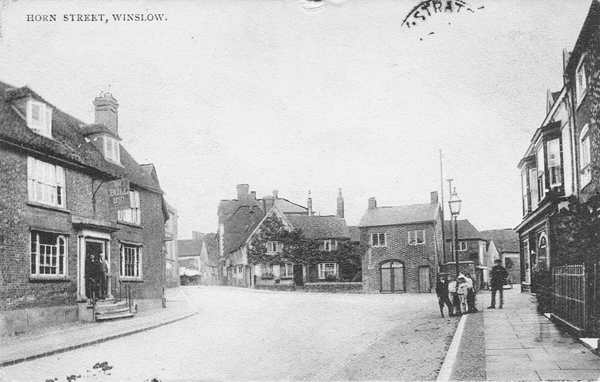 This view from the west (left edge of the map below) taken in 1910 shows the Fire Engine House (right of centre), with building no.1 to the left and right and no.4 at the rear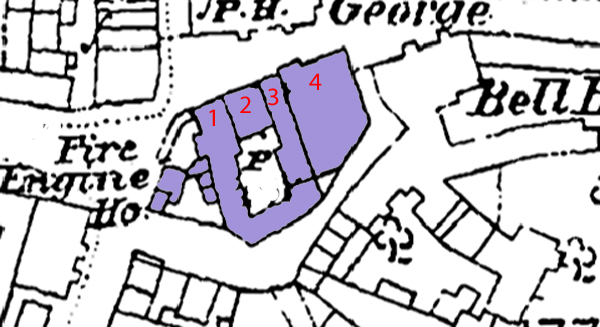 Ordnance Survey map, 1880
1881 Census, Market Square
1
Elizabeth Grace
head
widow
84
smith's widow
b. Newton Longville
Jane Myrtilla Halsted came to Winslow in 1874 as mistress of the Infants School in Church Walk which had re-opened under a new system. She was originally from Chichester and previously worked at Macclesfield. The school report in 1875 said that it was in "a fair state of efficiency" but the girls must be taught to sew. She was praised for her pupils' religious knowledge.

Miss Halsted lodged with the Bathe family at 5 Market Square: John Bathe, a tailor, his second wife Elizabeth and daughter Louisa. She became engaged to Harry Ingram, a dairyman and milk-dealer, and lent him £51. He came from his house in Church Street to the Bathes' for supper every Sunday. When he broke off the engagement in 1894 after about 17 years, they ended up in the County Court when Miss Halsted tried to get her money back, and she got a verdict in her favour.
George Grace
son
widower
48
blacksmith journeyman
b. Winslow
Emily Grace
gdau
unm
17
no occupation
b. Winslow
William G. Grace
gson
15
no occupation
b. Winslow
Beatrice K. Grace
gdau
13
scholar
b. Winslow
Arthur Grace
gson
11
scholar
b. Winslow
John Grace
son
unm
39
smith journeyman
b. Winslow
2
John Bathe
head
mar
70
tailor
b. Winslow
Elizabeth Bathe
wife
mar
72
b. Adstock
Louisa Bathe
dau
unm
38
needlewoman
b. Winslow
Jane M. Halsted
boarder
unm
40
schoolmistress
b. Chichester
3
George King
head
mar
53
grocer's assistant
b. Winslow
Amelia F. King
wife
mar
43
b. Chelsea
Frederick G. King
son
10
scholar
b. Battersea
Charles A. King
son
8
do
do
Beatrice F. King
dau
6
do
do
Frank E. King
son
2
do
4
William H. French
head
mar
39
ironmonger master employing 1 man & 2 boys
b. Winslow
Caroline French
wife
mar
40
do
Carrie French
dau
14
scholar
do
Mary E. French
dau
12
do
do
Henry L. French
son
9
do
do
Elsie M. French
dau
4
do
do
Elizabeth Roads
serv
17
servant
do
In about 1887 Miss Halsted set up her own infants' school at 5 Market Square, which she continued to run until not long before her death. In 1902 she got married to George Bathe, who had followed in his father's business as a tailor and also kept a tobacconist's shop at 104 High Street. He died in 1904 aged 67, and Jane died in 1910 "after a long and painful illness".
Buckingham Advertiser 19 June 1897 sale advert: Lot 1 – Comprises Two brick-built and tiled Freehold Houses situate in the Market Place Winslow, with extensive Premises and substantial Outbuildings; a large Court-yard and Garden, well of Water, brick and tiled Wood Barn, and Cottage adjoining the Bell Alley. One house is in the occupation of Miss Bathe. The Property is Freehold, and has a frontage of about 38 feet to the main Street
This refers to nos.2-3 above. George King or his heirs sold them to W.H. French.
W.H. French attached his new shop (built in 1870) to one bay of an earlier brick building on the right, which itself was attached to an older timber-framed house (far right). Another brick house with a dutch gable facing Bell Alley at the rear was also incorporated.

The new shop had a hoist arrangement (left) to take heavy items to the upper floors, and a rounded front with curved glass in the windows above the door. Photo (c.1916) shows Sid Midgley.

W.H. French called his new building the Red House, but it was also known as French's Folly. In 1870 he mortgaged it for £600 to George King, grocer. It was described as a "messuage with newly erected shop and warehouses thereto adjoining ".
W.H. FRENCH,
AGRICULTURAL & GENERAL IRONMONGER, SEEDSMAN &c., WINSLOW.
IS OFFERING CLOVERS, GRASS SEEDS, MANGOLD WURZEL and TURNIP SEEDS, of the highest quality, at the unusually low price prevailing generally this season. He also solicits attention to his Stock of AGRICULTURAL IMPLEMENTS, including Seed and Drag Harrows, Field Rollers, Clod Crushers, Ploughs, &c. Also-
Lawn Mowers by Ransomes, Sims, and Head,
" " Follows and Bate, price from 25s.,
Grass Mowers and Reapers, by Samuelson
" " " " Burgess and Key,
" " " " Hornsby and Son,
And the newly invented Guildford Reaper, which, with one horse and a manual delivery, will lay the corn in sheafs, price £17:10. He is sole agent for the Sale of Implements to Messrs. Roberts, Deanshanger.
A large stock of Builders' and General Ironmongery on hand.
Agent for the Wilcox and Gibbs', Britannia Wanzer, Taylor's, Thomas's and other Sewing Machines; Jacques' Croquet, &c.
The advert below shows the previous layout of the property which W.H. French bought up. Josiah Smith probably occupied the central block in the photo above left. The 1870 manor court records Caroline Newman as one of the tenants (instead of Brockliss).
1869: Bucks Herald, 6 March
MARKET SQUARE, WINSLOW
Two well situate HOUSES AND SHOPS, in the Market Square,
AND THREE COTTAGES, fronting Bell Alley, for SALE by AUCTION,
Mr JAMES KING.
On THURSDAY, 18th of MARCH, 1869,
At Five o'Clock in the Afternoon,
At the GEORGE INN, WINSLOW, by direction of the Trustee of the Will of Mr. Andrew Veal, deceased, in One Lot, and subject to such conditions as will be produced at the time of Sale;
COMPRISING that well-situate CORNER SHOP, with convenient DWELLING HOUSE, together with a COTTAGE adjoining, used as a kitchen and workshop, in the occupation of Mr. Thomas Lee, saddler and harness maker, at the low rent of £18 per annum.
Also the Substantial DWELLING HOUSE, with SHOPS adjoining the last described, in the occupation of Mr. Josiah Smith, printer and stationer, at the moderate rent of £16 per annum.
And TWO GOOD COTTAGES adjoining, fronting to Bell Alley, in the respective occupation of Messrs. [Robert] Harris and Brockliss, at rents amounting to £5 4s. per annum.
The Property is Copyhold of the Manor of Winslow being equal in value to Freehold; the only outgoings being a trifling quit rent of 6d. per annum, and land tax, of 8s. 93/4d. per annum.
To View the same, apply to the respective Tenants and for Particulars to Mr. Alfred Barton, George Inn, Winslow, the Trustee for Sale; to Messrs. Willis and Willis, Solicitors, or to the Auctioneer, Winslow.
Part of what became 3 Market Square (nos.4-5 in the map below) was a stationer's shop occupied by Thomas Brown in 1861:
1861: Oxfordshire Telegraph, 26 Feb
FANCY REPOSITORY,
MARKET SQUARE, WINSLOW.
T.R. BROWN
Begs to call the attention of the Public to his stock of goods consisting of Stationery, Jewellery, Brushes, and Combs of the best quality. Ladies Underclothing, Corsets, Boots, Lace and Hosiery.
AGENT for the OXFORDSHIRE, WINSLOW, BUCKINGHAM AND BRACKLEY TELEGRAPH Published every Wednesday, containing the latest Markets and News. Price One Penny. Advertisements received, and the Village Agents regularly supplied.
The map below shows how the properties might have looked in 1851. We don't now exactly how 4, 5 and 6 were laid out or divided up, and the occupant of 7 is deduced from the church rate book. The red numbers link to the 1851 Census below.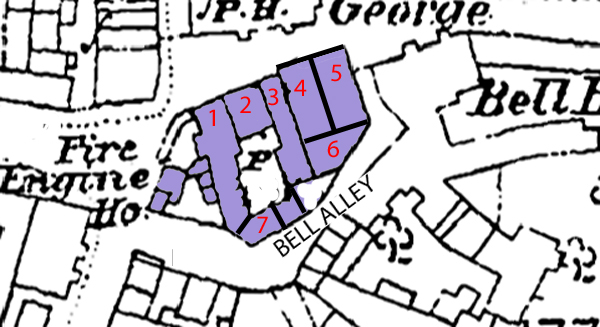 Probably layout, 1851
1851 Census (1-5 are listed under Market Square, 6 and 7 under Bell Alley)

| | | | | | | |
| --- | --- | --- | --- | --- | --- | --- |
| 1 | Joseph Grace | head | mar | 57 | blacksmith | b. Gt Horwood |
| | Elizabeth Grace | wife | mar | 56 | smith's widow | b. N. Longville |
| | William Grace | son | unm | 31 | blacksmith journeyman | b. Winslow |
| | Ann Grace | dau | unm | 22 | dressmaker | b. Winslow |
| | Maria Grace | dau | unm | 18 | dressmaker | b. Winslow |
| | George Grace | son | unm | 16 | apprentice | b. Winslow |
| | Mildred Grace | dau | | 14 | scholar | b. Winslow |
| | John Grace | son | | 12 | scholar | b. Winslow |
| | Mary Grace | dau | | 10 | scholar | b. Winslow |
| | Ann Henley | app | unm | 16 | apprentice dressmaker | b. N. Longville |
| | | | | | | |
| 2 | Henry Sellars | head | mar | 38 | plumber & glazier | b. Headington |
| | Charlotte Sellars | wife | mar | 37 | | b. Marsh Gibbon |
| | Emma do | dau | | 11 | scholar | b. Winslow |
| | Esther do | dau | | 9 | do | do |
| | Martha do | dau | | 7 | do | do |
| | Henry do | son | | 5 | do | do |
| | William do | son | | 3 | do | do |
| | Mary do | dau | | 1 | | do |
| | | | | | | |
| 3 | John Bathe | head | mar | 40 | tailor | b. Winslow |
| | Mary Bathe | wife | mar | 50 | | b. Bicester |
| | George Bathe | son | | 9 | scholar | b. Winslow |
| | Louisa Bathe | dau | | 7 | scholar | b. Winslow |
| | Thomas Read | stepson | unm | 23 | tailor journeyman | b. Winslow |
| | John Read | stepson | unm | 21 | tailor journeyman | b. Winslow |
| | | | | | | |
| 4 | Thomas Lee | head | mar | 31 | saddler | b. Winslow |
| | Ann Lee | wife | mar | 29 | | b. Gt Horwood |
| | George do | son | | 1 | | b. Winslow |
| | Joseph Slade | app | unm | 18 | apprentice to saddler | b. Quainton |
| | | | | | | |
| 5 | Andrew Veal | head | mar | 69 | superannuated excise officer | b. Somerset |
| | Elizabeth Veal | wife | mar | 54 | | b. Wendover |
| | Margaret Veal | dau | unm | 26 | | b. Wargrave |
| | Mary Veal | dau | unm | 24 | | b. Wargrave |
| | Alfred Thos Veal | son | | 14 | scholar | b. Winslow |
| | John Dockray | lodger | unm | 26 | engineer | b. Manchester |
| | | | | | | |
| 6 | Mark Bunce | head | mar | 51 | cordwainer | b. Winslow |
| | Ann Bunce | wife | mar | 64 | shoe binder | b. Aynho |
| | Ann Elizabeth Steeden | gdau | | 1 | | b. Winslow |
| | | | | | | |
| 7 | Timothy Gaskins | head | mar | 37 | coal carter | b. Soulbury |
| | Elizabeth do | wife | mar | 39 | | b. D. Parslow |
| | Elizabeth do | dau | | 10 | straw plaiter | b. Soulbury |
| | William do | son | | 8 | scholar | b. Soulbury |
| | Martha Bates do | dau | | 6 | straw plaiter | b. St. Hammond |
| | Sarah do | dau | | 5 | scholar | b. Winslow |
In the 1841 Census, 2 was the Post Office, occupied by George Mayne, postmaster and maltster. Emanuel Roads lived in 4, and in Pigot's Directory of 1842 he is described as hairdresser and beer retailer.
Mark Bunce (no.6) was insolvent in 1844 (Bucks Herald, 6 April):
INSOLVENT DEBTOR, to be heard at Aylesbury, in the County of Buckingham, on the 27th Day of April, 1844, at the hour of 10 in the Forenoon precisely.
MARK BUNCE, formerly of Winslow, in the County of Buckingham, boot and shoemaker; since of Winslow, in the said County of Buckingham, boot and shoemaker; and late of Winslow, aforesaid, in the said County of Buckingham, boot and shoemaker.
NICHOLLS & DOYLE, 48, Bedford Row, For the Society for Relief of Debtors.
No.7 and the adjacent barn were described in 1894 as: "that cottage late in the occupation of Thomas Rawlings, afterwards of Emma Holt and then of William Holt, and a barn late in the occupation of Henry Sellar and then of John Bathe formerly described as two slaughter houses, and a stable formerly in the occupation of John Swannell and ... Matthew Clarke ... together also with all that east part of the said yard or backside as the same has been divided off".
There were some major changes in the 1820s-30s:
The Fire Engine House (along with a "cage" or lock-up) was built in 1839 on Pillory (or Pillows) Ditch where there had previously been a pond. The grant of the site by the lord of the manor is recorded in the Court Book for 1840:

Also at this Court the Homage aforesaid upon their Oath present a certain Indenture bearing date the twenty fourth of October Instant and made in the words and figures following: that is to say. The Manor of Winslow with its Members in the County of Bucks. This Indenture made the twenty fourth day of October in the year of our Lord one thousand eight hundred and forty Between William Selby Lowndes of Winslow in the County of Bucks Esquire of the one part and David Thomas Willis of Winslow aforesaid Gentleman George Cowley of the same place Surgeon Samuel Burnham Dudley of the same place Auctioneer and Alfred Barton of the same place Innholder of the other part Witnesseth that the said William Selby Lowndes Lord of the said Manor doth in the presence of George Maydon and Thomas Lomath two other Customary or Copyhold Tenants of the said Manor according to Custom thereof grant unto the said
[Right margin : Grant by the Lord of the Manor]
David Thomas Willis, George Cowley, Samuel Burnham Dudley, and Alfred Barton In Trust for the Parishioners of Winslow aforesaid and for the purpose of being used as the Site of a Prison or Cage and an Engine House erected thereon for the use of the Inhabitants of the said Parish of Winslow for the time being. All that piece or parcel of Ground containing in length from North to South twenty three feet or thereabouts and from East to West twenty five feet or thereabouts (being part of the Waste of the said Manor) situate and being in Great Horn Street in Winslow aforesaid at or near a place where was heretofore a Pond called Pillows Ditch but which was several years since filled up, as the same piece or parcel of Ground is now staked out, with the rights members and appurtenances thereto belonging or appertaining and to which said David Thomas Willis, George Cowley, Samuel Burnham Dudley, and Alfred Barton being present in their own proper persons the said William Selby Lowndes Lord of the said Manor by his own proper hands in the presence of George Maydon and Thomas Lomath two other Customary Tenants of the said Manor witnessing the same doth grant seizin of the Premises aforesaid with the Prison or Cage and Engine House lately erected thereon by the Parish Officers of Winslow aforesaid, by the Rod according to the Custom of the said Manor To have and to hold the premises aforesaid with the Appurtenances unto the said David Thomas Willis, George Cowley, Samuel Burnham Dudley, and Alfred Barton their heirs and assigns for ever In trust and for such purposes as aforesaid of the Lord by the Rod at the Will of the Lord according to the Custom of this Manor by the yearly Rent of Five pence Fealty Suit of Court Heriot and other Services and Customs therefor due and of right accustomed And they gave to the Lord for a Fine for such their Estate so to be had in the Premises five shillings and they are thereof admitted Tenants &c. and their Fealty is respited until &c. In witness whereof the said parties to these presents have hereunto set their hands and seals the day and year first above written
[signed/sealed] W. Selby Lowndes George Cowley Dav: Tho Willis Samuel Burham Dudley Alfred Barton
The Grant within mentioned was made and given to the within named David Thomas Willis, George Cowley, Samuel Burnham Dudley, and Alfred Barton by William Selby Lowndes the within named Lord in person and the within written Indenture was afterwards signed sealed and delivered by the said William Selby Lowndes, David Thomas Willis, George Cowley, Samuel Burnham Dudley, and Alfred Barton in the presence of
George Maydon
Thomas Lomath
[margin] Enfranchised by deed dated 7th May 1927

Joseph King, brazier, who lived in nos.2-3 on the 1851 map, built a cottage to replace the outbuildings at the rear (no.7 on the map) where his widow Mary was living in 1841. See wills of Joseph King (proved 1840) and Mary King (proved 1845).
William Sellar, who inherited from his sister Mary in 1823, altered the buildings on the Bell Alley side, as can be seen in this advert from the Northampton Mercury, 25 April 1829 (the newly erected messuage must have been the south part of no.1 on the map):
Two substantial Messuages or Tenements,
With Blacksmith's and Glazier's Shops in full Trade
WINSLOW, BUCKS. To be SOLD by AUCTION,
By Samuel Dudley,
At the GEORGE INN, WINSLOW, on Friday the 1st of May, 1829, between the Hours of Four and Five in the Afternoon (unless previously disposed of by Private Contract, of which due Notice will be given);
A Newly erected brick-built and tiled MESSUAGE or TENEMENT, situate near the Centre of the populous MARKET TOWN of WINSLOW, in the Occupation of Mr. WILLIAM SELLAR, the Proprietor, consisting of two good front Parlours, a sitting Room, and Kitchen on the ground Floor, with three lofty Chambers, and two dry Attics.
Also another MESSUAGE adjoining the above, in the Occupation of Mr. JOSEPH GRACE, Blacksmith, and Mr. GEORGE HARRUP, Plumber and Glazier, comprising a Glazier's Shop fronting the Street, convenient Kitchen, and other Offices, and three good bed Rooms.
Also a commodious BLACKSMITH'S SHOP adjoining, extensive Warehouse, and small court Yard, with a Pump of never-failing Water.
The Premises are in a complete State of Repair, and are Copyhold of Inheritance, held of the Manor of Winslow, with its Members, subject to a Fine of 10s. only on Death or Alienation, and an annual Quit Rent of 3d.
Part of the Purchase Money may, if required, remain on Security of the Premises, and early Possession may be had.
For further Particulars and to treat for the Purchase, by Private Contract, apply, if by Letter, Post paid, to Mr. SELLAR, on the Premises, who will show the same; or to Messrs. WILLIS & SON, Solicitors, or the AUCTIONEER, Winslow.
In 1823 before the alterations began the site would have looked something like this: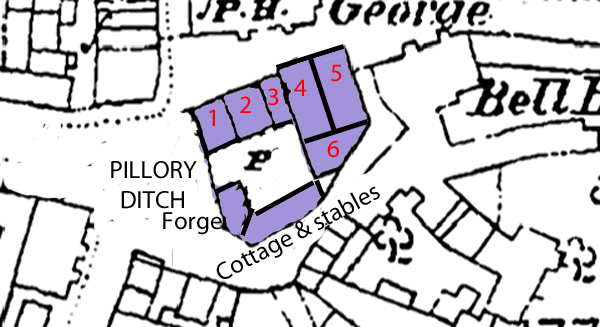 Probable layout, 1823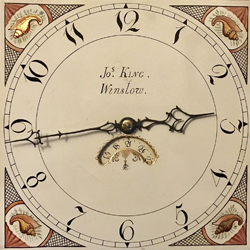 The known occupants at the time were:
1: George Jones (George Harrup by 1832)
2-3: Joseph King, whitesmith and brazier, who bought them in 1799. He was also a clockmaker
4-6: Mary Sellar and Joseph Grace (bought by Andrew Veal in 1835 for £405); the yard with P for pump in the middle must have been part of the property.
Joseph King had a fire insurance policy in 1800 (Royal Exchange insurance policy 7253/38/174011; originally taken out in 1760); the plaque he displayed is shown below:
| | |
| --- | --- |
| | Joseph King of Winslow Co. Bucks whitesmith |
| On his dwelling house and shop adjoining brick and tiles situate in Winslow | £150 |
| On furniture within | 50 |
| On apparell | 20 |
| On utensils and trade in the same | 30 |
| On his work[?] shop brick and thatched adjoining not communicating | 30 |
| On a barn brick and thatched | 22 |
| | £302 |
There were some substantial changes in the late 18th century:
Nos.1-3 in the map above were divided up (having previously been one property) in a way which left the cellar underneath no.1 as part of no.2. Nos.2-3 must have been refronted as they no longer have the jettied upper storey which is still there on no.1.
Buildings on the Bell Alley side were altered after the end of a butcher's business which had operated there.
| | |
| --- | --- |
| | |
| 5 Market Square and 1 Bell Walk have an impressive tiled roof at the rear which probably replaced thatch in the early 18th century. | At the rear of 3 Market Square you can see 3 building phases: 18th century in the middle (now the laundry for The Bell), early 19th century on the left and 1870 in the background. |
John Cox sold the properties separately in 1770, part to Richard Gibbs, currier, and part to John Jellyman, ropemaker:
John Cox of Winslow carrier in open court surrendered a messuage [2-3] in the occupation of Matthew Clark [butcher] with the Cellar now enjoyed therewith (lying under the Front Floor of the Messuage next adjoining now in the occupation of James Barton stay maker) and the staircase to the messuage belonging in the occupation of James Barton. And two slaughter houses thereto adjoining now or late in the occupation of John Swannell and Matthew Clarke. And the stable now in the occupation of Matthew Clarke standing in the yard and backside which runs behind the messuages in the occupation of Clarke and Barton. And the east part of the yard as now staked out, with liberty of ingress etc. with horses, waggons, etc. from the other part of the yard, and use of the well in the yard.
John Cox surrendered the messuage [1] now in the occupation of James Barton (except the staircase belonging to the messuage adjoining, and the cellar under the front floor) with the garden, and a barn or woodhouse adjoining. And a barn now in Barton's occupation in the yard behind the messuages in the occupation of Barton and Matthew Clarke butcher. And the west part of the yard or backside next Pillows Ditch as now staked out, with the gates and gateway, subject to the right of way given to Richard Gibbs through the west part and to the use of the pump or well in the yard.
In 1766 Thomas Stevens of Stewkley brickmaker inherited from his grandfather Thomas Stevens of Winslow brickmaker "two messuages and a shop [4-5] at the Upper End of the Butter Market now or late in the occupation of John Swannell and John Gibbs, together with the stable". He then sold them to William Verney, glazier.
The plan below shows the properties in about 1770.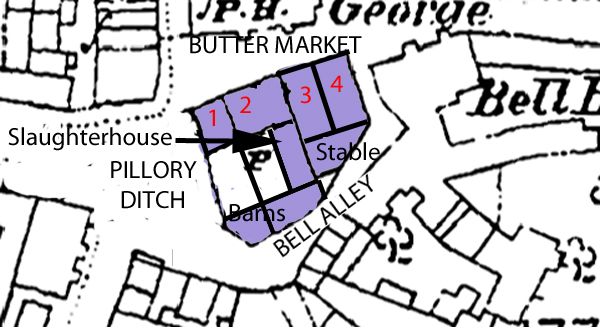 Probable layout, 1770
The occupants were:
1: James Barton, staymaker, c.1770-83; bought by Abiel Whichello, peruke-maker in 1791.
2: Matthew Clarke, butcher, c.1768-70, Richard Gibbs, currier 1770-99.
3-4: John Swannell and John Gibbs in 1766; Ann Verney widow, Josiah Deverell (grocer) and John Lomath in 1778; bought by John Lomath in 1778 and sold to Mary Sellar in 1802.
1778 fire insurance policy of John Lomath (Sun, 407349):
John Lomath of Winslow cordwainer
2 houses adjoining in tenure of himself and Josiah Deverell grocer. Brick & tiled.
Houses
£160
stock & utensils
£15
household goods
£15
Warehouse & stable adjoining each other brick & tiled
£10
In 1760, Stephen Gibbs, victualler, mortgaged to John Cox (who later became owner when Gibbs didn't pay the mortgage):
a Messuage and Outhouse [1 -2] then in the occupation of John Deblois situate near the Butter Market adjoining to a place called Pillows Ditch together with a Little Yard and Garden thereto adjoining
an Outhouse or Slaughter House then or late in the occupation of John Swannell
two Stables late in the occupation of Thomas Spratley but then of the said Stephen Gibbs
the Yard or backside whereon the Slaughter House and Stables then stood, late belonging to Thomas Spratley
two messuages then in the occupation of Stephen Gibbs and Thomas Spratley one of which is lately converted into a Slaughter House
In 1741 Thomas Spratley inherited from his brother John Spratley, butcher, "a messuage in Winslowe in the occupation of Benjamin Dudley the Younger, and another messuage adjoining, late in John's occupation [3-4], the common streets lying on the north, east and south parts, the house of Thomas Spratley heretofore purchased of Benjamin Leach [1-2] on the west. See administration of John Spratley, 1741.
In 1709 Jane Spratley (mother of Thomas and John) mortgaged to her brother Richard Bigg "a messuage in Winslow then in the several occupations of herself, James Smith and William Norris [1-2], her own messuage [3-4] north-east and the common street of Winslow on all other sides. And all other holdings lately acquired from Frances Leech widow."
In 1703 John and Jane Spratley bought from Frances Leach (for the benefit of their children) "a messuage in Winslowe now in the separate occupations of John Spratley, Thomas Whiteing and James Smith or their assigns, the messuage of John Spratley north-east, the common streets on the other sides." [1-2] This brought the whole block briefly into one ownership. See administration of John Spratley, 1709 with details of the 1724 court case about the property
In 1698 John Spratley, tallow-chandler, and Jane his wife bought "a messuage now in the occupation of Thomas Urlwin, scituate in the vill of Winslowe, the common street lying south, north and east, the tenement of [blank] Leach widow west." [3-4] The vendors were James Hunt and Ann his wife and John Plomer and Alice his wife; the two women were descendants of the Pym family which owned The Bell.
Benjamin Leach, grocer, appears to have inherited 1-2 from his father, also Benjamin Leach. He mortgaged it several times and transferred it to his wife Frances before he died in 1696.
This is as far back as the continuous records go, but the physical evidence of the timber frame and rafters suggests that there was originally one large hall house.
Listing reports:
5A Market Square (1984) (listed as 1 Horn Street)
House. Late C16, extended late C18. C16 part is timber framed with garishly painted plaster infill to front and herringbone brick infill, partly painted to right side. Right side has curved braces. Tiled roof, thin brick chimney stack to left gable is shared with No.5 Market Square. 2 storeys, one bay. First floor is jettied to front. Front has tripartite sash window to ground floor, C19 3-light casement to first floor and 3-panelled door to left. Right gable has leaded casements, 2 2-light to ground floor, one 3-light to first floor, and 4-panelled door to right in open porch with hipped tiled roof. Late C18 extension to rear is of painted brick with moulded brick eaves, tiled roof and stack to right, 2 storeys, one bay, canted bay window with sashes to ground floor. 3-light leaded casement to first floor.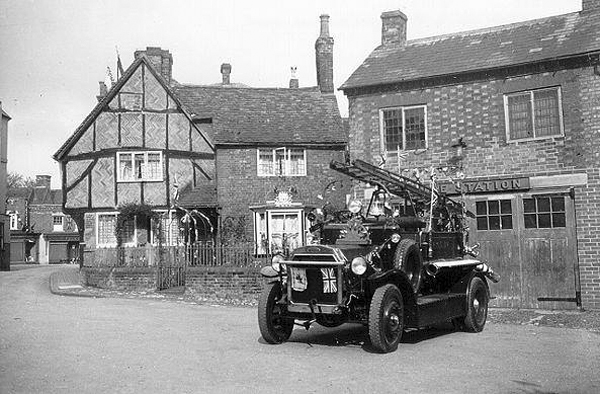 This photo from the 1937 Coronation celebrations shows clearly the overhanging (jettied) upper storey and the contrast between the original timber-framed building and the brick extension
2 Bell Walk (1984)
Cottage with later range to rear left. Cottage: C18, garishly painted brick, timber frame with brick infill to rear, creosoted tiled roof and central chimney stack. One storey and attic, 2 bays. 2-light barred casements, those to ground floor with segmental heads, those to first floor in gabled dormers. Entry in left gable has gipsy-style painted wooden porch. 2-storey bay attached at angle to left is timber framed with painted brick infill. Garage doors to ground floor hayloft entry above. C19 range extending to N. is of colourwashed brick with dentilled eaves and tiled roofs. 2 storeys, 4 bays. 3-light windows, barred wooden casements with segmental heads to ground floor, similar window with flat head to first floor left, remainder leaded.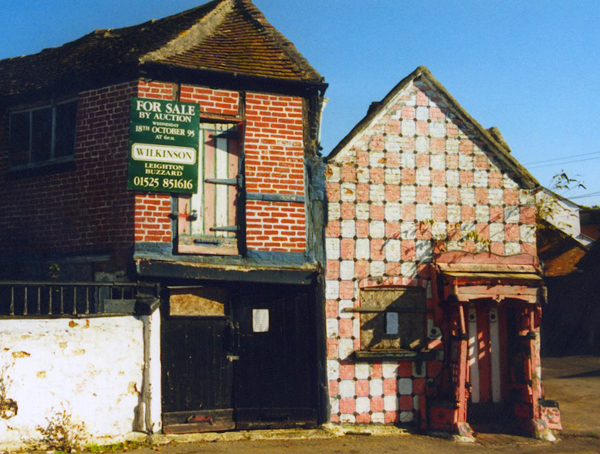 The author of the listing report didn't like the way the building was painted by the last Arthur Grace
5 Market Square (part) (1984)
House. 2 bays of C17-early C18 3 bay house (for third bay see No.3 Market Square part.) Whitewashed render over timber frame, old tile roof, C20-brick chimney to left, stack of thin brick to right shared with No.1 Horn Street. 2 storeys. Ground floor has canted bay windows with barred lights and moulded cornices. First floor has 3-light leaded casements. Central door. Royal Exchange fire insurance plaque in left-hand bay. Outshot to rear.
3 Market Square (1984)
Shop, store-rooms and house. Main block, included for group value, is late C19, with C18 bay, re-faced C19, to right and one bay of C17 house, structurally part of No. 5 Market Square to far right. C18 blocks to rear. Main block is of red brick with battlemented parapet and moulded cornice. 3 storeys, 2 bays facing square plus curving bay to left corner. Shop front with Doric pilasters and columns flanking corner door, sash windows above. Corner windows and door are curved. Refronted bay to right is of brick with rendered cornice at first floor level and quoins above. Tiled roof. 2 storeys and attic. Tripartite sashes with cambered heads, paired barred casement to dormer. Right gable is of C18 brick with brick coping, second floor band course and moulded band with ball ornament near apex. C17-C18 bay has whitewashed render to front over timber frame and old tile roof. Projecting shop front. C18 blocks to rear along Bell Walk are of brick with moulded eaves or plinth and band course. Tiled roofs, 2 storeys, irregular casements.
Copyright 20 August, 2023