1841 Census: District 2
District 2 began at Tuckey Farm, followed the west side of Granborough Road and north side of Horn Street, included the houses around the church, went round the Market Square (mainly anti-clockwise) and up the west side of the High Street.
See 1841 Census introduction for more information.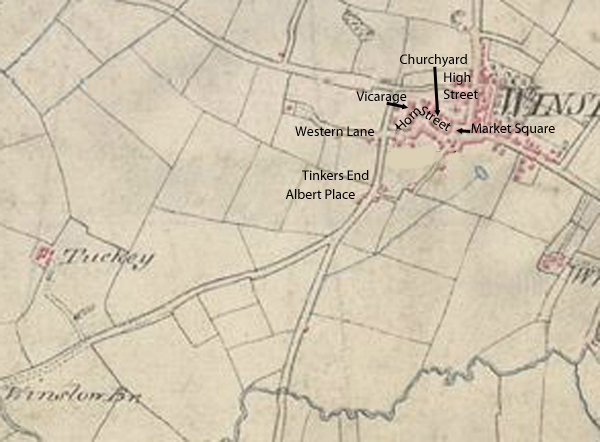 The map is an 1813 Ordnance Survey drawing held by the British Library, used under Open Government Licence v.1.0.
Click on the names on the map to go to the relevant place in the census return.
Words in italics are editorial notes.
Address
First name
Surname
Age (m)
Age (f)
Employment
Born in county?
Albert Place = 30-36 Granborough Rd
Thomas
Seaton
44
Agricultural Labourer
Yes
Hanah [sic]
Seaton
40
Yes
Richard
Seaton
18
Agricultural Labourer
Yes
Lisea [=Eliza]
Seaton
14
Yes
George
Seaton
12
Yes
Benjiman [sic]
Bates
25
Agricultural Labourer
Yes
George
Clark
22
Agricultural Labourer
Yes
Hanah
Clark
26
No
John
Clark
18
Agricultural Labourer
Yes
Joseph
Clark
15
Agricultural Labourer
Yes
Mary
Clark
2
No
Thomas
Radwill
25
Agricultural Labourer
Yes
Charlotte
Lucket
65
Yes
Eliza
Lucket
25
Yes
Tuckey Farm
Samuell [sic]
Cole
45
Farmer
Yes
Catherine
Boner
36
Female Servant
Yes
James
Dodson
16
Male Servant
Yes
Weston Lane
Charles
Holt
40
Agricultural Labourer
Yes
= Western Lane (houses mainly on site of nos.11-13 and Demoram Close)
Mirieah [=Maria]
Holt
35
Yes
James
Walker
30
Agricultural Labourer
Yes
Ann
Walker
40
Yes
Jesey [=Jesse]
Walker
8
Yes
Fredick [sic]
Walker
2
Yes
Mirieah [=Maria]
Walker
5
Yes
James
Royce
34
Agricultural Labourer
Yes
Mary
Royce
37
Yes
Emma
Royce
12
Yes
George
Royce
7
Yes
Sarah
Royce
5
Yes
Elize
Royce
2
Yes
John
Fosket
30
Agricultural Labourer
Yes
Elizabeth
Fosket
30
Yes
Alfried [sic]
Fosket
6
Yes
William
Fosket
4
Yes
William
Benbow
35
Agricultural Labourer
Yes
Fanny
Benbow
35
Yes
Ann
Benbow
10
Yes
John
Wesley
30
Agricultural Labourer
Yes
William
Wesley
10
Yes
George
Wesley
8
Yes
Ann
Wesley
5
Yes
Mary
Wesley
4
Yes
Weston Lane
John
Egelton
30
Cooper
Yes
Ann
Egelton
30
Yes
George
Egelton
7
Yes
Charles
Egelton
5
Yes
Richard
Harris
53
Painter
Yes
Sarah
Harris
42
Yes
Rebecca
Harris
14
Yes
Jane
Harris
12
Yes
Mary
Harris
9
Yes
Sarah
Harris
5
Yes
Henry
Faulkner
60
Agricultural Labourer
Yes
Jane
Faulkner
50
Yes
George
Faulkner
13
Agricultural Labourer
Yes
Joseph
Faulkner
15
Agricultural Labourer
Yes
Martha
Faulkner
14
Yes
George
Egelton
65
Cooper
Yes
Hanah
Egelton
55
Yes
Sarah
Egelton
25
Yes
George
Egelton
15
Agricultural Labourer
Yes
Thomas
Newman
40
Agricultural Labourer
Yes
Ann
Newman
40
Yes
Mary
Newman
25
Yes
Henry
Newman
15
Agricultural Labourer
Yes
Edmond
Newman
10
Yes
Louca [=Louisa]
Newman
5
Yes
Christopher
Newman
2
Yes
John
Green
25
Yes
Sarah
Green
25
Agricultural Labourer
Yes
Joseph
Green
6
Yes
Susan
Green
5
Yes
Jane
Green
1
Yes
Tinkers End
Thomas
Scott
70
Agricultural Labourer
Yes
now demolished; partly on site of Chiltern Court
George
Scott
26
Agricultural Labourer
Yes
Elizabeth
Scott
23
Yes
Joseph
Evens
40
Agricultural Labourer
Yes
Henery
Evens
19
Agricultural Labourer
Yes
Hanah
Evens
35
Yes
Mary
Evens
8
Yes
John
Evens
22
Agricultural Labourer
Yes
Charlotte
Evens
19
Yes
Richard
Willmore
25
Agricultural Labourer
Yes
Ann
Willmore
35
Yes
Ann
Willmore
10
Yes
Elizabeth
Willmore
8
Yes
Hanah
Willmore
7
Yes
Jane
Willmore
5
Yes
Martha
Willmore
3
Yes
Richard
Willmore
3
Yes
Charles
Walker
20
Agricultural Labourer
Yes
Mary
Walker
20
Yes
John
Beddell
50
Agricultural Labourer
Yes
Ellen
Beddell
45
Yes
Elizabeth
Beddell
19
Yes
Pheby
Beddell
16
Yes
William
Higgins
25
Agricultural Labourer
Yes
Elizabeth
Higgins
25
Yes
Sarah
Higgins
3
Yes
George
Alderman
30
Agricultural Labourer
Yes
Eliza
Alderman
1
Yes
Mary
Alderman
25
Yes
John
Alderman
under 1 year
Yes
Great Horn Street
Thomas
Green
30
Agricultural Labourer
Yes
Mary
Green
30
Yes
Edmon [sic]
Green
7
Yes
Emanuel
Green
5
Yes
Eliza
Green
2
Yes
Francis
Warner
69
Gardener
Yes
Thomas
Warner
45
Agricultural Labourer
Yes
Mary
Pollard
65
Female Servant
Yes
John
Morecraft
55
Butcher
Yes
Mary
Morecraft
50
Yes
Mary
Dover
50
Ind.
Yes
Rhoda
Cook
18
Female Servant
Yes
Thomas
Rivett
50
Watchmaker
Yes
John
Rivett
19
Watchmaker
Yes
Some of these houses were probably on the site of Western House
Thomas
Green
65
Agricultural Labourer
Yes
Ann
Green
60
Yes
George
Buckingham
15
Agricultural Labourer
No
Elizabeth
Stares
15
Yes
Jams [sic]
Winmen
65
Agricultural Labourer
Yes
Sarah
Winmen
65
Yes
Ann
Winmen
8
Yes
Thomas
Scott
35
Agricultural Labourer
Yes
Ann
Scott
45
Yes
William
Scott
15
Agricultural Labourer
Yes
John
Scott
10
Yes
James
Scott
9
Yes
George
Smith
25
Agricultural Labourer
Yes
Leanour
Smith
25
Yes
Alferead
Smith
1
Yes
Thomas
Goodger
47
Brewer
Yes
Hannah
Goodger
48
Yes
Mary
Goodger
23
Yes
Charles
Goodger
13
Yes
Eli
Goodger
10
Yes
Thomas
Kirby
60
Grazier
Yes
Mary
Kirby
50
Yes
Elizabeth
Kirby
25
Yes
Henery [sic]
Kirby
20
Agricultural Labourer
Yes
Henery
Seller
25
Glazier
No
Charlott [sic]
Seller
25
Yes
Emma
Seller
1
Yes
John
Wilmore
30
Agricultural Labourer
Yes
Elizabeth
Wilmore
35
Yes
George
Wilmore
3
Yes
Benjamin
Sharp
30
Brazier
No
30 Horn Street
John
Bainbridge
55
Independent Means
No
Susanna
Bainbridge
50
Independent Means
Yes
Sarah
Dickins
18
Female Servant
Yes
Henery
Butcher
83
Agricultural Labourer
Yes
Henery
Butcher
35
Tea Dealer
Yes
William
Bates
16
Agricultural Labourer
Yes
Elizabeth
Bates
59
Yes
Ann
Bates
20
Yes
John
Massey
30
Agricultural Labourer
Yes
Elizabeth
Massey
25
Yes
Thomas
Massey
6
Yes
George
Massey
4
Yes
Robert
Massey
2
Yes
John
Goodger
20
Agricultural Labourer
Yes
Charles
Monk
45
Farmer
Yes
Mary
Monk
15
Yes
John
Monk
15
Yes
Elizabeth
Monk
11
Yes
Charles
Monk
9
Yes
Mary
Monk
20
Yes
Mary
Uff
15
Female Servant
Yes
William
Ingram
25
Shoemaker
Yes
Elizabeth
Ingram
25
Yes
Jane
Ingram
1
Yes
William
Ingram
55
Agricultural Labourer
Yes
Lucy
Ingram
45
Yes
Sarah
Ingram
20
Yes
Eliza
Ingram
15
Yes
John
Ingram
15
Agricultural Labourer
Yes
Henery
Ingram
10
Yes
Lucy
Duck
3
Yes
Silence
Goodger
75
Yes
Mary
Alderman
65
Yes
Mary
Alderman
18
Yes
Elizabeth
Walker
38
Yes
William
Walker
10
Yes
James
Walker
6
Yes
Eliza
Walker
2
Yes
Mary
Wesley
5
Yes
James
Goodman
29
Bricklayer
Yes
Sarah
Goodman
22
Yes
William
Goodman
2
Yes
Thomas
Evans
40
Agricultural Labourer
Yes
Susana
Evans
40
Yes
William
Evens
21
Agricultural Labourer
Y
Horn Street
Rebeca
Evens
15
Y
Cariline
Evens
13
Y
Eliza
Evens
9
Y
Sarah
Evens
4
Y
Most of the households in the rest of Horn Street (which actually includes Church Street) can be identified on the 1880 map, but there had been some changes in the buildings between 22 and 10. Clicking on the red names on the map will take you to the relevant census entry.

The Plough
Roseman
Tombs
45
Victualler
Y
Emma
Tombs
25
Y
Ann
Tombs
8
Y
Arther
Tombs
4
Y
Barbery
Tombs
2
Y
Mildrind
Tombe
Under
1 year
Y
Philip
Walker
35
Agricultural Labourer
Y
Zilpah
Walker
35
Y
Richard
Walker
11
Y
Emma
Walker
9
Y
Ephraim
Walker
5
Y
Victoria
Walker
2
Y
David
Walker
Under
1 year
Y
Hanah
Piggott
55
N
Charlott
Piggott
19
Y
James
Piggott
16
Agricultural Labourer
Y
Edward
Piggott
25
Agricultural Labourer
Y
Western Lodge
David
Willis
35
Solicitor
Y
Maria
Willis
30
Y
Maria
Willis
4
Y
Sarah
Willis
2
Y
Susan
Golby
20
Female Servant
N
Ann
Rickard
15
Female Servant
Y
Elizabeth
Wesley
30
N
Rebeca
Wesley
12
Y
William
Wesley
10
Y
Susanah
Wesley
8
Y
George
Wesley
5
Y
George
Bailey
15
Agricultural Labourer
Y
Jane
Walker
55
Y
Church Lane according to Pigot's Directory 1842
Thomas
Stevens
30
Tailor
Y
Susanah
Stevens
25
Y
Eliza
Stevens
2
Y
Alfred
Stevens
1
Y
4-8 Church St - Pigot's Directory 1842 gives the address as Church Alley
Thomas
Morcraft
27
Butcher
Y
Mary
Morcraft
25
Y
Elizabeth
Morcraft
4
Y
Mary
Morcraft
1
Y
Thomas
Turnham
22
Journeyman (Butcher)
Y
Frances
Dubery
20
Female Servant
Y
Charlott
King
21
Y
1 Church St
Mary
Judge
75
Independent Means
Y
Elizabeth
Judge
30
Y
24 Horn St
Charles
Willis
60
Attorney at Law
N
Elizabeth
Willis
65
N
Ann
Willis
25
Y
Estere
Hinton
15
Female Servant
Y
22 Horn St
Robert
Jones
20
Farmer
Y
Elizabeth
Jones
65
Independent Means
Y
Mary
Jones
35
Independent Means
Y
Mary
Emerton
15
Independent Means
Y
Sarah
King
50
Y
Sarah
Vicors (?)
6
Y
Penelope
Dudley
65
Independent Means
N
Ann
Dudley
25
Independent Means
Y
Charles
Keys
26
Shoe Maker
Y
Eliza
Keys
28
Y
John
Keys
4
Y
Charles
Keys
2
Y
Margarett
Wichello
45
N
George
Wichello
15
Agricultural Labourer
N
Eliza
Wichello
10
N
Joseph
Wichello
10
N
10 Horn Street
Robert
Corbett
55
Baker
Y
William
Corbett
25
Y
John
Corbett
20
Y
Elizabeth
Corbett
26
Y
Emma
Blackwell
15
Female Servant
N
8 Horn Street
Henery
Faulkner
40
Agricultural Labourer
Y
Ann
Faulkner
45
Y
Charlott
Faulkner
20
Y
Elizebeth
Faulkner
12
Y
Henery
Faulkner
10
Y
Mary
Faulkner
7
Y
Ann
Ingram
20
Y
6 Horn Street
Thomas
Moore
63
Shoe M.
Y
Mary
Moore
60
N
The Bull
Hannah
Wade
52
Innkeeper
Y
John
Allen
41
Mason
Y
Robert
Gurney
55
Relieving officer
Y
Mary
Gurney
60
Y
Charles
Scaldwill
25
Shoe Maker
Y
James
Newman
20
Apprentice
N
Ann
Barlow
15
Female Servant
Y
Church Yard
James
Markham
30
Blacksmith
Y
Catherine
Markham
30
Y
Edward
Markham
6
Y
Richard
Markham
5
Y
Mary
Kingston
70
Y
Part of Churchwalk House
George
Cross
73
Malster
Y
William
Cross
9
Y
Thomas
Cross
64
Male Servant
Y
Mary
Cross
15
Female Servant
Y
Sarah
King
50
Female Servant
Y
Mary
Whitehall
40
Y
John
Lomath
30
Currier
Y
Sarah
Lomath
25
Y
Jane
Lomath
9
Y
Mary
Lomath
5
Y
Henny
Lomath
2
Y
William
Lomath
Under
1 year
wrong column used for age
Y
Vicrage [sic] House
W W
M'Creight
39
Vicar
N
Catherine
M'Creight
40
N
Benjamin
Puckle
50
Clergyman
N
Esther
Stammer
20
Female Servant
N
Fanney
Baseley
45
Female Servant
Y
Market Square
Numbers in the Market Square correspond to the detailed map below, which is based on the 1880 Ordnance Survey map. (?) means that the identification is not certain. Unfortunately the enumerator does not seem to have followed any particular order. Click on the numbers to go to the relevant census entry.

The numbers in the first column correspond to the map above
1. The George
Alferead [sic]
Barton
30
Inkeeper [sic]
Y
Mary
Barton
35
Y
Sarah
Barton
35
Y
John
Cranwell
15
Male Servant
Y
Joseph
Balard
45
Male Servant
Y
2. 14 Market Sq.
John
Mayne
30
Tailor
Y
Maria
Mayne
20
Y
Christopher
Paine
12
Apprentice
Y
3 (not located)
Catherine
Fry
50
N
Straw plait manufacturer in 1847 directory
Selina
Fry
18
Y
Francis
Phillips
29
Straw dealer
N
4. Site of the Bank
James
Burnham
40
Independent
Y
Emily
Burnham
40
Independent
N
5. 27 Market Sq
Sarah
Mayne
60
Independent
Y
Fanny
Markham
15
Y
6. 25 Market Sq. (?)
Jams [sic]
Hazzard
30
Confectioner
Y
Rebecca
Hazzard
30
Y
Sarah
Goodman
35
Y
Henery [sic]
Wills
18
Apprentice
Y
7 (not located)
John
Brownett
36
Shoemaker
Y
Ann
Brownett
36
Y
Eliza
Brownett
10
Y
Richard
Brownett
7
Y
Sarah
Brownett
5
Y
George
Brownett
1
Y
Ann
Ward
78
Y
8. 21-23 Market Sq
Henary
Wigley
40
Printer
N
Ann
Wigley
39
Y
Elisabeth
Wigley
3
Y
Caroline
Wigley
1
Y
Mary
Yeulett
19
Female Servant
Y
9. 2nd Church House
Samuel
Yeates
61
Independent
Y
Briget
Yeates
62
Independent
Y
Jane
Faulkner
39
Female Servant
Y
10 (not located)
Rebeca
Wyatt
70
Independent
Y
Sarah
Emerton
20
Female Servant
Y
11. Church Walk
Rosetta
Lee
35
Y
Rebecca
Lee
35
Y
Louisa
Hicks[?]
Under 1 year
Added later
Y
12 (not located)
Philip
Bud
30
Agricultural Labourer
Y
Martha
Bud
25
Y
Eliza
Bud
9
Y
Elizabeth
Bud
4
Y
13. Punch House, 13 Market Sq
Henry
Jenings
30
Painter
Y
Eleanor
Jenings
30
Y
Leahana
Jenings
7
Y
Jesse
Jenings
1
Y
Mary
Parrott
14
Female Servant
Y
14. 15 Market Sq
George
Cross
44
Draper
Y
Grant
King
33
Draper
Y
Jane
King
28
Y
Martha
King
3
Y
Maria
King
2
Y
Amelia
King
1
Y
Ann
Read
17
Female Servant
Y
15. Rose & Crown
Mary
Maffey
20
N
Richard
Maffey
Under 1 year
N
Sarah
Maffey
20
Y
Elizabeth
Rich / Rick
35
Female Servant
N
Charles Maffey, who was a butcher and kept the Rose & Crown according to Pigot's Directory (1842) must have been absent.
16 (not located)
Thomas
Talbett?
30
Butcher
N
17. Old Crown
Richard
Sharp
40
Victualler
Y
Elizabeth
Sharp
40
Y
Sarah
Harris
14
Female Servant
Y
Bengiman [sic]
Bailey
5
N
James
Fletcher
60
N
18 1st Church House (later Post Office)
Thomas
Lomath
53
Lether Seller?
Y
Mary
Lomath
53
N
Sarah
Dickins
4
Y
19 (not located)
Giles
Dickens
25
Grocer
No
Mary
Dickens
25
Y
Charlotte
Dickens
3
Y
Ann
Bignell
22
Y
20. 17 Market Sq.
Samuel
Dudley
60
Auctioneer
Y
Samuel
Dudley
30
Auctioneer
Y
Sarah
Harris
40
Female Servant
Y
21. Site of the Bank
Martha
Burnham
65
Independent Means
Y
22. Apparently separate household, not located
Catherine
Sharp
25
Y
Mary
Sharp
18
Y
Sarah
Church
23
Y
Albert
Church
1
Y
High Street
William
Saving
35
Agricultural Labourer
Y
ditto [sic]
Saving
25
Y
Ester
Saving
2
Y
Daniel
Walker
64
Y
Jane
Woodward
62
Y
John
Taylor
74
P(ensioner?)
Y
Ann
Dandey
21
Y
William
Dandey
1
Y
Site of 3 High St
Edward
Gray
65
Smith
Y
Mary
Gray
66
Y
Sarah
Gray
20
Y
Eliza
Gray
4
Y
Lime Cottage
Mary
Hinton
35
Y
James
Hinton
15
Y
Ann
Hinton
13
Y
Edward
Hinton
7
Y
Sarah
Hinton
2
Y
Helen
Day
45
N
Charls [sic]
Day
16
Y
Henry
Day
8
Y
27-29 High St (Three Pigeons)
William
Jones
51
Baker
Y
Sarah
Jones
45
Y
Luisa [sic]
Jones
15
Y
Silvanis [sic]
Jones
14
Y
Eliza
Jones
11
Y
Thomas
Jones
8
Y
Thomas
Gates
20
Male Servant
Y
Mary
Greitrickex[?]
30
N
George
Lomath
60
Shoemaker
Y
Elizabeth
Lomath
62
N
Thomas
Boner
20
Apprentice
N
John
Lomath
37
Shoe Maker
N
Sarah
Lomath
36
N
James
Lomath
16
Y
Mary
Lomath
8
Y
Elizabeth
Lomath
6
Y
George
Lomath
3
Y
The Windmill
Joseph
King
43
Wheelwright
Y
Elizabeth
King
35
Y
Elizabeth
King
12
Y
William
King
10
Y
Joseph
King
6
Y
George
King
2
Y
Mary
King
1 month
Y
William
George
19
Male Servant
Y
Jams [sic]
George
17
Male Servant
Y
Hannah
Shilton / Shelton
17
Female Servant
Y
Bett
Gibbs
55
Female Servant
Y
Site of fire station and telephone exchange
Edward
Sear
30
Coach Builder
Y
Ann
Sear
30
N
William
Sear
5
Y
John
Sear
1
Y
Charles
Edmonds
17
Apprentice
N
Richard
Coxill
37
Cooper
Y
Alice
Coxill
30
N
Lousia [sic]
Coxill
6 months
Y
Joseph
Coxill
39
Cooper
Y
William
Coxill
8
N
Ann
Coxill
65
N
Henry
Hancock
19
Apprentice
N
Richard
Soton
40
Tanner
Y
Susan
Soton
35
N
William
Soton
15
Y
Thomas
Soton
14
Y
Emma
Soton
12
Y
Eliza
Soton
8
Y
Caroline
Soton
6
Y
George
Soton
4
Y
Sarah
Soton
2
Y
Thomas
Webb
42
Agricultural Labourer
Y
Elizabeth
Webb
42
Y
Ann
Webb
21
Y
Mary
Webb
19
Y
Sarah
Webb
14
Y
Jane
Webb
12
Y
John
Webb
7
Y
Catherine
Webb
4
Y
Eliza
Webb
9 months
Y
Richard
Goodwin
57
Carrier
Y
Elizebeth
Goodwin
50
N
William
Hopkins
35
Agricultural Labourer
Y
Charlott [sic]
Hopkins
35
N
Elizebeth
Hopkins
15
Y
Mary
Hopkins
10
Y
Hannah
Hopkins
6
Y
William
Hopkins
4
Y
John
Hopkins
1
Y
Bengemen
Watson
20
Agricultural Labourer
Y
Jams
Gelling
18
Agricultural Labourer
Y
The following houses were in Back Lane (Vicarage Road); at least the first 2 are now no.5
Wiliam
Punn
10 [=70]
Tailor
Y
Mary
Punn
60
Y
Matthew
Deeley
65
Agricultural Labourer
Y
Susanah
Deeley
55
Y
Ann
Hopkins
65
Y
George
Scammell[?]
45
Y
Ann
Scammell[?]
45
Y
Alfred
Scammell[?]
12
N
George
Scammell[?]
9
N
Mary
Scammell[?]
6
N
Edward
Taylor
67
Y
Mary
Taylor
67
Y
Copyright 11 October, 2022