1841 Census: District 1
The enumerator for District 1 started at Mobbs Farm (Redfield) and continued down the east side of the High Street (where the houses seem to have started at about the site of the present no.108), north side of Sheep Street, and Shipton north and east of the turnpike.
See 1841 Census introduction for more information. A blank line in the table shows the start of a new household.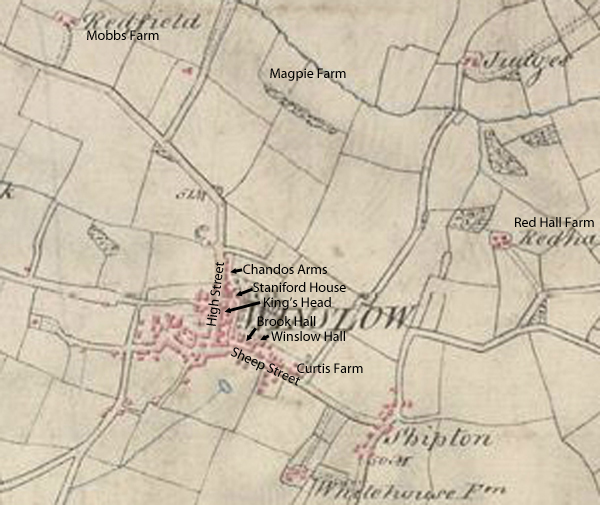 The map is an 1813 Ordnance Survey drawing held by the British Library, used under Open Government Licence v.1.0.
Click on the names on the map to go to the relevant place in the census return. Scroll down for a more detailed map of the southern end of the High Street.
Words in italics are editorial notes.
Address
First name
Surname
Age (m)
Age (f)
Occupation
Born in county?
Mobb's Farm
[Redfield]
John
Burrell
53
Agricultural Labourer
Yes
Ann
Burrell
52
Yes
High Street
?site of 108 High St
Henry
Smith
30
Agricultural Labourer
Yes
Mary
Smith
29
Yes
Elizabeth
Smith
9
Yes
William
Smith
6
Yes
George
Smith
3
Yes
Charlotte
Smith
6 mths
Yes
uncertain if separate household
Henry
Walker
30
Agricultural Labourer
Yes
Elizabeth
Walker
21
Yes
Matthew
Gibbs
60
Bricklayer
Yes
William
Gibbs
20
Bricklayer
Yes
Catherine
Luck
20
No
Richard
Gibbs
30
Bricklayer
Yes
Ann
Gibbs
25
Yes
Mary
Gibbs
8
Yes
Richard
Gibbs
6
Yes
John
Gibbs
3
Yes
Catherine
Woodward
31
Yes
Fredric
Woodward
9
Yes
Eliza
Woodward
5
Yes
Thomas
Woodward
3
Yes
Ann
Barrett
20
Yes
John
Arnott
60
Grazier
No
John
Smith
12
Yes
William
Forster
30
Bricklayer
Yes
Susanah
Forster
21
Yes
William
Forster
2
Yes
Benjamin
Forster
1
Yes
Susannah
Hinton
55
Independent Means
No
Chandos Arms = 80 High Street
William
Sharp
30
Publican
Yes
Mary
Sharp
30
No
Henry
Sharp
8
Yes
Susannah
Sharp
6
Yes
Thomas
Sharp
3
Yes
Anne
Matthews
32
No
Mary
Matthews
13
Yes
Thomas
Matthews
3
Yes
Hester
Matthews
1
Yes
Jonathan
East
23
Tailor
Yes
Henrietta
East
20
Yes
Richard
Lomath
27
Agricultural Labourer
Yes
Mary
Lomath
26
Dressmaker
Yes
This and many of the following houses were sold by the Board of Guardians in 1837
Henry
Holt
60
Agricultural Labourer
Yes
Elizabeth
Holt
60
Yes
Charles
Holt
27
Agricultural Labourer
Yes
Ketura
Walker
8
Yes
High Street
William
Hawkins
60
Agricultural Labourer
No
Lucy
Hawkins
60
No
Rebecca
Hawkins
22
No
George
Hawkins
20
Agricultural Labourer
No
Adery[?]
Hawkins
17
Yes
The former workhouse (site of 56-58 High Street) was probably divided into a number of cottages.
John
Savin
41
Agricultural Labourer
Yes
Sarah
Savin
32
Yes
Mary
Savin
3
Yes
George
Savin
2 mths
Yes
Thomas
Savin
12
Yes
Elizabeth
Savin
10
Yes
Charles
Savin
7
Yes
William
Harrison
75
Carpenter
Yes
Thomas
Walker
65
Agricultural Labourer
Yes
George
Walker
20
Agricultural Labourer
Yes
Leah
Walker
20
Lacemaker
Yes
Sarah
Walker
1
Yes
Catharine
Gibbs
40
Yes
Louisa
Gibbs
13
Yes
John
Gibbs
11
Yes
Adelade
Gibbs
9
Yes
Joseph
Gibbs
6
Yes
Sarah
Deverhill
18
Yes
Catherine
Yewlett
20
Lace Maker
Yes
High Street
John
Odell
32
Agricultural Labourer
Yes
Mary
Odell
28
No
Geoge
Odell
8
Yes
Sarah
Odell
6
Yes
Elizabeth
Odell
4
Yes
Samuel
Odell
1
Yes
Joseph
Smith
35
Agricultural Labourer
Yes
Martha
Smith
35
Yes
Elizabeth
Smith
11
Yes
Leah
Smith
6
Yes
Joseph
Smith
3
Yes
Rosannah
Smith
1
Yes
Mark
Norris
65
Agricultural Labourer
?
William
North
35
Agricultural Labourer
Yes
Ann
North
30
No
Thomas
North
12
No
Mary
North
10
Yes
George
North
7
Yes
Susannah
North
4
Yes
Keziah
North
1
Yes
Edward
Smith
60
Agricultural Labourer
Yes
Mary
Smith
60
Yes
David
Smith
19
Agricultural Labourer
Yes
Mary
Smith
65
Yes
Thomas
Smith
29
Agricultural Labourer
No
High Street
Thomas
Edwin
55
Agricultural Labourer
Yes
Martha
Edwin
50
Yes
John
Edwin
25
Sawyer
Yes
Thomas
Edwin
20
Sawyer
Yes
Joseph
Edwin
15
Agricultural Labourer
Yes
John
Joyce
65
Agricultural Labourer
No
Mary
Joyce
65
Yes
Ann
Joyce
85
No
William
Bellow
65
Agricultural Labourer
No
Phebe
Bellow
65
Yes
Ann
Bellow
34
Lace Maker
Yes
Mary
Bellow
27
Lace Maker
Yes
Johanna
Bellow
23
Lace Maker
Yes
Rosetta
Bellow
11 mths
Yes
James
Yeulett
50
Agricultural Labourer
No
Elizabeth
Yeulett
45
Yes
William
Yeulett
14
Yes
John
Walker
37
Huckster
Yes
Sarah
Walker
34
Yes
Isaac
Walker
10
Yes
George
Walker
5
Yes
Alfred
Walker
2
Yes
unknown
Walker
1 mth
Yes
High Street
George
Verney
25
Agricultural Labourer
Yes
Elizabeth
Verney
22
Yes
George
Verney
3
Yes
John
Lomath
65
Currier
Yes
Catharine
Lomath
60
Yes
James
French
25
Agricultural Labourer
Yes
Elizabeth
French
24
Yes
William
Verney
40
Farrier
Yes
Margaret
Verney
45
Yes
Hannah
Verney
14
Yes
John
Verney
12
Yes
Caroline
Verney
10
Yes
Elizabeth
Verney
7
Yes
Charles
Verney
2
Yes
Mary
Verney
23
Yes
Hannah
Verney
3
Yes
Harriett
Verney
1
Yes
John
Scott
35
Agricultural Labourer
Yes
Ann
Scott
31
Yes
William
Scott
23
Agricultural Labourer
Yes
Mary
Scott
23
Yes
Benjamin
Rawlins
35
Agricultural Labourer
Yes
Sophia
Rawlins
35
Yes
William
Lomath
27
Shoemaker?
Yes
Jane
Lomath
25
Yes
Thomas
Lomath
20
Shoemaker Journeyman
Yes
Mary
Lomath
60
Yes
Eliza
Lomath
3
Yes
Sarah
Lomath
1
Yes
Thomas
Wheeler
19
Agricultural Labourer
Yes
Thomas
Ablethorp
35
Agricultural Labourer
Yes
Hannah
Ablethorp
40
Yes
Ann
Bailey
15
Lacemaker
Yes
Hannah
Bailey
12
Yes
Sarah
Gent
65
Yes
Thomas
Smith
38
Agricultural Labourer
Yes
Mary
Smith
41
Yes
William
Smith
10
Yes
James
Smith
7
Yes
Sarah
Smith
4
Yes
Elijah
Smith
1
Yes
James
Ablethorp
50
Agricultural Labourer
Yes
Hannah
Ablethorp
55
Yes
Mary
Ablethorp
26
Lacemaker
Yes
John
Ablethorp
24
Agricultural Labourer
Yes
James
Ablethorp
22
Agricultural Labourer
Yes
Sarah
Ablethorp
15
Lacemaker
Yes
James
Todd
31
Carpenter
Yes
Ann
Todd
36
No
Thomas
Allen
25
Mason
Yes
Elizabeth
Allen
25
Yes
Richard
Allen
4
Yes
Elizabeth
Allen
6 mo
Yes
Staniford House
Richard
Staniford
65
Independent Means
Yes
Kitty
Staniford
60
Yes
Greyhound Lane Tannery
George
West
40
Tanner
Yes
Caroline
West
35
No
Georgina
West
5
Yes
George
West
4
Yes
Melbourne
West
3
Yes
Charles
West
1
Yes
Harriet
Halsey
20
Female Servant
Yes
John
West
35
Independent Means
Yes
Mary
West
40
Yes
Louisa
Willson
15
No
George
Maydon
45
Butcher & Maltster
Yes
Mildred
Maydon
40
Yes
Mary
Maydon
20
Yes
Mildred
Maydon
15
Yes
John
Maydon
15
Yes
Jane
Maydon
10
Yes
George
Maydon
10
Yes
High St.
Frances
Maydon
8
Yes
Elizabeth
Maydon
6
Yes
Conway
Maydon
4
Male according to 1851 census
Yes
Catharine
Maydon
2
Yes
Ellen
Maydon
5 mo
Yes
Ann
Gibbs
30
Female Servant
Yes
Joseph
Higgins
15
Male Servant
Yes
From the King's Head to the Bell corner, it is possible to identify all the census entries with the 1880 map below (which shows north to the left). Click on the red names to go to the relevant census entry.

King's Head
James
Brooks
25
Publican
Yes
Elizabeth
Brooks
20
Yes
William
Brooks
2
Yes
Mary
Brooks
2 mo
Yes
Mary
Brooks
20
Yes
Ann
Verney
15
Female Servant
Yes
George
Caves
30
Labourer Maltster
Yes
24 High St.
Elizabeth
Curtis
20
Yes
Mary
Curtis
10
Yes
Robert
Curtis
5
Yes
William
Curtis
5
Yes
Elizabeth
Foster
10
Yes
Anna
Bennett
10
Yes
Martha
Beseley
10
Yes
Rachel
Read
20
Female Servant
Yes
22 High St.
Elizabeth
Gibbs
70
Milliner
Yes
Mary
Mayne
40
Yes
Ann
Harper
40
Milliner
Yes
Martha
Young
19
Milliner's Apprentice
Yes
Ann
Grace
17
Milliner's Apprentice
Yes
Elizabeth
King
16
Milliner's Apprentice
Yes
20 High St.
Hannah
Hawley
79
Independent Means
Yes
Elizabeth
Fowler
86
Independent Means
Yes
Emma
Woodward
24
Female Servant
Yes
18 High St
Mary
Stevens
20
Milliner
Yes
Sarah
Stevens
20
Milliner
Yes
Fanny
Stevens
20
Milliner
Yes
Elizabeth
Bonner
15
Milliner
Yes
16 High St
John
Wynter
33
Surgeon
No
Frances
Wynter
35
No
Mary
Mayne
19
Female Servant
Yes
12 High St.
James
Morecraft
40
Butcher
Yes
Catherine
Morecraft
35
Yes
Alfred
Morecraft
15
Yes
Ann
Morecraft
14
Yes
Thomas
Morecraft
13
Yes
James
Morecraft
11
Yes
Emma
Morecraft
10
Yes
Catherine
Morecraft
7
Yes
Elizabeth
Morecraft
4
Yes
Richard
Morecraft
3
Yes
High St.
George
Morecraft
1
Yes
10 High St.
William
George
25
Grocer
No
Louisa
George
25
No
Charles
George
2
No
8 High St.
Thomas
Viccars
29
Plumber
Yes
Ann
Viccars
31
No
George
Viccars
5
Yes
Josiah
Viccars
3
Yes
Caroline
Viccars
1
Yes
Ann
Yeulett
16
Female Servant
Yes
6 High St.
James
Hawley
35
Grocer
Yes
Charlotte
Hawley
25
Yes
Elizabeth
Hawley
3
Yes
George
Hawley
2
Yes
Sarah
Hawley
18 mo
Yes
George
Mayne
18
Grocer Journeyman
Yes
John
Henley
18
Male Servant
Yes
Ann
Ellerd
16
Female Servant
No
Lilla
Egerton
18
Female Servant
Yes
Market Sq.
William
Coxill
30
Carpenter
Yes
Toy and Clothes Dealer according to Pigot's Directory 1842
Ann
Coxill
30
Yes
Mary
Coxill
9
Yes
Richard
Coxill
6
Yes
Eliza
Coxill
4
Yes
Market Sq.
Joseph
Coxill
4 mo
Yes
Thomas
Roads
30
Carpenter
Yes
Eliza
Roads
35
No
Royal Oak
Mary
Bull
34
Publican
Yes
Mary
Bull
14
Yes
Thomas
Bull
8
Yes
John
Sandwell
25
Yes
Thomas
Saxby
50
Printer
Yes
George
King
39
Grocer
Yes
Elizabeth
King
40
Yes
Sarah
King
16
Yes
George
King
13
Yes
Rosetta
King
8
Yes
Jane
Bowden
19
Female Servant
Yes
London House
James
Morgan
43
Draper
Yes
Mary
Morgan
44
No
John
Morgan
10
Yes
George
Morgan
8
Yes
Martha
Morgan
6
Yes
Jane
Morgan
1
Yes
Robert
Dumbleton
13
Draper's Apprentice
No
Ann
Tattam
20
Female Servant
Yes
Susan
Grantham
17
Female Servant
Yes
Sheep St.
Caroline
Clarke
40
Independent Means
Yes
William
Clarke
7
No
Part of Brook Hall
Ann
Daniel
55
Lacemaker
Yes
Benjamin
Ridgeway
10
No
William
Seaton
65
Shoemaker
Yes
Mary
Seaton
25
Yes
Louisa
Seaton
25
Yes
Straw hat maker in 1843 directory
Ann
Wallis
30
No
Brook Hall
Daniel
Grace
50
Schoolmaster
Yes
Jemima
Grace
50
No
Maria
Grace
20
Yes
John
Grace
20
Yes
William
Grace
15
Clerk to Attorney
Yes
Richard
Mead
15
Yes
Robert
Stuchbury
11
Yes
Matthew
Mead
14
Yes
Samuel
Perkins
13
Yes
John
Biggs
12
Yes
Benjamin
Blake
13
Yes
John
Foster
14
Yes
Joseph
Woodman
14
Yes
Joseph
Curtis
11
Yes
John
Curtis
11
Yes
William
Short
13
Yes
Nathaniel
Parrott
12
Yes
John
Baseley
10
Yes
Ralph
Tattam
10
Yes
Thomas
Barry
13
No
James
Woodward
11
Yes
William
Phillips
10
No
Robert
Tompkins
9
Yes
Ann
Price
20
Female servant
Yes
11 Sheep St
Elizabeth
Todd
35
Schoolmistresss
Yes
Sarah
Todd
30
Schoolmistress
Yes
Rev Mark
Kerr
40
Independent means
No
Rev Charles
Kerr
35
Independent means
No
Jane
Chapman
20
No
Sarah
Biggs
10
Yes
Sarah
Baker
8
Yes
Elizabeth
Cooling
8
Yes
Elizabeth
Emerton
12
Yes
Sarah
Stevens
10
Yes
Frances
Stevens
9
Yes
Emma
Neal
6
Yes
Elizabeth
Stevens
15
Yes
John
Cooling
7
Yes
Henry
Field
6
No
Edward
Field
4
No
Fredric
Field
12
Yes
Rebecca
Jarvis
15
Female servant
Yes
Winslow Hall
William
Lowndes
30
Independent means
Yes
Lucy
Lowndes
30
No
Clara
Hartman
25
No
Essex
Lowndes
5
No
William
Lowndes
4
No
John
Lowndes
2
No
Lucy
Lowndes
1
No
Cresseder [sic]
Lowndes
2 mo
No
Owen
Meyrick
30
Independent means
No
George
Matcham
40
Male servant
No
Matthew
King
40
Independent means
Yes
Martha
Mahew
45
Female servant
No
Fanny
Mahew
20
Female servant
No
Ann
Abbott
20
Female servant
Yes
William
Johnson
18
Male servant
No
Sophia
Harraway
25
Female servant
Yes
Sarah
Groome
25
Female servant
No
Charles
Binwell
30
Male servant
No
Black Horse (17 Sheep St.)
George
Yeulett
49
Carrier
Yes
Elizabeth
Yeulett
33
No
Ann
Yeulett
18
Yes
Elizabeth
Yeulett
16
Yes
Emma
Yeulett
8
Yes
John
Yeulett
3
Yes
William
Yeulett
1
Yes
James
Dumbleton
70
Agricultural Labourer
No
Sarah
Hinton
70
No
William
Jackman
65
Tailor
Yes
George
Dodson
15
Tailor's Apprentice
Yes
John
Holt
65
Yes
Ann
Holt
55
Yes
Robert
Evans
65
Independent Means
Yes
John
Goodger
40
Agricultural Labourer
Yes
Ann
Goodger
27
Yes
Sarah
Goodger
4
Yes
George
Goodger
9 months
Yes
Martha
French
10
Yes
Joseph
Lee
45
Saddler
Yes
Elizabeth
Lee
40
Yes
Thomas
Lee
21
Saddler Journeyman
Yes
James
Lee
16
Yes
Margaret
Lee
8
Yes
Fredrick [sic]
Lee
6
Yes
George
Lee
4
Yes
Richard
Allen
48
Mason
Yes
Martha
Allen
47
Yes
Charles
Allen
20
Painter
Yes
Ann
Allen
7
ages in wrong column
Yes
Charlotte
Allen
6
Yes
Francis
Pipet
18
Mason Journeyman
Yes
Susannah
Edwin
55
No
William
Edwin
27
Agricultural Labourer
Yes
George
Edwin
25
Agricultural Labourer
Yes
Joseph
Edwin
20
Agricultural Labourer
Yes
Sarah
Edwin
14
Yes
Mary
Edwin
20
Yes
Ann
Brise
60
Independent means
Yes
Ann
Brise
20
Yes
Joseph
Brise
20
Yes
Taylor
William [sic]
55
Agricultural Labourer
Yes
Matthew
Alderman
64
Agricultural Labourer
Yes
Ann
Alderman
60
Yes
Lydia
Alderman
40
Yes
William
Brown
74
Agricultural Labourer
Yes
Martha
Edwin
40
Lacemaker
Yes
William
Budd
59
Agricultural Labourer
Yes
Elizabeth
Budd
56
Yes
William
Budd
20
Agricultural Labourer
Yes
Joseph
Seaton
40
Agricultural Labourer
Yes
Ann
Seaton
35
Yes
Maria
Seaton
13
Yes
Rebecca
Seaton
11
Yes
William
Seaton
9
Yes
Charlotte
Seaton
3
Yes
Nag's Head (39 Sheep St.)
Henry
Cheney
45
Publican
Yes
Jemima
Cheney
45
Yes
Eliza
Read
21
Yes
Josiah
King
50
Independent means
Yes
George
Dibden
25
Groom
No
Emma
Dibden
18
Yes
Ann
Dibden
15
No
Curtis Farm (47 Sheep St)
John
Curtis
25
Farmer
Yes
Ann
Curtis
25
Yes
Mary
Alderman
25
Female servant
Yes
Shipton
Joseph
Bowden
35
Farmer
Yes
Elizabeth
Bowden
35
Yes
William
Bowden
9
Yes
Thomas
Bowden
4
Yes
Ann
Bowden
7
Yes
Eliza
Bowden
6 mths
Yes
John B.
Bowden
47
Agricultural Labourer
Yes
William
Archer
35
Farmer
Yes
Sarah
Archer
30
No
Elizabeth
Archer
3
Yes
John
Archer
3 mths
Yes
Eliza
Barrett
20
No
Johanna
Barrett
2
No
John
Dumbleton
40
Agricultural Labourer
Yes
Mary
Dumbleton
55
No
Sarah
Dumbleton
15
Yes
Ann
Dumbleton
12
Yes
George
Dumbleton
10
Yes
Rebecca
Dumbleton
8
Yes
Emma
Dumbleton
6
Yes
Rands Farm
Thomas
Edwin
55
Farmer
Yes
Ann
Edwin
57
Yes
Edmund
Edwin
25
Yes
Sophia
Jackman
30
Female Servant
Yes
Thomas
Clarke
54
Independent means
Yes
Mary
Clarke
61
No
Edward
Clarke
24
Shoemaker
Yes
Eliza
Clarke
26
Milliner
Yes
Sarah
Clarke
20
Yes
John
Luckett
29
Agricultural Labourer
Yes
Caroline
Luckett
27
No
Samuel
Taylor
50
Agricultural Labourer
Yes
Rebecca
Taylor
21
Yes
Robert
Holt
35
Agricultural Labourer
Yes
Rebecca
Holt
35
Yes
Penelope
Holt
13
Yes
Catharine
Holt
11
Yes
Site of Shipton Mead?
Thomas
Burgess
45
Farmer
No
Ann
Burgess
45
Yes
William
Burgess
18
Yes
Mary
Cook
18
Female Servant
Yes
Herculous [sic]
French
40
Agricultural Labourer
Yes
Lucy
French
39
Yes
Eliza
French
15
Yes
John
French
13
Shoemaker's Apprentice
Yes
William
French
11
Yes
Thomas
French
9
Yes
Hariatt
French
18
Yes
Elizabeth
French
4
Yes
Ann
French
3
Yes
Edward
Orchard
65
Agricultural Labourer
Yes
Red Hall Farm
John
Woodward
25
Farmer
Yes
Ann
Woodward
20
Yes
Eliza
Woodward
15
Yes
George
Anstee
20
Male Servant
Yes
Magpie Farm
William
Alderman
35
Agricultural Labourer
Yes
Susannah
Alderman
35
No
Rosetta
Alderman
2
Yes
Mildred
Alderman
3 mo
Yes
Copyright 19 August, 2020