Edmunds family (c.1522-1670)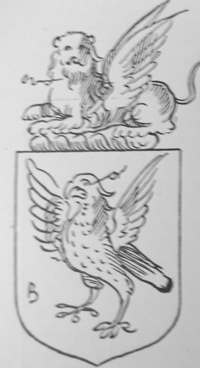 The Edmunds family were prominent in Winslow from the Tudor period until the Civil War. They included several clergymen and gentlemen. They owned the Old Crown, whose stone fireplaces were probably installed by them. The coat of arms on the right comes from The Visitation of Bucks 1634.
Back to Families / People
1. Richard Edmunds appears in Winslow records from 1522. His wife was named Alice. In 1528 he bought a messuage and virgate of land from Agnes Boston. He died in 1556 leaving goods valued at £34: see his inventory. His house consisted of hall, chamber and kitchen.
2. Richard Edmunds, presumably the son of the above, was Fellow of New College, Oxford, 1548-58. He seems to have been curate of Winslow from 1558, and then became Rector of Wavendon in 1571 and Shenley in 1574. He died in December 1605 or January 1606; see his will. His wife seems to have been a member of the Boston family.
Agnes Edmunds his sister (d.1615) seems to have married William Glenister.
3. William Edmunds, gentleman, son of Richard (2), held the Crown, 60 acres of land in Winslow and a yardland in Shipton in 1610. He married (1) Elizabeth King (d.1620); (2) Margaret, who outlived him. He died in 1632. See his will and inventory.
William had 3 sisters who married three of the most important men in Winslow:
4. Richard Edmunds, gentleman, son of William, b.1612. He was at Brasenose College in 1626. There is a list of his holdings of land (at least 90 acres) in c.1635. He seems to have left Winslow in the 1640s and to have lived in London. At the 1649 manor court he was fined "for contempt in words and misbehaviour in court"; perhaps this was related to the political situation at the time. He died between 1666 and 1669, having sold most of his property in Winslow. He was married 3 times:
Sarah, daughter of Ambrose Sacheverell, Rector of Radclive, Bucks and Tadmarton, Oxon. She was buried at All Hallows, Lombard Street, London in 1642.
Jane Walker, widow. There is a marriage allegation of 19 June 1643 for Richard Edmunds of Winslow, gentleman, a widower aged 31 to marry Jane Walker, widow aged 40, at Brentford, Isleworth or Twickenham. She died in 1648, leaving children from her first marriage.
Judith: they were married by 1654, and she outlived him
Richard had several sisters, including:
5. Thomas Edmunds, son of Richard by his first marriage, was born at Winslow in 1637 and died at Tingewick, where he had recently become Rector, in 1670. See his will. He was unmarried, and apparently the end of the direct male line of the Edmunds family.
There was a William Edmunds in Winslow from the 1660s to early 1700s (at one time tenant of The Angel). The Visitation of Bucks 1634 says Richard (4) and his first wife Sarah had a son named William, but it doesn't seem likely that this was the same person.
Thomas' sister Anne (b.1640) married Thomas Grace of Swanbourne (d.1678). She was buried in 1663, and his wife was named Sarah when he made his will (Centre for Bucks Studies, D/A/Wf/53/241). Their daughter Elizabeth Grace (1660-1728), who married Thomas Rice (d.1729), inherited from her great-aunt Joan Kirby and was mentioned in the will of her uncle Thomas Edmunds, which is presumably why her father only left her 5s (the rest of his estate went to his daughters by his 2nd marriage). Thomas and Elizabeth Rice's children all seem to have died young except Anne (b.1694); Elizabeth Rice, spinster, who is mentioned at some manor courts, may also have been their daughter.