The Cock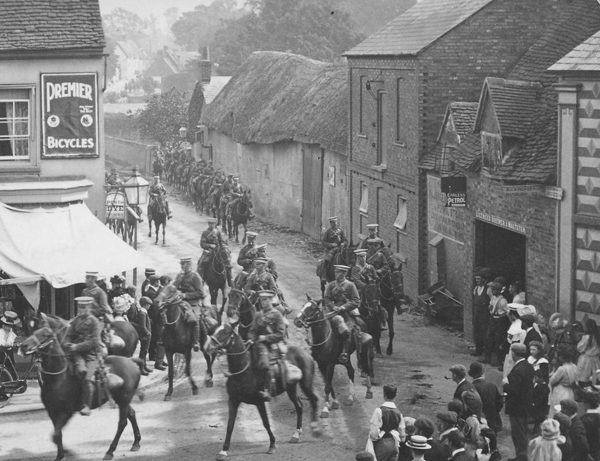 This photograph of Army manouevres in 1907 shows the outbuildings of the Bell extending along Sheep Street; these later became the Bell Garage. The Cock appears to have stood further down Sheep Street, adjoining these buildings.
The existence of The Cock emerges from a court case of 1749-50 summarised below:
National Archives, E112/1083/67
23 Geo II [1749]: Turner v Goldsworth
Bill of complaint of John Turner of Winslow surgeon:
Stephen Bigg the elder late of Winslow was seized of a copyhold messuage called the Cock heretofore in the occupation of Daniel Seaton & Benjamin Bigg and now of Emma Turner widow & John Tow.
Stephen at a court on 26 Oct 1696 surrendered it to the use of Benjamin Bigg then of Winslow and Ann his wife for their lives and after their decease to Benjamin's right heirs.
Benjamin on 8 Aug 1707 surrendered it to the use of his will. He also held property for the lives of several persons and freehold land in Yardley Gobion and elsewhere in Northants, value £20 p.a.
He had issue by Ann his wife who was then living three daughters, Ann, Mary and Jane (John Turner's late wife) all since deceased. He made his will on 8 Aug 1707. He bequeathed all freehold lands & tenements to Ann his wife for her life, then to Ann his daughter and her heirs, with the purpose that the younger daughters Mary and Jane should have the premisses called the Cock being part of his copyhold at Winslow. If Ann his daughter should not at the next court after she was 21 surrender her right to all the copyhold in Winslow to the use of Mary & Jane and also pay them £30 apiece, then he bequeathed the freehold to Mary & Jane.
Benjamin died soon after, leaving Ann his widow. and his daughters co-heirs at law. Ann the widow enjoyed the estates until her decease in Feb 1723. Ann the daughter married John Dudley since deceased and died in 1722, leaving Mary Dudley her only daughter and heir who in [ ] married Peter Goldsworth of Winslow gent. Mary the 2nd daughter died in 1709 without issue. Jane married John Turner in 1724 and died in 1733 leaving no issue living but having had issue born alive. John has since her death taken letters of administration of her goods & chattels out of the [ ] court.
Having issue born alive was important because a widower could hold his wife's property for the rest of his life if she had predeceased him, but only if they had children; this was the custom of English courtesy which is often recorded in medieval Winslow and is mentioned below.
After the death of Ann the mother, the freehold premisses were held by John Dudley & Mary his daughter & Peter Goldsworth severally in succession and they have received all rents, issues & profits.
The sums of £30 have never been paid to Mary & Jane in their lifetimes or to John Turner as administrator of Jane or to Mary's administrator. Neither was a surrender made by Ann the daughter or those who claim under her of the copyhold estates.
John has been permitted until very lately to hold the Cock at Winslow and receive the profits, being entitled "as tenant by the courtesie under the devise of the said copyhold to the said Mary & Jane", Mary having died in Jane's lifetime.
Ann the daughter having died during the infancy of Mary her daughter, and John having married Jane her only surviving aunt and nearest relation, John at his wife's request in 1723 took upon him the guardianship of Mary and received the profits of her estate and maintained her "with meat drink cloaths schooling & other necessarys" until 1740 when she came of age.
Jane being seized to herself and her heirs of a moiety of a copyhold tenement called the Bell Inn, John & Jane surrendered it to such uses as Jane should by deed appoint.
John, in Mary's maintenance and education "expended several very considerable sums of money much beyond what he had received by and out of the rents & profits of the said freehold estates", as Jane well knew.
By her deed of 15 May 1733 Jane appointed her moiety of the Bell unto John for his life and after his death to Mary her niece. If Mary "did not allow the account depending between her and John as guardian when at the age of 21 years, John making oath of the truth thereof by affidavit before a master extraordinary in Chancery according to the best of his understanding & knowledge then she revoked her appointment to the sd Mary & gave her moiety to John & his heirs".
When Mary was 21 and married Peter Goldsworth, John "caused an account to be made out of his receipts & disbursements as guardian … by which it appeared that he had laid out and expended" £218 12s 5½d and had received from her estates £139 14s 6½d. He also paid £8 15s to John Dudley her father at Mary's request. John Turner swore the truth before a master extraordinary of Chancery and caused the affidavit to be delivered to Peter & Mary. He also requested them to pay the £30 under Benjamin's will, and to confirm the Cock to him for his life, or to suffer him to enter upon the freehold estates at Yardley, being "as he is advised entitled to enjoy on such failure as tenant by the courtesie, the said Jane his wife being the surviving joint tenant".
Peter & Mary "declare that they will keep John for ever in uncertainty whether they will comply with the sd condition or not and insist that they are at liberty to pay the sd sum at any time", so John cannot sell. They ought to be compelled to pay or to declare their dissent so to do.
They have lately brought an ejectment in the Court of Common Pleas against John and the tenants "& have got judgment for one moiety thereof as the sd Mary was & is heir to her said late mother & coheir to the said Mary her aunt". This is contrary to the condition in the will.
Peter & Mary "give out that they intend to sue your orator for all the mesne profits of the sd copyhold called the Cock which have been received by him". No actual surrender of Ann's right has been made, but they have long acquiesced in John holding it.
[signed] P. Jodrell
Click here for more information about John Turner.
[f.2] Commission to William Hobbs, Robert Adams, Ferdinando Southam, Nicholas Merwin, Thomas Harris and Benjamin ?Ashwell. 8 Nov 23 Geo II [1749]
[f.3] Answer of Peter Goldsworth & Mary his wife
Stephen Bigg was seized of the Cock and surrendered it as in the bill mentioned. Benjamin was seized of it at his decease, and made his will as in the bill mentioned. He died on 28 Aug 1707. Ann, Jane & Mary were admitted at a court on 21 April 1708 to the reversion of the Cock on the death of Ann the widow. Ann the widow entered the freehold and lifehold estates in Yardley Gobion to the value of £24.
Ann the widow died on 17 Feb 1723. Ann the daughter died on 14 Sep 1722. Mary entered into the estates at Yardley Gobion. Whether her title is under Benjamin's will, or whether her mother became entitled by any settlement, or whether Benjamin had power to devise them, they do not know.
Peter says that 3 years since John Turner "call'd to him as he was passing by his door and told him he had some copys belonging to him and delivered to him some copys of the lifehold estate at Yardly Gobion". John said he had no deeds to freehold estate. Peter "is the rather inclined to doubt whether there is any freehold or not".
Some short time since Peter applied to [ ] Stainsby steward or agent to the Duke of Grafton, lord of the manor of Yardley Gobion, who informed him that there was no freehold estate within the manor but all was lifehold. Yearly value of the estate supposed to be freehold is 40s.
Ann Dudley did not make any surrender of the copyhold estate according to Benjamin's will. They do not know if she was ever requested so to do.
John Turner on marrying Mary's aunt executed a bond or obligation to Robert & William Gibbs bearing date [ ] in the penal sum of £80 conditional for payment of £40 to Mary if she did within 6 months of her attaining the age of 21 surrender the premisses to Jane, and Jane surrendered them to John for life. Peter & Mary, knowing the copyhold estate was double the value of the supposed freehold, did not think proper to surrender it, nor were they requested to do the same.
This seems to refer to an arrangement made in 1725 at the manor court in which Robert & William Gibbs were made trustees.
After the death of Ann the widow, Jane entered into the copyhold estates of Benjamin, and Mary or someone on her behalf entered upon the lifehold estate, being the person whose life is mentioned in the copy, and upon the supposed freehold estate.
Ann Dudley died on 14 Sep 1722. Mary Bigg died on 20 May 1709 without issue and unmarried. John Dudley died on 10 Dec 1732. Jane married John Turner on 30 Dec 1724 and had issue "one daughter who liv'd about half a year". Jane was seized in fee of a moiety of a copyhold tenement called the Bell Inn. John & Jane surrendered it to such uses as Jane should appoint. Jane made an appointment of the effect in the bill mentioned.
John on his marriage to Jane took upon himself the guardianship of Mary and received the rents of the estates at Yardley Gobion and maintained and educated her until 1735 and no longer. He delivered an account soon after Mary's coming of age or marriage but never demanded the balance due. He did not make an affidavit until 6 Oct last, after which he demanded the sum due to him immediately. Peter & Mary were ready to pay and one Walter Bauldwin went to John's house and tendered £87 12s 11d to John's wife, John being not at home. She refused to accept it. John "did on purpose absent himself or deny himself in order to prevent the payment thereof". Mr Southam their solicitor did actually pay £87 12s 11d on 25 Oct last.
They have brought an ejectment against John and received a judgment for one moiety of the Cock and are now admitted to it. They intend to bring an action to recover the mesne profits from the time Mary's title to the same accrued.
They never had any demand from John or his wife for the £30 and £30. John "knew that if all accounts were settled" there would be a considerable sum due to Peter & Mary as Jane had administered to Mary's grandmother Ann Bigg who was Benjamin's executrix and residuary legatee "and possessed herself of all her personall estate and effects to a very considerable amount and much more than sufficient to pay and satisfie all debts and funeral expences of the said Ann Bigg" although Mary was entitled to half. The great part of Ann's personal estate, unadministered by Jane, is now come to John. Ann had a mortgage for £200 entered into by Nicholas Merwin gent to Benjamin on a copyhold estate held of the manor of Winslow which was afterwards called in and placed out on other security in the name of John or some person in trust for him.
At the same time a new grant of administration of Ann Bigg's property was made to Mary Goldsworth.
John & his wife have been in long enjoyment of the Cock since the death of Ann till 25 years since when Peter & Mary made a claim of the same. Mary's mother never was in possession of the freehold, lifehold or copyhold estate in question during her life and Mary was an infant until 23 May 1741 and until 1735 was under John's direction and power.
They did not declare that they would keep John in uncertainty. They do not deny John enjoying the profits of the freehold estate at Yardley Gobion (if any such can be found) as tenant by the courtesy. But they hope the profits of the copyhold estate they have recovered at law shall not be retained by John as they are £4 10s p.a. and the supposed freehold is £2 p.a.
[signed] Peter Goldsworth
Mary Goldsworth
Taken at Winslow on 31 Jan 1749 before us
[signed] Wm Hobbs
Ferdo Southam
Nichos Merwin
Thos Harris
Click here for a counter-suit brought by Peter & Mary against John at the same time. It provides some more information but not about The Cock.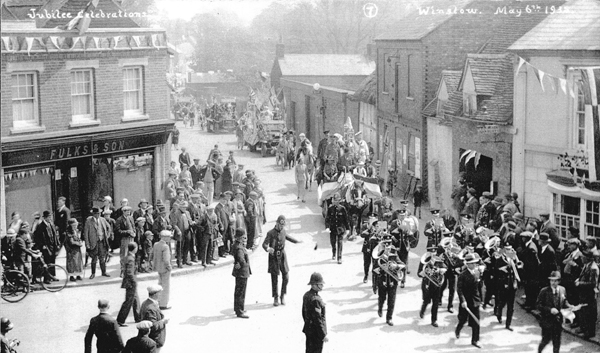 This photo of the 1935 Jubilee celebrations shows where The Cock would have stood, beyond the building with two chimneys in the upper centre.
---
The rest of the property's history
1641 manor court
Margaret Chinall widow since the last court surrendered a tenement in the Sheepstreet and a half-acre over Bubles gore in Winslow. To the use of Richard Letman and Joan his wife for their lives, then to Ann Letman their daughter forever. Rent 7d, fine 5s, heriot 10s by composition.
1669 manor court
Joan Lutman widow, George Richardson and Ann his wife [presumably = Ann Letman, now living at Shenley] surrendered a messuage in Sheepe Streete with orchard and yard(s?) [penetral'], now in Joan's possession. To the use of Thomas Smalebones. Rent 4d, fine 5s, heriot 3s 6d.
1685
manor court
Thomas Smallbones and Ann his wife surrendered a messuage and a virgate of land in the Sheepestreete of Winslow, now in the possession of
Abraham Day
, abutting the Bell Inne on the west. To the use of Antony Deely. Rent [blank], fine 5s. ... Antony Deely surrendered freedom of ingress etc. and passage for carts, carriages, horses and other livestock (excluding hostlery horses and sheep) in the yard belonging to the house in which Abraham Day now lives situate in Sheepestreete. To the use of Thomas Smallbones. Rent [blank], fine [blank].
This seems to be a subdivision of a larger property, probably as the result of building a new house at the rear.
1687 manor court
Antony Deely and Margaret his wife and Thomas Egerton surrendered a messuage with yards, orchards, gardens, buildings, and the gateway [via Janua] lying between the house late in the possession of Thomas Smallbones and the house now in the possession of Abraham Day. With liberty to use the well in the yard of John Bickwell [sic] adjoining the premisses, with "sheepepens" situate in Sheepestreete, now in the possession of Abraham Day and George Cooper, abutting on the Bell Inne on the west. Reserving to John Brickwell the privilege to go through by the gateway with carts, horses and flocks [pecud'] (excluding hostlery horses and sheep). To the use of Stephen Bigg of Winslow. Rent [blank], fine [blank].
1696 manor court
Stephen Bigg surrendered all the messuage now in the occupation of Daniel Seaton and Benjamin Bigg, with all yards, orchards, gardens and structures, and the Gateway lying between the house in the occupation of Richard Bendboe and the part of the messuage now in the occupation of Benjamin Bigg. With liberty to use the well in the yard of Thomas Brickwell, now in the possession of Richard Bendboe. With the Sheepe Penns and all other appurtenances. The premisses are scituate in Sheepe Street, the Bell Inn on the west side. Reserving to Thomas Brickwell the privilege to go through the Gateway with carts, horses and flocks (excluding hostlery horses and sheep). To the use of Benjamin Bigg of Winslowe Carpenter and Ann his wife, who were admitted tenants. Rent [blank], fine 5s.
This shows that the property was next to the road and adjacent to The Bell, with a gateway on the other side giving access to another house behind it. It probably wasn't an inn at this point.
1707 manor court
Benjamin Bigg died seised of a messuage late in the occupation of Daniel Seaton and Benjamin Bigg. Ann, Mary and Jane are his daughters and coheirs. Heriot by composition 20s. Ann his widow holds for her life.
1709: will of Benjamin Bigg proved
1724: death of Ann Bigg, widow of Benjamin. The property now reverted to her surviving daughter Jane (who married John Turner in 1724) and granddaughter Mary Dudley (later Goldsworth). Jane died in 1733 but John continued to receive the rent of The Cock until the dispute of 1749.
1724: evidence at the trial of Thomas Glenister
Elizabeth Seaton, daughter of Daniel Seaton, of Winslow, butcher, said that on 14 May 1724 "about candles lighting" she went to her father's house to drink a mug of ale.
This sounds as if Daniel kept an alehouse, which might have been The Cock where he had lived earlier.

1733 manor court
Jane the Wife of John Turner of Winslow aforesaid Surgeon One of the Customary Tenants of the said Mannor Dyed since the last Co(u)rt Seized of Two Messuages standing together in Winslowe One in the occupation of the said John Turner the other of the Widdow Webster ... \John Turner and/ Jane \his wife/ (She the said Jane being first solely & secretly examined by the said Steward) Did before her Death out of Co(u)rt & since the last Court (to wit) on the Fifteenth day of May last past Surrender ... All & every the Copyhold Land & Tenements and Hereditaments of her the said Jane held of the said Mannor ... To such Uses Intents and Purposses and upon such Trusts as are or shalbe menconed expressed Declared or appointed in & by any Writing or Writings under the hands & Seales of the said Jane whether Covert or Sole to be attested by two or more credible Witnesses and for \want of/ such direction or appointment then to the Uses & Behoofe of Mary Dudley Spinster & her Heires And the said homage find that the said Jane Did by a Writing under her hand \& seal/ attested by two credible Wittnesses Declare & Appoint that the said John Turner should hold & Enjoy the Premisses in such Manner & upon such Conditions as \are/ therein expressed ...
According to the 1775 manor court, the conditions were that the property went to John for his life, then to William Gibbs of Winslow yeoman and Joseph Turner chirurgeon on trust to permit Mary Dudley his [sic] niece and such husband as she should marry to take the profits for the life of the longer liver. Then to surrender to Mary's heir.
1749 manor court
Benjamin Bigg late of Winslow Carpenter and Ann his wife, customary tenants, held with remainder to Benjamin's heirs a messuage now divided into two messuages in the several occupations of Emma Turner widow [John Turner's mother] and John Tow scituate in Sheep street with Barns Stables Outhouses adjoining to the Bell Inn west. They are both dead. Ann Bigg survived her husband. Mary wife of Peter Goldsworth gent. only daughter of Ann Dudley deceased (late wife of John Dudley) one of the daughters of Benjamin Bigg, and Jane Turner deceased late wife of John Turner and before Jane Bigg Spinster were the coheirs of Benjamin. Now Mary Goldsworth prayed to be admitted to an undivided moiety. Rent 3d, fine 5s. Immediately Peter Goldsworth and Mary his wife surrendered her undivided moiety to the use of themselves and their heirs and assigns for ever. Fine 5s.
1753-55 Alehouse Recognizances
Cock: John Tow [It's not listed again after 1755]
1754: death of Emma Turner
1755: death of John Tow
1758: death of Peter Goldsworth
1766: In November, the lawyer James Burnham charged William Lowndes for:
Attending Mrs Goldsworth and her Son and Mrs Turner several times by your desire to purchase the Tenem(en)ts called The Cock in Winslow for you / Attending two private Courts to get the same Surrendered by Mrs Goldsworth and her Son [read more]
The records of these courts don't survive but presumably The Cock was demolished to open up more of Home Close.
Copyright 29 November, 2021