Fires, 1748
Centre for Bucks Studies, Q/SM/3
Special meeting of the Bucks Quarter Sessions held at Winslow on 22 July 1748 before Richard Lowndes and John Pigott esquires.
William Gibbs of Winslow Malster sworne
Proves a Fire happened 5 May and Consumed Six hundred & Twenty Eight Bushells of Malt for which duty paid or secured[?] to be paid
Notice given to Mr. Collins the Collector
Robert Gibbs & Thomas Parks made the Malt & sworne that they Beleive the Quantity was burnt
Ordered that a Certificate be granted for the Drawback of the Duty paid & secured[?] to be paid amounting to Sixteen Pounds Seven Shills & one Penny
The Inhabitants of Winslow Peticion for a Breif For Certifyeing a Loss by Fire which happened the [deletion] Eighth day of January about 7 in the Evening in the Malting of John Hicks which Burnt with great Violence
Another Fire on 5 May began at 5 in the Afternoon & burnt untill 2 the Next Morning supposed to be sett on Fire [i.e. arson] Begun at the outhouse of Robert Bence Victualler
Thomas Tayler Carpenter
Thomas Capp Servant to Dev(erell)
Peter Bartram Carpenter
John Harris } Carpenter
Joseph Bigg }
Buildings
Goods
8 January
Robert Evans Farmer
10._._
Do
Thomas Tattham Currier
23.3._
9.8.0
Do
John Worsely Carpenter
29.7.8
Do
John Deverell Ironmonger
26.9.5
20._._
Do & 12 May
Thomas Hazard Victualler
9.18._
8 Jan
Anna Shenstone widd'
31.1.8
Do
John Adams Taylor
1.7.8
Do
Benjamin Dudley Draper
11.16._
Do
John Seaton Lab(ourer)
3._._
Do
John Smallbones
3.12._
Do
John Higgs Shoemaker
1._._
Do
Susannah Cox
4.2.6
Do
Anne Blake
10._._
Do √
John Hicks
7.15.0
Do
Mary wife of Henry Burley
11._._
Joseph Arnold Carpenter
John Smallbones Carpenter
Mathew Deely Bricklayer
A Fire happened the Fifth May
Richard Gibbs Farmer
11.12.0
Thomas Footman Victualler
1.5.0
11.11.6

√

Henry Stutchbury Ironmonger
36.2.0
44.16.10
John Bayley Collarmaker
2.16.3
Robert Wheeler Basketmaker
4.5.1
Mark Morris Dairyman
8.7.0
James Morris Perukemaker
0.19.6
Robert Gibbs Malster
12._._

√

John Gibbs Cooper
13._._
22.17._
Hannah Hazard Victualler
12._._
4.2.6
Stephen Gibbs Grocer
[deletion]
9.16._
Nicholas Merwin Gent
112.19.0
92.10._

√

George Clark Draper
9._._
Elizabeth Seaton Widdow
22.11.6
William Gibbs Malster
37.3._
Walter Baldwin Cordwainer
6.6.10

√

Robert Bence Victualler
4.18.3
James Stuckey Exciseman
0.16.6

√

Sarah Forster Widdow
29.15.0
15.18._
John Hicks Malster
7.15._
John Hazard Glover
0.7._
John Toe Cordwainer
1.15.8
Robert Warr Labourer
0.10.6
Thomas Butcher Shovelmaker
1.10.9
Elizabeth wife of Richard Scott
2.13._
Mary wife of Benjamin Ingram
3.10._
Ordered that a Certificate [blank]
---
Notes
The January fire probably took place between 8-10 Horn Street, which belonged to Robert Evans (presumably the owner of the malting), and the Churchyard. It's likely that it was this fire which burned down The Bull (described as "lately consumed by fire" in 1749), although the building isn't included in the list. The lost goods probably consisted partly of barley or malt in John Hicks' custody.
The map below (based on the 1880 OS map) shows the areas which might have been covered by the January (left) and May (right) fires (considerable guesswork involved!):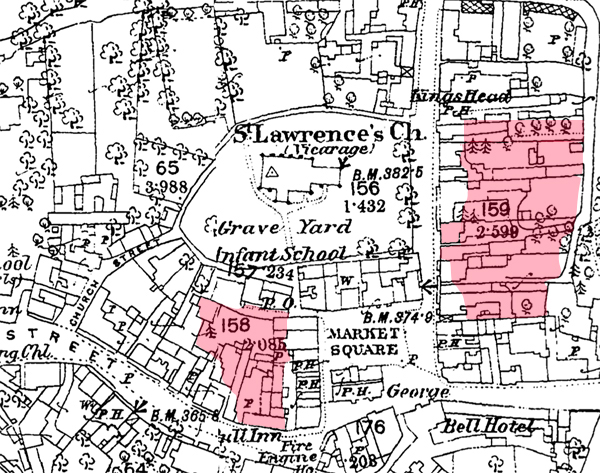 Robert Bence evidently didn't own the outhouse in which the May fire broke out. It probably belonged to Mark Morris (who lived at Thornton) who in 1740 owned a property called the Three Tuns. The buildings which can be identified go from 6 High Street (Henry Stuchbury) to 22 High Street (the Three Pigeons, owned by Richard Gibbs and occupied by Thomas Footman). Thomas Footman was also a victim of the fire in 1775. Hannah Hazard kept the Royal Oak at 14 High Street, which is thought to be mid-18th century so was perhaps rebuilt after the fire. Some of the other buildings (8, 10, 16-22) have surviving partial timber frames which must be older than 1748 so they weren't burned down, and damage could have been mainly to outbuildings on Greyhound Lane. The goods lost by Henry Stutchbury were less than 1/5 of the value of his stock in 1750. Nicholas Merwin, who had the heaviest losses, lived at no.16 but may have owned adjacent property. He was aged about 80 at the time.
Some of the entries are marked with a tick; significance unknown.
Copyright 4 November, 2019