Will of John Deverell, ironmonger, 1758
National Archives, PROB 11/840/378
This is the last Will and Testament of me John Deverell of Winslow in the County of Bucks Ironmonger made in Sound Mind Memory and Understanding the thirteenth day of July One thousand seven hundred and Fifty eight I give devise and bequeath unto my Wife Avis Deverell all and singular my Real and Personal Estate and Estates of any Nature or kind whatsoever my Copyhold Estate being surrendered to the use of this my Will To hold to her the said Avis Deverell her Heirs Executors and Administrators and Assigns upon the several Trusts and to and for the several Purposes following that is to say in the first Place by sale of all and every Part of my said Real and Personal Estates to Pay off and discharge all and every the Mortgages Bonds and Incumbrances which I now owe and wherewith the same Estates are charged and all my other just debts Legacys and Funeral Expences and After the payment and discharge of all such Debts and Incumbrances then to Pay unto my Eldest and only son Josias Deverell the sum of five hundred Pounds of lawful Money of Great Britain when he shall attain his age of Twenty one years and also to pay unto my daughter Sophia Deverell the sum of three hundred pounds when she shall attain her age of Twenty one years and also to pay unto my other Daughter Mary Deverell the sum of Two hundred pounds when she shall attain her age of twenty one years and in case either of my said children [blank line] shall dye before they shall have attained such their ages of Twenty one years then the Legacy or Legacys hereinbefore bequeathed to him her or them respectively shall be considered and go as lapsed Legacies with the Residue of my Real and personal Estate and Estates not herein disposed of all and every other part of my Estate and Estates not hereinbefore by me disposed of I do give devise and bequeath unto my said Wife Avis Deverell and Lastly hereby revoking and making void all former Wills by me at any time heretofore made I do declare this to be my last Will and Testament and thereof do constitute and appoint my friends Thomas Taylor of Swanbourne in the County of Bucks Carpenter and William Seare of Bourton in the County of Bucks Dairyman together with my said Wife Avis Deverell Executors and Executrix In Witness whereof I the \said/Testator have to this my last Will and \Testament/set my hand and seal the day and year above written
John Deverell
Signed Sealed and delivered published and declared by the said Testator as and for his last Will and Testament in the presence of us who at his Request \and/in his presence and in the presence of each other have set our Names as Witnesses hereto
Wm Hobbs Matthew Hobbs Saml Yeates
This Will was proved at London the thirtieth day of September in the year of our Lord One thousand seven hundred and Fifty eight before the Right Honourable Sir George Lee knight Doctor of Laws Master Keeper or Commissary of the Prerogative Court of Canterbury lawfully constituted by the Oaths of Thomas Taylor William Seare and Avis Deverell Widow the relict of the deceased and Executors named in the said Will to whom Administration was granted of all and singular the Goods Chattels and Credits of the deceased having been first sworn by Commission duly to administer / Exd.
---
Notes
John was the son of John Deverell, yeoman, who was buried at Granborough in 1730 and lived at Biggin. "Mr John Deverell" of Winslow was buried at Swanbourne in 1758 (?15 July). His widow Avis, also of Winslow, was buried there on 3 May 1778. She was the daughter of Thomas Rutland of Granborough (d.1732), baptised there in 1721.
Mary daughter of John Deverell was bap. at Swanbourne on 6 March 1740/1, and Sophia daughter of John Deverell on 16 July 1753, but it is not certain that they are the same people as the surname was very common. Avis Deverell made her will on 6 Feb 1776 and there are numerous references to it in the court books, but it has not been traced. She left her property in Winslow to her son Josiah and the Red Lion at Granborough to her daughter Sophia, wife of William Cox of Tattenhoe, dairyman.
In 1750 John Deverell inherited from Josias Askew one of the manors of Swanbourne and the manor house there known as the Stone House; see the Swanbourne History website. Evidently John named his son after his benefactor. John is found in Swanbourne documents as "John Deverell senior"; his property seems to have passed to a "John Deverell junior" (1716-84).
In Winslow, John was a member of the church choir in 1755 (Clear 1894, p.84). His business was at 6 High Street. He probably bought it from the Stuchbury family with his inheritance from Josias Askew. His widow and son remained in possession of it after his death, suggesting that it was his property in Swanbourne which was sold according to the terms of his will.
Apart from ironmongery, John's business included clockmaking, and the face of one of his surviving longcase clocks can be seen here: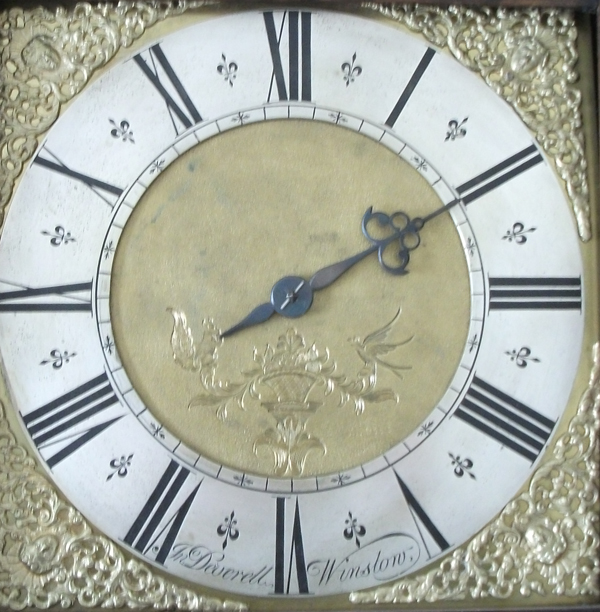 He features in Verney Letters of the Eighteenth Century, 2.195 (Lord Fermanagh at Claydon to Earl Verney, 29 Aug 1745):
Deverell of Winslow has just made a Great Clock for Wooburn Town ... He offered a month agoe to make an exceedingly good Clock with a minute hand to it for Forty Guineas, but he was not to find a Bell.
5 Sep 1745: Deverel told me twould be ten pound difference to have a minute hand to the Clock. There is as much difference in the work of Clocks as in anything whatever, and how Deverel would perform it I cant say, having no Judgment in such affairs, all I know is that there has been several lately made at Winslow and Buckingham.