Will of John Budd, butcher, 1773 (proved 1778)
National Archives, PROB 11/1043/266
In the Name of God Amen I John Budd of Winslow in the County of Bucks Butcher being in good health of Body but of a sound and disposing mind and memory (for which I bless God) and being desirous to settle my worldly affairs whilst I have strength and Capacity for so doing do therefore make and declare this my last Will and Testament in manner and form following (that is to say) first and principally I resign my soul to Almighty God who gave it and my Body I commit to the earth to be decently Interred at the discretion of my Executors herein after named and as to such Worldly Estate wherewith it hath pleased the divine Providence to bless me I dispose of the same as followeth first I give and devise unto my eldest son John Budd all that my Messuage or Tenement situate and being in Winslow aforesaid wherein I now dwell with all and every the Appurtenances thereunto belonging and also all that my new inclosed Close of Arable Land situate and being in Winslow aforesaid with the Appurtenances thereunto belonging containing by Admeasurement two Acres two Roods and thirty six Perches and also all that my New inclosed Close of pasture or Sweard Ground situate and being in Winslow aforesaid lying next and adjoining to the said Close of Arable Land with the Appurtenances thereunto belonging containing by Admeasurement one Acre and three Roods to hold the same unto and to the use of my said son John Budd and his Assigns for and during the term of his natural life and from and immediately after his decease I Give and devise the said Messuage or Tenement inclosed Closes of arable pasture or Sweard Ground with their and every of their Rights Members and Appurtenances unto and to the use of the Heirs of the Body of my said son John Budd lawfully to be begotten and for default of such Issue then I do hereby give devise and bequeath the said Messuage or Tenement inclosed Closes of Arable Pasture and Sweard Ground with their and every of their Appurtenances unto and to the use of my son Philip Budd his Heirs and Assigns for ever Also I give and devise unto my son Philip Budd all that my Messuage or Tenement situate and lying in Winslow aforesaid now in the tenure or Occupation of Richard Stanniford with the Appurtenances thereunto belonging to hold the same unto and to the use of my said son Philip Budd his Heirs and Assigns for ever and also I Give and Bequeath unto my said son Philip Budd the Legacy or sum of one hundred pounds of lawful Money of Great Britain to be paid to him out of my personal Estate
[p.2] immediately after my decease and likewise I give and bequeath to my said son Philip Budd my Breeding Mare and all my stock of Cows Calves Sheep Lambs Corn Grain Hay and Implements of Husbandry whatsoever which shall be in upon or about the Grounds Lands and Premises which I rent of Sir Charles Chymist [=Kerneys] Tynte Baronet in the parish of Addington in the s(ai)d County of Bucks at the time of my decease to and for his sole use Benefit and disposal he paying all Rent which shall be then due and in arrear for the same premises Also I give and devise unto my son William Budd all that my new inclosed Close of Pasture or Sweard Ground situate and being in the parish of Winslow aforesaid called or known by the name of the Pickles with the appurts thereunto belonging containing by admeasurement one Acre one Rood and ten perches with Free Liberty of Ingress Egress and Regress of the Way and Passage now used to through and over the same to hold the same unto and to the use of my said Son William Budd his Heirs and Assigns for ever Also I give and devise unto my son Francis Budd all that my new inclosed Close of Pasture Ground situate and being in the parish of Winslow aforesaid called or known by the name of the Further Norden with the Appurtenances thereunto belonging containing by Admeasurement ten Acres and thirteen Perches To hold the same unto and to the use of my said son Francis Budd his Heirs and Assigns for ever and I likewise give and Bequeath unto my said son Francis Budd all my stock of Cattle Corn Grain and Hay which shall be in upon or about my said Close of pasture Ground called the Further Norden at the time of my decease to and for his sole use benefit and disposal Also I give and devise unto my son in Law Matthew Morris and Elizabeth his wife all those my two Cottages or Tenements situate and being in Winslow aforesaid with the Garden and Pightle of pasture Ground and all other the appurts thereunto belonging now in the several Tenures or Occupations of the said Matthew Morris William Higgons And John Hoar and also all those my two new inclosed Closes of pasture or sweard Ground situate and lying in the parish of Winslow aforesaid Called or known by the names of the Cross Lane Closes with all and every the Appurtenances thereunto belonging containing together by Admeasurement two acres and thirty six perches To hold the same unto and to the use of the said Matthew Morris and Elizabeth his wife and their assigns for and during the term of their natural lives and the life of the longest liver of them and from and immediately after their several
[p.3] deceases and the decease of the survivor of them the said Matthew Morris and Elizabeth his wife then I do hereby give and devise the said last Mentioned Cottages or Tenements with the Garden and pightle of pasture Ground thereunto belonging unto and to the use of my Grandson John Morris (son of the said Matthew Morris and Elizabeth his wife) his Heirs and Assigns for ever and the said two last mentioned Closes of pasture Ground called the Cross Lane Closes with the Appurts thereunto belonging I do hereby give and bequeath unto and to the use of my two Grandsons Matthew Morris and William Morris two other of the sons of the said Matthew Morris and Elizabeth his wife their Heirs and Assigns for ever Also I give and devise unto my son in Law John Sayer and Mary his now wife all that my new inclosed Close piece or parcel of Arable Land and pasture Ground situate and being in the Parish of Winslow aforesaid called or known by the name of the Brickkiln Norden with \the/ Brickkiln standing therein and all other the appurtenances thereunto belonging containing by admeasurement six acres and nine perches to hold the same unto and to the use of the said John Sayer and Mary his wife their Heirs and assigns for ever and lastly as to for and concerning all the rest residue and remainder of my Real and personal Estates whatsoever and wheresoever and of what nature or kind soever whereof or wherein I shall be any ways possessed of interested in or intitled unto at the time of my decease and not otherwise by me in this my Will given or disposed of after payment of my Just Debts Legacies Funeral Expences Charges of proving this my Will and all other Charges and Expenses incident thereto I do hereby give Devise and Bequeath the same and every part and parcel thereof unto my s(ai)d three sons John Philip and Francis Budd to hold the same unto and to the use of my said sons John Philip and Francis Budd their Heirs Executors Administrators and Assigns for ever and I do hereby Nominate Constitute and Appoint my said three sons John Philip and Francis Budd Joint Executors of this my last Will and Testament hereby revoking and making void all former and other will and wills by me at any time heretofore made and do publish and declare this only to be my last Will and Testament In Witness whereof I the said John Budd the Testator have to this my last Will and Testament contained in five sheets of paper to the four first sheets thereof set my hand only and to the fifth and last sheet thereof my hand and seal this Sixteenth day of March in the year of our Lord one thousand seven hundred and
[p.4] seventy three
John Budd
signed sealed published and declared by the said John Budd the Testator as and for his last Will and Testament in the presence of us who have hereunto subscribed our names as Witnesses thereto at the request and in the presence of the said Testator and also in the presence of each other
Step(he)n Gibbs
Rich(ar)d Staniford
James Burnham
Whereas I John Budd of Winslow in the County of Bucks Butcher have in and by my last Will and Testament in writing bearing date the sixteenth day of March [deletion] one thousand seven hundred and seventy three (amongst other things therein mentioned) given and bequeathed unto my son Philip Budd the Legacy or sum of one hundred pounds of lawful Money of Great Britain to be paid to him out of my Personal Estate immediately after my decease Now therefore I do by this my Codicil annexed to my said Will revoke and make void the said Bequest of the said Legacy of one hundred pounds and Do declare that the same shall cease and be void and not be paid or Payable to my said son Philip Budd and I do hereby ratify and confirm all and every the Gifts Devises and Bequests in \and by/ my said will made or given not hereby altered or since determined by the death of any of the Legatees therein named or otherwise and I do hereby Declare this Writing to be a Codicil to my said Will and to be Accepted and taken as part thereof In Witness whereof I the said John Budd have hereunto set my hand and seal this thirtieth day of October one thousand seven hundred and seventy three
John Budd
This writing was signed and sealed by the above named John Budd and by him published and declared as and for a Codicil to his last Will and Testament in the presence of us who have hereunder subscribed our names as Witnesses thereto in his presence
Stephen Gibbs Sen(io)r
Stephen Gibbs Jun(io)r
James Burnham
This Will was proved at London with a Codicil the third day of July in the year of our Lord one thousand seven hundred and seventy eight before the Right Worshipful Sir George Hay Knight Doctor of Laws Master Keeper or Commisary of the Prerogative Court of Canterbury lawfully constituted by the Oaths of John Budd Philip Budd and Francis Budd the sons of the deceased and the Executors named in the said will to whom adm(inistra)c(i)on was granted of all and singular the Goods Chattels and Credits of the said deceased having been first sworn by Commission duly to Administer
---
Notes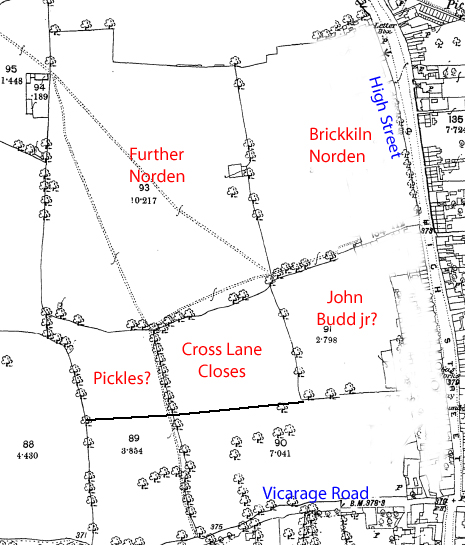 John Budd, bap. 9 Oct 1715, d.1778, was the elder son of John Budd, butcher (1687-1719). His wife's name was Elizabeth, and her death in 1772 probably led to him making this will. He was established as a butcher by 1742, when he started taking apprentices. His children were:
Elizabeth: bap. 21? June 1739, m. 25 May 1761 Matthew Morris
Mary: bap. 6 Nov 1741, d.1806, m. 13 Sep 1767 John Theodore Sayer of Buckingham, widower
John: butcher in 1798
William: there were 4 men of this name in Winslow in 1798
Francis: 1750-1823: see Avenue Road for more information
Messuage or Tenement ... in the tenure or Occupation of Richard Stanniford: probably part of what is now 36-40 High Street. John Budd inherited this from his mother Elizabeth Ray, formerly Budd, in 1771 (Centre for Bucks Studies D 82/1 p 107).
John Budd built up a substantial landholding during his lifetime, and at Enclosure in 1767 he held 37½ acres of copyhold land dispersed in the open fields. This was exchanged for a single holding of 24a 2r 6p in a block around where Avenue Road is now, which he proceeded to divide up among his children, against the whole purpose of enclosure (although most or all of it ended up in the hands of his son Francis). The probable layout of his land is shown on the right. Avenue Road was later built to the south of Brickkiln Norden, most of which became the Workhouse.