Winslow Hall Estate sale (1897)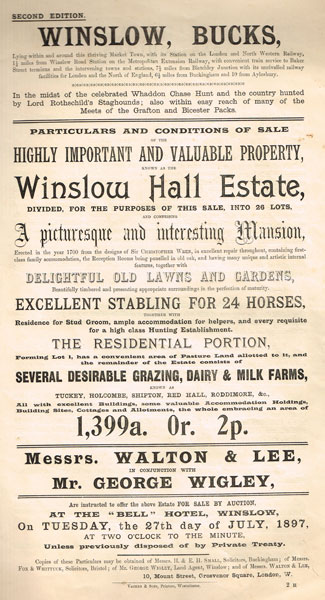 The Lowndes / Selby Lowndes family stopped using Winslow Hall as a residence in the 1840s. It was let as a school, an asylum and a private residence to several wealthy families. In 1897 they put it up for sale, along with all their land in Winslow. The whole estate was 1,399 acres, of which about 1,083 were in Winslow parish.
The sale catalogue was printed in London. It is a masterpiece of estate agent's language (everything is "excellent", "fertile", "admirably situated"), and also provides a detailed survey of Winslow, naming every field, its use and its tenant individually - it was intended to be read in conjunction with the 1880 1:2500 Ordnance Survey map. Winslow developed very differently to how the compilers envisaged: lot 6, "a very attractive small accommodation grass farm" is now the Magpie Farm estate, but lot 3, an "exceedingly valuable building plot" between Little Horwood Road and Shipton, and lot 7, "an eligible building estate" in Great Horwood Road, are still farmland, as is (largely) Dean [sic] Hill, Lot 10, "probably one of the finest building sites in the county". They were probably thinking of people building villas or hunting boxes rather than houses for the masses. Some of the land may have been bought by people who wanted to protect hunting interests, such as Mr Greaves of Western House.
Lot 4, Bell Closes, is now the Recreation Ground (there was a cricket pavilion in the Hall grounds "formerly" used by the Winslow Cricket Club). Lot 7 included the Brickyard (north of the station) which had "a Scotch kiln of 23,000 capacity"; the tenant was Mrs Rebecca Foxley and in 1901 it was occupied by William Foxley, brick manufacturer, having failed to sell (the only lot which did so either at the auction or later). There were many allotments let privately at commercial rents as gardens, in Little Horwood Road, Station Road, Shipton and Great Horwood Road.
Lowndes family holdings

In the 18th century after enclosure (shown on 1898 map)

In 1897

In 1897 the Lowndes family held nearly as much land as they had done in the 18th century after enclosure, as the maps above show. They had sold some land to the Lambtons for Redfield and some closes on the western edge of Winslow, and some had been used for the railway, but they had also acquired more land in Shipton.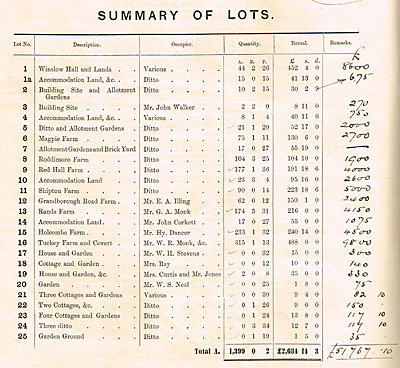 Winslow Hall itself was marketed as having "every requisite for a high class hunting establishment". Being at the heart of the Whaddon Chase Hunt was given more prominence in the catalogue than being designed by Christopher Wren. The sale included numerous coverts and spinneys which were important for hunting and shooting (these were 19th-century plantations rather than remains of ancient woodland). The Hall was offered as Lot 1 with 44 acres of grounds, wood and grassland let to various tenants (most of which is now the Elmfield estate). The land now known simply as Home Close is called Pliny's Home Close, and there was also a farmyard (now Claycutters). It did not sell at the auction in July, but was bought privately later in the year by Norman McCorquodale for £8,600.
The table below gives the summary of lots on p.34 of the catalogue, with details of purchasers and prices from newspaper reports and annotations to the catalogue. Some of the lots did not sell at the auction and were disposed of later, including 1, 8 and 16. There is a clickable map below which shows the locations of the lots.
Lot
Description
Occupier
Quantity
(acres-roods-perches)
Rental
(£.s.d)
Purchaser / price
1
Winslow Hall and lands
Various
44.2.26
452.4.0
N. McCorquodale, £8,600
1a
Dovehouse Furlong
Silvanus Jones
15.0.15
41.13.0
now Dovehouse Close and the north-east of Elmfield estate; land around hall occupied by Silvanus Jones, James Hawley, Charles Clare, W.S. Neal, George Wigley, Mr Lee, Mr Saunders
2
Building site & allotment gardens
John Walker
10.2.15
30.2.9
£675
Paul's Piece allotments and other land to the east of Little Horwood Road
3
Building site (Scotts Close)
John Walker
2.2.0
8.11.0
£270
4
Bell Closes
John Varney, F.R. Kitto
8.1.4
40.11.6
£750
now the Recreation Ground
5
Accommodation land and allotment gardens
F.R. Kitto
21.1.20
52.17.0
T.P. Willis, £2,000
now Lowndes Way estate and the south side of Station Road
6
Magpie Farm
E.A. Illing
75.1.11
130.6.0
£2,700
now most of Magpie Farm estate; included Lill Hill or Great Ground let to John and Edward Illing, The Spinney, and some land by the railway bridge let to John Varney
7
Allotment gardens and brickyard
Mrs Rebecca Foxley
17.0.27
55.19.0
not sold
now Old Brickyard Farm and adjacent land
8
Roddimore Farm
George George, 1 field by John Keys
104.3.25
104.10.0
£1,900
mainly in Great Horwood parish; includes Cowmead Close and Rushmead in Winslow
9
Red Hall Farm
Silvanus Jones; 3 fields in Lt Horwood by John Varney
177.1.36
191.18.6
G.R. Greaves of Western House, £4,000
includes Canada Spinney and Spring Corner
10
Accommodation land (Dene Hill)
W.S. Neal, E. Newman
23.3.4
95.16.0
G.R. Greaves, £2,600
11
Shipton Farm + allotments
G.A. Monk
90.0.4
223.18.6
Mr Archer of Chalfont, £5,000
12
Grandborough Road Farm
E.A. Illing; Hollow Furrow to G.A. Monk
62.0.12
150.1.0
£2,400
cowhouse but no residential buildings
13
Rands Farm
G.A. Monk
174.3.31
216.0.0
H. Brazier of Granborough, £4,150
14
Accommodation land
John Corkett
17.0.27
55.0.0
John Hedges of London, £1,075
described as abutting on Granborough Road in the catalogue, but actually on Aylesbury Road
15
Holcombe Farm
H. Dancer
233.1.32
240.14.0
Lord Cottesloe, £4,500
nearly all in Swanbourne parish, now Oakham Farm and Holcombe Cottages; included Christmas Gorse - not shown on map below
16
Tuckey Farm & covert
W.R. Monk &c
315.1.13
488.0.0
Brazier, £9,800
Tuckey Covert was let to Whaddon Chase Hunt
17
House and garden
W.H. Stevens
0.0.32
15.0.0
W.H. Stevens, £300
11 Sheep Street
18
Cottage and garden
Mrs Ray
0.0.12
10.0.0
W.S. Neal, £140
Ivy Cottage, next to The Bell
19
House and garden &c
Mrs Curtis & Mr Jones
2.0.8
35.0.0
Law, £330
47 Sheep Street, formerly Curtis Farm, let to Ann Curtis aged 86 for her life, rent-free; no longer a farmhouse but still had a dairy and pigsties; adjacent farmyard let to Silvanus Jones
20
Garden
W.S. Neal
0.0.25
1.8.0
Phipps, £75
now in or around the Public Hall car park
21
3 cottages and gardens
Various
0.0.30
9.4.0
£82 10s
half-timbered cottages in Hobhouchin Lane (now Tennis Lane) let to John Grace, Mary French, Horace Lee
22
2 cottages &c
ditto
0.1.26
9.0.0
£150
half-timbered cottages in Sheep Street (now 32-34) let to Richard French and Edward Abbott
23
4 cottages and gardens
ditto
0.1.24
13.8.0
Thomas Cripps, £115
Aylesbury Road, Shipton, let to Ephraim Walker, William Foskett, Thomas French, Elizabeth Smith; Rosemary Cottage and now demolished buildings between it and The Pyghtle
24
3 ditto
ditto
0.3.34
12.7.0
J. Ingram, £117.10
west side of Aylesbury Road, now demolished, let to Sarah Spooner, Thomas Foskett, William Keys
25
Garden ground
ditto
0.1.19
1.5.0
J. Ingram, £35
near 24, let to Messrs Spooner, French, Smith, Vicars, Keys
Total
1399.0.2
2684.14.3
£51,767 10s
Hover over the map for a description of each lot, and click to take you to the relevant place in the table.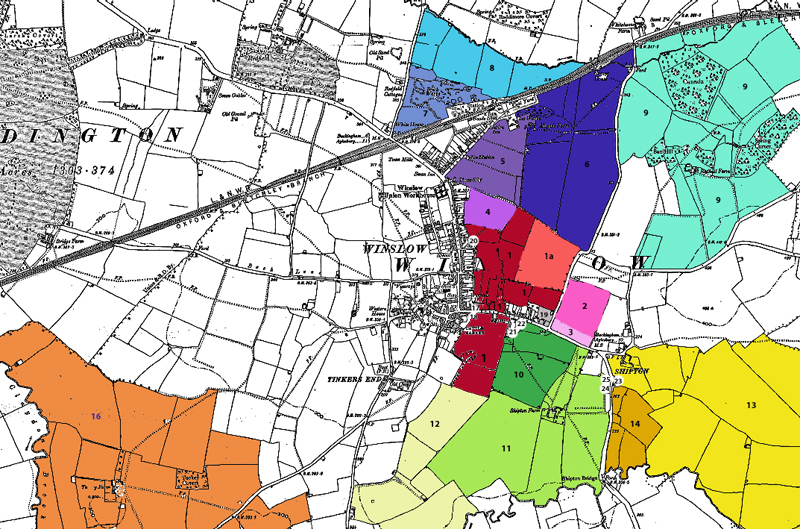 See also: