Will of Charles King, clock and watchmaker, 1809 (proved 1813)
Herts RO 14AR80
In the Name of God Amen, I Charles King of Winslow in the County of Bucks Clock and Watchmaker being in health of Body and of sound Mind Memory and Understanding (praised be God for the same Do make and publish this my last Will and Testament in manner and form following First I Give and Bequeath unto my Beloved Wife Sarah King All that my Messuage or Tenement wherein I now dwell with the Shop in the Yard and all and every the appurtenances thereunto belonging situate and being near the Market Square in Winslow aforesaid for and during the term of her natural life with all and singular my Household Goods (save and except such as hereinafter disposed of) Plate and Implements of Household Stuff with all my Clocks Watches Sacks Guns pistols and all and singular other my Goods and Chattels of what nature or kind soever the same may be at the time of my decease and I do hereby desire that my Executrix hereinafter named do as soon as conveniently may be sell and dispose of such things as may be most adviseable for the purposes of defraying my funeral expences (which my Will and desire is may be as plain as possible) Also I Give and Bequeath unto my Son Joseph King my large Glass and to my Daughter Elizabeth Wood I give and bequeath the Corner Cupboard one square Oak Table and best Tea Board in the Parlour To my Daughter Sarah King I give and bequeath the Feather[?] Bed which she sleeps upon with the Bedstead and Curtains thereunto belonging one Bolster two Pillows two Blankets one pair of Sheets and one Bed Quilt And I also give and bequeath unto my Son John King All the Work Tools in the Forge[?] Shop and all and every thing therein contained with all the Tools in the
[p.2] Watch Shop and likewise all the Watch Glasses Main Springs, Minute and other hands, Chains, Hooks, Buttons and Springs with the Regulator Vice Board and Drawers and all the old Keys in the said Shop And I also give and bequeath unto my Son William King the Sum of Ten pounds to be paid him in three months time next after my decease Also I give and bequeath my said Son William King the Bureau and best Tea Table And I do hereby \further/ desire that as soon as conveniently may be next after my said Wife's decease that the said Messuage or Tenement with the Shop and all and every the Rights Members and Appurtenances Thereunto belonging be sold either by public Auction or by private Contract and the money arising by such Sale to be equally divided amongst such of my Children as shall be then surviving at the time of her decease And I do hereby nominate constitute and appoint my said Son Joseph King of Winslow in the said County of Bucks and my Son in Law Richard Wood of Quainton in the same County to sell and dispose of the same Messuage or Tenement with all and every the Appurtenances thereunto belonging and to divide the Money arising from such Sale according as is herein before directed And lastly I do hereby nominate constitute and appoint my said Wife sole Executrix of this my last Will and Testament hereby revoking and making void all former and other Wills by me at anytime heretofore made and do publish and declare this only to be my last Will and Testament In witness whereof I the said Charles King have hereunto set my hand and Seal the Twentieth day of June One thousand eight hundred and nine
Charles King [seal]
Signed, Sealed, Published and Declared by the said Testator Charles King as and for his last Will and Testament in the presence of us who have hereunto subscribed our names as Witnesses thereto at the request and in the presence of the said Testator and also in the presence of each other
Benj Dudley Thomas Rawbone Junr Tho Rawbone Senr
This Will was proved on the thirtieth day of September One thousand eight hundred and thirteen Before the Reverend Jonathen Brigges Clerk Surrogate to the Reverend and Worshipful Joseph Holden Pott Clerk Archdeacon in and throughout the whole Archdeaconry of Saint Alban in the Diocese of London lawfully constituted by the Oath of Joseph King one of the natural and lawful Children of the said Testator Charles King (Sarah King sole Executrix named in the above Will having died intestate without having acted in or taken upon her the Administration of the Effects of the said Testator Charles King) to whom was granted Administration (with the said Will annexed).
[r. margin] Effects sworn under £100
---
Herts RO 249AW11
Allegation and warrant in administration being granted to Joseph King with the Will annexed of Charles King his late Father deceased / Sarah King the Widow and Executrix having died without Intermedling.
Registered
[copy of the will]
30 Sep 1813
Joseph King appeared and alleged that Charles King Clock and Watchmaker deceased departed this life 5 Jan 1813 having appointed his wife Sarah executrix. She is lately deceased intestate. Joseph King is one of the lawful children of Charles King and prayed Letters of Administration.
Goods Chattels and Credits do not amount in value to £100
Jonathan Brigges Surrogate
Administration Bond:
Joseph King Brazier of Winslow, Richard Wood Shoemaker of Quainton, Samuel Dudley of Winslow auctioner [sic] bound in £200. Joseph King to make an inventory by the last day of March next, accompt by the last day of Sep 1814.
Signed in the presence of
Jonathan Brigges
Sarah Keyes
---
Notes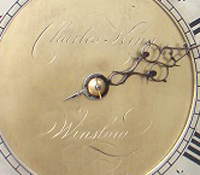 Charles King was baptised at Winslow on 7 Aug 1748, son of Charles and Hester King. He married Sarah Bull at Thornborough, 10 Oct 1767. He is generally described as a whitesmith, but in the Posse Comitatus of 1798 he is a clock and watchmaker along with Joseph King, presumably his son. He owned several messuages in Church Walk, one of which (later the Infants School, but the premises were rebuilt after a fire) he sold to Samuel Yeates in 1807. He was initially a tenant of the Deverells of 6 High Street, and may have been their clockmaker. The photo on the right shows the face of a clock he made in the 1770s. He is recorded as tenant of John Gibbs at the property on the west side of the High Street which later became Coxill's from from 1777 to 1798. His son Joseph (d.1840) was also in business as a brazier, whitesmith and clockmaker at 5 Market Square.
Northampton Mercury, 17 Aug 1813
Copyhold Estate, Winslow, Bucks.
To be S O L D by A U C T I O N,
By SAMUEL DUDLEY,
On Monday the 23d Day of August, 1813, at Six o'Clock in the Afternoon, at the Bull, in Winslow.
ALL that MESSUAGE or TENEMENT, situate in WINSLOW aforesaid; consisting of a Kitchen, Sitting Room, and Work Shop on the Ground Floor, three Bed Chambers, a Wash-House, and Cellar; Barn of two Bays, small Garden, and Yard; a Well of excellent Water, with a small Cottage adjoining thereto, the Whole of which will be sold in one Lot.
The Premises are in the Occupation of Mr. John King, (late Mr. Charles King, Whitesmith), Copyhold of Inheritance, held of the Manor of Winslow, subject to a small Quit Rent and a Heriot on Death. Fines on Alienation or Death are certain and very low.
Possession will be given at Michaelmas next. For further Particulars, apply to the AUCTIONEER, Winslow.
The property was transferred to Samuel Yeates at the 1813 manor court, described as "a messuage in Winslow ... together with a small cottage situate near thereto then in the occupation of John Evans, with a workshop adjoining the cottage".
Copyright 13 October, 2022