Inspector Bond (b.1849)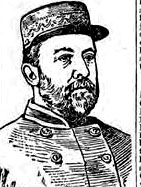 Sub-Divisonal Inspector William Bond retired from the Metropolitan Police in February 1895 after 25 years of service (reported in Lloyd's Weekly Newspaper, 24 Feb 1895). Mr Bond had been in charge of the Hackney district during his last nine years of service. He was a member of a well-known Bucks family. His uncle was Reverend William Henry Bond of Queens' College Cambridge who had been a schoolmaster in Winslow (Grace & Bond's boarding school was operating at Brook Hall in 1827) before becoming Rector of Stevington in Beds where he published a geography textbook in 1852. Archdeacon Tatton who became an explorer in Palestine was another relative.
William Bond was born at Whitchurch in 1849, where his father was a baker. By 1861 the family kept the King's Head at Winslow. He went to school in Winslow with the future playwright, Henry Arthur Jones. Bond left Winslow aged 19 and made his way to London where he joined the police force, obtaining a clerk's position at Scotland Yard. He became a good organiser rather than a leading sleuth, although he received commendations for solving crimes from each of the four commissioners under whom he served.
Back to Families / People