Obituary of Arthur Stead Midgley (d.1894)
This obituary was printed in the Bucks Herald on 28 April 1894.
We regret to announce the death, which took place on Friday, 20th April of Mr. A.S. Midgley of this town. Until visited by illness, Mr Midgley was one of the most busy and useful men in the district. For about twenty years he was managing clerk to the firm of Messrs. Willis and Willis, solicitors, his insight into magisterial and poor-law routine was thoroughly to be depended upon. He was secretary to the Floral Society from its commencement down to three or four years ago; secretary to the Oddfellows Lodge for its first few years, and secretary to the Gas Company in succession to the late Mr Grace; also for some years secretary and correspondent to the United Parochial School Committee. He was in his time one of the best cricket players in the town, and took a great interest in the game.
A longer obituary was printed elsewhere in the same issue:
The week's obituary will also contain the name of Mr. A.S. Midgley, who passed away at the comparatively early age of 54. Had we lost Mr. Midgley a year or two ago, his death would have caused quite a blank in the little town of Winslow, for but to few people is given the "all roundness," if I may venture to coin the word — enabling them to fill so many offices, and fill them well, as did Mr. Midgley. Secretary to the Floral and Horticultural Society, secretary to the Gas Company, secretary to the School Committee, secretary to the Oddfellows' Lodge, as well as the trusted and respected managing clerk to the firm of Willis and Willis — all those posts did Mr. Midgley worthily occupy until severe affliction laid him aside. [Buckingham Advertiser added:] In politics he was a thorough Radical, and once, if not more, acted as agent for the district.
His great characteristic was the earnestness which he threw into everything he undertook. Those who remember the time when a big poultry show was held in connection with the Flower Show at Winslow will call to mind how he threw himself heart and soul into the making of it a success. It was the same even with amusements — there was no surer bat for an average score of about 25 than he; and what he lacked in strength was made up in skill, earning for him the title of "the prettiest bat" in the club — and, by the way, the Winslow C.C. of that day was something like a club. It was at a cricket match that Mr. Midgley received the blow on the head that laid the foundation of the malady which ultimately brought his career of usefulness to a close.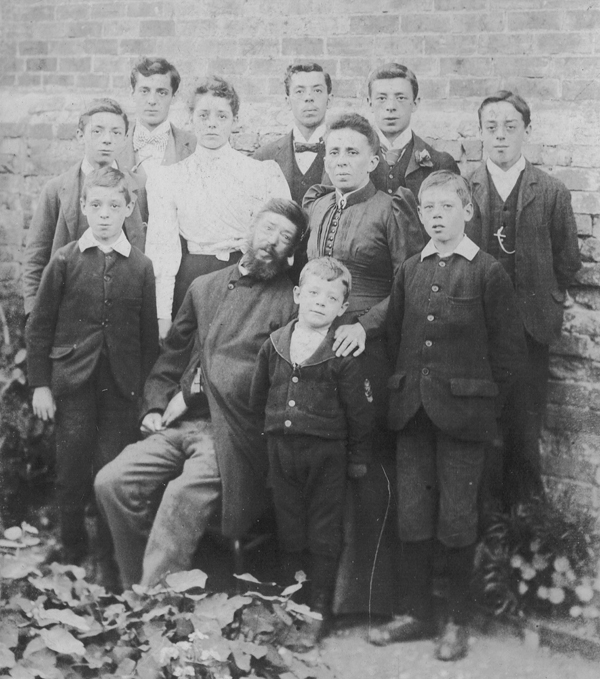 This photograph of the Midgley family must have been taken shortly before Arthur Stead Midgley died in 1894; it shows his wife and 8 children listed in the 1891 Census, + Edward Robert ("Bert"), who was a grocer's assistant in Henley in 1891 (he later moved to Thrapston, Northants).
1871: Census
Horn Street
| | | | | | | |
| --- | --- | --- | --- | --- | --- | --- |
| Arthur S. | Midgley | head | married | 31 | Solicitor's General Clerk | b. Sicklinghall, Yorks |
| Sophia B. | Midgley | wife | married | 22 | | b. Watlington, Oxon |
| William N. | Midgley | son | | 3 | | b. Watlington |
| George A. | Midgley | son | | 1 | | b. Winslow |
| Edward R. | Midgley | son | | 9m | | b. Winslow |
| Frances E. | Yeulet | servant | unm | 17 | General Servant (domestic) | b. Dimbery Hill, Beds |
1881: Census
Buckingham Road [now no.32]
Arthur Stead
Midgley
head
married
41
Solicitor's Clerk
b. Sicklinghall, Yorks
Sophia Burrows
Midgley
wife
married
32
b. Watlington, Oxon
William Norris
Midgley
son
13
Solicitor's clerk
b. Watlington
George Arthur
Midgley
son
11
Scholar
b. Winslow
Edward Robert
Midgley
son
10
Scholar
b. Winslow
Sarah Jesse
Midgley
daughter
8
Scholar
b. Winslow
Kathleen Sophia
Midgley
daughter
6
Scholar
b. Winslow
Stanley Walter
Midgley
son
4
Scholar
b. Winslow
Sidney Richard
Midgley
son
2
b. Winslow
Charles Henry
Midgley
son
6m
b. Winslow
Sarah
Norris
mother-in-law
widow
71
Baker's widow
Blind
b. Watlington
Anne
Faulkner
servant
unm
17
General Servant
b. Great Horwood
1887: Buckingham Advertiser, 18 Sep
[An] accident happened to a little boy about 4 years, son of Mr. A. S. Midgley, who was run over by a light cart in the High Street. The cart was driven by a man named Turvey, in the employ of Mr. Ingram, butcher, to whom it belonged. The wheel passed right over the boy's stomach, but fortunately he does not appear to have been severely injured
1891: Census
High Street [now no.79]
| | | | | | | |
| --- | --- | --- | --- | --- | --- | --- |
| Arthur Stead | Midgley | head | married | 51 | Secretary to Gas Company | b. Sicklinghall, Yorks |
| Sophia Burrows | Midgley | wife | married | 42 | | b. Watlington, Oxon |
| William Norris | Midgley | son | single | 23 | Solicitor's clerk | b. Watlington |
| George Arthur | Midgley | son | single | 21 | Ironmonger's assistant | b. Winslow |
| Sarah Jesse | Midgley | daughter | single | 18 | | b. Winslow |
| Stanley Walter | Midgley | son | | 14 | Solicitor's clerk | b. Winslow |
| Sidney Richard | Midgley | son | | 12 | Scholar | b. Winslow |
| Charles Henry | Midgley | son | | 10 | Scholar | b. Winslow |
| Donald Frank | Midgley | son | | 8 | Scholar | b. Winslow |
| Harold Morley | Midgley | son | | 3 | | b . Winslow |
---
Additional notes by David Noy, Arthur Stead Midgley's great-grandson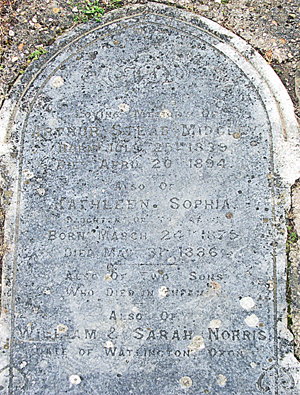 Arthur Stead Midgley was born on 25 July 1839 at Sicklinghall, Kirkby Overblow (near Wetherby), West Yorkshire, where his father Robert was a grocer (previously a husbandman). The name Stead came from his maternal grandmother Esther. He was still living with his parents Robert and Elizabeth (who was also née Midgley) in 1861, when he was recorded as a brewer's clerk. His older brother Edwin was a teacher at Wisbech then, and got a teaching job at Watlington, Oxon., c.1862. Arthur followed him there to work as a solicitor's clerk. He married Sophia Burrows Norris (b. 26 Sep 1848), whose father was a baker at Watlington, and moved to Winslow as clerk to the solicitors Willis & Willis in 1867.
He evidently kept in touch with his Yorkshire roots:
1876: Buckingham Advertiser, 20 May
PRIZE POULTRY.- Mr. A. S. Midgley, of Winslow, was awarded the third prize for brown Leghorns, at the Wharfedale Poultry Show, at Ottley [sic] on Saturday, May 6.
Apart from the activities listed in the obituary, Arthur Midgley was also involved with the Congregational Church (of which his granddaughter Jean Midgley was the last deacon when it closed in 1989). He was presumably a strong Liberal as a son who died as a baby in 1886 was called Ewart Gladstone Midgley. Kelly's Directory of 1891 lists him as Deputy Superintendent Registrar for Winslow.
According to the probate record, Arthur Midgley's effects were valued at £180 1s 6d. His executors were his sons George and William. The latter, known as Will or Willie, followed his father in working for Willis & Willis and in many local government and community activities. He was the secretary of Winslow United Football Club when it was founded in 1891, and a well-known local poet. He is the central figure in the back row of the photo above.
Anyone interested in the Midgley family is welcome to contact d.noy at btinternet.com.
---
Will of Arthur Stead Midgley, solicitor's clerk, 1892 (proved 1894)
Oxford Probate Registry
BE IT KNOWN that at the date hereunder written the last Will and Testament of Arthur Stead Midgley of Winslow in the County of Buckingham, Solicitors Clerk, deceased, who died on the 20th day of April 1894 at Winslow aforesaid and who at the time of his death had a fixed place of abode at Winslow aforesaid, within the District of the Counties of Oxford, Berks and Buckingham, was proved and registered in the District Probate Registry of Her Majesty's High Court of Justice at Oxford and that Administration of the personal estate of the said deceased was granted by the aforesaid Court to William Norris Midgley, Solicitors Clerk, and George Arthur Midgley, Ironmongers Assistant, both of Winslow aforesaid, teh Sons of the Deceased, the Executors named in the said Will, they having been first sworn well and faithfully to administer the same.
Dated the 28th day of April 1894
Gross value of Personal Estate £180.1.6
Extracted by Willis and Willis, Solicitors, Winslow, Under 33rd Section
This is the last Will and Testament of me Arthur Stead Midgley of Winslow in the County of Bucks Solicitors Clerk I appoint my Sons William Norris Midgley and George Arthur Midgley (hereinafter referred to as "my said Trustees") to be the Executors and Trustees of this my Will I give all my household goods and furniture plate linen china and other articles of household effect unto my wife Sophia Burrows Midgley absolutely I devise all the real estate and bequeath the residue of the personal estate to which I shall be beneficially entitled at the time of my decease unto my said Trustees Upon trust to call in and convert the same into money and after payment thereout of my just debts my funeral and testamentary expenses to pay the balance then remaining unto my said Wife Sophia Burrows Midgley absolutely Lastly I revoke all other Wills In witness whereof I the said Arthur Stead Midgley the Testator have hereunto set my hand this second day of December One thousand eight hundred and ninety two.
Signed and acknowledged by the above named Arthur Stead Midgley the Testator as his Will in the presence of us present at the same time who at his request in his presence and in the presence of each other have hereunto subscribed our names as witnesses
A.S. Midgley
Esther Colgrove, Winslow
S.W. Midgley, Winslow
(3 folios)
On the Twenty eighth day of April 1894, Probate of this Will was granted at Oxford to William Norris Midgley and George Arthur Midgley, the Sons, the Executors.
It is hereby certified that the above is a correct copy. Dated this Third day of May 1894.
---
Marriage of George A. Midgley, 1896
1896: Bicester Herald, 20 March
MARRIAGE.- On Tuesday, the 10th March, Mr. Geo. Midgley, of Winslow, was married to Lucy, the second daughter of Mr. Edward Davies, F.C.S., F.I.C., of 93, Park-road East, Birkenhead, at St. Mark's Church, Croughton, Birkenhead, in the presence of a large number of relatives and friends. The ceremony was performed by the Rev. J. L. Dicker. The bride was attired in a French blue costume with white silk and hat to match, and was accompanied by four bridesmaids, viz., the Misses Ethel, Dolly, and Trixie Davies and Miss Jessie Midgley, the sister of the bridegroom. They wore fawn crepon dresses, trimmed with white silk and hats to match, and carried bouquets of pink and white flowers. Mr. W. N. Midgley, the brother of the bridegroom, acted as best man. Mr. and Mrs. Davies held a reception at 93, Park-road, East, during the afternoon, when a good number of guests were present. The bride and bridegroom left at about 4.15 for London, where the honeymoon was spent. The presents number 100, and are of a costly and useful description.
---
Marriage of E.R. (Bert) Midgley, 1906
1906: Buckingham Advertiser, 28 April
WEDDING.- A quiet but exceedingly pretty marriage ceremony took place at the Congregational Church on Monday morning, when the Rev. J. Riordan united together Mr. E. R. Midgley and Mrs. Emily Bonham. So well known are the parties in the town that, although the time of the ceremony was kept almost secret, yet the chapel was nearly filled with friends and spectators. Mr. T. Bonham, of Leicester, brother of the bride, gave her away, and Mr. Stanley Midgley was best-man. As soon as the ceremony was over the bride and bridegroom drove away, amid showers of confetti, to Winslow Road station en route for Bournemouth.
---
Back to Families / People
See also: Chapels