The Lock-up
Most of the information on this page was provided by Ed Grimsdale
Before the establishment of a county-wide police force, manors or parishes appointed their own constables to keep the peace. Individual parishes had to make arrangements for overnight detention of alleged felons who were to be seen by the magistrates, usually the next day, and remanded in custody (in which case they would be taken to Aylesbury or Buckingham). Winslow may originally have had a lock-up as part of the Market House which became derelict and was demolished in 1840. According to Arthur Clear, there was a lock-up on the land behind The Bell, where the Workhouse was situated at the old George from 1824 to 1837, or, according to his lecture summarised in the Buckingham Advertiser (17 Nov 1888), it was "in the open space at the top of Horn Street, immediately in the front of the grocer's shop then kept by Robert Ivatts" (1 Horn Street). A.J. Clear (his son) said it was on the site of the later Fire Engine House. It may have had the same form as the surviving one at Wheatley (photo on right) or a more cylindrical style used at Olney and still surviving at Harrold, Beds (Arthur Clear calls it the "Round House"). Escaping prisoners were something of a problem:
Bucks Herald, 24 June 1848
ESCAPE FROM CUSTODY – Last week Philip Budd, who has been by the magistrates assembled at Winslow, committed to prison for six months, and who was in the custody of police-officer Ossitt of that place, was by the officer placed, the while he procured a horse and chaise to convey him to prison, in the lock-up house. On his return, he found that Budd had escaped, and that he was gone. Although it was day-time, no trace could be found.
This is Philip Budd who is recorded in the 1841 Census as an agricultural labourer, living in the centre of Winslow with his wife, Martha, and two daughters.
Bucks Herald, 1 July 1848
WINSLOW
The statement last week regarding Phillip [sic] Budd, labourer of Winslow, getting out of the lock-up house there, and not being heard of since is quite wrong. He certainly got out of his place of confinement, but was in a few hours apprehended again by J. Cawte, a keeper to W.S.Lowndes, Esq., and by the assistance of police-officer Ossitt. And was taken and conveyed to Aylesbury prison immediately, where he had been committed by E.W.S. Lowndes, Esq., for cruelly and unlawfully beating his wife Martha Budd, and not being able to procure bail he was accordingly committed for that period.
John Cawte, born to a Hampshire family, became gamekeeper to the Lowndes family by 1843. In the 1851 Census he was living in a house next to Winslow Hall. Newspaper references confirm that he retained his post into the 1860s. Later, there are two references to a Charles Cawte being gamekeeper to Mr Lowndes in 1889.
In the 1851 Census, Robert Ossitt was aged 45, living in the High Street with his wife, father and niece, and gave his occupation rather unusually for Winslow as "Shipwright and Police Constable". He was born at Hull. He apparently did not live near the lock-up. He served for part of 1850 as "high constable for the second division of Cotteslowe hundreds" (Bucks Herald, 3 Aug 1850). He was later described as "chief constable, Winslow" (Oxford Chronicle, 3 Jan 1852), which probably refers to the same office. The Bucks Herald reported that on 1 Dec 1854 he was replaced as "watchman for Winslow" by Joseph Turner Rawlins, "a police-officer in the employ of the London and North Western Railway, at the Winslow Station".
Oxford Chronicle, 8 April 1854
A man who was in custody for burglary escaped from Winslow lock-up a few nights since.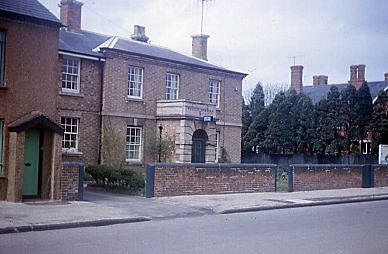 Winslow Police Station, Station Road, which began life as the district lock-up in 1854 (demolished 1984)
In April 1854 the Clerk of the Peace for Bucks, on behalf of various magistrates' benches and a new county-wide committee, asked for tenders to build new lock-ups at Winslow, Linslade, Fenny Stratford, Quainton, Brill and Marlow (Bucks Herald, 22 April 1854). These were intended as facilities for a district, not just an individual parish, and were to provide more humane accommodation (and a live-in constable on the premises). Winslow's was situated in Station Road. Building work began quickly, and it was even equipped with an "exercising yard", but the problems about security do not seem to have been solved at first:
Northampton Mercury, 19 Aug 1854
THE LOCK-UP - The district lock-up, now in the course of erection by the side of Station road, by Mr Quarterman, the contractor, is in a forward state. Portions of it are ready for slating.
Bucks Herald, 5 July 1856
COUNTY CONSTABULARY LOCK-UP COMMITTEE
The committee reported that a prisoner had escaped from Winslow lock-up and the committee, considering it resulted from gross negligence on the part of the lock-up keeper, Harding, had dismissed him, and recommended the appointment of Wm. Homan to the same situation, which was sanctioned by the court.
Bucks Herald, 2 Aug 1856
Thomas Homan, of Westcott, the recently-appointed keeper of the Winslow Lock-up, was sworn in constable.
Oxford Chronicle, 13 Sep 1856
WINSLOW. THE LOCK-UP KEEPER IN TROUBLE – On Wednesday the 3rd of September, Thomas Homan, the lock-up keeper of the Winslow police station, in consequence of certain misconduct, which has been reported by the superintendent constable to the magistrates acting for the Winslow division, who further reported the same to the chairman of the Constabulary Committee, was thereupon ordered to be suspended from office until the next meeting of the committee.
The lock-up was already being referred to as the police station, and that is what it became officially in 1857, when the Buckinghamshire Constabulary was formed. Winslow became part of the Northern Division (whose superintendent was based at Fenny Stratford), with 1 inspector and 1 constable (Bucks Herald, 14 July 1857). The police station seems to have retained its previous name too, however:
Bucks Herald, 23 Oct 1858
Two men were charged with stealing a case of rings from F.J. Munt, jeweller
T.B. Saving, a railway policeman, deposed to seeing the two prisoners running up a lane leading from Mr. Munt's shop ... Witness took the prisoners to the lockup and handed them over to Inspector Carruthers.

Buckingham Advertiser, 23 April 1859
BIRTHS. On the 14th instant, at Winslow lock-up, the wife of Inspector James Carruthers, of a daughter.
Bucks Herald, 11 Oct 1890
Letter to the Editor
Surely the miserable farce which has been enacted during the past two years of prisoners arrested in Buckingham being taken to the Winslow lock-up, a distance of six miles, when the Buckingham jail, which only requires a few alterations to make it answer every purpose, is available, ought now to be put a stop to. ...
A man being transported from Buckingham was nearly killed when the horse pulling the cart bolted. The problem was solved in 1892 when Buckingham acquired its own lock-up / police station.