The Lock-up
Most of the information on this page was provided by Ed Grimsdale. See Thomas Lomath for more about Winslow's first professional policeman, appointed c.1823. The 1838 Vestry decided to appoint a paid watchman under the Lighting & Watching Act.
Before the establishment of a county-wide police force, manors or parishes appointed their own constables to keep the peace. Individual parishes had to make arrangements for overnight detention of alleged felons who were to be seen by the magistrates, usually the next day, and remanded in custody (in which case they would be taken to Aylesbury or Buckingham). Winslow may originally have had a lock-up as part of the Market House which became derelict and was demolished in 1840. According to Arthur Clear, there was a lock-up on the land behind The Bell, where the Workhouse was situated at the old George from 1824 to 1837 (this is confirmed by correspondence with the Poor Law Commission), or, according to his lecture (presumably referring to before 1824) summarised in the Buckingham Advertiser (17 Nov 1888), it was "in the open space at the top of Horn Street, immediately in the front of the grocer's shop then kept by Robert Ivatts" (2 Horn Street). A.J. Clear (his son) said it was on the site of the Fire Engine House. The decision to build an engine-house and "cage" was made in 1838, and there was a "prison or cage" on the land which was granted for the engine-house in 1840. The cage / lock-up may have had the same form as the surviving one at Wheatley (photo on right) or a more cylindrical style used at Olney and still surviving at Harrold, Beds (Arthur Clear calls it the "Round House"). Alternatively it might have been the very small building to the right of the engine-house, later converted into an entrance lobby and toilet. Escaping prisoners were something of a problem:
Bucks Herald, 24 June 1848
ESCAPE FROM CUSTODY – Last week Philip Budd, who has been by the magistrates assembled at Winslow, committed to prison for six months, and who was in the custody of police-officer Ossitt of that place, was by the officer placed, the while he procured a horse and chaise to convey him to prison, in the lock-up house. On his return, he found that Budd had escaped, and that he was gone. Although it was day-time, no trace could be found.
This is Philip Budd who is recorded in the 1841 Census as an agricultural labourer, living in the centre of Winslow with his wife, Martha, and two daughters.
Bucks Herald, 1 July 1848
WINSLOW
The statement last week regarding Phillip [sic] Budd, labourer of Winslow, getting out of the lock-up house there, and not being heard of since is quite wrong. He certainly got out of his place of confinement, but was in a few hours apprehended again by J. Cawte, a keeper to W.S. Lowndes, Esq., and by the assistance of police-officer Ossitt. And was taken and conveyed to Aylesbury prison immediately, where he had been committed by E.W.S. Lowndes, Esq., for cruelly and unlawfully beating his wife Martha Budd, and not being able to procure bail he was accordingly committed for that period.
John Cawte, born to a Hampshire family, became gamekeeper to the Lowndes family by 1843. In the 1851 Census he was living in a house next to Winslow Hall. Newspaper references confirm that he retained his post into the 1860s. Later, there are two references to a Charles Cawte being gamekeeper to Mr Lowndes in 1889.
This case from 1845 shows that Winslow already had someone described as a policeman then, but his authority doesn't seem to have been very strong. The property in question was 4 High Street.
Bucks Herald, 4 June 1845
George Mayne was summoned by G. Walker, a policemen, for having on the night of the 27th of May obstructed him in the execution of his duty. Walker deposed that on the night in question there was a very great noise and disturbance in the street, and likewise in a house which is newly erecting near the Market Place, belonging to Mr. G. Mayne, sen., and on his (Walker) attempting to enter the house he was refused admittance by the defendant, and was otherwise roughly used. Several witnesses were called, but little was elicited in favour of Walker, when Mr. Dudley, sen., was sent for, who stated to the Bench that the noise and disturbance on the night in question lasted upwards of two hours, and awoke him. Mayne spoke at great length in his defence, and called a witness who stated that Walker first created the disturbance. The Bench having heard all on both sides, cleared the Court, which on being re-opened Mayne was informed he had broken the law by obstructing the police in the execution of his duty. He was fined £2, with £1 1s. 6d. costs, or two months imprisonment.
In the 1851 Census, Robert Ossitt was aged 45, living in the High Street with his wife, father and niece, and gave his occupation rather unusually for Winslow as "Shipwright and Police Constable". He was born at Hull. He apparently did not live near the lock-up. He served for part of 1850 as "high constable for the second division of Cotteslowe hundreds" (Bucks Herald, 3 Aug 1850). He was later described as "chief constable, Winslow" (Oxford Chronicle, 3 Jan 1852), which probably refers to the same office. He was already under notice when the 1853 Vestry decided to replace him with a watchman at a lower salary. The Bucks Herald reported that on 1 Dec 1854 he was replaced as "watchman for Winslow" by Joseph Turner Rawlins, "a police-officer in the employ of the London and North Western Railway, at the Winslow Station".
Oxford Chronicle, 8 April 1854
A man who was in custody for burglary escaped from Winslow lock-up a few nights since.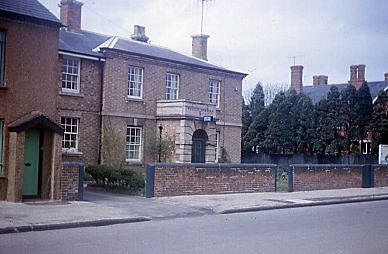 Winslow Police Station, Station Road, which began life as the district lock-up in 1854 (demolished 1984)
In April 1854 the Clerk of the Peace for Bucks, on behalf of various magistrates' benches and a new county-wide committee, asked for tenders to build new lock-ups at Winslow, Linslade, Fenny Stratford, Quainton, Brill and Marlow (Bucks Herald, 22 April 1854). These were intended as facilities for a district, not just an individual parish, and were to provide more humane accommodation (and a live-in constable on the premises). Winslow's was situated in Station Road. Building work began quickly, and it was even equipped with an "exercising yard", but the problems about security do not seem to have been solved at first:
Northampton Mercury, 19 Aug 1854
THE LOCK-UP - The district lock-up, now in the course of erection by the side of Station road, by Mr Quarterman, the contractor, is in a forward state. Portions of it are ready for slating.
Bucks Herald, 5 July 1856
COUNTY CONSTABULARY LOCK-UP COMMITTEE
The committee reported that a prisoner had escaped from Winslow lock-up and the committee, considering it resulted from gross negligence on the part of the lock-up keeper, Harding, had dismissed him, and recommended the appointment of Wm. Homan to the same situation, which was sanctioned by the court.
Bucks Herald, 2 Aug 1856
Thomas Homan, of Westcott, the recently-appointed keeper of the Winslow Lock-up, was sworn in constable.
Oxford Chronicle, 13 Sep 1856
WINSLOW. THE LOCK-UP KEEPER IN TROUBLE – On Wednesday the 3rd of September, Thomas Homan, the lock-up keeper of the Winslow police station, in consequence of certain misconduct, which has been reported by the superintendent constable to the magistrates acting for the Winslow division, who further reported the same to the chairman of the Constabulary Committee, was thereupon ordered to be suspended from office until the next meeting of the committee.
The lock-up was already being referred to as the police station, and that is what it became officially in 1857, when the Buckinghamshire Constabulary was formed. Winslow became part of the Northern Division (whose superintendent was based at Fenny Stratford), with one inspector and one constable (Bucks Herald, 14 July 1857). The police station seems to have retained its previous name too, however:
Bucks Herald, 23 Oct 1858: HOUSEBREAKING AT WINSLOW [either 4 The Walk or in the High Street; Mr Munt was a jeweller]



William Brown, 26, carpenter, and James Forster, 29, tailor, were charged with having, on the 30th of August, at Winslow, broken into the dwelling-house of Frederic Joseph Munt, and stolen two gold rings.
Mr. Payne, for the prosecution, called Miss Mary Amelia Timms, housekeeper to Mr. F. J. Munt, the prosecutor, who stated – On the 30th of August Mr. Munt went out about three o'clock, leaving me in the house with a very young child. About eight o'clock, the house being closed, I was going to light the gas, when I heard a smash, and running to the shop saw the window broken, and a man was just turning the corner; he was running very fast. I was running after him, and saw a railway policeman, named Saving, who pursued him. On returning I missed a case of rings. I had noticed both prisoners before during the evening; they looked into the shop several times. The case produced is the one lost.
T.B. Saving, a railway policeman, deposed to seeing the two prisoners running up a lane leading from Mr. Munt's shop, and that the last witness drew his attention to them. He pursued, but they were stopped before he came up to them by a workman. Heard Brown say, "It's a bad job, Jim, but I suppose it was to be." The prisoner Brown gave witness a case of rings which he had in his hand. Witness took the prisoners to the lockup and handed them over to Inspector Carruthers. There were fifteen rings. Heard one of the prisoners say he had dropped the ring.
James Carruthers, inspector of police stationed at Winslow, deposed – I received the two prisoners from the last witness, and also a case of fifteen rings (produced). I told Brown what he was charged with, and he said, "I did not look whose they were; it's right; they took them from me." He afterwards said, "We had looked the place out before, and thought the rings would be worth about £8." I then charged Forster with assisting Brown, and he only said, "Very well." Between the spot where Saving apprehended the prisoners and Mr. Munt's shop I found five more rings.
Mr. F. J. Munt, prosecutor, identified the rings as his property; some of them had his own mark upon them. All that were lost have been recovered.
The jury found both prisoners "Guilty," and a previous conviction was proved against Brown at Northampton, in 1854. It appears Forster had been the holder of a ticket-of-leave, having been convicted at Coventry, and sentenced to transportation in 1851.
His Lordship sentenced both prisoners to eight years' penal servitude.

Buckingham Advertiser, 26 March 1859: Letter to the Editor
SIR,- Are there any Police Officers at Winslow? If not, (and I did not see any yesterday,) it is time there should be. The respectable Chief Officer at Buckingham could not rest in his bed if he had witnessed in his town what I saw and heard at Winslow on the occasion of the confirmation, which took place there yesterday. Inside the church, everything was much as you would desire and expect, but outside were some 150 or 200 vagabonds of all ages - mostly young, making indecent looks, and using offensive and insulting remarks. Near the National School, were urchins in great number, making use of the most filthy observations, yelling, and throwing stones: near the Bell, again, were hootings and yellings when strangers were quietly going home.
If the Police (assuming there are Police there) wish to know some of the disgusting words used, and rude behaviour complained of, let them apply privately to me. You may give my name (in confidence) to anyone whose business it is to put down such nuisance.
Your obedient servant, REFORMER

Buckingham Advertiser, 23 April 1859
BIRTHS. On the 14th instant, at Winslow lock-up, the wife of Inspector James Carruthers, of a daughter.

Bucks Herald, 11 Oct 1890: Letter to the Editor
Surely the miserable farce which has been enacted during the past two years of prisoners arrested in Buckingham being taken to the Winslow lock-up, a distance of six miles, when the Buckingham jail, which only requires a few alterations to make it answer every purpose, is available, ought now to be put a stop to. ...
A man being transported from Buckingham was nearly killed when the horse pulling the cart bolted. The problem was solved in 1892 when Buckingham acquired its own lock-up / police station.
Copyright 21 February, 2021