Thomas Palmer, c.1475-1518
Thomas Palmer first appears in Winslow records as a child in 1483, when he and his younger brother John received bequests from William Balky, who made their father Walter his executor. Walter was the bailiff of the manor and acquired a large property holding in Winslow which was eventually divided between his two sons.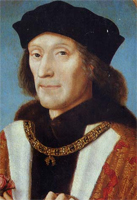 Thomas Palmer became
rich working in the law
courts under Henry VII
Thomas was sent to London for a legal education under his 'master' Thomas Pigott (c.1460–1520), originally of Little Horwood and later of Whaddon and Doddershall. Pigott was treasurer of the Inner Temple, counsel to the Duchy of Lancaster, serjeant-at-law and justice of assize.
Thomas Palmer is the first native of Winslow whose career as a lawyer can be traced. He acted as deputy for the Sheriff of Beds and Bucks in the Court of Common Pleas in 1495, and was an attorney in the Court of Common Pleas from 1500 and the King's Bench from 1510. He was a member of Lyon's Inn by 1500 and the Inner Temple by 1507. From 1508 he was a filazer (officer) of Common Pleas. He had a chamber in the Inner Temple at the time of his death, and there was a lawsuit about the books and writings in his chest there.
Thomas Palmer first appears in the Winslow court rolls in 1506 when he took over more than 80 acres of land and meadow, three messuages, a cottage and a toft, presumably purchased with the substantial money he earned as a lawyer. This may have been at the time of his marriage. In 1511 he was given more property by his father.
Thomas died in 1518, and his will shows that he was mainly interested in London, where he left bequests to the prisoners in all the gaols. He also owned property in Berkhamsted. However, his wife must have lived in Winslow as she remarried there.
After Thomas' death, there was litigation over his property in Winslow between his brother John and his son, also Thomas, later described as "gentleman" of Tring although he was brought up at Winslow. This went on to the next generation and was not settled until at least 1566. Thomas Palmer's grandson, a third Thomas, was the first lecturer in rhetoric at St John's College, Oxford, and the principal of Gloucester Hall there 1563-4.
Back to Families / People