Early days of Winslow Fire Brigade (from 1869)
by Ed Grimsdale
1838
Decision to build an "engine house"
1869
Inception of Fire Brigade
1870
Arrival of Fire Engine in April
First attendance at a fire on 16 Sep in a thatched cottage adjacent to Mr Matthews' timber yard
Bucks Herald, 30 April 1870
The Committee formed during the early part of the past winter for the worthy object of providing a new Fire Engine for the town of Winslow by voluntary contributions, may now congratulate themselves upon the success which has attended their efforts. Many were the prognostications as to the possibility of raising sufficient funds by the voluntary system for the purchase, but the committee, perseveringly surmounting every obstacle, can boast of a New Engine with a well equipped Volunteer Fire Brigade as the result of united energy. The engine is from the well-known firm of Merryweather and Sons, Long Acre, London, and arrived here on Friday morning last; the members of the brigade, in uniform, mustering in the market square marched to the railway station, and met the 11.0 a.m. train from London. The horses were put to, and the members of the brigade having taken their places, were driven at a good pace to Grandborough brook, where the first trial was appointed to take place. They were accompanied by Messrs. Merryweather, the makers, who, previous to commencing, gave instructions as to the working of the engine. At two o'clock a dinner was provided at the Bell Hotel, the chair being taken by Mr. W.H. French, the Superintendent of the brigade, supported by T.P. Willis, Esq., Treasurer, and Mr. John Grace, Secretary. After dinner the engine was drawn to several of the wells in the town, where practice took place enabling the subscribers to witness its capabilities; altogether the engine gave satisfaction. It throws a large volume of water at the rate of about 80 gallons per minute, carrying the same to the height of any house in the town. We feel we cannot accord too much praise to the committee, also to the treasurer and secretary, for the pains and time they have bestowed to accomplish the purpose for which they were united, and who, by untiring energy collected upwards of £200, to be prepared against the ravages of fire. Hitherto the town has been wholly unprovided in such an event, and the new engine has therefore supplied a want long felt in the neighbourhood.
1871
2nd fire, 25 Oct, in Mr Neal's hay-rick
3rd fire, 29 Oct, in Mr Lowndes' cottages, Sheep Street
4th fire, 28 Nov, cornstacks at Mr Clarke's farm at Hogshaw (it took over a day to dampen down)
1872
Newport Pagnell competition, placed 5th but a mistake robbed the team of a prize
5th fire, August, rick-fire at Mr Bliss', Salden (Sunday to Monday)
1873
6th fire, January, Mr East's shop
26 Aug: competition at High Wycombe. Winslow 1st out of 14 brigades.
7th fire, September, Mr Curtis', Denham: Winslow attended as a back-up
1874
8th fire, 8 Jan, fire in roof of Winslow's Workhouse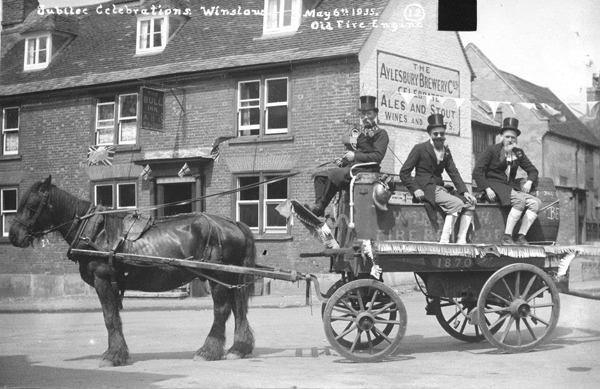 The 1870 fire engine was brought out for the Jubilee celebrations in 1935, when the current fire crew dressed up in appropriate costume
The above information is from a report of the Annual Brigade Dinner in the Bucks Herald of 25 April 1874. The dinner was provided free by Mr Neal of the Bell Hotel. The members of the Fire Brigade who attended were:
Captain W.H. French
Lieutenant J. King
Engineer Henry Sellar
Firemen: Elley, J. Grace, G. Hawley, G. Jennings, J. Jennings, Keys, Turnham, H. Ingram, Bond, Odell

At the annual dinner in 1880, Mr Neal, recalled the earlier pre-1869 town appliance. The engine had solid, wooden wheels and when required to travel some distance it had to be hoisted into a wagon that wended its weary way slowly to the seat of a fire aided by one man who cut back bushes and another who mended the deep ruts in the country lanes.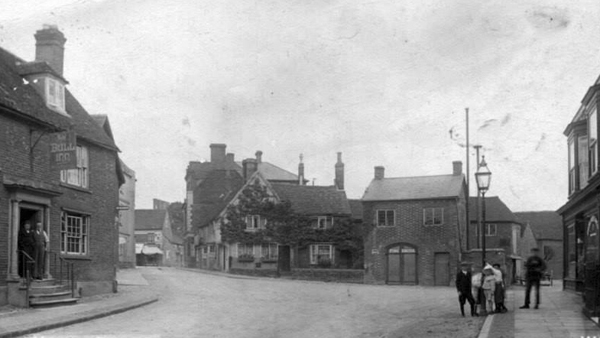 The fire station (right of centre in the photo) was in Pillory Ditch at the eastern end of Horn Street; it became the library when the present fire station was built, and is now an office
See also
Copyright 6 November, 2017