Eliza Kirk - from Winslow Workhouse to Hope Island Lighthouse
Written by Geoff Kirk

Eliza Kirk, was born in Drayton Parslow in 1828, the daughter of James and Elizabeth (nee King) Kirk. This James Kirk was transported to Australia in a well documented case (along with his uncle Benjamin Kirk) in Sep 1832.
James' wife, Elizabeth, then died in June 1834 which left their five children as orphans.
There is a record of this Eliza Kirk, aged 6 in August 1835, who was recorded as 'friendless' in the Winslow Workhouse records and given 1s 6d. (Eliza's sister, Maria, was also supported by the Winslow Workhouse as she was also given 1s 6d and in October 1839 was given clothing not to exceed 15/-)
Further reports of Eliza are:
Oct 1842 - "reported as refractory - separately confined".
Eliza then had an illegitimate daughter, Frances Kirk, who was born in Winslow Workhouse on 19 November 1845 - Eliza would only have been 17 years old.
Further reports:
Jan 1847 - "inmate of workhouse, disorderly, sub diet, subject to MO, suckling child"
April 1847 - "inmate, refractory with aggravation, separately confined, sub diet.
Eliza much later married Charles John Tizzard on 22 July 1856 at St Nicholas Church, Deptford, Kent.
Eliza then had a daughter also named Eliza Tizzard, born in 1866 in either Bridport or Dorchester in Dorset.
The illegitimate daughter, Frances, married George Bibby on 27 October 1867 at St. Leonard's, Bromley, Middlesex.
Charles and Eliza Tizzard emigrated to Canada sometime before the 1881 census as they are listed together with Eliza junior living at Colllingwood, Simcoe North, Ontario, Canada. Charles is recorded as "Night Watch" and they are listed as Methodists.
Also on the Canadian 1881 census, Frances is now recorded as the wife of a Henry Cook by whom she had two children - but they did not actually marry until 5 August 1885 at Collingwood, Grey County, Ontario. However on the Canadian 1881 census, he is recorded as already married and Frances is named as Cook and living with him and her daughter, Alice (now also Cook).
We then come to the most bizarre piece of this narrative. The following is a brief summary of the Hope Island Lighthouse story that is told on the Internet.
"Hope Island (Ontario) is the northern of three large islands that lie about 20 miles north of Collingwood. In 1884 a lighthouse was placed on the northwest side of the island to mark the water route into Nottawasaga Bay from Georgian Bay, Lake Huron. The tower was a square white wooden tower and had 52 steps ascending it and was 57 feet high from the ground to the vane on the lantern room."
Its first keeper, Charles Tizzard, earned four hundred and fifty dollars per year. When Charles Tizzard died suddenly in 1886, his wife, Eliza (nee Kirk), continued to operate the light until her death in 1887.
The photograph below shows Eliza in later life with her daughter Frances Tizzard Cook and granddaughter Mary Ellen Cook.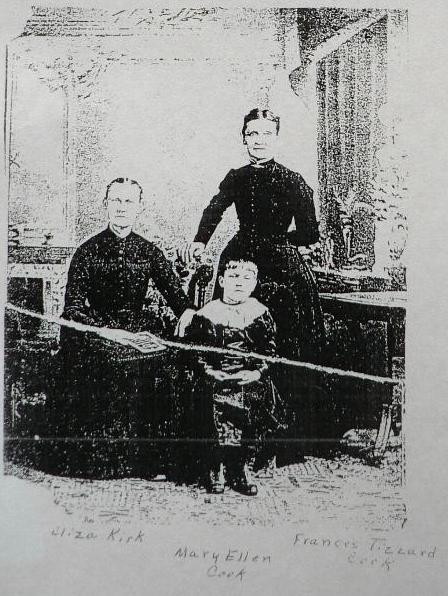 See also:
Copyright 17 February, 2022