Will of William Elliott of Shipton, yeoman, 1737 (proved 1744)
Herts RO 181AW4
In the Name of God Amen this thirtieth day of May One thousand Seven hundred and thirty seven I William Elliott of Shipton in the parish of Winslow in the County of Bucks Yeoman being somewhat infirm in body but of a Sound and disposeing mind Do make and ordain this my last Will and Testament First I bequeath my Soul to God Relying on the Merritts of Christ Jesus for Salvation As to my Worldly Estate I dispose thereof as follows I Give to George Elliott my Son The Severall Goods hereafter named All the Standards in my dwelling house to wit One Large Bible The Bedstead in the best Room above stairs with the Curtains Vallons Bedd Boulster and Pillowes two Blanketts one Rugg One pair of Flaxen sheets and one pair of Hempen Sheets One Oaken Chest One hanging Press And Also one Furnace One Bell mettle Porridge pott One little Brass Kettle One Meashing Tubb my biggest beer barrell and one pewter Dish the biggest Also I give unto William Elliott my Son one bedstead One Flock Bed One Boulster One pillow and two Blanketts one pair of Flaxen Sheets and one pair of Hempen sheets my biggest Brass Kettle one Brass porridge pott and two pewter Dishes Also I give unto the said William Elliott my Son one hundred and fifty pounds (now at Interest in the hands of my good friend at Winslow to whom I sold part of my lands) to be paid to him when he attains the age of one and twenty years But if he depart this life without issue lawfully to be begotten before he shall attain the said age Then I give the said One hundred and fifty pounds unto my Son George Elliott to be paid to him when he shall attain the age of one and twenty years But if my said Son George Elliott shall Depart this life without issue lawfully to be begotten before he shall attain the said age then I give the said One hundred and fifty pounds in manner following to wit forty pounds part thereof to my Brother Robert Elliott forty pounds other part thereof to my Sister Dorcass Butcher Widdow twenty pounds other part thereof to my Brother John Elliott and fifty pounds the remaining part thereof I give unto the Children of my Brother Robert and my Sister Ann Greaves Widdow (except her eldest Daughter who is provided for) and to John Haynes the Son of my Sister Dorothy Haynes and to the Children of my Sister Dorcass Butcher to be equally devided between them share and share alike and if any or either of the Children of my said Brother or Sisters should dye before his her or their respective part of the said fifty pounds shall become payable Then my Will is that his her or their part so dyeing shall be paid to the Survivors and Survivor of them equally share and share alike Also I give unto my said Sister Dorcass Butcher the Sume of three pounds to be paid by Quarterly payments within one year after my decease Also all the rest of my personall estate I give unto Robert Elliott my Brother and >Thomas< Reeve my Wives Brother and the Survivor of them Upon this Speciall trust and Confidence that they the said Robert Elliott and >Thomas< Reeve and the Survivor of them shall place out at Interest not only the said sume of One hundred and fifty pounds but also all the rest and residue of my said personal estate (with the advise or approbation of Mr Nicholas Merwin who hath been always Assisting to me) and pay the Interest and product thereof unto Elizabeth my loveing Wife during so long time as she lives Sole and Unmarried for the duration and education of my said Children provided always and my Will is that my said Trustees and the Survivor of them Shall out of my said personall estate (except the One hundred and fifty pounds) place out my said Sons or either of then Apprentice to such trades as they shall think proper And I do hereby nominate and appoint the said Robert Elliott and Thomas Reeve to be Guardians to my said Children and also to be Executors of this my last Will and I do hereby revoke all former Wills by me heretofore made and declare this to be my last Will and Testament In Witness thereof I have hereunto Sett my hand and Seal the day and year first above written
[signed] William Elliott
Signed sealed published and Declared
in the presence of us who have Subscribed
our names as Witnesses in the presence of
the Testator
Nicho: Merwin
John Pilkington
Codicil
I the above named William Elliott not being minded to revoke but only alter this my Will I do hereby revoke my Devise unto my Sister Dorcas whereby I gave her three pounds and my Will is that the same shall not be paid Also in case my Wife shall be with child before or after the time of my decease then I give unto such afterborn child the sum of fifty pounds to be paid out of my bequest to my Son William abovementioned and in such case I revoke my said bequest of One hundred and fifty pounds and give him One hundred only of the said One hundred and fifty pounds Witness my hand and seal the Sixth day of November 1737
[signed] William Elliott
Signed sealed republished and declared this sixth day of November 1737 in the presence of
NIcho Merwin
John Pilkington

Administration bond (summarised)
6 Dec 1744 Administration granted to John Holland now husband of Elizabeth the late Wife of the said William Elliott deceased before the Rev John Cole Archdeacon Robert Elliott and Thomas Reeves the two Executors in the said Will named having first renounced their executorshi[p before me
Geo Cole Notary Publick
John Holland of Mursley Baker Simon Harris of Mursley Blacksmith Benedict Holland of Grandborow Yeoman bound to the Archdeacon in £200
4 Dec 1744
John Holland to exhibit inventory by last day of June accounts by last of Dec 1745
[Signed:] John Holland
Simon Harris his mark
Benedict Holland
In the presence of
Susa: Merwin
Nicho: Merwin
---
Notes
William was the son of George Elliott (1643-1705), and was baptised 30 Aug 1684; see his father's will for more about his siblings. George held 44 acres of land (see 1705 manor court), but half of it was left in trust to pay legacies to William's siblings. William evidently had no hope of his sons continuing as farmers.
William seems to have married relatively late in life: his son George was baptised 27 Aug 1730 and William was baptised 8 Sep 1732. George Eliot, butcher, received 6 acres of land at the Shipton Enclosure in 1745 and was admitted as tenant in 1752. He married Mary Lucas at Winslow in 1754. The land, along with a messuage, home close and orchard, was purchased by William Burrell from "Elizabeth Holland Widow, George Elliott and Mary his Wife" before 1769. It was all bought by William Lowndes in 1772. The description of the land at Enclosure means that the Elliotts almost certainly lived at the house now called The Pyghtle (photo below; see Shipton page).
William was buried on 18 Nov 1737. He evidently didn't trust his wife Elizabeth to manage his property, but as the executors declined to act, it came under the control of her second husband John Holland of Mursley (originally from Granborough), whom she had married by 27 April 1739 when their daughter Sarah was baptised at Mursley. John Holland died in 1747, and Elizabeth must have come back to Winslow, as "Mrs Holland of Shipton" was one of Henry Stuchbury's debtors in 1750.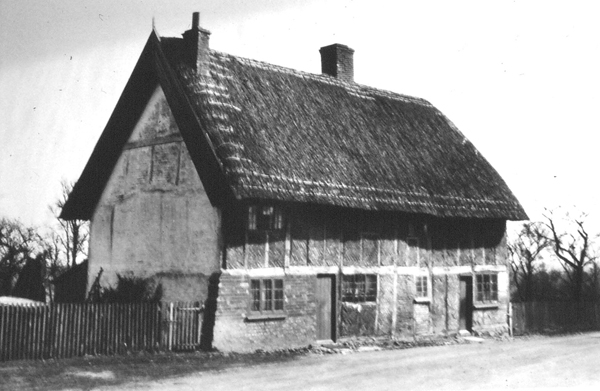 Copyright 2 December, 2016