Selby Villa (The White House)
This house, on the corner of Great Horwood Road, seems to have been built in the 1820s by the Selby-Lowndes family who also owned the property which became Redfield. It's shown on the 1830 Ordnance Survey map so it predates the railway. Unfortunately we haven't found any close-up photos of it. The 1878 map below shows the location.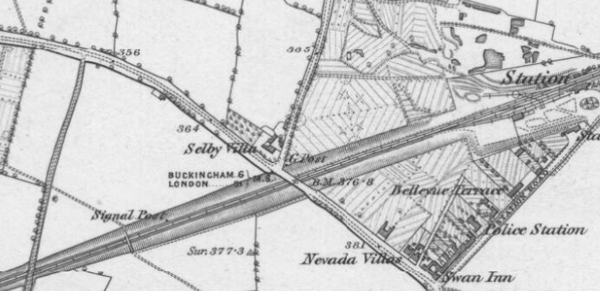 1842-3 Church rate
Rev George Broadhead
1845-6 Church rate
Rev John Bull
1846-57 Church rate
W.S. Bowen esq.
1851 Census: Selby Villa
Elizabeth Beaumont, servant, unmarried 23, housemaid, b. Lancester, Westmorland
Henry Cheney, servant, married, 55, gardener b. Winslow
Fanny Mobbs, visitor, unmarried, 17, dressmaker, b. Prestwood Common
1858: Bucks Herald, 19 June
Sale by James King on 22 June on the premises, Selby Villa, Winslow
The proprietor, W.S. Bowen, Esq., being under notice to quit on Midsummer-day
Collection of greenhouse plants, cock of hay, mowing grass in the Home Close, 8 bushels of wheat in sacks, sack of flour, 2 lands of wheat, 1 land of potatoes.
Sep quarter 1856 Winslow
William Rogers married Rosetta King
1859-63 Church rate
W. Rogers
1861 Census (house unnamed)
William A. Rogers, 39, surgeon, b. Kent
Rosetta Rogers, 26, wife, b. Winslow + 5 children
1863: Bucks Herald, 27 June
A RICK OF PRIME OLD MEADOW HAY (about 18 tons), to go off; 13½ Acres of luxuriant Grass Crop and Keeping, till the 29th of September next; a valuable nag horse seven years old; 2 good heifers, game fowl, excellent dog cart, harness, saddles, bridles, horse clothing, iron-armed cart, rick cloth, dairy utensils, heap of manure, and miscellaneous effects of W. A. Rogers, Esq., who is leaving Winslow.
TO BE SOLD AT AUCTION, BY Mr. JONAS PAXTON, On THURSDAY, JULY the 2nd, 1863, At Two o'Clock in the Afternoon.
Credit will be allowed on the Hay, Grass, Crop, and Keeping, subject to the usual conditions of Deposit and Security if required.
1863: Bell's Life, 10 Oct
TO be LET, at Winslow, Bucks, a very convenient HUNTING BOX, known as "Selby Villa," close to the railway station, with stabling for four horses, coachhouses, &c, and fifteen acres of capital pasture land adjoining, in the centre of Mr Selby Lowndes's Hunt, and within reach of Mr Drake's and Baron Rothschild's Hounds. For particulars apply to Messrs Dudley and Son, land agents, Winslow.
1865 Bucks Herald, 30 Sep
Sale by Dudley & Son (full details of the sale)
An excellent residence or hunting box, known as "Selby Villa" with stabling, coachhouse, gardens & c.
Lot 1. A handsome sash-fronted residence or hunting box, known as "Selby Villa," with Two Closes of Pasture Land of first quality, and handsomely timbered, containing about 14 Acres.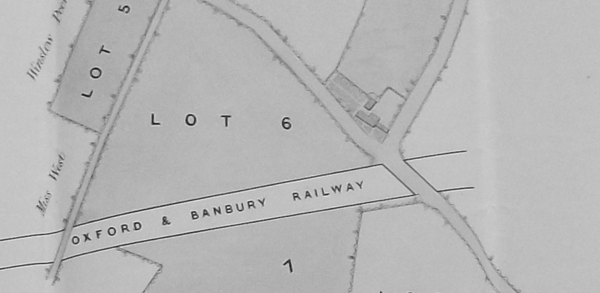 Details from 1865 sale map
1865, sale particulars, 13 Oct by Dudley & Son (CBS, D/WIG/2/5/8)
Lot 1. A handsome sash-fronted residence, or hunting box, known as "Selby Villa," conveniently situate, adjoining the Turnpike, and at the corner of the Road leading to Great Horwood, with Ornamental Walled Flower Garden, Lawn and Conservatory, and an excellent Kitchen Garden. The HOUSE contains Entrance Hall, Dining and Drawing Rooms, large Kitchen, Dairy, Pantry, and Cellars, 7 Bed Rooms, Closet, and other conveniences, and in the Court Yard is a Well of good Water. The STABLES comprise 2 Stalls and 2 Loose Boxes for Hunters, with Loft over, Coach House, a large Yard, with Piggeries and Cow Shed opening into the Pasture Fields –
No.1. Homestead and Dog Kennel Close 6a 1r 24p
2. Lower Smalley Down 7a 3r 6p
= 14a 0r 30p
The Land is of first quality and handsomely Timbered, and is in the occupation of Mr. William Keys, at the Annual Rent of £49. The House and Premises are in the occupation of Mrs. Williams, at the Annual Rent of £35.
Jan 1868, Jan 1870 adverts
Mrs Williams' school for young ladies, Selby Villa
1871 Census: Buckingham Road
Thomas H. Marks, 31, coal, oil, cake, salt & manure merchant, b. Quainton
Elizabeth Marks, wife, 28, b. Hogshaw + 5 children, cook
Elizabeth Dillow, unm., 18, cook, b. Thornborough
Jane Higgins, unm., 14, housemaid, b. North Marston
1872: Bucks Herald, 22 June
Advert: Thomas Henry Marks, Winslow, Quainton and Swanbourne railway wharves (private address, Selby Villa, Winslow)
1873: Buckingham Advertiser, 13 Sep
WINSLOW- GAZETTE NOTICE.- Thos. Henry Marks, coal, oil cake, salt and manure merchant, Winslow. Liquidation first and final dividend of 5s. 2d. this day (September 13) at Mr. F. A. H. Bull's, auctioneer, Market Square, Aylesbury.
1881 Census: Selby Villa
Thomas Henry Marks, 41, coal merchant, b. Denham Hill, Bucks
Elizabeth Marks, wife, 38, b. Fulbrook + 7 children
1884: Bucks Herald, 15 Nov
To be let. Selby Villa, Winslow, containing ten Rooms, with large Gardens, and 14 acres of rich grass land adjoining. Stabling for three Horses, Coach Houses, & c. Within five minutes' walk of Winslow Railway Station. Apply to Mr. Geo. Wigley, Land Agent, Winslow.
1885: Buckingham Advertiser, 23 May
Sale of Edward Selby-Lowndes' cattle etc. at "Selby Villa, near the Railway Bridge"
1887: Buckingham Advertiser, 7 May
Sale of household furniture at Selby Villa by Geo. Wigley.
By direction of Colonel Hall, who is leaving.
1887: Wigley, Mar-Nov
Winslow: Valuation of Selby Villa [Hall to Brooks]
1891 Census: 1 Buckingham Road
Susanna Brooks, widow, 55, living on own means, b. Egginton, Beds
Fanny K. Brooks, daughter, 22, b. Swanbourne
Ada Kimble, servant, 18, b. Hoggeston
Rose A. Turvey, servant, married, 55, charwoman, b. Hoggeston
1892, 10 Oct
At Selby Lodge, Susannah, widow of the late Mr Charles Brooks, of Swabourne, aged 59 years
1895, 10 Dec
Frank Monk of Tuckey Farm married Katherine Brooks of the White House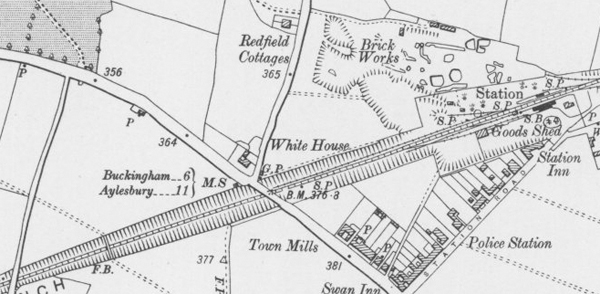 By 1900 the house was known as the White House
1901 Census: White House
George George, 60, farmer & corn & hay merchant, b. Launton
Ann George, wife, 55, b. Newton Purcell + 5 children
Sarah Foskett, servant, 16, b. Granborough
1910 Survey: White House
Occupier: Geo. George
Owner: Capt. Lambton, Redfield
Gross annual value £40
Rateable value £32
1911 Census: White House (8 rooms)
George George, 70, corn & hay merchant & grazier, b. Launton
Ann George, wife, 63, married 43 years, 6 children living, 2 dead, b. Newton Purcell
Lizzie Louise George, daughter, 39, single, private means, b. Twyford, Bucks
Marjorie Adeline George, daughter, 21, single, private means, b. Winslow
Annie Eliza Norris, servant, 22, single, b. Granborough
1918: Wigley, July-Oct
Winslow: Valuation of The White House [George to Chapman]
1930: Buckingham Advertiser, 11 Oct & 25 Apr 1931
Mrs Chapman, White House, Winslow advertising for a general servant.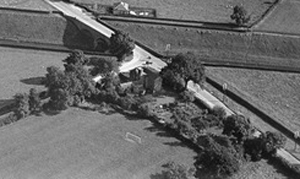 The aerial view on the right is from 1931. Winslow United F.C. played on the adjacent field.
1933 CBS, D/WIG/2/9/658
Papers relating to claim for dilapidations at The White House, Winslow, including valuation of fixtures, schedule of repairs required, lease agreement, settlement and correspondence
Mr Lambton (owner) v G. Chapman (tenant, previous tenant G. George)
1935: Bucks Herald, 25 Jan
Passengers by road, from Aylesbury to Buckingham, or vice versa, will note the disappearance of the large house known as "The White House" at the corner of the Great Horwood Road, until recently occupied by Mr. G. Chapman. Years ago it was used as a young ladies school, and, until a few years back, utilised as a farm house by the late Mrs. Geo. George.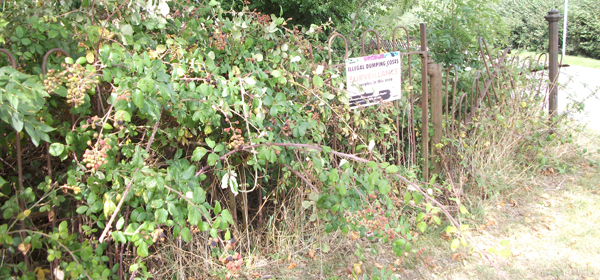 These railings at the front of the house are all that survives.