Pigott family of Little Horwood
The following incomplete notes by the Buckinghamshire historian Frederick Gurney were found in one of his notebooks in the Buckinghamshire Archaeological Library (BAS, GUR 56).
The Earlier Ancestry of the Family of Pigott of Little Horwood, Whaddon, Doddershall, Beachampton in Bucks & Stratton etc. in Beds etc, as shown by the Mediaeval Court Rolls of the Manors belonging to the Cellarers of the Abbey of St Albans in \within/ the County of Bucks.
Fredk G. Gurney
30 October 1936
[p.1] The purpose of the following notes is to give the earlier ancestry of the well-known Bucks family of the Pigotts of Little Horwood and Whaddon, with their later branches at Doddershall, Stratton and elsewhere, according to the hitherto unknown evidence of the original Court Rolls for the manors in and about Winslow which belonged to the Abbey of St Alban. For all this group a single court was held yearly at Winslow, throughout the middle ages, by the Officer of the Cellarer, to whom they were assigned, and who invariably appears as the lord. The earlier of these rolls, extending from the first year of Edward III's reign (1327-8) to his last regnal year (1377) and again after a long lacuna, from the first regnal year of Henry VI (1422-23) to his 38th year (1460) are in the custody of the University Library at Cambridge. A later series, extending from June 1487 to the 14th of May 1537, just before the dissolution of the monastery, is now in the possession of W.G.W. Willis, Esq. of Winslow. Both series have been examined for these notes.
It will be seen that, as far as the information extends, it agrees closely with the early part of the pedigree returned (no doubt by the family itself) to the [p.2] visiting herald (William Harvey, Clarenceux, or his deputy) at his Visitation of Bucks in the year 1566. This, however, goes back only two generations earlier than the well-known lawyer, Thomas Pigott of Whaddon, who is usually regarded as the real founder of the family. He inherited the manor of Whaddon and the hereditary keepership of the Chase there from his mother, the heiress of the Giffards, and appears in the year 1500 busily engaged in asserting the rights of the Chase. In 1510 he was appointed Serjeant at Law, and died in the year 1520.
According to both this Visitation and the Court Rolls, his father was Robert Pigott of Little Horwood, who can be shown from the combined evidence of the rolls and a list of the boundaries of the Chase made in 1494, to have left Little Horwood for the first time between the 18th of June 1493 and the 3rd of May 1494, and to have settled at his wife's manor-house at Whaddon. According to the visitation pedigree again, his father was named Richard Pigott, with which the evidence of the Court Rolls again \quite/ consistent, naming this Richard, as they frequently do, from the year 1437, when he was already married, to the end of the second series in 1459. [p.3] At first sight however the rolls seem to give no proof that he was Robert's father, but it is at last found in the presentment relating to the lands of his descendant \(great grandson)/ William Pigott, in the year 1528, as then in the possession of land which had come to the family through the marriage of this Richard with an a lady of the ancient family of Fynell or FitzNeel from Salden. But the fact could also be proved readily enough from exterior sources.
At this point in the visitation pedigree the first serious error occurs which seem to have given rise to the fictitious descent adopted in later times by all the branches of this family. It is stated in the visitation that this Richard 'Pigot' came from 'Rypon' in Yorkshire, which is very clearly disproved altogether by the Court Rolls. Later pedigrees improve upon this by tracing his descent wholly in Yorkshire, and with himself as representing the fourth generation from one Randolph Pigott of 'Melmarby' Co. York, a perfectly real person belonging to an ancient knightly family there, who is said to have lived in the time of Edward III, and but whose arms were actually recorded in a roll of arms of the next reign ('Willement's Roll). They are the same [p.4] in both colours and design as the arms adopted in the 16th century by the family at Whaddon etc.
But the Court Rolls, which are original documents, and must be believed, make it quite certain that Richard Pigott belonged to a family which had been settled at Little Horwood for at least two generations before him, and as far back as the second year regnal year of the king mentioned, i.e. the year 1328, clearly proving that none of them can have arrived from Melmerby or Ripon or any \other/ part of Yorkshire or elsewhere since that reign. Already in 1349 they possessed a house and virgate to in Little Horwood which they continued to hold without interruption until Richard's own time, when they were still in the hands of a certain John Pigott (Pigond &c), who was all but certainly his own brother. It is just possible that this original small germ from which the whole later growth or tradition may probably be traced - i.e. the statement that Richard 'Pigot' came from Ripon - was due to another family tradition which may just possibly be true - that Robert, son & heir of Richard, had spent some part of his life in the service of Margaret, the warlike Queen of Henry VI. [p.5] Both his own marriage (with the heiress of the Giffards of Whaddon), and that of his father (with a Fitz Neel, alias Fynell, \descended/ from the ancient family at Salden) had greatly raised his position in the world, & had made him a landowner of sufficient status for such a service, and it may have taken him occasionally into Yorkshire & even to Ripon. In such a case he could have heard of the ancient family of his own name at Malmerby close by, & may have pleased himself by imagining that he must be related to it. By the year 1472, however, when he was king's escheator for Beds & Bucks, he had undoubtedly made his full peace with the King (Edward IV), if ever he had been 'outside' it. But he was then still living at Little Horwood & \as already mentioned, he/ did not move to his wife's manor-house at Whaddon until some time between the 18 June 1493 and the 3rd of May 1494, which is as much as to say that he did not come into actual possession of either the house or the manor until one \or other/ of those years. His father Richard is extremely unlikely ever to have wandered far from his native village. All of them before 1493 or 1494, had are found living in Little Horwood, - Robert, Richard and Richard's father and [p.6] great-uncle, as well as all his cousins; and all of them were neif tenants of St Alban's Abbey.
No attempt is made here to complete the information afforded by the rolls, or even to add to it from other sources, with the exception of a reference or two to unpublished wills, and a few other necessary facts which happened to be known to me. The extracts from the Court Rolls, which in some cases I have briefly abstracted & in others translated more fully, were made by Mr. A. Vere Woodman of Tring, who searched the rolls for other purposes, but, as he usually does, bore my own interests in mind, and gave me every quotation which he thought would interest me. Comparison of the resulting pedigree with other information in the Victoria History of the County, in Lipscombe, and upon the magnificent pedigree-roll of 1598 (?), which is still preserved at Doddershall, would of course be interesting to make, but I fear that at present it must be done, if at all, by that some other person than myself.
In any case I venture to offer the new [p.7] evidence, incomplete as it is, to the present owner of that venerable house, being encouraged to do so by the knowledge that although she is the representative of many lords of Doddershall of the name of Pigott, they belonged to a quite different family, and one much more anciently of rank, than the earlier Pigotts of there Dodddeshall who were descended from those of Whaddon and Horwood. Both pedigrees appear to be arbitrarily combined in the great pedigree-roll, but only one of them is in the least affected by these notes.
The exact mode by which the estate passed from one family to the other does not appear to be known, - or at least is not known to me, - but it may well be the fact that an entire faith in the assumptions of interrelationships which the roll assists, caused the last owner who belonged to the original family and who knew himself to be entirely without heirs of his own near kinship, to settle the lands upon the distant family of his own name which, according to the pedigree above seemed to stand in the nearest relationship to his own house. If these old genealogical theories [p.8] and unusually gorgeous heraldry really materialised in that way, their translation into long prosaic deeds of settlement – however dull a metamorphosis externally – was as beneficent in effect as any in a fairy-tale. I feel sure that Lady Pigott-Brown will forgive me for any small accidental contribution towards proving so remarkable a thing as that – surely almost unique in family history, if it is true. But of course there are other possibilities, though they are quite difficult to imagine.
The pedigree now follows, and after it the quotations from the rolls from which it results.
[Transcriptions superimposed on Gurney's pedigree are shown below]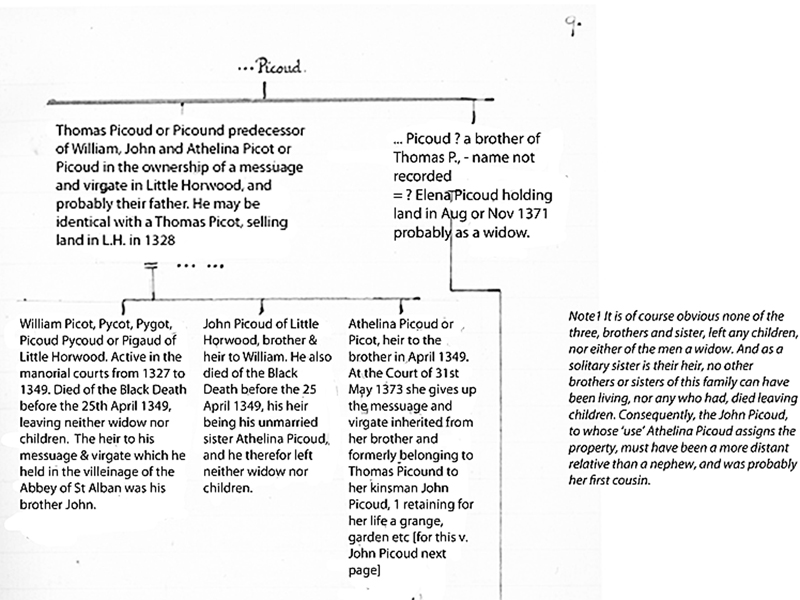 ---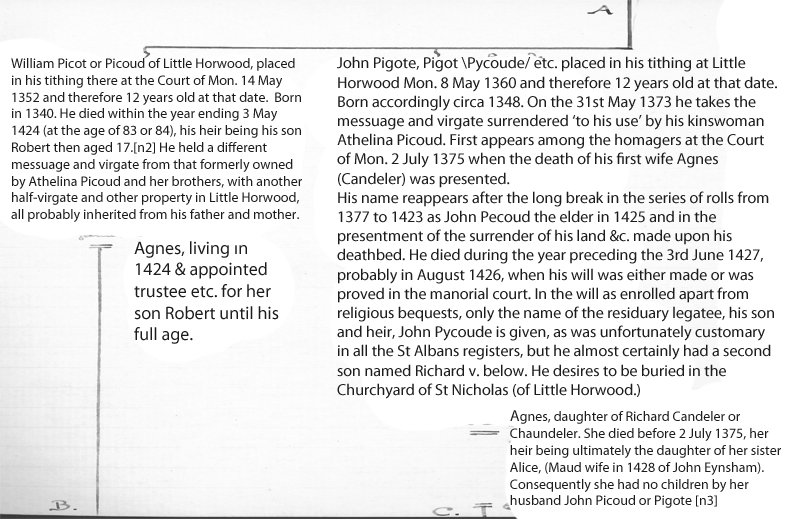 n.2 The date of this Robert's birth, when his father was about 67 years of age, is of course not exceptional. His father may long have had daughters alone by a first wife, and may have remarried at an advanced age in the hope of a son, as was very frequently done. On the other hand there is nothing to show that there were not two men named William, father and son, the latter being the father of Robert and dying c. 1424. But as John Picoud, presumably brother of the William who was born c.1340, and who was born about eight years after him, certainly survived until 1426, it is reasonable – and indeed preferable as not going beyond the evidence – to assume that one man only is referred to by the name of William Picoud from 1352 to 1424.
n.3 It is proved that John Pigot or Picoud had no \surviving/ issue by his first wife Agnes because he continued to hold her inherited land for his life 'per legem Angliae' and it passes at his own death in 1426 to the daughter of his wife's sister & not to any son of his own.
See his will (John Pyconde, 1427)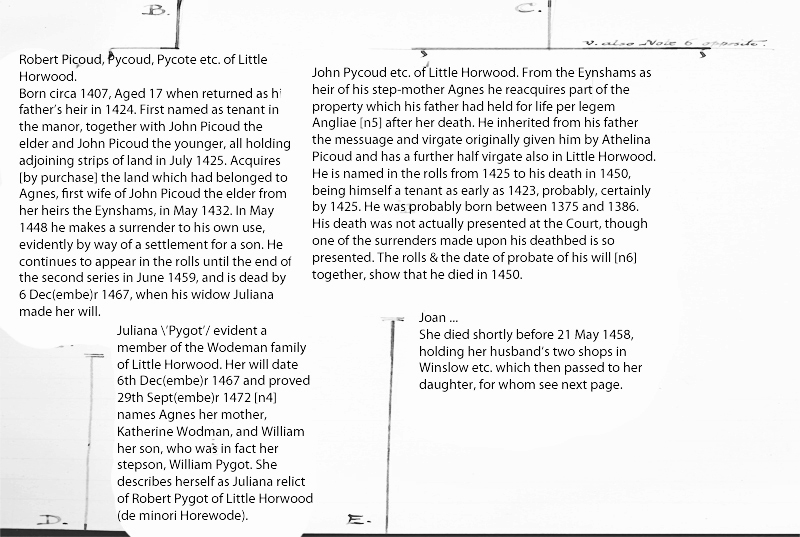 n.4 Archdeacon of St Albans. Reg2 Walingford fo. 10bi
(Latin) In the name of God, etc. upon the feast of the holy confessor Nicholas [i.e. 6 Dec(embe)r] in the year [of our Lord] 1467. I Juliana, relict of Robert Pygot of Little Horewode, being of whole mind etc. Item, I leave to the high altar, 4d, and to the Sepulchre 4d. Furthermore I bequeath to my mother my best veil (flameolum), and to Katherine Wodman a petticoat. The residue etc. I leave at the disposal of Agnes my mother and William my son, of the aforesaid 'Town', and I appoint them my executors etc. I further make the vicar of the parish church there my overseer in all the matters aforesaid.
Proved on the 29th day of September A.D. 1472
All wills register of a similarly early date which were \proved &/ registered at the monastery, or at their manor-courts, are abstracted in the same summary manner, and very frequently omit all bequests which were not for religious purposes, and \also/ consequently all names of relatives except such as were appointed executors or overseers. It is clear that it was not considered binding upon their probate officers to register the wills at all, and that they only did so to the extent which suited the convenience of the church.
n.5 The property so acquired included the shop at Winslow \which his father had held, and/ which was enlarged by this John Pycoud into two shops, by building upon an empty site next to the original one.
n.6 This will of 1450 is entered upon the archdeaconry rolls of the monastery now preserved in the Bodleian. I have unfortunately not seen it. It would probably prove the relationship of Richard Pygot to the testator beyond doubt, and should of course be seen by any person who feels an interest in these descents. But that they can hardly have been related more distantly than as brothers is made fairly certain by the two Fitz Neel (Fynell) marriages, or by the fact that sometimes their lands lay side by side. The only other possibility is that Richard was the younger John's son, in which case the Fitz Neel marriages would be those of a brother & sister of the Pigott family with a sister and brother on the Fitz Neel family. But the two marriages were at least 13 years apart \or may be much further apart/ which is against the suppositions. (Richard was already married to a Fitz Neel in 1437; the other marriage was evidently in either 1450 or 1451).
---
Joan P's daughter [E in the pedigree] was Agnes, wife of Richard Fynell, daughter of John Pigot (WMCB p.697).
Robert P's son [D in the pedigree] was William; the will of William Pygot was proved in 1505 [Herts RO 2AR126].
Gurney thought (n.6 above) that Richard P, father of Robert the eschaetor (see below) was the brother, or possibly son, of the John P shown in the pedigree above.
---
The remainder of the notebook is blank, but some further details can be added. The information in the published version of the 1566 Visitation is:
ROBERT PYGOTT of Lyttle Horwoode [eschaetor of Beds & Bucks] married [blank - Margaret in VCH] da. and heir of [blank - John in VCH] Gyfforde of Whaddon and had issue THOMAS and others
THOMAS PYGOTT of Whaddon, Sergeant at the Lawe, eldest son and heir, mar. to his first wife, Anne, da. and heir of [blank], Essex, Gent., and by her had issue WILLIAM, his eldest son and heir; Francis, second son, and three da's. [d.1520]
WILLIAM PYGOTT of Lyttle Horwoode, Esq., eldest son and heir to Thomas, mar. to his first wife Mary, da. of Sir John Longvyle of Wovlerton, Kt., and by her hath issue LEONARDE, his eldest son and heir; John and Thomas, dyed both sans issue.
LEONARDE PYGOTT of Lyttle Horwoode, Esq, eldest son and heir to William, mar. Katherine, da. to Humfrey Ashefelde of Hetheroppe, Oxon, Esq., and by her had issue Humfrey and Thomas, dyed both sans issue; Anne and Margaret living unmar.
---
Winslow manor court records show:
William P [son of Robert in Gurney's pedigree] served regularly as juror from 1485 (or before) until he died in 1505. He made a deathbed surrender of 2 messuages, 2½ virgates and some other land in LH for the benefit of his widow Joan, some held jointly with her daughter Joan wife of William Eldebury.
Robert P [the eschaetor] and Isabel his wife acquired a cottage in LH in 1485. Robert P of LH committed default at the courts of 1493, 1495 and 1498. The 1518 court reported the death of Robert P of LH gent over 6 years ago; Thomas P serving at law was his heir. The death of Thomas was reported in 1522; in 1523 it was stated that he held a cottage and acre of land in LH. William his son and heir was of full age.
1528: William Pygott gent [son of Thomas the serjeant; d.1552; appears to have lived at what is now Moat Farm] has 2 virgates in fields of H, holds freely. & 2 virgates called Ladislond, & close called Brownesfeld? & close called Homeclose & close called Blakethyke Close. & messuage & 2 pieces of land from Chamberlain's office. Parcel of lays at Grovellpytts. Cottage with mill called a hors myll & 1a. cottage & 2a. Toft & ½ a by church. Ordered to distrain to show how he holds.
Richard Pigot gent died in 1527. He held 3 tenements with lands & pastures in LH. Bartholomew Pygott was his son & heir, of full age.
---
The will of Thomas Pigott, serjeant at law, contains bequests to all local churches (including Winslow) and other religious institutions. Relevant items have been transcribed below:
TNA, PROB 11/19/404
In Dei Nomine Amen The xxvth Daye day [sic] of February in the yere of oure Lord god MCCCCC xix [1519/20] and in the xjth yere of the Reigne of kyng Henry the viijth I Thomas Pygot the kyngs s(er)iaunte at Lawe beyng of hole mynde and memorie make and Declare this my testament and last will in maner and forme as herafter followyth
[He asks to be buried "in the Chapell of oure blessid Lady in the Church of Whaddon where my first wif lyeth"]
. . . Also I will to Will(ia)m my Sonne immediatly after my decease all my landes and ten(emen)ts that I have in Lytill Horwodd Drayton Parlowe Maydyns Moreton Foxcote and Lecamstede in the countie of Buk to have to hym and the heres of his body lawfully begotten
. . . Item I will that the Towne of Stony Stratford have my Inn that I have in Stonystratford called the Cokke for evermore to the Sustentacion and maynten(a)nce of the Brygge of Stonystraytford and that feoffees be made to the same entent
. . . I bequethe to the Curate of Whaddon for my tithes forgoten and not paid v m(a)rcs Item I bequeth to the Churche of Whaddon to by suche Ornaments or thyngs most necessarie as shalbe thought by my neyghbours and parisshon(er)s there x m(a)rc Item I bequethe to the Abbey Church of Missendon v m(a)rcs Item to the parissh Churche of Missenden xl s Item to Quaynton Churche xl s To Notley Abbey v m(a)rcs Item to Grendon Churche xl s To Calverton Churche xl s To Bechampton Church xl s To Bradewell Priory xl s To Lo(u)ghton xx s To Sympson Church xl s To Drayton Church xx s To Newinton Longvile Church xl s To Hoggeston Churche x s To Wynslowe Churche x s To Lyttill Horewod xl s To Much Horewod church xl s To Grenborough x s \To Thornton x s/ to Thornborough x s To Passeneham x s To every Church in Stony Stratford xiij s iiij d To the priory of Snelleshall towards the reparac(i)ons of the place xl s To every of the iiij orders of Frieris in London North(a)mpton Dunstable and Aylisbury xiij s iiij d To the poore p(ri)soners of Aylesbury to releve them in Lent after my deceas x s lyke wise to the prisoners of Newgate Ludgate the kyngs Benche and Mariscalsee and every of the Counters either of them x s . . . Item to the Abbey of Bettilsden xl s . . .
. . . Item to every oon of my yemen s(er)vants xl s Item to every hyeride and other s(er)vants xx s Item to Sir Henry Woddefall my Chaplayn to syng for me by the Space of oon yere some tyme at the Crowched Frires and some tyme at the Savoye x m(a)rcs & vj other yeris where my body lyeth to have for his salary yerely ix mercs Item I gyve and bequethe to every godchild of myne vj s viij d Item I bequeth to the Abbot of Lawunden xl s Item to the Prior of Bisteter xl s Item I bequethe to Wulv(er)ton Churche x s Item I beq(ue)th to Muresley x s Item I bequeath to Swanbourne Church x s Item I bequethe to Blecheley Church x s To Stoke Hamond Churche vj s viij d Item to the Crowched Frieris of London xiij s iiij d . . .
[Proved 15 May 1520]
---
The Survey of the Manor of Winslow, 1556, lists:
Freeholder
ROGER PIGOTT gent:
certain lands in LH lately in tenure of Robert Wilkyns, paying 2d yearly
Customary tenants
ROBERT PIGOTT gent:
[Winslow] half of the Shepcott with 6 butts of land situate at the Townes Ende towards Greneborow, formerly in the tenure of Hugh Palmer and afterwards Walter Palmer, and lately in the tenure of Thomas Palmer, paying 8d yearly
one cottage called Godwetts and 4 acres of land adjoining the same, lately in the tenure of WaIter Palmer and afterwards in the tenure of Thomas Palmer, paying 3s yearly
two cottages with certain lands, formerly in the tenure of Nicholas Kinge and Robert Kinge in the Old Towne towards Greneborowe, and afterwards in the tenure of WaIter Palmer and lately in the tenure of Thomas Palmer,paying 2s 4d yearly
one cottage with a croft adjacent thereto and 2 acres of land formerly in the tenure of William Perkyn and afterwards in the tenure of John Woodward, paying 3s yearly
one messuage with certain other land formerly the said William's, paying 6s 10d yearly
another messuage with appurtenances and other land formerly the said William's, paying 4s 2d yearly
a messuage and a virgate of land called Martinslonde and Roseland, paying 11s 6d yearly
another messuage and certain land formerly in the tenure of William Parkyn, paying 5s 6d yearly
three butts of land in Catesend, paying 9d yearly
one toft lately in the tenure of John Perkyn and formerly of John Steward and afterwards of John Woodward, paying 16d yearly
one cottage next to John Wambrige, paying 8d yearly
one messuage with curtilage, formerly in the tenure of John Burne, clerk, and afterwards of Richard Wever and lately in the tenure of [blank] Sherwoods, paying 2s 6d yearly
one messuage and one virgate of land formerly in the tenure of John Thomlyn and afterwards in the tenure of William Jyfford, paying 11s yearly
one toft or the Grove and one acre of land at Wawe Hedge, paying 2s 6d yearly
certain demesne land (for) 4s, formerly in the tenure of John Coke and afterwards in the tenure of WaIter Palmer and lately in the tenure of Thomas Palmer, and certain other demesne land (for) 2s in the same place formerly in the tenure of John Burne clerk and afterwards in the tenure of WaIter Palmer and lately in the tenure of Thomas Palmer, paying 6s yearly
certain land (for) 5s from the demesne lands, formerly \in the tenure/ of John Woodward and lately in the tenure of Thomas Palmer, and also certain other lands (for) 2s 4d from the demesne lands, formerly in the tenure of Alice Baker and lately in the tenure of Thomas Palmer, paying in respect thereof 7s 4d yearly
certain demesne land called Clarks Furlong, lately in the tenure of William Gifford, paying 2s 7d yearly
certain other demesne land, lately in the tenure of the aforesaid William Gifford, paying 7s yearly
LEONARD PIGOTTE gent
certain lands lately Francklyns (for) 16¼d situate in the fields of Little Horwood
certain other lands in the same place lately in the tenure of Robert Millward (for) 20½d
certain lands called Porters (for) 3s 8½d
certain lands in the same place formerly in the tenure of Robert Horwood (for?) 2s 8d
a half-virgate of land formerly Candellers (for) 2s 11¼d
certain lands and holdings in the same place of which John Fenell holds the other part (for) 4d
a toft of land in the same place formerly Salfords (for) 1d
another toft next to the church in the same place (for) 1d
certain lands lately Verneys called Lady Lands (for) 6s 8d
certain lands lately or formerly in the tenure of John Atkyns (for) 7s, paying 26s 6½d yearly
one toft, a parcel of the demesne of the same place, situate in Browneswyke in the fields of Little Horwood, paying 10s yearly
Leonard was the grandson of Thomas Pigott the serjeant. Robert could be his fourth son and Roger his fifth son (mentioned in his will, TNA PROB 11/19/404). Thomas bequeathed to his son Robert when he came of age "all my londs and tenements in Toturnho Eddisboroughe North hall and Crofton" and to Roger "all my landes and tenements that I have in Ovyng Northmarston Witchurche Blecheley Fenystratford and Litill Brykhill". His son William was to have all his property in Little Horwood.
---
Back to Families / People
Copyright 3 January, 2023