Dr Lovell's pupils at Winslow Hall
Ed Grimsdale has traced the stories of some of the boys who were taught at Winslow Hall in the mid-19th century
---
Admiral Arthur Hildebrand Alington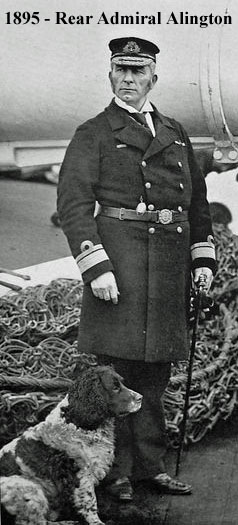 Arthur was born on 10 Oct 1839, the fifth child of George Marmaduke and Mary Alington of Swinhope House in Lincs. His family had ancient roots in the area, and were gentry well connected with the Services. We know that Arthur Alington was a boarder at Winslow Hall School because he's recorded as being there in the 1851 Census return.
Arthur didn't stay much longer in Winslow for he joined the Royal Navy during 1852 at the age of just 12 years. Alington served in the R.N. throughout his career. Having some knowledge of French and German must have been useful as his service took him to all over the world. Russian might have been a boon during his first active campaign which was during the Crimean War. Alington survived that and, as a Lieutenant, he was mentioned in despatches and given a Humane Medal for an act of great bravery aboard HMS Megraea in 1861. The ship was returning to Blighty from Gibraltar when a soldier, held captive for being a lunatic, escaped and jumped from the ship's stern. Alington saw that the man was in difficulties, stripped off, jumped in (avoiding the ship's screw) and secured the redcoat. Both of them were hauled aboard and the man's life was saved by through a series of warm baths.
Alington married a Cornish lady, Charlotte Moore, no doubt whilst Captain Alington was based at Devonport. The couple moved home frequently but they had two boys - both joined the Army, one becoming a Major, the other a Captain, and two girls.
Arthur Alington's career reached its pinnacle in 1895 when he became Rear Admiral, 2nd in command of the Channel flotilla and Alington raised his flag on HMS Empress of India in Devonport. After retiring in 1899, he was promoted to full Admiral. Arthur Hildebrand Alington died on 7 July 1925.
---
The three Huish brothers
Francis Darwin Huish

Francis was born at Castle Donington, Leics, on 10 Jun 1850, the son of lawyer Marcus Huish and his second wife, the widow Frances Sarah Barton née Darwin, daughter of the intrepid traveller, antiquarian, wild boar breeder and natural historian Sir Francis Sacheverel Darwin of Breadsall Priory and half-uncle to Charles Darwin.

After his time at Winslow Hall, Francis Darwin Huish studied law and became a solicitor in partnership with Francis G. Robinson at Ilkeston, Derbyshire until 1911 after which he practised alone.

He married Ellen, the daughter of William Hickson, a well-known Derbyshire artist, in 1888. The couple lived at Kirk Hallam, just outside of Ilkeston and were childless. They owned an ornate tobacco jar reputed to have belonged to Charles Darwin.

John Hall Huish
John was older than his full brother, Francis, and he was probably born at the end of 1847 in Castle Donington. We know that he was christened on 12 Jan 1848. At present, it isn't clear what course John's life took after his schooling in Winslow Hall. We do know that he was a visitor in Chelsea in 1881 and described as a single man and annuitant so he must have acquired some money, and that he subsequently died in St Aubyn's Gardens, Hove, on 23 June 1900, having appointed Francis Darwin Huish and his elder half-brother, the distinguished Kensington art critic, Director of the Fine Art Society, Japanophile, and former Barrister Marcus Bourne Huish, as executors.
Marcus Bourne Huish
We need to establish whether Marcus Bourne Huish (25 Nov 1843 – 4 May 1921), barrister, writer and art dealer, was a student at Winslow Hall School. His attendance would have occurred between the 1851 & 1861 censuses. There is a useful Wikipedia entry about him.
---
George and Robert Suttie of Prestongrange House, Scotland
This piece draws heavily on research by Sonia Baker, whom we thank.
Sir George [Grant-] Suttie lived from 1797 until June 1878 and inherited his baronetcy in 1836. Earlier, in 1829, he had married Lady Harriet Charteris, the daughter of the Earl of Wemyss & March. George's father had settled an annuity of £3,000 on George at the time of his marriage. George and Harriet produced four sons, James, Francis, George (b.1835) & Robert (b. 1841) and two daughters, Margaret and Catherine. Both George and Robert were born at Prestongrange House, near Prestonpans in Scotland which George Grant-Suttie and his wife were granted by his father in 1830.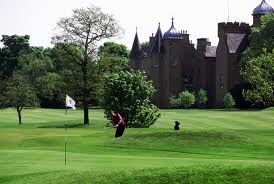 Sir George Grant-Suttie lived a life of "conspicuous consumption". His two daughters were set up with a home in Tilney Street off Park Lane in London and that became home to Robert, as well.
Margaret Suttie commented on her brothers in a letter thought to date from 1852:
"... we expect Georgey and Bob down on Friday from their school [ i.e. Winslow Hall] and we had such a delightful account of Francis [their brother] from Lord George saying he was such an excellent officer which has given us all much pleasure..."
and on the Prestongrange House (which had been renovated):
"... we are delighted with Prestongrange. The house is so nice, I do not think you would know it again, it is so very much changed... "
Further details of the Suttie boys' family may be found by visiting Sonia Baker's meticulously researched account.

George Suttie joined the Army, serving in the Gordon Highlanders. He advanced quickly and was a Major serving in the 75th Regiment in 1875. Unfortunately, he died suddenly, at King William's Town on the Cape of Good Hope, South Africa. He had neither reached his 40th birthday nor married. The Scottish War Graves project has an entry on George and an image of a tablet placed by his family in the North Berwick Old Cemetery (see http://scottishwargraves.phpbbweb.com/scottishwargraves-post-16085.html and scroll down).
Robert used the Grant suffix in his surname. He went up to Trinity College, Cambridge, and was awarded his MA in 1864, having joined the Inner Temple as a law student in July 1863. Later, he was called to the bar in 1866 and went on to practise in the Midland Circuit.
Sonia Baker gives an insight into how the younger boys fared financially from their father's estate. She records:
"In 1865, Sir George had, with his sons' knowledge, disentailed the property [Prestongrange], and then set up a new deed of entail, which settled £20,000 on his younger children, and settled the same amount on James' [their elder brother] younger children. Ten years later, Sir George added a further £20,000 on his younger children (as long as this did not exceed 3 years rental from the entailed estate); at the time it would have appeared to be a positive bequest, and the estate could probably have carried out Sir George's request, and recovered. With the untimely death of the 6th Baronet [James died six months after his father], and the decline in the returns from coal, by 1878 the estate was struggling to pay its way. Nonetheless, the [four surviving – George was dead, already] sons and daughters of Sir George pursued their claim on the estate; eventually the court of session was called upon to make a decision. On 12 May 1881 it was decided that they would get only £7044 19s over and above the first £20,000, secured on a loan."
No doubt, Robert's legal skills, honed as a barrister, must have helped the younger children in their fight against the son of their brother and predeceased progenitor. Sonia tells us that at the time of the settlement, Robert was living at Balgonie Lodge, North Berwick whilst his sisters resided in France at Nice. Comparatively late in life, on 2 Feb 1884, Robert married Edith Mary Dawnay, younger daughter of William Henry, 7th Viscount Downe. They had five children:
Hubert Francis Grant-Suttie, gentleman, b. 1884
Archibald Ronald Grant-Suttie, gentleman, b. 1896
Hilda Margaret
Muriel Katherine
Ethel Mary.
Both boys joined the Army – Archibald Ronald was killed in action during World War I, whereas his brother, Hubert Francis, received an MC and after a long career he was awarded the CBE in 1940 and lived until 1977, dying at the age of 93. Little is known about the three girls.
In retirement Robert became a JP for Haddingtonshire, this family's traditional sphere of influence, and was made Deputy Lieutenant of East Lothian. He died aged 92 in 1933.
So, the two Suttie brothers followed career paths as if predestined. Dr Lovell's school in Mannheim and then Winslow specialised in preparing lads to be lawyers, and officers in the army and navy.
---
See also:
Copyright 21 February, 2017