Will of George Cowley, surgeon and apothecary, 1854 (proved 1855)
National Archives PROB 11/2223/447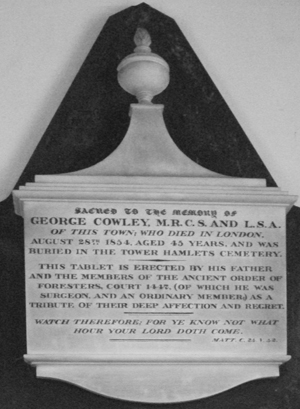 This is the last Will and Testament of me George Cowley of Winslow in the County of Buckingham Surgeon and Apothecary I give devise and bequeath all my freehold hereditaments and personal estate whatsoever and wheresoever with their appurtenances unto my trustees and executors hereinafter name their heirs executors administrators and assigns And I will that my copyhold estates shall so far as the tenure thereof will permit be dispersed of according to the trusts and declarations hereinafter contained concerning my freehold estates and for the greater convenience of performing such my Will I devise the same copyhold estates to such uses as my trustees
[p.2] shall by any deed or deeds to be executed within twenty one years from my decease appoint in order to complete any Sale or Sales to be made pursuant to my Will and in default of appointment To the use of my trustees their heirs and assigns Upon trust to sell my real estates together or in parcels by public auction or private contract at such place and time and subject to such stipulations relative to the title as my said trustees shall judge expedient or as their Counsel shall advise and also to fix a reserved bidding and buy in any lot or lots at any auction and to rescind or vary any contract for Sale without being liable for any consequential loss and also to execute such instruments and assurances as shall be requisite for effecting and completing the sale of my said estates And to convert dispose of and get in all my personal estate whatsoever and wheresoever and after payment thereout of all my just debts funeral and testamentary expences to invest the monies to arise from such real and personal estate in the names of my trustees hereinafter mentioned in or upon any of the public stock funds or securities of the United Kingdom or any real securities in England or Wales with liberty for my said trustees to vary and transfer such investment from time to time for any other investment of the same description and to stand possessed thereof Upon trust to permit and suffer my father John Cowley to receive the income thereof during his natural life and from and after his decease Upon trust for my nephews and Godchildren Charles Edward Bowker Son of my Brother in law Thomas Bowker and George Kelland Son of my Brother in law John Kelland in equal shares to be paid to them on their respectively attaining the age of twenty one years and in case either of them shall die under the age of twenty one years then Upon trust for the survivor of them but in case both my said Godchildren shall die under the age of twenty one years then Upon trust for Sarah the eldest child of my Cousin George Willeat Cowley Provided always that it shall be lawful for my trustees or trustee after the death of my said father John Cowley to apply the whole or any part of the income of the contingent share of my said two Godchildren in or towards their respective maintenance or otherwise for their respective benefit And I direct my trustees to accumulate the unapplied income and add the accumulations to the respective shares whence the income shall have arisen And I also empower my trustees to apply after the death of my said father John Cowley or in his lifetime with his consent in writing any part not exceeding a moiety of the capital of the contingent shares of the respective Godchildren in or towards their respective advancement in life Provided always and I hereby declare that my trustees shall be at liberty to postpone the sale of my said trust estates or any of them until the produce shall become distributable under the trusts hereinbefore contained or for any shorter period if such postponement shall appear to them advantageous or desirable and that during such suspense my said trustees shall have full power to let the same from year to year or for any term not exceeding seven years in possession at the best rent and also shall have full power to cut and sell timber And I declare that the rents and profits of my trust estates from time to time remaining unsold shall be received by my said trustees and be applied in the same manner as the income of the produce of such estates if sold would be applicable And I declare that notwithstanding the postponement of the sale of my said trust estates or any of them the same shall for the purpose of enjoyment and transmission be considered as converted in equity from the time of my decease I devise all real estates vested in me
[p.3] as trustee or mortgagee to my trustees hereinafter named subject to the equities affecting the same respectively I empower the trustees or trustee for the time being of my Will to give receipt for all monies and effects to be paid or delivered to such trustees or trustee by virtue of my Will and declare that such receipts shall exonerate the persons taking the same from all liability to see to the application or disposition of the money or effects therein mentioned I empower the trustees or trustee for the time being of my Will to compound or allow time for the payment of any debt or debts due to my estate and to satisfy all demands against my estate whether supported by strictly legal evidence or not and to settle all accounts between me and any person or persons on such terms as my said trustees or trustee shall in their or his discretion think expedient and to refer any matters in difference relating to my affairs to arbitration I declare that if my trustees hereinafter named or either of them or any trustees or trustee to be appointed under this clause shall die or be unwilling or incompetent to accept or execute the trusts of my Will it shall be lawful for the competent trustees or trustee for the time being (if any) whether retiring from the office of trustee or not or if none for the executors or administrators of the last deceased trustee to substitute by any writing under their or his hands or hand any person or persons in whom alone or (as the case may be) jointly with any surviving or continuing trustees or trustee my trust estate shall be vested and I exempt every trustee of my Will from liability for losses occurring without his own wilful default and authorize him to retain and allow to his Cotrustee all expences incidental to the trusteeship I appoint my nephew Henry Arnold Cowley of Furnivals Inn London Esquire and my friend Frederick Budd of Buckingham in the County of Buckingham Gentleman to be trustees and Executors of my Will And I hereby direct that my trustee Frederick Budd being a Solicitor shall be allowed all professional charges which if employed as Solicitor to my trustees not being himself a trustee he would be entitled to make Lastly I revoke all other Wills In witness whereof I the said George Cowley the Testator to this my last Will and Testament written upon one side of four sheets of paper (affixed together) have to the bottom end or foot of the writing on each and every of the preceding sheets and to the end or foot of the writing on the fourth and last sheet thereof set my hand or name this ninth day of February in the year of our Lord one thousand eight hundred and fifty four
George Cowley
This writing contained on the three preceding sheets and on this sheet of paper was signed by the said George Cowley the Testator as and for his last Will and Testament in the presence of us present at the same time who at his request in his presence and in the presence of each other have subscribed our names as witnesses thereto
John Denne Surgeon Buckingham John M. Butler M.D. Winslow & Woolwich
Proved at London 28th December 1855 before the Worshipful John Elliot Pasley Robertson Doctor of Laws & Surrogate by the oaths of Henry Arnold Cowley Esquire \the nephew and Frederick Budd Esquire/ the Executors to whom admon was granted having been first sworn duly to administer.
---
Notes
George Cowley MRSC, LSA died in London on 28 Aug 1854 aged 45, and was commemorated by his father in Winslow parish church (image above). He was involved with the Ancient Order of Foresters, the Oddfellows, and many other groups in Winslow. According to the newspaper announcements, he died of cholera after "fourteen hours of illness".
For more on George Cowley's nephew George Kelland (b.1844), see John Kelland (1805-86).
George's sister Sarah Eagles Cowley married Thomas Bowker of Whittlesea, Cambs at Winslow in 1827. Charles Edward Bowker was born there in 1844.
For more on the family, see the will of George's father John Cowley (d.1856).