Will of Susanna Bigg, spinster, 1784
Herts RO 220AW2
In the Name of God Amen I Susanna Bigg of Winslow in the County of Bucks Spinster being Aged and Infirm in Body but of Sound and disposing Mind Memory and Understanding (praised be God for the same) Do make and Ordain this my last Will and Testament in Manner and form following (that is to say) First and Principally with all Humility I resign my Soul to God and my Body to this Earth to be Decently Interred at the Discretion of my Executors herein after Named in the Parish Church of Winslow aforesaid And I desire and my Will and Meaning is that my Executors shall and Will as soon as Conveniently may be after my Decease lay a Marble Stone over my Grave and have my Name Age and Death Engraved on the same And as Touching such Worldly Goods and Temporal Estate which God hath Given me I dispose thereof as followeth First I Give and bequeath unto my Nephew Richard Bigg (Son of my late Brother Stephen Bigg Deceased) the Sum of One Shilling Only Also I Give and Bequeath unto Mr Thomas Ripley Mathematical Instrument Maker Near Hermitage Bridge below the Tower London All the Family Pictures that were my late Cousins Mrs Susanna Stanyans And also my largest Looking Glass Also I Give and Bequeath unto Robert Bigg at the General Foreign Post Office in London Gentleman the Sum of Fifty Pounds of lawful Money of Great Britain Also I Give and bequeath unto Richard Howe, Stephen Howe Elizabeth the Wife of John Kempster and Catherine Howe the four children of my Niece Elizabeth the Wife of Joseph Howe and Daughter of my late Brother Stephen Bigg Deceased the Sum of Thirty five Pounds Each of like lawful money Also I Give and bequeath unto John Gibbs of Winslow aforesaid Maltster the Sum of Twenty Pounds of like lawful Money Also I Give and bequeath unto Ann Gibbs Daughter of the said John Gibbs the Sum of Fifteen Pounds of like lawful Money Also I Give and bequeath unto Joseph Hunt of Winslow aforesaid Schoolmaster the Sum of Twenty Pounds of like lawful Money, and my Bureau, Also I Give and bequeath unto Mary Hunt Wife of the said Joseph Hunt the Sum of Fifteen Pounds of like lawful Money for her own Separate use Also I Give and bequeath unto Ann Farey of Winslow aforesaid Widow and Maria Farey of Winslow aforesaid Spinster the Sum of Twenty five Pounds Each of like lawful Money Also I Give and bequeath unto William Turner of Winslow aforesaid \Lacebuyer/ the Sum of five Pounds of like lawful Money Also I Give and bequeath unto my Servant Maid Elizabeth Farey the Sum of Sixty Pounds of like lawful Money for her faithful Service and Assiduous care she took of me during the Time of my Illness Also I further Give unto my Servant Maid Elizabeth Farey my Feather Bed Bedstead Curtains Vallens Bolster and Coverlet, My Mahogany Table under the Glass, Window Curtains, half a dozen my best Chairs my Corner Cupboard, My large looking Glass in the Parlour and my largest Trunk And I will and direct that all the Pecuniary Legacies herein by me bequeathed be paid to Each and every of them my said Legatees respectively by my Executors hereinafter Named out of my Personal Estate within three
[page 2] Months next after my Decease And that all the other Legacies be delivered to the respective Legatees Immediately after my Interrment Also I give unter to my said Servant Maid Elizabeth Farey the Sum of five Pounds of like Money to buy her Mourning \and/ Also all my Wearing apparel of all Sorts (Except what I have Given away in my Life Time) Also I give unto John Clark of Winslow aforesaid Carrier the Sum of One Guinea to buy him a Mourning Ring and as to for and Concerning all the rest residue and remainder of my ready Money and Securities of Money, Goods Chattels Personal Estate and Effects whatsoever and wheresoever and of what Nature or kindsoever the same may be (not herein before by me given and bequeathed) whereof or wherein I shall be any ways possessed of, Interested in, or Intitled unto, at the Time of my Decease I do hereby Give and bequeath the same and every part thereof unto the said Robert Bigg at the General Foreign Post Office in London Gentleman and to Sarah Susanna Ripley Wife of the said Mr Thomas Ripley to be Equally Divided between them each to have Share and Share alike And I do hereby Expressly Charge all my said Personal Estate so given to the said Robert Bigg and the said Sarah Susanna Ripley with the true Payment of all my Just Debts Legacies, Funeral Expences, Probate and Charges in Executing this my Will and all other Charges Incident thereto And I will that my Executors shall not be answerable the one for other or for the Act Deed or Default of the other nor shall either of them be Answerable for any part of my Estate but such as shall come to his or their hands respectively And I do hereby Will and appoint that my Executors shall by and out of my Estate retain and Satisfy themselves all such costs and Charges as they or either of them shall be put unto in the Execution of this my Will And Lastly I do hereby Nominate Constitute and appoint the said John Gibbs and the said Joseph Hunt Joint Executors of this my last Will and Testament hereby revoking and Making Void all former and other Wills by me at any Time heretofore made and do declare this only to be and Contain my last Will and Testament In Witness whereof I the said Susanna Bigg the Testatrix have to this my Will Contained in two Sheets of Paper to the first Sheet thereof set my hand only and to this my hand and Seal this Twentieth day of February in this Year of our Lord One Thousand Seven Hundred and Eighty four.
Signed Sealed Published and declared by the said Testatrix Susanna Bigg as and for her last Will and Testament in the Presence of us who have hereunto Subscribed our Names as Witnesses in the Presence of the said Testatrix and at her request and also in the Presence of each other
[signed]
Sus(ann)a Bigg
Richard Lomath
Charles Clarke
John Cox
---
Notes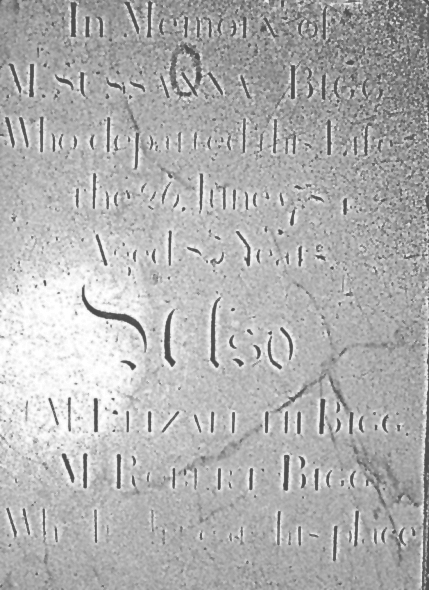 Susanna Bigg was the daughter of Richard Bigg (c.1668-1740) & Elizabeth Bigg, bap. 28 Aug 1701, as Clear refers to a memorial tablet "In memory of Mrs. Susan Bigg, who departed this life the 28th June 1782 [sic], aged 83 years, also of Mrs. Elizabeth Bigg and Mr. Robert Bigg". The stone (see right) has been reused in the floor at the entrance to the vestry and is now badly worn, but appears to give the year as 1784 and the date as 26 June. The line at the bottom reads "who lie buried in this place".
Robert Bigg of the General Post Office was probably the son of Susanna's brother Robert. Another Susanna, daughter of Stephen and Anne Bigg bap. at Winslow 22 May 1708, could be the cousin Susanna Stanyans mentioned in the will.
Sarah Susanna Ripley (nee Bigg) was buried at St John, Hackney, on 15 March 1807 aged 63. She married Thomas Ripley at St Botolph without Bishopsgate, London (her parish of residence), on 9 Aug 1763. She was married by licence, with her father's consent as she was a minor. The witnesses were Robert Bigg and Mary Bigg, the names of her parents when she was privately baptised on 10 March 1744. At a special manor court on 20 Nov 1781 Susanna Bigg gave the reversion of her copyhold land in Winslow (about 9 acres) after her death to Sarah Susannah Ripley of St John Wapping London wife of Thomas Ripley Mathematical Instrument maker.