Will of Frederick Benbow, confectioner, 1909 (proved 1918)
Oxford Probate Registry
BE IT KNOWN that Frederick Benbow of High Street Winslow in the County of Buckingham, Confectioner, who at the time of his death had a fixed place of abode at High Street Winslow aforesaid, within the District of the Counties of Oxford, Berks and Buckingham, died on the 7th day of March 1917 at Winslow aforesaid.
AND BE IT FURTHER KNOWN that at the date hereunder written the last will and Testament of the said deceased was proved and registered in the District Probate Registry of His Majesty's High Court of Justice at Oxford, and that Administration of all the estate which by law devolves to and vests in the personal representative of the said deceased was granted by the aforesaid Court to Frederick George Benbow of 59 All Saints Road Westbourne Park London Grocer and Henrick John Owen Benbow of 1 Windsor Street Wolverton in the County of Buckingham, Joiner, the Sons of the Deceased the Executors named in the said Will
Dated the 4th day of January 1918
Gross value of Estate £619 - 18 - 0
Net value of Personal Estate £94 - 9 -5
Extracted by W. Gravely W. Willis, Solicitor, Winslow
This is the last Will and Testament of me Frederick Benbow, Confectioner, of High Street Winslow in the County of Bucks made this Twenty fourth day of March in the year of our Lord One thousand nine hundred and nine I hereby revoke all Wills by me at any time heretofore made I appoint my Son Frederick George Benbow my Son Henrick John Owen Benbow of Stantonbury to be my Executor [amended to 'Executors' in left hand margin] and direct that all my just debts and funeral and testamentary expenses shall be paid as soon as conveniently may be after my decease. I give and bequeath unto my Daughters Mary Ann Benbow and Louisa Henrettia for their sole use absolutely The Cottage adjoining my Shop with strip of garden 16 feet wide right down to roadway at back which includes a part of Shed this also to be separated [sic] from rest of shed for their use absolutely. The remaining part of the Shed and Garden with House and Shop with outhouses etc. to be sold with contents of every description and nature and the money realized to be equally divided between the remaining seven children namely my Daughter Mildred Jane Carter, Frederick George Benbow named as my Executor, my Son Nimrod Charles Benbow, my Son Ralph Benbow, my Daughter Lizzie Priscilla Ann Clarke, Henrick John Benbow my Executor named above and my Son Winfrid Roger Benbow. It is my Will and wish that my property be disposed of in the manner herein described. In the event of either of my Daughters Mary Ann or Louisa Henrettia dying then the surviving Daughter to have sole possession absolutely of the joint portion named herein that is the Cottage and strip of land to roadway 16 feet wide In the event of any of the married children dying his or her share to be equally divided between their issue and if no issue of such then the share to be equally divided between the children named herein I will however that my Daughters Mary Ann Benbow and Louisa Henrettia Benbow named herein shall share equally with my other seven children the proceeds & money realized by sale of goods & contents of House & Shop & buildings upon the land
Frederick Benbow [signature]
Signed by the said Testator as his Will in our joint presence of us present and by us in each others presence
H.K. Byard [signature] Winslow, Bucks Minister J.M. Byard [signature] Winslow, Bucks
On the Fourth day of January 1918 Probate of this Will was granted at Oxford to Frederick George Benbow and Henrick John Own Benbow, the Sons, the Executors
It is hereby certified that the foregoing is a correct copy
Dated this Tenth day of January 1918
---
Notes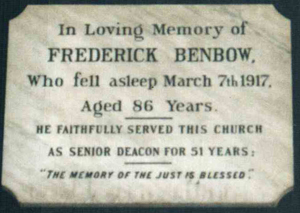 The Benbows were a long-established Winslow family and Frederick may have been descended from Robert Benbow (d.1840). Frederick's shop was on the site of 56-58 High Street (rebuilt in 1926), and had been converted from the first Workhouse. He was in business there by 1864, later helped by his two unmarried daughters. The property was bought by Norman McCorquodale in 1918 but the daughters carried on the shop until Mary Ann died in 1924.
Frederick Benbow was the son of John and Mary Benbow of Winslow, b.1831. He had an Anglican baptism but became a Baptist, and the memorial tablet pictured on the right is from the Baptist Tabernacle. He married Jane King (born at Rissington, Gloucs) at Winslow in 1851. She died in 1893. Perhaps her family was the reason for the Germanic-sounding names of some of the children. In the 1851 Census they were living with his parents in Sheep Street. The children named in the will were:
Mildred Jane b.1849 (her original surname was King as she was born before her parents married); married Emanuel George Carter, railway signalman from Steeple Claydon; living at Long Buckby in 1911
Frederick George b.1853; grocer of Westbourne Park
Mary Ann b.1855 d.1924
Nimrod Charles b.1858; confectioner of Stony Stratford
Ralph b.1860; carpenter, lived at 73 High Street, Winslow, with his wife; no children
Lizzie Priscilla Ann b.1863; married Ernest George Clarke in 1886; in 1911 they were living in Swansea and he was a dentist's assistant
Henrick John Owen b.1865; joiner of Wolverton
Louisa Henrietta b.1867, d.1946; she remained at the rebuilt 56 High Street after her sister died
Winfried Roger b.1873; bricklayer of Hampton Wick in 1911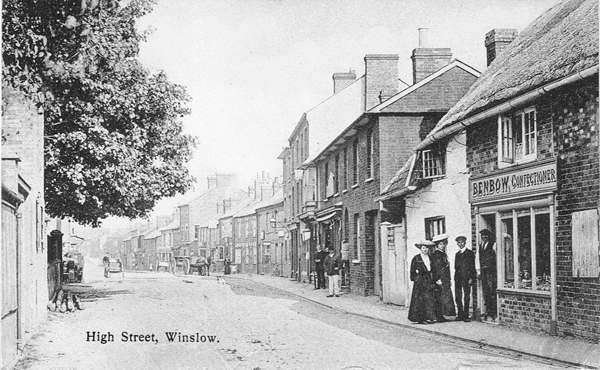 The shop is shown above, presumably with members of the Benbow family in front of it (the postcard was used in 1915). The white building to the left of the shop is the cottage mentioned in the will. The property had grounds behind it extending across what is now the Greyhound Lane car park (the roadway mentioned in the will is now the cycle path):
1895, 4th October, Bicester Herald
WINSLOW.
FIRE.- On Wednesday evening last, what must have been a very serious fire, but for its early discovery, broke out in the large barn at the rear of Mr. Benbow's house and just in front of the cricket field [now the Arboretum] (its upper story being used as a scoring room for the cricket club). A party of young men were engaged at football at the time, with a number of boys looking on, and it is conjectured that one of the latter thrust a lighted match underneath the barn door, for Mr. Clem. Watson, who was playing football was struck with the sight of smoke and flame coming from it. He dashed down his garden into Mr. Benbow's premises, and seizing a bucket flew to the soft water tank and with a little assistance put out the fire. The barn is a large structure, the part where the fire was, being full of straw and the remainder of carpenter's tools, furniture, &c., while adjoining is another barn, and within a few feet, two hay stacks. The delay of a few seconds would have set the whole in a blaze.