Furze Down School site (Pond Leys)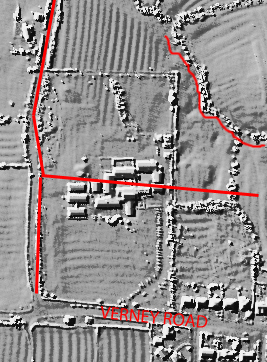 Before Enclosure in 1767, the north side of Verney Road was part of New Mill Field. Furze Lane didn't yet exist as a through-road, although it may have been a path giving access between furlongs to strips of land in the open fields. Verney Road was a route to Addington. Traces of the ridge and furrow on the Furzedown site can still be seen through LIDAR; after Enclosure the land was only used for pasture and not ploughed. The LIDAR image on the right shows the school, ridge and furrow, and (in red) approximate furlong boundaries, indicated by the different directions of the ridges.
Enclosure created a new, irregularly shaped field (later divided into two) measuring 6 acres 0 roods 17 perches, at the corner of Verney Road and the newly laid out Furze Lane. Read the description in the Enclosure Award. It was allocated to Catherine Turner, widow of the surgeon John Turner, as part replacement for the 12 acres she previously held in the open fields. In her will of 1773, she left her land jointly to her three children. In 1774 they sold to the lawyer James Burnham the land "now in the tenure or occupation of William Maydon containing together by admeasurement six acres and [blank] perches and commonly called or known by the several names of Pond Leys and Abrahams Pitts". Abraham's Pits was the north-eastern part of the block of land (see map below). In 1804 they were in the occupation of James Hazzard.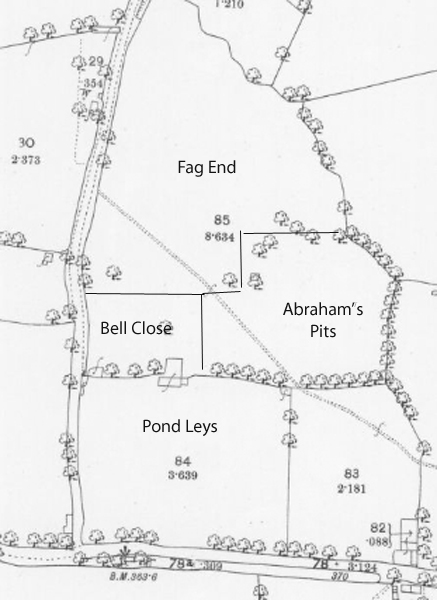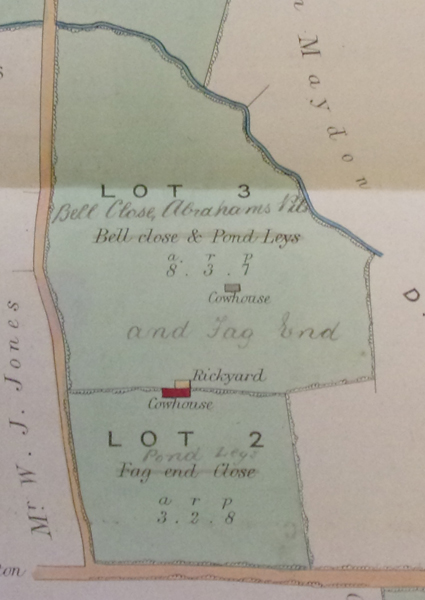 North/west of this, next to Furze Lane, was a small block measuring 0a. 3r. 9p. allocated to John Plomer and Mary Goldsworth. They were owners of The Bell, and it was referred to later as Bell Close. They sold to James Burnham in 1775. It was described in 1804 as two undivided moieties of a plot of land in New Mill Field called Bell Close heretofore in the occupation of John Goodman, afterwards John Lomath, now James Burnham jr.
James Burnham in his will of 1801 (proved 1803) left all his inclosed closes lying in Winslow to his daughters Ann, Elizabeth and Sarah as tenants-in-common, so they each owned a 1/3 share of Pond Leys, Abraham's Pits and Bell Close.
Sarah married Samuel Greaves Dudley and her share passed on her death to her son Samuel Burnham Dudley (1838).
Ann in her will of 1836 left her property to her three sons James Burnham Nibbs, George Brand Nibbs and Samuel Henry Nibbs as tenants-in-common. They sold their 1/3 share in 1844 to their cousin Samuel Burnham Dudley.
Elizabeth and her second husband Rev. John Miles of Paddington in 1853 sold to Alfred Barton of The George (inter alia) their third of Pond Leys and Abraham's Pits "heretofore in the occupation of William Maydon afterwards Kitty Hazzard & James Hazzard, now and for several years past of William Jones", and their third of Bell Close, also in the occupation of William Jones. In 1869, Alfred Barton sold to Silvanus Jones for £177 15s his undivided third of a plot of land called Pond Leys containing 3 acres 2 roods 8 perches, late in the occupation of William Jones, now of William John Jones. And Alfred Barton sold to John Morris of Hogston farmer (inter alia) his undivided third of a close called Abrahams Pits and the adjoining Bell Close, containing together 3a. 3r. 2p.
On 8 June 1877, Dudley & Son offered for sale at the George Hotel five closes of valuable pasture land including the following (CBS, D/WIG/2/2/15). The map accompanying the sale information is shown on the left. The vendors' solicitors were Hooper & Bullock of Winslow.
LOT 2. The two undivided third Shares of "Pond Leys Close," A sound piece of rich pasture with substantial and recently built brick and slated cowhouse for 12 cows containing 3A. 2R. 8P. With a frontage to Addington Road, and Featherbed Lane, in the occupation of Mr. Silvanus Jones, the owner of the remaining undivided third share. The hedge on the opposite side of the road fencing out the Vicarage Land belongs to this Lot.
[Sold for £503 by Samuel Burnham Dudley to Thomas Price Willis; Silvanus Jones must have sold his 1/3 share of Pond Leys to T.P. Willis around the same time]
LOT 3. "Bell Close Abraham's Pits & Fag End" (now in one) containing together 8A. 3R. 7P. of rich old pasture, thoroughly drained, and in capital condition, with a small cowhouse standing thereon and a considerable frontage to Featherbed Lane, in the occupation of Mr. Silvanus Jones. 5A. 0R. 5P. of this Lot is Freehold.
[Sold by S.B. Dudley and John Morris to T.P. Willis for £1,410; timber sold for £40 10s].
In the 1910 Valuation (TNA, IR58/2351 no.567), the land is part of a holding of 50a. 2r. 36p. owned by the executors of T.P. Willis. Some of this was copyhold, including Pond Leys (3a. 1r. 28p.) and part of Fag End (3a. 3r. 2p.). Fag End was therefore the new name for the whole of the larger field including Bell Close and Abraham's Pits.
In 1911, the sale of the remaining part of T.P. Willis' property after his death in 1909 included (see the sale map below):
Lot 1: Two Enclosures of Accommodation Grass Land, comprising 12a. 1r. 4p., situate at the corner of Vicarage Lane, Winslow. It was put in at £500 and rose by £25's to £800, and after two £10's and two £5's it was knocked down to Mr. Fred Hurst, Swanbourne, at £830.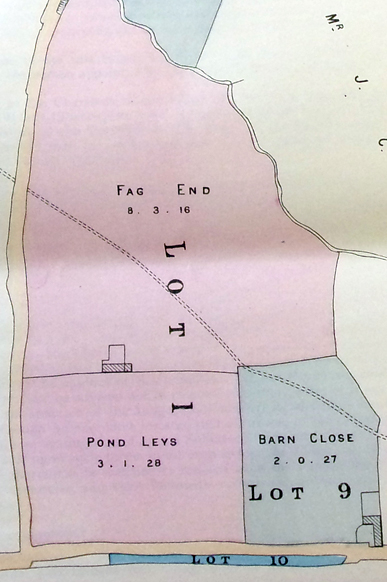 CBS, D/WIG/2/7/1911/20: typewritten advice from Geo. Wigley & Sons for the purchaser
NOTES of Work required to be done at POND LEYS and FAG END, WINSLOW, for Mr FRED HURST, the Landlord. 29th June 1911
FENCE DIVIDING FIELDS
Reinstate defective sleepers or posts with new head stocks, to be found by the Landlord; and spur up other posts, Contractor finding materials.
Repair defective or broken iron rails.
Properly refix lintol [sic] over shutter window in eaves.
Repair post and rail fence at back of Cowhouse, reinstating new posts or rails as necessary, Landlord finding mounding posts.
Supply and fix new head to one gate, and hang gate in fence dividing Mr Hawley's property on the other side.
BOARDED AND TILED COWHOUSE
Repair studding and boarding, and put in necessary braces or stays to keep the building together.
Refix loose tiles.
LITTLE COWHOUSE IN FAR FIELD
Repair boarding to all walls.
Repair brick groundpin.
INTERNAL FENCES dividing Mr Hawley's property.
Refix post and single rail where down.
Repair post and rail fencing where necessary, and in place where gate is taken away, properly cut out ditch forming bank with new post and rail fencing.
Landlord finding mounding posts.
The present gate posts to stand as they now are.
Repair field gates where not specifically mentioned, and do any other small matter of repair obviously intended to be done, although not specifically mentioned; leaving post and rail fencing and gates sound; but this clause shall not in any way apply to the post and rail fencing adjoining the Back Lane or Featherbed Lane, which fencing it is intended shall be done next winter. Nevertheless, one mounding post shall be put in the said fence, to secure rails next to field gate adjoining the Back Lane, at E. end of property.
CBS, D/WIG/2/7/1911/20: typewritten note about possible sale
December 13 1911.
Actually cost Mr Hurst £905. prepared to take £900, Fields let to Mr. Jesse Smith £39 p.a.
December 27 1911.
Not entertain offer of £875.
If necessary refer to letter April 6th with regard to Pond Leys only.
[Additional handwritten notes in pencil]
Mr Hurst wants £Baq [illegible] plus Walkers Bill (£7-6-8½)
19 May 12 Mr Stock offers £860 All included
CBS, D/WIG/2/7/1911/20: estimate for repairs to Hurst's purchases includes:
W. Walker. BUILDER AND GENERAL REPAIRER. Sheep Street, Winslow
Field in Back Lane in the Occupation of Mr J. Smith
115 Yards post and rail fencing
4 rails in one place where no hedge
3 rails in bad places 2 rails others
post every 9ft stake between
Oak rails where no hedge and bad places
Deal rails Creosoted others
40 posts 120 rails £5 10s
Labour & Nails £2
40 Stakes 10s
TOTAL £8
CBS, D/WIG/2/7/1911/20: Covering typewritten letter from Geo. Wigley & Sons, dated 8 May 1912:
Bearing in mind the promise you made to Jesse Smith when we met you here the 28th of June last year with Fletcher, we asked William Walker of Winslow to give us a price for making good the gaps on the road hedge...
The items looks [sic] rather heavy but we have twice examined the fence in the hope that we might be able to cut it down, but we are afraid that quite as much posting and railing will be required as he estimates for.
There is one thing \to be/borne in mind, namely, that if you do the fencing, we ought to erect it in such a way that the quick fence could eventually be trained and cut so as to fill up the gaps and bad places. The fence must not in fact be erected right in the centre of the quick fence.
You might also, we think with advantage to yourself, consider the advisability of eventually planting a few young quicks.
If you decide that this is more than you are prepared to expend, you might consider putting up a four rail fence entirely of creosoted wood.
Messrs English Bros., supply a suitable fence with rectangular posts 6ft. 2½in. by 5in. or 3in by 4in with 6ft. centres pointed for driving on alternate sides of rails. 4 rails 1½in x 3 in 12ft or 18ft. lengths.
They only supply this number in lengths of 230yds, the weight of which is about 2 tons, the cost on rail at Wisbech being 1/1 a yard. The Railway rate being about £1 to Winslow Station for the 230 yards.
CBS, D/WIG/2/7/1911/20: Handwritten letter concerning possible sale
1 Station Road, Winslow
Aug 28 12
Dear Sir,
I am sorry I cannot give Mr Hurst the Price he is asking I find it does cost so much for conveyance and it would I find owing to much of it being Copyhold it would cost me about £60 to enfranchise and the very best offer I can make now is £865 Mr Hurst and not myself to pay you your sale commission.
Yours faithfully
Henry Stock [signature]
Frederick Hurst died in 1918 aged 54. It appears that he had agreed a sale to Mr Stock before then. The 1929 rating valuation (CBS, DC4/15/5) lists H.C. Stock as owner and occupier of "Hursts", 12a. 1r. 4p. of land with buildings in Vicarage Road. More about H.C. Stock. He was able to avoid ploughing up his land during World War Two, unlike most Winslow farmers (read more). After he died in 1943 the land passed to his trustees under the terms of his will.
The Winslow Expansion Plan of 1967 designated the former Pond Leys and Bell Close as the site for a school, with the rest of the land allocated for housing.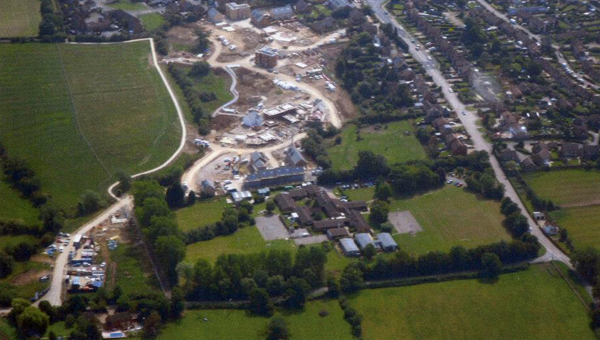 Aerial photo from 2011 showing Furzedown School in the foreground (formerly Bell Close and Pond Leys); the beginnings of the new Verney Road housing development can be seen above
The images below are an aerial view from 2014 looking north-east (courtesy of Andrew Shepherd) and the rebuilt school as it appears now on satellite imagery.
See also:
Copyright 30 October, 2023