William James Royce (1855-1932)
Information from the Burnley Express, 5 March 1932, and various editions of the Bucks Herald.
The funeral took place at the end of February, 1932 from the home of his daughter, 16 Arran Street, of the late Mr. William James Royce, a well-known Rosegrove septuagenarian.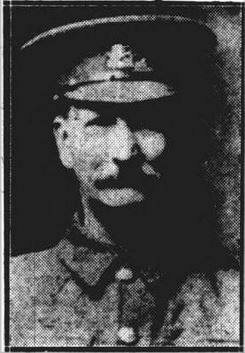 Born in Winslow, Bucks around 1855, the son of George and Elizabeth (née Reynolds), Royce married Sarah Emma Jeffs in Winslow during 1882. Their first child, William, was born there around 1883 and before the family left Bucks, a girl, Florence, was born in Waddesdon. Mr and Mrs William James Royce settled in Burnley in the Lowerhouse area in 1888 and 2 girls and 2 boys were added to their family over the next twelve years. Mr Royce served in the East Lancashire regiment in the Boer Wars, was a founder member of the Burnley National Reserve Club, before returning to the forces and joining the King's Own regiment during World War I. Mr Royce's service career lasted 28 years. He retired with the rank of Sergeant. After retiring from the forces, Mr Royce became a postman and lived with his daughter in Rochdale. Meanwhile back in Bucks, John and Robert Royce, younger brothers of William James, had been convicted in December, 1903, of not paying their agreed sums towards the maintenance costs of their father, George Royce, who was an inmate of Winslow Union Workhouse. The brothers had to find the arrears but because of their poor earnings, the mitigations that John had brought up a large family and Robert had a sick wife, their contributions were lowered (in the one case from 1s 3d to 6d a week).
William James and family were leading lights in the Liverpool Road Baptist Church and the Reverend W.A. Pearson of the nearby Mount Pleasant Church conducted his funeral. Mr Royce left three surviving children: two sons and one daughter. At the time of his death, Mr Royce's brother Robert (Bob) lived in London, one younger sister (Annie) remained in Bucks, and another attended his funeral with her husband: Mr. & Mrs. L. & J. Jeffs. William James Royce was buried in grave A4461 at Burnley Cemetery.
1861: Census
Piccadilly Row, Winslow
| | | | | | | |
| --- | --- | --- | --- | --- | --- | --- |
| George | Royce | Head | married | 26 | Ag. Lab. | b. Winslow |
| Elizabeth | Royce | Wife | married | 30 | | b. Little Horwood |
| William J. | do | Son | | 6 | | b. Winslow |
| John | do | Son | | 4 | | b. Banbury |
| Harry | do | Son | | 1 | | b. Winslow |
| Sarah | Reynolds | Mother in law | widow | 76 | | b. Newton Longville |
1881: Census
Sheep Street, Winslow
| | | | | | | |
| --- | --- | --- | --- | --- | --- | --- |
| George | Royce | Head | married | 47 | Farm Labourer | b. Winslow |
| Elizabeth | do | Wife | do | 52 | Charwoman | do |
| Thomas [sic] | Royce | Son | unm | 26 | Army Reserve man (Shoemaker) | do |
| Harry | do | Son | do | 22 | Shoemaker | do |
| Emma | do | Dau | do | 20 | Serv. domestic | do |
| Robert | do | Son | do | 19 | Carpenter | do |
| Annie | do | Dau | do | 13 | Scholar | do |
| Thomas | do | Son | do | 9 | do | do |
---
Back to Families / People