The Minter family and their work in workhouses across England
A note by Ed Grimsdale
William Vincer Minter was appointed as master of Winslow Workhouse on 28 June 1850. He retired from his post on 26 Sep 1894 having served the inmates for over 44 years. On his appointment, his wife, Mary Ann, was awarded the post of matron. Minter was 31 years old, born in Margate, Kent. His father was John Hardy Minter, sometime of Callis Court Farm on the Isle of Thanet. William had served in the Army and in domestic service before joining the institutional world of the workhouse. Mary Ann Minter, née Semper, the daughter of a trunk maker, was five years younger than her husband and had been born in Bath.
Some of the advantages of moving to work in a workhouse were the fringe benefits: accommodation, heating, lighting and food. Many ex-army personnel found employment in the regulated and ordered world of a workhouse to be "home for home" after life in barracks. And, it wasn't just "Mr & Mrs" who would benefit – the Minters brought no extant children but by 1861 they had Anne (aged 7), William (5), Alfred (4) and baby Elizabeth (2) and … Mrs Minter was pregnant with Kate (alias Louisa)!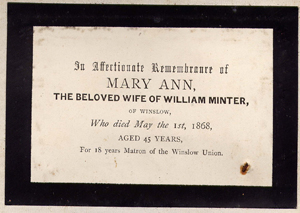 Later, in the 1860s the family swelled with the arrival in Winslow of Louisa (born in 1861) and John born in 1863, although Alfred died in 1862. Sadly for her family, Mary Ann, the "beloved" wife of William Vincer Minter died at Winslow workhouse in 1868 after "18 years [as] matron of the workhouse". Beloved she may have been, but not irreplaceable, and William Minter went within four months to London and married Emily Flemington, a 38-year-old spinster with a 6-year-old illegitimate daughter, Clara Horner Flemington, whom he adopted. Emily lived at the Winslow workhouse with her husband until her death in Winslow during the autumn of 1885. She served as his matron and after her death, Emily's daughter and William's stepdaughter, the unmarried Clara Horner Flemington Minter assumed the role of matron! Emily had another daughter who also had a post at the workhouse and died aged 19: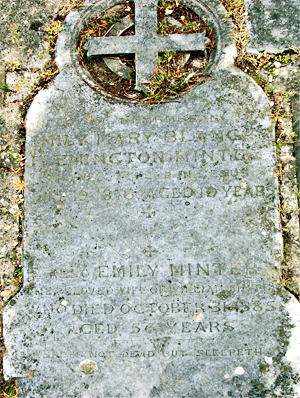 Buckingham Advertiser, 8 July 1876: Deaths. June 19, at the Union House, Winslow, Emily Mary Blanche Flemington Minter, schoolmistress, aged 19 years.
She and her mother were commemorated on the same gravestone (right).
In reality, all of the Minter family grew to serve the Winslow Workhouse in a variety of capacities – some of them paid. In particular, when Minter's boys grew up they were apprenticed as "Assistant Relieving Officers". In effect, William Minter turned Winslow Workhouse into a family training centre for those who wished to become workhouse officials.
Kate F. (christened Louisa) Minter (aged 19) was appointed as schoolmistress to the Woburn Union workhouse in September 1879. She resigned suddenly in May 1880, due to ill-health. Louisa was a visitor at the Camberwell Workhouse, Havil Street, Camberwell, run by her brother-in-law William Cuthbe, husband of Louisa's elder sister, Elizabeth Minter at the time of the 1881 census. Elizabeth acted as the institution's matron. The couple served at Camberwell for over six years before setting up a new Union house for Holborn. Unfortunately, they had to resign their posts (which were joint appointments) after William Cuthbe, a native of Chelmsford, was afflicted with "paralysis of the brain" and was detained. By 1892, Mrs Cuthbe had secured a new post in Birmingham Union workhouse, a very large institution, as matron. At Christmas, 1897 Elizabeth, now a widow, was presented with a "drawing room clock" to honour her sterling work. Although Elizabeth was able to purchase property in Station Road, Winslow from her father's estate, she remained in Birmingham until her death in 1911.
William Vincer Minter (jnr) followed his father's profession and was master firstly of Medway, Kent. A spell in local government followed during which he married and was quickly widowed. He married, secondly, Lizzie, daughter of John Abbott in St Giles, Camberwell in May 1884. and they became master and matron of Westminster Union's workhouse, Poland Street in London. The institution's Medical Officer was Dr Joseph Rogers and he recorded in his memoirs:
After the departure [in disgrace] of Mr. John Bliss and the disappearance (through illness) of Miss Heatley, the Guardians appointed as master and matron, Mr. and Mrs. Minter. I found them to be exceedingly respectable people, kind to the old and afflicted, and fair and kind to the general population of an urban workhouse. The sick poor were quietly attended to, whilst loud-mouthed swearing and blasphemy were banished from the place.
It's believed that Mary Edith Abbott Minter, a visitor to Winslow workhouse at census time in 1891, was the surviving daughter of William Minter (jnr)'s second marriage. William Minter was an executor of his father's will. Once probate had been granted his father's "personality" was worth more than £900.
William Vincer Minter jnr's subsequent career within local government is uncertain but it included a successful time as Registrar of Births and Deaths at Somerset House, but he died in Bloxwich, Staffordshire in 1935.
The youngest son, John Vincer Minter, served as master of a workhouse in Kent followed by one at Exning Road, Newmarket in Cambridgeshire. He became an outstanding servant of Newmarket workhouse in the late 1880s, and also the only ordained master of a workhouse in England after he had been ordained following his fund-raising efforts to build a new workhouse chapel. Bishop Alwynne of Ely wrote a commendation after he visited the workhouse and its new chapel:
I visited the Newmarket Union Workhouse after dedicating the new chapel and was very much pleased with all I saw: the care taken by the Guardians for the comfort of the inmates, especially the homes provided for old married couples, the cleanliness and pleasantness of the House generally, the affection felt by the inmates for the master and matron, and the cheerful manner in which they received the visit of the chairman and vice-chairman who accompanied me in my too hurried visit.
The King paid an official visit to Newmarket workhouse in 1904 - it was regarded as a model establishment - and it was still run by Rev. J. Vincer Minter with his wife alongside him as matron (for more about the visit, click here). The King intimated that he would be glad to permit one of the wards to be called King Edward VII Ward. Then, turning to the master, the Rev. Vincer Minter, he asked whether the fact of a workhouse master holding Holy Orders was not unique.
"Yes," replied the master, "There is not another case, I believe, in the world."
The King was delighted by what he saw and a week later sent Mr Minter a hamper with tobacco, sweets and chocolates, enough for one present for each of the male, female and junior inmates. We're told that "general jubilation" broke out. The Reverend Minter was adept at organising his inmates and creating occasions for them. The Times recorded in 1909 that "The King has sent the Rev. J.V. Minter a donation of 25 guineas towards the expenses of St Etheldreda, the Newmarket Union workhouse's church choir excursion." John Vincer Minter had married Alice the daughter of William Preston of London in 1888. Later, Minter resigned as master of Newmarket workhouse after an outstanding career spanning twenty-one years. After a spell as chaplain in the Union Institution in Barnet, where his daughter Olive M. Vincer-Minter (aged 19) served as housekeeper to her widowed father, the Reverend Minter was presented to the rectory of Partney, Spilsby in Lincolnshire in 1925. He died in St Luke's hostel for retired clergymen in Marylebone, London in 1930.
Let's return to (almost) the daddy of them all: Mr William Vincer Minter resigned in 1894 after serving 44 years as master of Winslow Workhouse. Incidentally, his stepdaughter resigned as matron at the same time. He retired at the remarkably old age of 75 and could not have expected a long and relaxing retirement. He applied for a pension but the Board of Guardians, almost unanimously, rejected his application, despite Mr Minter's longevity of service to the Workhouse. In fact, only after much heated debate, did the Guardians agree to thank William for his work.
Minter's application - not on the basis of contract but in terms of a goodwill for services rendered - was leaked to the Bucks Herald. One suspects that Minter was its source. In the week before the Board of Guardians were to consider Minter's request, this column appeared in the newspaper:
Bucks Herald, 6 Oct 1894
I hear that the question of the superannuation of Mr. Minter, forty-four years master at the Winslow Workhouse will be considered next Wednesday. Forty-four years is a good record, and none can say but that the Guardians during the long period have had an excellent servant. It should also be borne in mind that this long spell of service has relieved them of the expenses attendant on making new appointments. I hear that the change of officers which has taken place within the last few weeks cost the Board some £16 in advertisements, railway fares, etc. The Winslow Board has enjoyed a different experience to that of some other Boards in regard to the frequency of the appointment of officers. Take, for instance, your own Union at Aylesbury. During the time Mr Minter has been at Winslow, the Aylesbury Guardians have made fifteen fresh appointments of a master and matron and nine changes in the relieving officeships. [Mr Minter carried out those duties, and those of "Inspector of Nuisances", as well!]

Of course, the Aylesbury Board had to pay heavily in expenses, besides some special sums in the shape of gratuities, etc. But I only mention this one case of a neighbouring Union to show how fortunate Winslow has been during nearly half-a-century in this respect. I hope all these things will be taken into account next Wednesday by the Guardians, and that they will liberally recognise the past services of an efficient and faithful servant.
Well, well! As we know, public bodies hate the glare of publicity and become rancorous when told what to do! Almost to a man, the Board spoke as one, and from a position of high principle of those who are stewards of public funds. The Guardians must have known that Mr Minter had saved sufficient money to buy three trim, modern dwellings in Station Road., Winslow, even if the bank shares, which he also owned, were not known to them. Mr Minter lived in one of the Station Road houses after his retirement and was looked after by one of his daughters.
There was an outcry over the insensitive treatment of Mr Minter by the Guardians. That, of course, at a time when attitudes to pensions were changing and many employers were recognising that they had a duty to at least cushion the change from employment to retirement. Mr Minter's case was loaded with emotion and sentiment but difficult to prosecute legally partly through his misfortune of having served for so long - the norms that governed his tenure had been set in 1850, a time before workers even dreamed of having "rights". Nevertheless, Mr Minter's "union", the Bucks, Berks and Oxon Poor Law Officers' Association, backed his case and battled on his behalf. There is no evidence that they were successful but that may be because Mr Minter died suddenly a year after his retirement, possibly before the campaigners had time to reach an accommodation with his employers.
Bucks Herald, 4 Jan 1896
WINSLOW: FUNERAL of MR. MINTER
The interment of the late Mr. Wm Minter took place at the Parish Church on Saturday afternoon. In addition to the members of the family, the following gentlemen and townsmen attended to pay the last token of respect to the old Master of the Workhouse:- Rev. C.G. Hutchings, rector of Dunton, and an old member of the late Board of Guardians; Rev. R.C. Allen, vicar of Whaddon; Messrs. E.H. Baylis and W.S. Neal, members of the Rural District Council; Mr. T.P. Willis, clerk; Mr. T.F. Vaisey, medical officer; Mr. Wise, sanitary officer; Mr. G.D.E. Wigley, Mr W.N. Midgley, Mr J. Elley, and Mr F. Loffler. The service was choral and conducted by the Vicar, Rev. P.H. Eliot. Some choice wreaths were sent by friends and relatives, in addition to one from the officers of Birmingham Workhouse; one from the officers of Eltham Union House, Folkestone; another from the children of the same House, and one from the officers of Newmarket Union.
A separate tribute from the same issue
The mortal remains of Mr. William Minter were laid to rest in the churchyard at Winslow last Saturday. For close on half a century he held the combined offices of Relieving-officer and Master of the Workhouse. During that time many changes took place in Poor-law. At his graveside were uncovered the heads of many who had witnessed with practical interest these changes; but, withal, there was an evident feeling that the law is not omnipotent. Mr. Minter possessed a kindly heart, and if at times he did not act up to the very letter of the law, he had sympathies so broad as to include the full spirit of the law. To such an extent was this at times to be seen that, in order to escape from the iron grip of the Poor-law rules, as propounded by the Local Government Board, he had to privately pay money from his own pocket. Truly he was one of the old school and "take him for one and all" it is scarcely probable we shall "Look upon his like again."
Postscript: from the Bucks Herald, 11 Nov 1895
THE LATE MR MINTER
A correspondent from Lyminge writes expressing the sorrow which has been caused there by the kindly Matron of the Workhouse (Mrs Young) having lost her father by death a few days ago. He had been for 46 years [sic] Master of a Workhouse, and having been forced to retire in consequence of advancing age, and not receiving so much as a gratuity from his governing body, the treatment preyed upon his spirits, and brought him to his end. At a meeting of the Elham Guardians on Monday, the loss which Mrs Young had suffered was feelingly referred to by some of the Guardians who spoke of her father as a good and worthy man, and a vote of condolence with Mrs Young was adopted …
It was mentioned as a unique and interesting circumstance that the inmates of the Elham Workhouse having known the gentleman through his visits to his daughter, subsequently collected in pennies and two-pences the sum of a guinea for the purchase of a wreath for his funeral. The Guardians agreed that this little act showed how much the Matron was appreciated by the inmates.
Thus, another of Mr William Minter's daughters was the matron of Elham Union workhouse in Kent during the 1890s whilst her husband, Mr C.W. Young, was its master. The story of the Minter family and its admirable work across the workhouses of England remains unfinished!
---
Back to Families / People