Albert Victor Hamp (1895-1985)
In 1911, Albert Victor Hamp was aged 15, living in Avenue Road (probably no.9) with his parents, and working as a tailor. In 1917. he was one of the many men from Winslow serving in the army, and at Whitsun they all received a card and parcel signed by George Pass, Winslow's schoolmaster and Organising Secretary of the Winslow Soldiers' and Sailors' Comforts Committee, with "Winslow's very best wishes and grateful thanks". His card happens to have survived.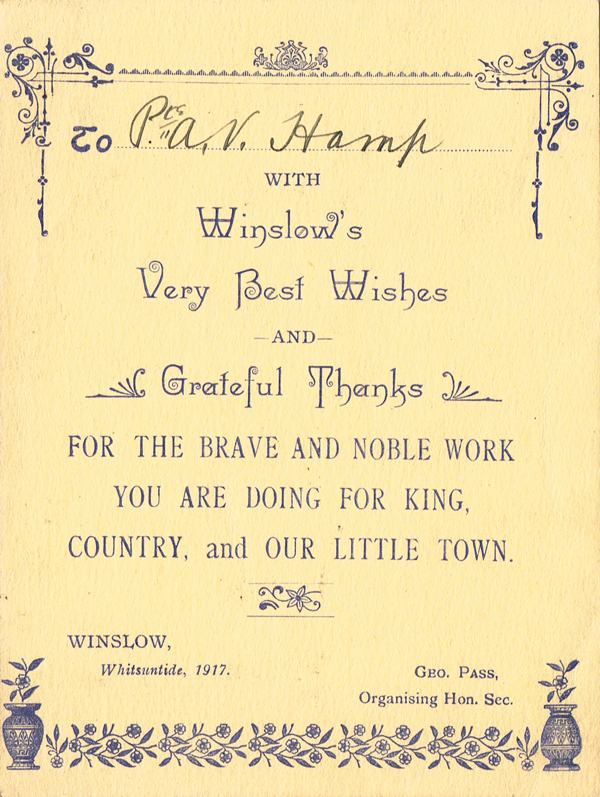 Albert Hamp was in the RAF in 1918 (the card doesn't show where he was in 1917 but he was in the Oxon & Bucks Light Infantry in 1916).
His parents were Joseph Hamp and Sarah Beckett and he had five siblings - Ernest Henrich Hamp (also a tailor), Catherine Oriana Hamp, George Ebbie Hamp, Daisy May Hamp and Annie Eliza Beckett Hamp. He survived the war, got married to Mabel Shepherd in Aylesbury in 1922, and died in 1985.
Thanks to Lucy Beckett and Stewart Walker for some of the information.
---
Back to Families / People