Balloon landing (1884)
Bucks Herald, Saturday 20 Sep 1884
Centenary Balloon Flight Landed Near Winslow.
The centenary of balloon flights by Signor Lunardi, Secretary to the Neapolitan Embassy, was celebrated on Monday at the grounds of the Hon. Artillery Company, where the event occurred in 1784. The proceedings consisted of the ascent of three balloons and an address by the President of the French Aeronautical Society, at a meeting presided over by Sir John Bennett. The first of three ascents was made by General Brine, R.E. in his celebrated balloon, the Colonel, which has made four voyages across the Channel. He was accompanied by M. L'Hoste [Secretary of the Paris Académie d'Aérostation Météorologique] and by Captain Bayliss of the Hon. Artillery Company [& Solicitor to the Commissioner of Sewers]. This balloon holds 35,000 [cubic] feet of gas, and rose majestically in the air shortly after four, immediately ascending to a considerable altitude, and sailing away before a current of air in a north-westerly direction. It was distinctly seen from this town [Aylesbury] about 5.30 p.m. passing to the northward and at first at a great altitude, continuing in much the same direction which it took at the start. Before it disappeared from sight it had evidently neared the earth considerably and General Brine, telegraphing to London the same night fom Claydon House, Steeple Claydon, reported : "We landed near Winslow, six miles south of Buckingham and 55 miles from London at a quarter to six. All well."
The other two balloons fell short of the Colonel, landing in Harrow and Uxbridge. News of Brine's landing did not reach London in time for the Tuesday newspapers, and most national reports which did eventually appear put him at "Blaydon House".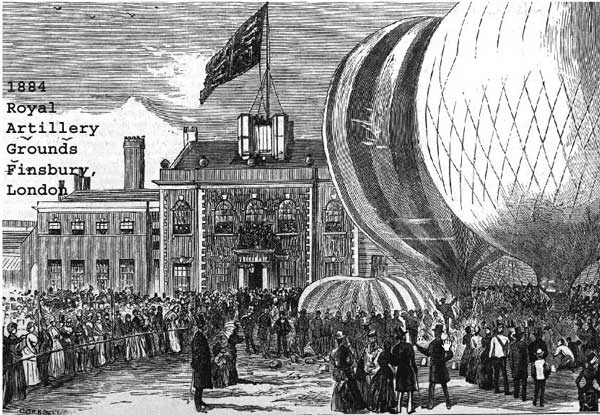 Drawing from the London Illustrated News
See also: