Sale of land to Samuel Burnham Dudley, 1850
A document consisting of four sheets of parchment concerns the sale of a piece of land from the Lowndes estate to Samuel Burnham Dudley. Click here for a transcription of the whole document, most of which consists of legal verbiage due to the trusts governing the Lowndes estate. A summary is given below.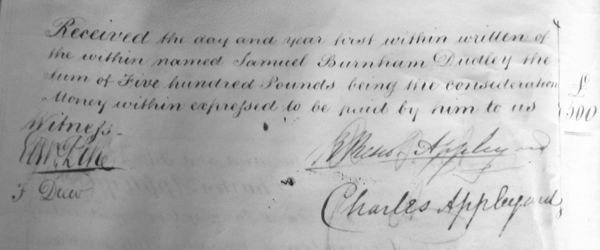 Indenture of 24 May 1850 between:
Robert Prescot Appleyard of York Street and Charles Appleyard of Lincolns Inn, executors of Robert Langley Appleyard, trustee of an earlier Lowndes settlement.
William Selby Lowndes of Whaddon Hall
Samuel Burnham Dudley of Winslow, Auctioneer
Frederic Willis of Leighton Bussard
by which Samuel Burnham Dudley buys for £500 a close of meadow or pasture called Bates' Piece or Pesthouse Close, measuring 5 acres 1 rood 6 perches, heretofore in the occupation of Thomas Reade (of Holcombe and Biggin Farms). Frederic Willis is to hold as trustee after his death. The land is marked green on a plan drawn on f.3 of the document. It is the field at the south end of The Walk (no.286 on the 1880 25" map, no.8115 on the 1978 map).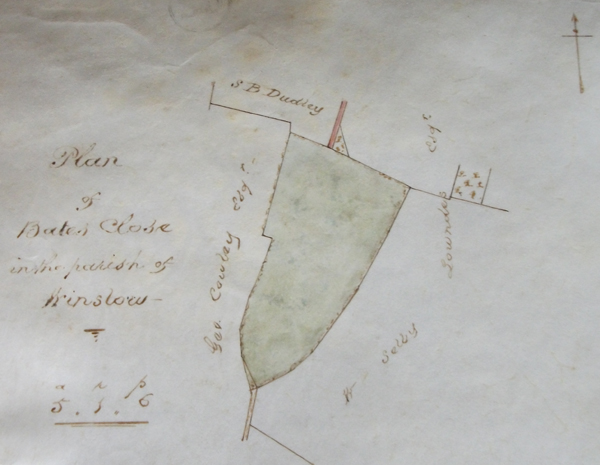 It refers to two other documents by which the Appleyards had power to sell the land:
1. Indentures of Lease and Release of 19-20 Jan 1825 between:
William Selby Lowndes the elder therein since deceased (being the Father of the said William Selby Lowndes party hereto) [died 8 May 1840]
Maria Selby Lowndes (therein described) of the second part
Philip Thomas Wykeham and Robert Prescot Appleyard both since deceased
The Reverend Richard Lowndes and the Reverend Thomas Lowndes
Sir Thomas Cotton Sheppard Baronet and Thomas Hart
William Lowndes Stone
under which Holcombe Farm and Biggin Farm were to the use of William Lowndes Stone on the trusts therein referred to, and the rest of the Lowndes property in Winslow was to the use of Richard Lowndes and Thomas Lowndes to secure an income of £100 for Maria Selby Lowndes during the life of William the elder (her father), and to the use of Sir Thomas Cotton Sheppard and Thomas Hart for raising £10,000 for Maria (or £20,000 if all parties agreed). Wykeham and Appleyard had power to sell parts of the property at the request of William Selby Lowndes or his heir.
2. Indentures of Lease and Release and Settlement of 1-2 Dec 1795 between:
William Selby Lowndes deceased
William Selby Lowndes the elder (then William Lowndes)
Thomas Sheppard Esquire afterwards Sir Thomas Sheppard Baronet and Elizabeth his wife
Maria Sheppard the eldest Daughter of the said Thomas Sheppard by the said Elizabeth his wife
Thomas Lowndes Esquire afterwards the said Reverend Thomas Lowndes and George Griffin Esquire
Charles Simpson Esquire
John Beardsworth Esquire
No further details are given but this must have been a marriage settlement; William Lowndes married Maria Sheppard at Thornton on 14 Dec 1795.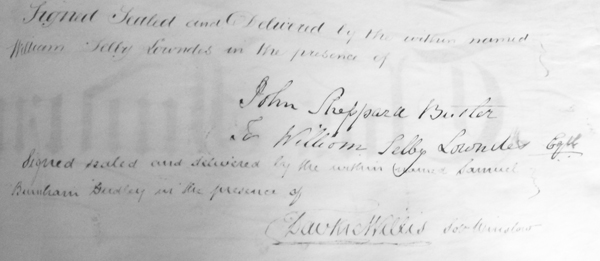 ---
See also:
Copyright 7 February, 2016